eHarmony review 2023: a Matchmaking alorithm that works
By Alexandre (admin), last updated on June 1, 2023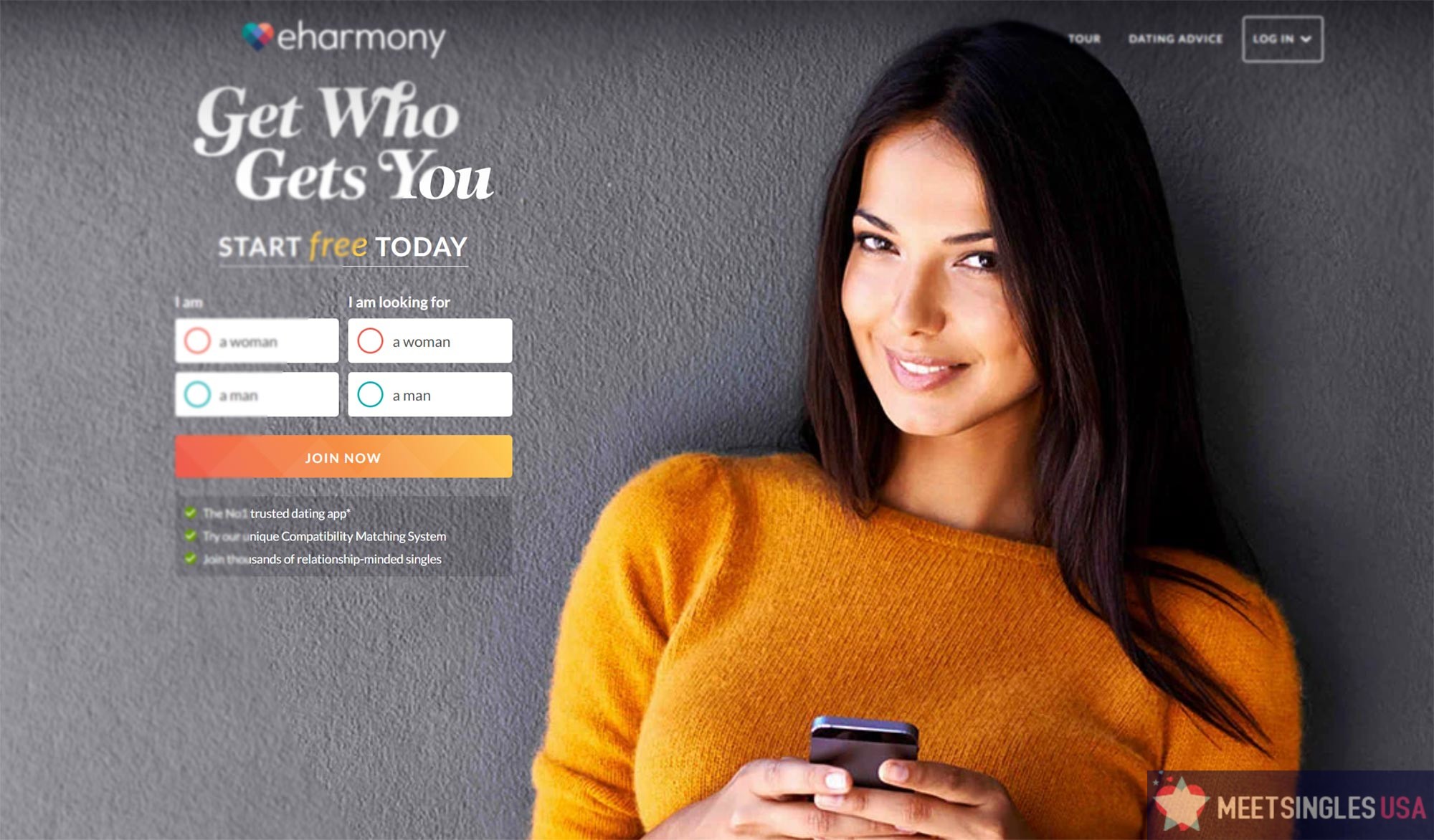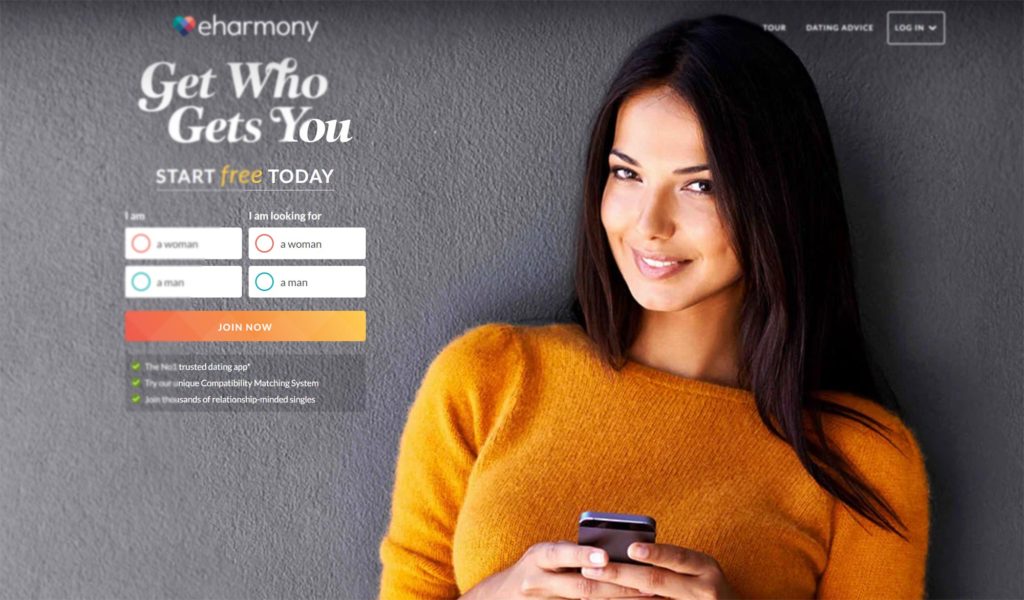 Our rating
Pros
✅ High number of users
✅ Quality users
✅ Multi-support platform
✅ Intuitiveness
✅ Free offer
Cons
❌ the price of the subscription
❌ High competition between singles;
❌ Reputation in relation to the age of the users.
Launched in 2000, eHarmony is a dating website wich gives members in-depth tools to get to know themselves as individuals and within a couple. Looking to meet more single women or single men thanks to matching process.
eHarmony presentation

eHarmony is a dating site for serious relationships and affinity with a matchmaking system. eHarmony use a scientific approach (thanks to his CEO Dr. Neil Clark Warren) to match highly compatible singles. eharmony's matching is based on using its 29 criteria (ages, ethnicities, national origins, religious and political beliefs,…) to match couples based on features of compatibility found in thousands of successful relationships.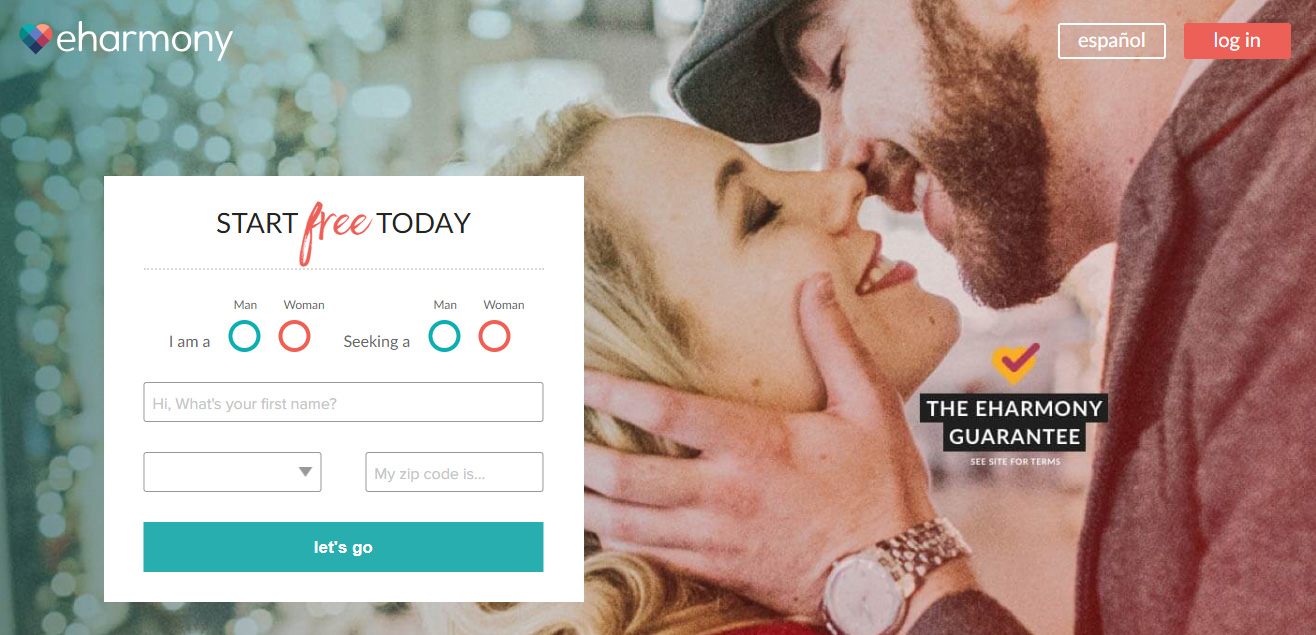 Our register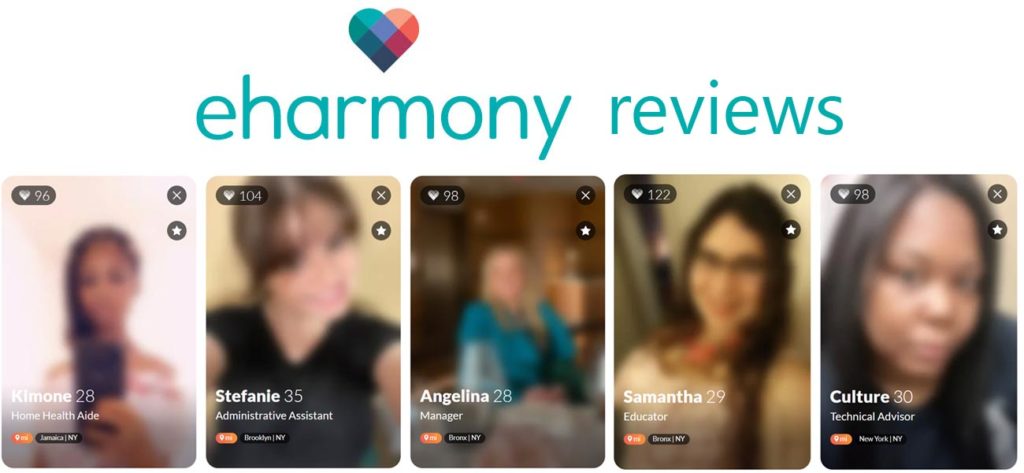 We have tested this site for more than 6 months and we give you our feedback on our eharmony opinion after this test and the dates we had.
When you register on the dating site, you have to answer to about 70 multiple choice questions. Some question are easy to answer like "what would you do if…?" or "What are you passionate about?" but some are more like "Rate your emotional stability", or "What are three things you're thankful for?".
You must respond with the most honesty, it's important to have truly match singles. eharmony compatibility quiz take at least 15-20 minutes to fill, it can be longer if you really take your time. eHarmony success is based on this matching system.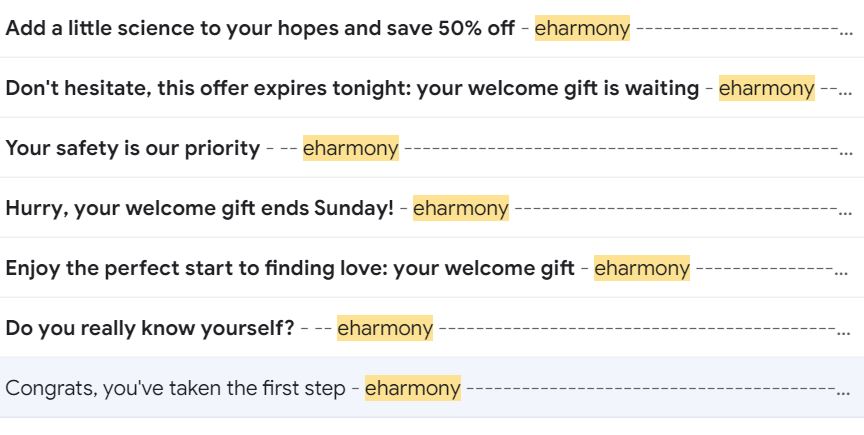 High awareness = lots of singles
If there is one quality that a dating site must have, it is to have enough users.
The main goal of this type of site is to meet people who we like and who meet certain important criteria:
Physical ;
Geographic ;
Mental.
What if there aren't enough people signed up?
It's very complicated and this is the case with many apps that are starting up and not yet gathering enough users.
The problem is that if someone signs up and doesn't find what they are looking for, they will quickly leave and download a competing app.
Eharmony does not have this problem as it is a very popular dating site worldwide.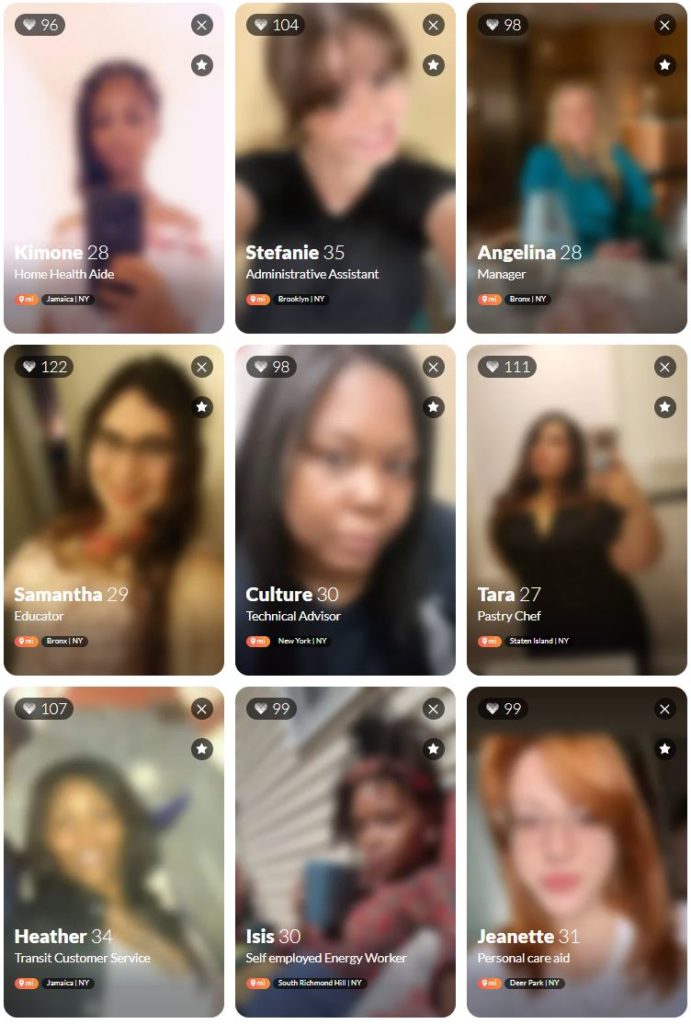 In any location, you can find a single person who No matter where you are, even with the very powerful and accurate matching system, you can find a list of singles who will match your criteria near you. And in the end, this is the most important thing for a dating service.
Big positive point!
High-quality users
We told you above that the number of users was a real positive point because you can find your happiness in all corners of the world.
This is even more true with this quality!
The high number of users is not everything and Badoo is a good proof of that. The site is very well known and has millions of users. However, due to the lack of a coherent strategy, the users are not very qualitative and that's why our opinion on Badoo is not very positive.
The reason why eharmony gathers a qualitative community is that the dating site is partially pay-per-use. It is possible to register for free, to chat with some members but you have to pay to enjoy all the features of the site.
This is an interesting strategy because in a way they are giving up on a lot of singles who want to try their site but are not ready to pay. In another sense, those who end up subscribing to their offer are generally more determined to find love and/or know what they want.
Add to that the long personality questionnaire during registration and you have singles profiles that are complete and therefore of quality.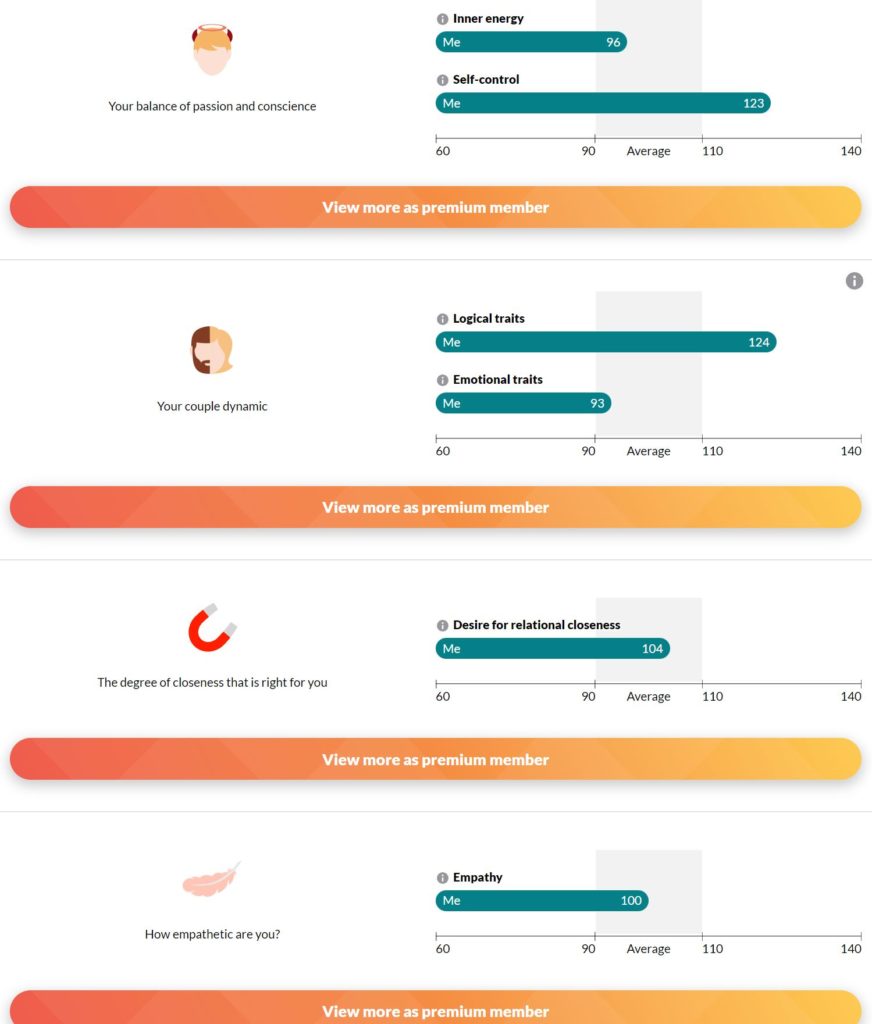 Add to that the fact that eharmony offers several ways to verify that users are real: verification by sms, possibility to do a video chat before sharing information with another member and the moderation team that is active. Everything is done to make sure that when you sign up on eharmony, the site makes a good impression with quality members.
Women are less harassed than on other apps and they are more confident and especially more represented from a quantity point of view. Thanks to its high-quality matching algorithms, many people have found dating success with eharmony
Free trial offer
What we also like about eharmony is all the features available with eharmony free trial, both on the website and on the dating application.
It is possible to see all the compatible singles thanks to the compatibility score, to see the details of the profiles such as the profession, the date of last connection, the number of available photos, and many other details at no charge.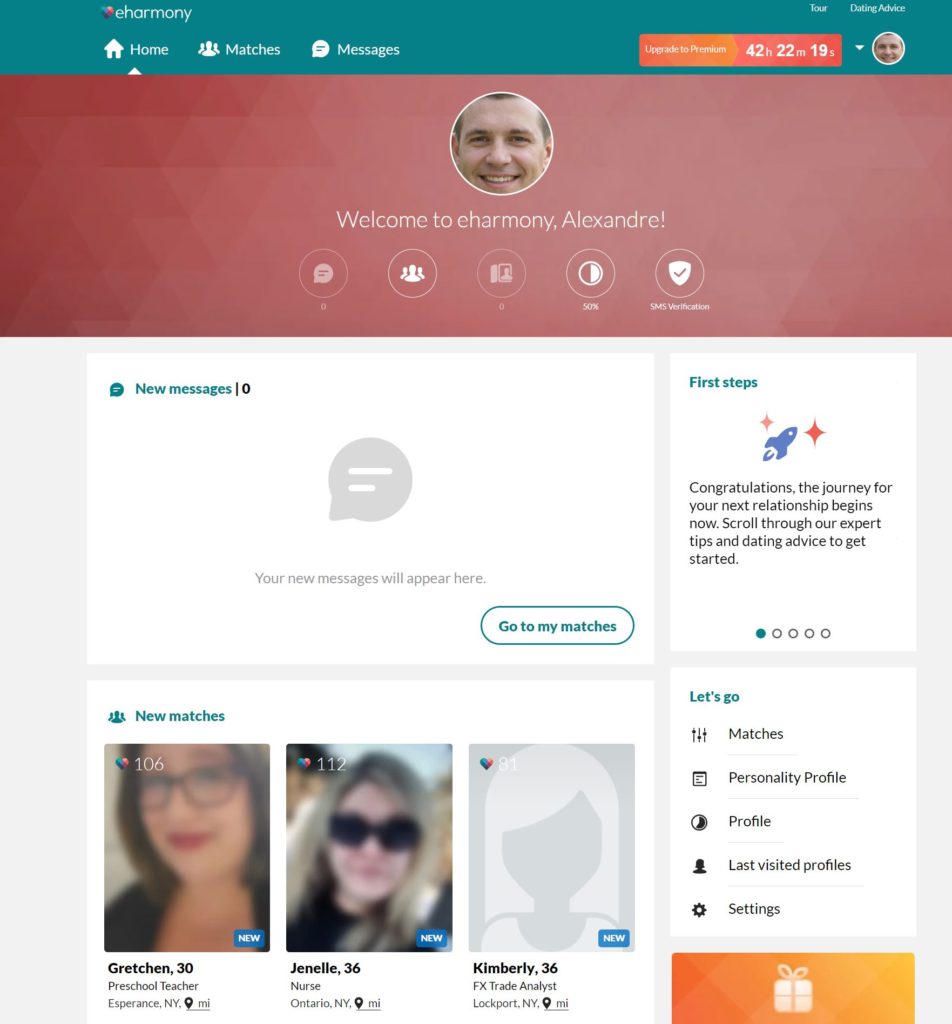 So yes the photo will be blurred, yes you will not be able to send him a message unless you take a premium subscription, but it's a good start from eharmony to convince you that the offer of singles proposed is great and quality.
Moreover, the fact that you have to take out a subscription to send a message is a sign of commitment on the part of singles to find a partner. This avoids the curious.
The other way to try eharmony for free is to wait for the 3-Day announcement!
Indeed, the platform organizes several times a year 3-Day weekends. During these weekends, all eharmony members can use all the platform's features for free. This includes sending and receiving private messages.
When are the 3-Days held? Eharmony never communicates the dates far in advance. But we know that it usually happens during the holidays, when there is a weekend preceded or followed by a holiday… that gives 3 days.
To know when the next 3-Days will take place you have to register on eharmony and wait for their communication by email.
eharmony Premium: costs & discount
Clearly this is the point that holds back all the people who wanted to start using eharmony. It's a site where it's almost essential to pay to interact with people.
There is the free offer mentioned in the advantages above, but it has its limits. You can't get in touch with someone, see their picture or read their messages if you haven't taken out an eharmony subscription.
To have more features like unlimited messages, you have to pay a membership. eHarmony premium features bellow.
See your matches' photos
See who's viewed you
See when your matches last logged in
SecureCall: Talk on the phone securely
Get your account verified
Deeper personality analysis
How much does it cost? What are eharmony plans? If you want to enjoy eHarmony premium features, take a look at the prices of the eHarmony subscriptions, without discount:
Pass 24 months : $25.90/month – $310,80/year
Pass 12 months: $35,90/month – $430.80/year
Pass 6 months: $55,90/month – $670.80/year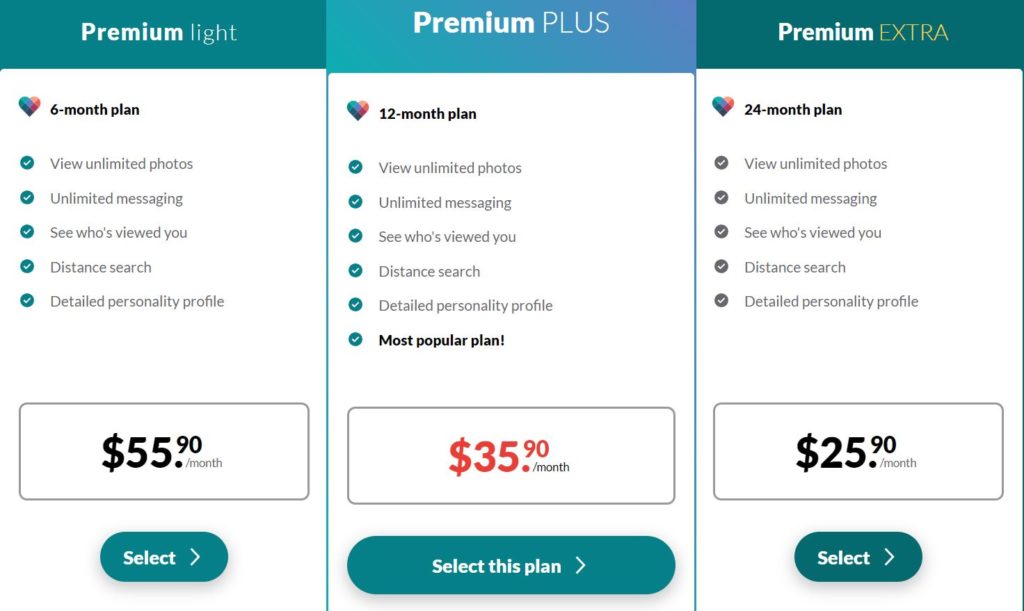 All eHarmony subscription cost & prices.
We would like to point out, that this is important, the terms and conditions of eharmony are very clear: a 12 month subscription is binding and due. If you take a 12 months subscription and you use eharmony for 6 months, you will not be able to ask for a refund to get your money back.
So you have to make a choice between a long subscription period with a lower subscription price and a shorter subscription period with a higher subscription price.
Our advice is to chose the 12 month payment option. Even if you don't use the 12 minus, this is still the most advantageous monthly subscription.
Please note that subscription prices can vary by $10 per month depending on the user profile and that promotions are regularly offered.
For example eharmony regularly offers a 50% discount on the price of subscriptions.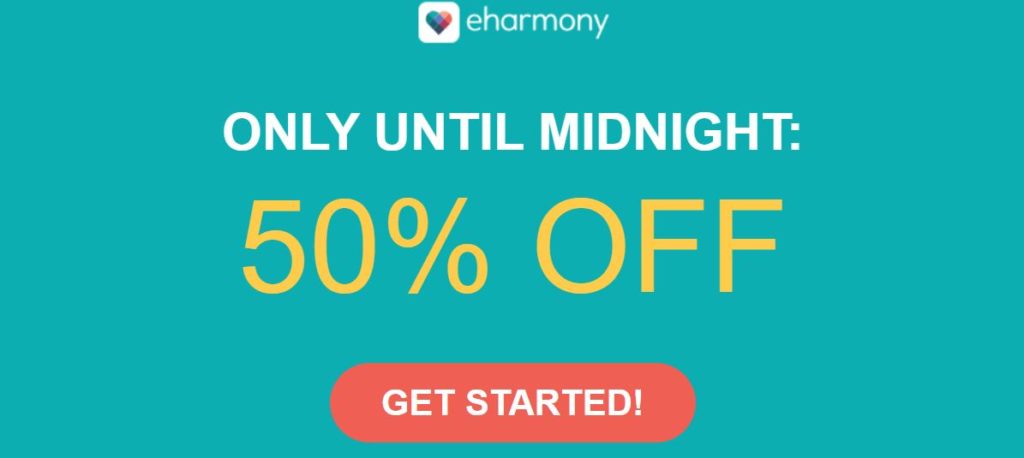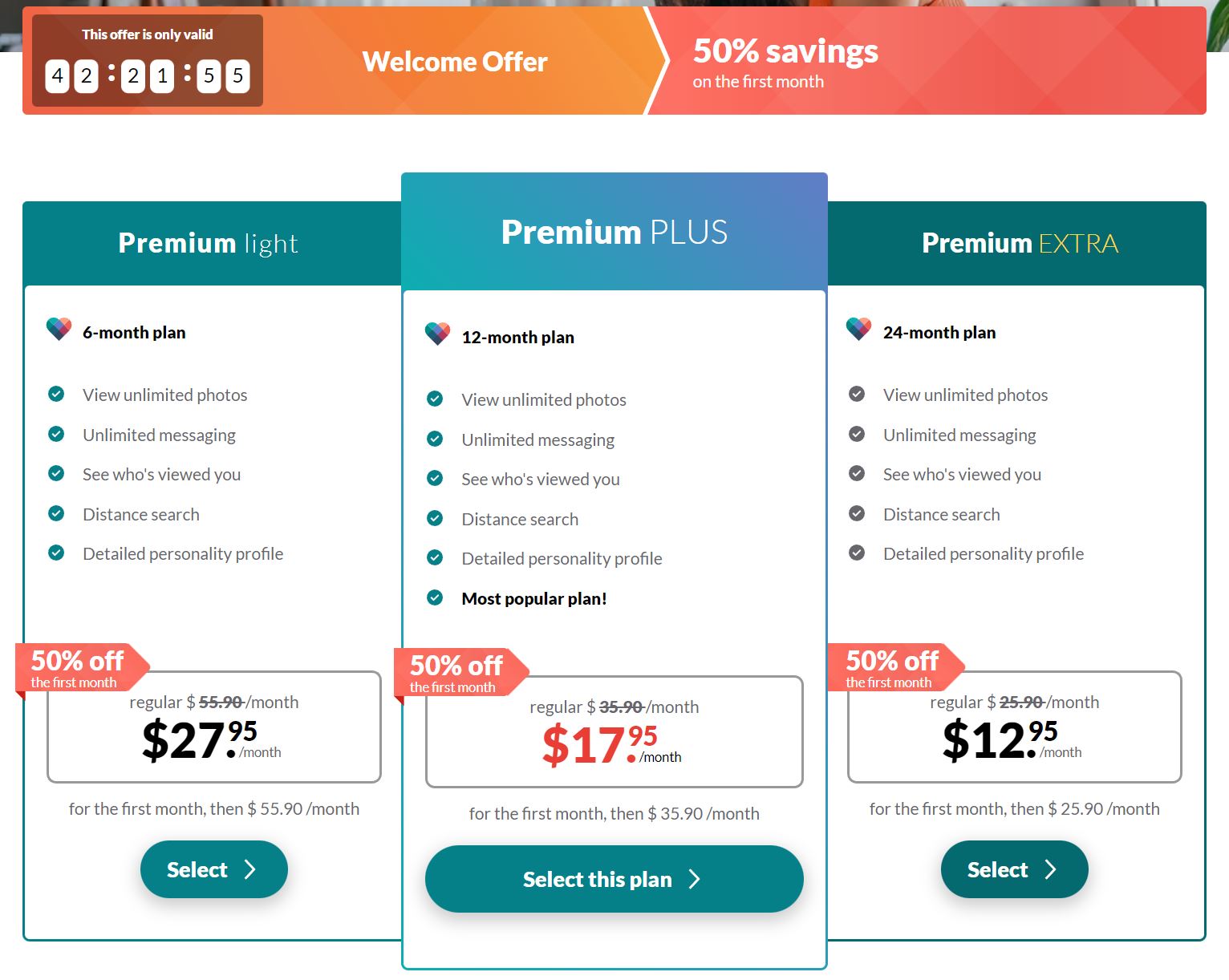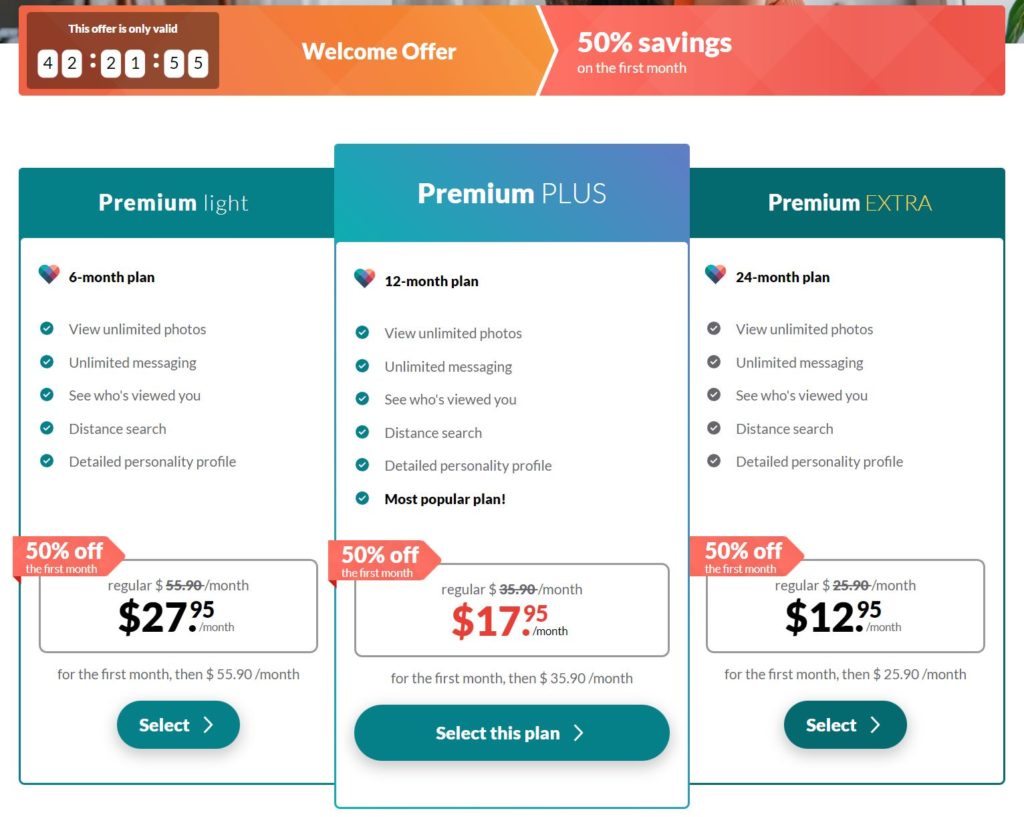 eHarmony dating app
One point that is also very positive is the ease of use of eharmony. Beyond the comfort of their platform that we explain in the next point, they propose to use their solution on smartphone via a mobile application or on computer (or any other support) with their website.
This quality is due to the fact that eharmony was one of the first dating sites to be created in the early 2000s. At that time, applications did not exist yet.
Later on, they evolved by offering an app for the new generations or people who are comfortable with their cell phones, while keeping a high level of quality on their site.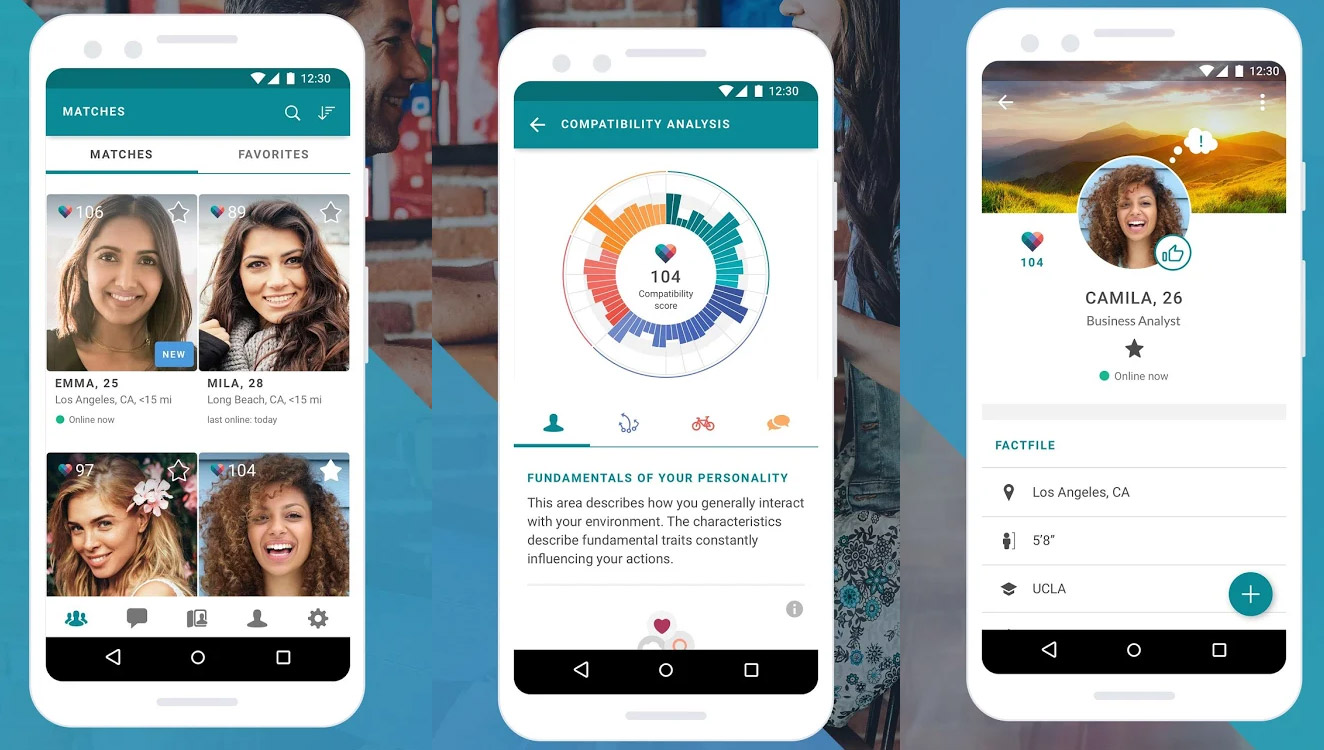 This is a real advantage at a time when most dating apps are only present on mobile applications. Some people prefer to browse this kind of sites via a computer and this is certainly a reason why eharmony also attracts people between 30 and 70 years old.

You can download this mobile dating app on Apple Store and Google Play Store.
Pros
✅ High number of users
✅ Quality users
✅ Multi-support platform
✅ Intuitiveness
✅ Free offer
Cons
❌ the price of the subscription
❌ High competition between singles;
❌ Reputation in relation to the age of the users.
Verdict
Finally, what do you think of eharmony in general ? If we take into account the pros and cons, the score is 5-2, so we can say that our overall opinion about eharmony is more positive than negative.
Well, that's the case.
We were not on eharmony when we started using it so we could write this article. We discovered a platform that we really liked and that is too underrated.
For us, a brand as well known as eharmony is rather a good sign because we know that there is a large number of users who use their app and that therefore we have a lot of chances and opportunities to meet dozens of people.
In addition, a large group with the means often means a permanent investment in the most user-friendly development. You can feel it at eHarmony. Their website and their application are extremely well made and pleasant to use, a real pleasure when you spend a lot of time on it like me.
Obviously, this gives a positive opinion of eHarmony.
Of course, the disadvantages we talked about above taint the positive points a bit, but in the end it's almost impossible to have only advantages.
The subscription is a bit expensive and you have to have some means to afford it.
And still.
There is a marketing strategy at eHarmony because the monthly subscription is relatively expensive but in reality if you take it over 12 months, it is immediately more affordable.
So our advice is: try it even with eharmony free trial version, you should not be disappointed.
Comments Rating
( reviews)
eharmony alternatives
Eharmony FAQ
how to send messages on eharmony without paying?
With a free eharmony account it is not possible to send messages without paying.
It is however possible to send messages without paying during the 3-Day eharmony which is usually during the holidays. This is only possible on a few weekends during the year.
what is a high compatibility score on eharmony?
the eharmony platform proposes to make you meet compatible singles thanks to an algorithm. All singles must answer several questions when registering. The platform will then propose you compatible singles with a score. The eharmony score goes from 60 to 140 (the maximum). If a single has a score of 140 it means that you are perfectly compatible.
Elite Singles vs Eharmony
elite singles and eharmony are two sites with personality test and compatibility algorithm. However one is more popular and the other one is cheaper. So to choose read Elite Singles vs Eharmony.
About the author