eharmony free: what are free features?
By Alexandre (admin), last updated on September 6, 2023
eharmony is one of the best dating site for singles people looking serious relationships. As we saw in our eharmony review, it uses a powerfull matchmaking system to match highly compatible singles. Since its creation, the dating site offers several million members. This is one of the sites where you should register if you want to find love. But is it free or not?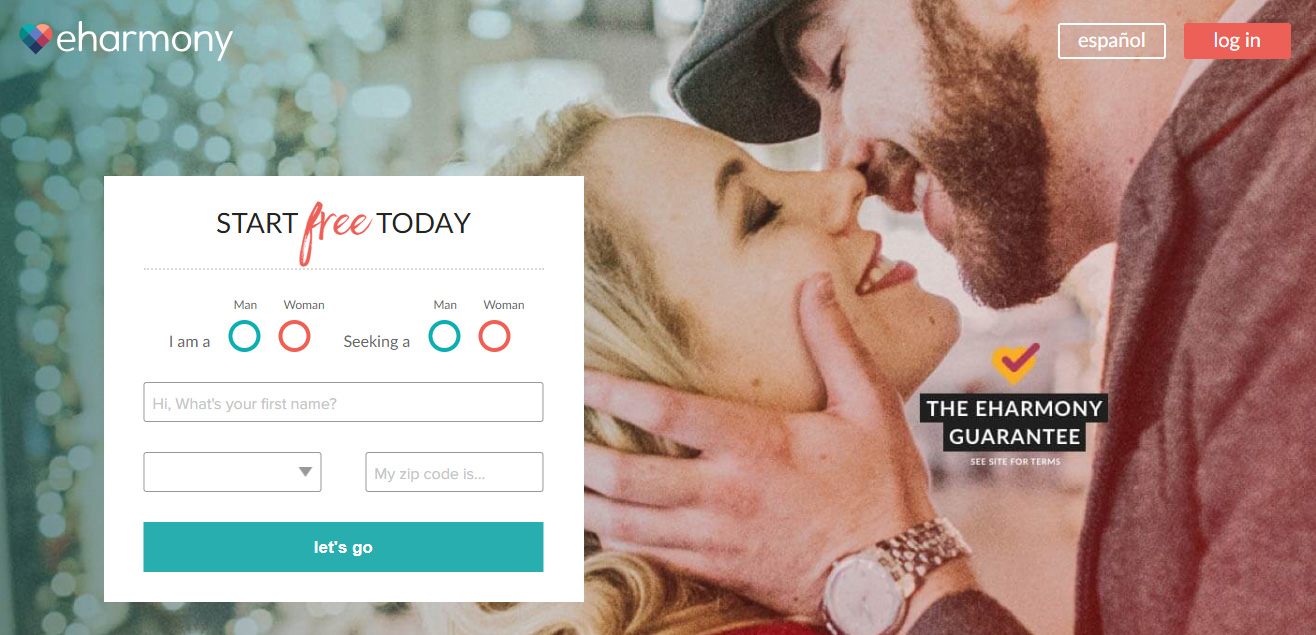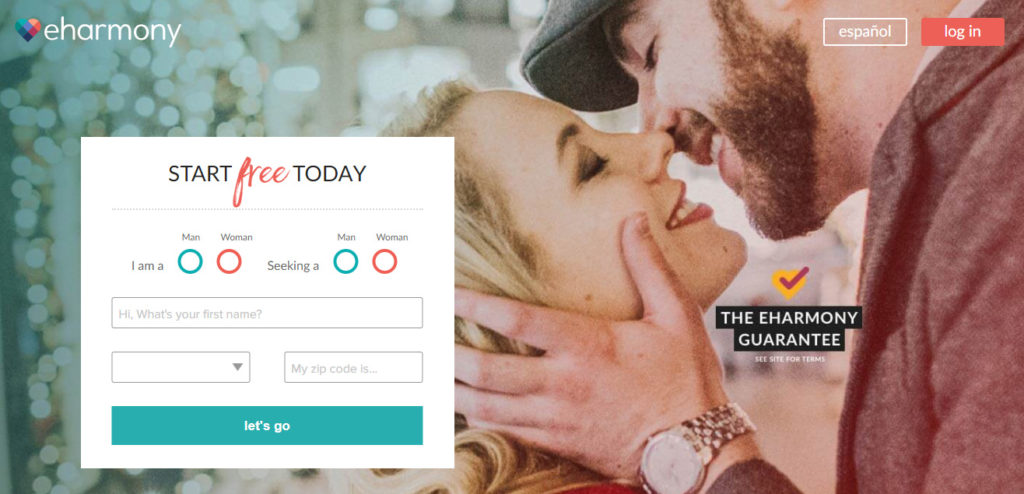 Is eharmony free? what are free features?
To maintain a good quality, the company eharmony has decided not to offer all the features for free, even with advertising as it can be seen on other dating platforms.
What you can do for free: it's possible to have a free eharmony account and find serious singles profiles. You can view send smile & like, who's looked at your profile or read your personnality analysis. You can also send message for free during 3-day weekend.
But, most of the time, if you want to read an response, you have to paid a membership and upgrade for premium account.
The registration to the dating website, as well as the download of the application are totally free.
eharmony : register for free
Join and create your free account at eharmony. Update your profile and meet other over singles years looking for serious relationship.
With your free account you dont need credit card to create a profile and browse and search singles. With this account you can add photo, description and many other information about you. It's free!
eharmony free account vs eharmony paid premium
When you register on eharmony, without taking a subscription, you have a free account. This is also called the trial offer.
With this free account you can fill in the personality test, read the analysis of your compatibility test, visit the profiles of compatible members, send smiles, and use the eharmony application. You can also receive matches from compatible profiles.
With eharmony free you will not be able to send messages and the photos of the singles will be blurred.
Occasionally, eharmony launch the "free communication weekends" with full messaging capabilities.
Discover the free features of eharmony in our video below.
With a premium account, which means that you have paid a subscription fee, you have the full premium service : you unlock all the features such as the ability to see photos of your matches, see when your matches last logged in, have a verified account, or send and receive unlimited messages.
Can you get matches on eharmony without paying?
eHarmony is a dating site that matches you with compatible singles based on a detailed personality test. You can take this test for free and see who you are compatible with, even before you pay for a subscription.
On the Visitors section of the app, you can find other singles who have similar answers to the test questions. These are your potential matches, based on eHarmony's algorithm.
But there's a catch. You can't message any of these matches unless you upgrade to a paid membership. You can only send them a 'like' to show your interest, but you can't have a real conversation with them.
If someone messages you first, you can see a glimpse of what they wrote, but most of it will be blurred out. eHarmony wants you to pay to unlock the full message and reply to them.
So, eHarmony gives you a taste of what's possible, but not enough to satisfy you. You have to pay if you want to take things further with your matches.
How to have an eharmony discount on price with coupon & promo codes
Would you like to see all your received messages and be able to reply to them? Interested about a monthly subscription plan but you think the subscription is too expensive?
It's true that this is a rather premium dating site and that the cost of eharmony isn't accessible to everyone. Even if the 6-month subscription is more affordable, it may still be out of reach for some people.
There are sometimes discount offers on eharmony subscription that can go up to 50% for one, three or six months subrscription.
The proof is in our screenshot below. Eharmony offers us 50% off the price of any of the subscriptions.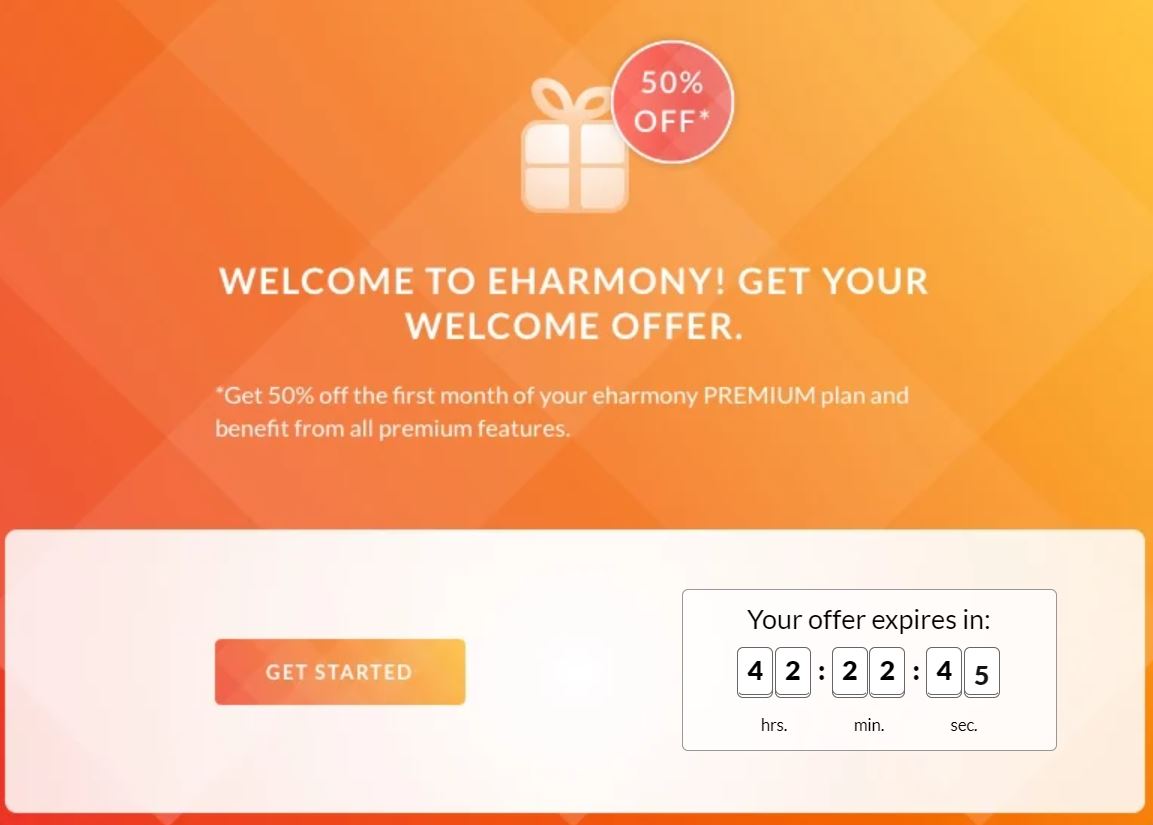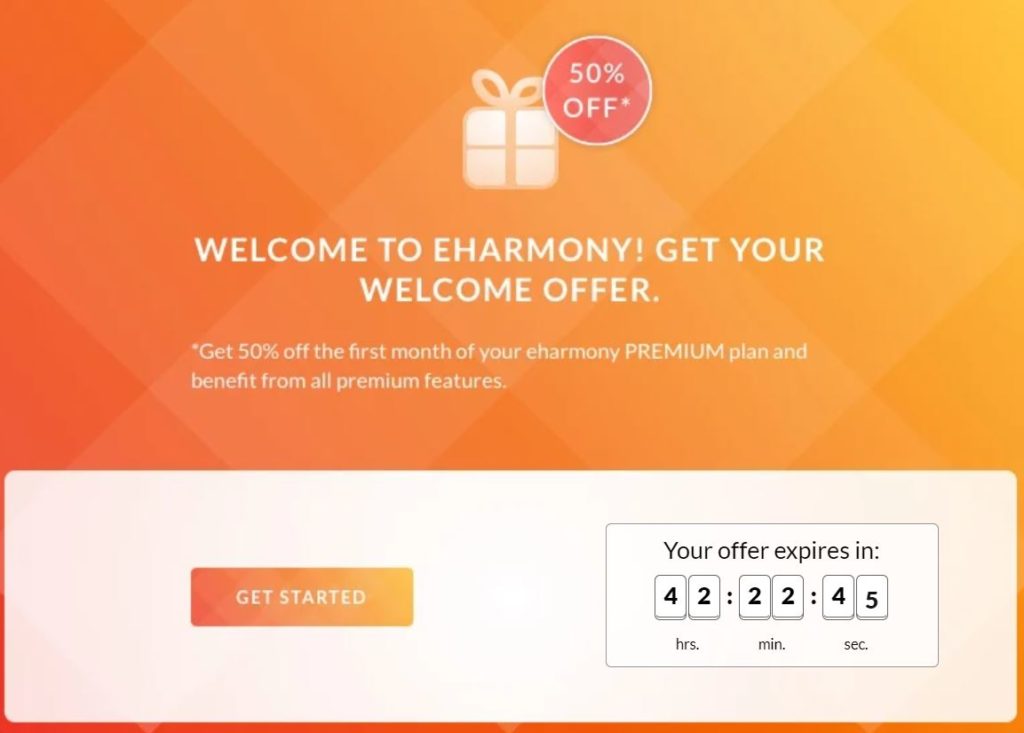 Here are the tips to have the welcome offer : you just have to wait ! When you create a free account at eharmony, wait a few day and you should receive an email with a discount or a special offer just for you! Enjoy!
How do I avoid paying for eharmony?
eharmony is a dating site that lets you chat with compatible singles based on a personality test. You can sign up for free and see your matches, but you can't message them unless you pay for a subscription. Sometimes, eharmony offers free weekends where you can chat with your matches for free for 3 days. You can also get a refund if you cancel your subscription within 3 days, but only if you live in certain states. We explain below how to get the most out of eharmony without paying.
eharmony free weekends : 3-Days!
On a random basis, eharmony offers free weekends where it is possible to chat with singles even with a free account, during 3 days.
This is called eharmony 3-Day weekends (for free day weekend, you get it?).
When is the next eharmony free weekend? The dating service does not communicate dates in advance. However, we have noticed that the 3-day weekend often falls during the holidays.
In order not to miss the next eharmony free weekend, the best thing is to register, then when it happens you will get an email or a notification on the app that will warn you about the free weekend.
You have a tips about Eharmony free trial? Share it in comment!
eharmony free trial vs 3-Days
You must understand that the free trial and the 3-days are two different things.
Free trial: If you are registered with a free account, and you have not taken a subscription, then you have access to the free features of eharmony: this is the eharmony free trial.
The free trial period will give you an idea of whether the dating site is right for you or not and allows you to avoid wasting your money if there isn't anybody there that piques your interest.
3-Days: this is a one-time promotional offer proposed to eharmony users that allows them to access eharmony's paid features for free during 3 days. More details about this below.
Eharmony free for 3 days: ask for a refund!
Another way to test all the paid features of eharmony for free, is to take a subscription and ask for a refund : under certain conditions.
First of all this trick, if it can work for you, will allow you to test the site for only 3 days and then your account will become free again. This is, admittedly, not an easy way to date people.
To be eligible, you must be a resident of one of these states: Arizona, California, Colorado, Connecticut, Illinois, Iowa, Minnesota, New York, North Carolina, Ohio, Rhode Island and Wisconsin.
Then, you take a premium membership (any one).
Then, within 3 days of taking out your subscription, you must send an email to [email protected] in which you express your wish to cancel your subscription.
If you have followed the above procedure, you will have been able to test eharmony premium for 3 days and you will get a refund within 10 days.
It works, but admittedly, it's not the easiest way to test eharmony for free.
About the author