eharmony cost: all subscriptions prices February 2023
By Alexandre (admin), last updated on January 5, 2023
With over 2 millions members, eharmony is one of the best online dating site in USA. Registration to eHarmony, the dating site for serious relationship, is free but, if you want to have all features, you have to pay a subscription. How much does eHarmony cost? Is it worth it? All you need to know bellow.

eHarmony subscription prices February 2023
Below, all what you need to know about prices and costs for eHarmony membership paid subscription. We try to keep the prices as up to date as possible. It is possible that you will notice a difference because the subscription prices may vary according to the profile.
eHarmony plan costs
How much does eharmony cost?
eharmony is available in 4 countries: USA, Canada, UK and Australia. Prices may vary by country.
The official eharmony pricing plans, per month, for each country, without discounts, bellow :
eharmony USA cost
6 months subscription : $59.90/month
12 months subscription : $35.90/month
24 months subscription : $25.90/month
eharmony UK cost
6 months subscription : £39.30/month
12 months subscription : £29.90/month
24 months subscription : £19.90/month
eharmony Canada cost
6 months subscription : $49.90/month
12 months subscription : $35.90/month
24 months subscription : $25.90/month
eharmony Australia cost
6 months subscription : $49.90/month
12 months subscription : $35.90/month
24 months subscription : $25.90/month
All plans come with 100% of the same features.
The 3-month, 6-month and 12-month subscriptions are payable in one go.
For exemple, for 6 months subscription, the payment will be $359,4.
So remember to look at the total cost under the monthly payment.
You can subscribe to a membership after signup a questionnaire which includes 70 questions.
Payment options are VISA, American Express, MasterCard and Paypal.
eHarmony features with a subscription
You'll want to upgrade from free to a paid plan to take full advantage of the available features proposed by the platform with many option :
Complete compatibility quiz
Create profile
Search compatible profile
Send smile & like
See your matches' photos
See who's viewed you
See when your matches last logged in
SecureCall: Talk on the phone securely
Get your account verified
Deeper personality analysis
Eharmony is therefore free to use, without paying for 80% of its features and without time limit. This is more than enough to know if Eharmony is the right dating service for you or not.
If you are seduced by the site and you have received messages and you want to answer them, you will have to take a subscription.
Like most online dating services, you can used eharmony app with free and paid account.
eHarmony discounts and promotions
Regularly, eharmony will offer promotions on subscription prices.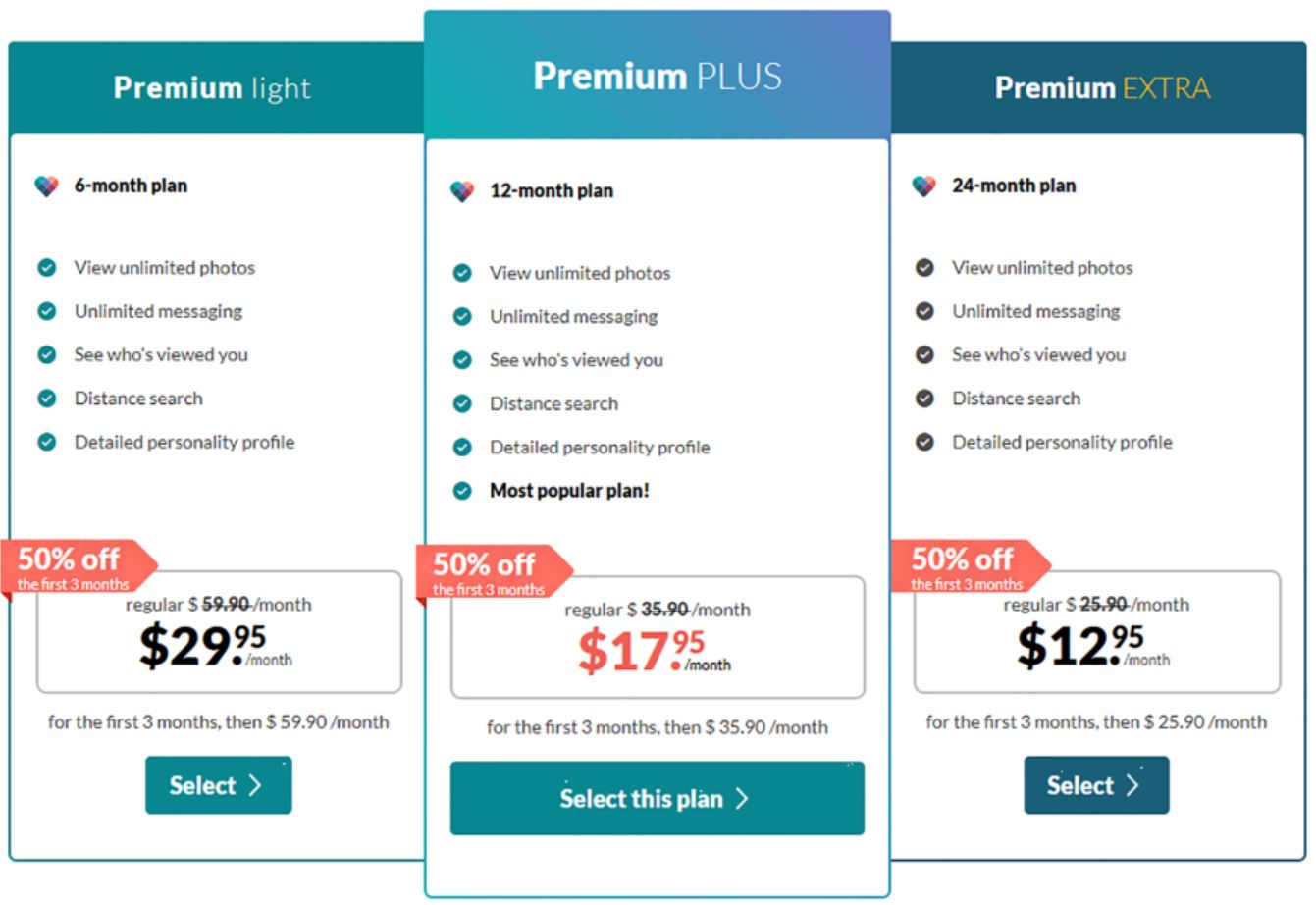 The eharmony promotions you could benefit from on the following :
6 months subscription : $29.95/month
12 months subscription : $17.95/month
24 months subscription : $12.95/month
eHarmony premium plan promotion are very interesting because, instead of paying $359,4 for 6 months, you only pay $239,7. It's a discount of $119,7. He is slightly higher priced than some other online dating sites.
It also happens that after a few weeks of registration with a free account, that eharmony sends by email a discount on the subscription price.
Is there a 3 months subscription?
Many of you are asking if there is a 3 month subscription to eharmony like other online dating platforms.
The answer is no, there is no eharmony 3 months subscription.
There are two reasons for this:
1- the cost: if there was a 3 month subscription, the monthly price will be too high, probably over $80/month. It would not be financially interesting compared to other subscriptions.
the time it takes to find the right person: if you can contact dozens, even hundreds of singles from the first month (although we advise against contacting so many), between the first messages, the first date and knowing that you have found the right person, it may take a little more than 3 months.
Price difference between eharmony website and app?
Either on the eharmony website or on the eharmony application, you can register for free to test the free features. On both devices, computer and smartphone, you will have to take a subscription if you want to have access to premium features.
The subscription price between the eharmony website and the eharmony app is the same.
The reason is simple, it is possible to use the same account between the dating site and the dating app, that's why the subscription price should be similar.
Price difference between men and women?
Some dating sites are free for women and paid for men and others still offer different subscription prices between women and men. What about eharmony?
If for years eHarmony has tended to favor the prices of its subscriptions to the advantage of women, in order to promote gender parity on its website, this is no longer the case.
Eharmony Membership for boys and girls is the same price! Thus, eharmony wishes that women as well as men, when they register and take a subscription on the site, are on the same level of commitment to have parity.
Why does eharmony cost so much?
The eharmony dating site has a higher subscription price than the average of other dating sites because it offers a match system for singles looking for a serious and long term relationship. eHarmony does a good job of matching members based on personality.
The higher subscription price makes it possible to attract only serious members committed to the process of a serious and long term relationship. People who want to find love using the match system.
If this sounds like you in the description above, eharmony is worth it and he'll meet new people you're compatible quickly.
Is eHarmony worth it?
As already explained on this page, eHarmony offers you to find love on its platform where more than 2 million singles are already registered. It proposes to make quality encounters thanks to its personality questionnaire. Thousands of singles find real love on this dating site every day. So yes, it's worth it!
If you want to meet someone seriously, and find love, then yes it is worth the cost to take a subscription eharmony 6 months, or 1 year, to find love. Meeting the love of your life is priceless.
Whether you have a free or paid eharmony account, customer service is available if you need help. Want to learn more? Read our eharmony reviews.
Does eharmony have a Free Trial?
Want to try the eharmony dating site to see how it works?
Like all dating services, eHarmony offers you to sign up and create an account for free, without paying. You can register, complete the compatibility questionnaire, test and use most of the features for free to get your opinion.
eharmony Free Trial Features :
Free profile creation
Personality test & analysis
Send smiles / like
Messaging other users (chatting)
Can I cancel eharmony anytime?
Yes, you can very easily cancel your eharmony subscription at any time from your account. However, keep in mind that if you took a 6 month subscription, and you want to cancel your subscription in the 3rd month, the remaining 3 months are due. Please be aware that your eharmony subscription will be automatically renewed at the end of your subscription date.
It is therefore preferable to cancel a few weeks before the expiration date of your subscription. If you do not cancel before this date, your subscription will automatically renew.
Note that the only way to retract your subscription is to do so within 3 days after the order. You must contact the service that manages eharmony subscriptions by email here [email protected] If you exceed the 3 days you will not be able to cancel and the subscription will be valid.
If you have a free account, you do not have to cancel anything but you can delete your account.
Match vs eharmony cost
You might be hesitating between Match and eharmony online dating services. If both have some differences in functionality the price of the subscription can be decisive for choosing. Please note that the prices below are excluding promotions.
| | Match cost (premium) | eharmony cost |
| --- | --- | --- |
| 3 months | $38.99/month | / |
| 6 months | $22.99/month | $59.90/month |
| 12 months | $20.99/month | $35.90/month |
| 24 months | / | $25.90/month |
Match, even with a premium subscription, is still cheaper than eharmony. However, it does not offer the same features, especially the personality test and the compatibility algorithm which is exclusive to eharmony.
Eharmony is deliberately positioned as a more premium dating service with quality singles profiles. Match also offers quality members but focuses more on quantity.
About the author