eharmony dating app: all you need to know
By Alexandre (admin), last updated on August 24, 2023
While eharmony is best known for its dating site, like all its competitors it is also available as an android and iphone app.
If you prefer to meet people on smartphones rather than on a computer, then the eharmony app test below may be of interest to you. And if you've come straight to this page, you'll probably be interested in reading our full eharmony review. In short, one of the best services for finding a serious relationship and love.
eharmony register
While the eharmony app downloads and installs very quickly, you'll need to be patient when it comes to creating your eharmony account.
Not that creating an account is difficult, but you will have to take a long personality test. This personality test will ask you questions about your values, ambitions, habits and so on. And, at the end, you'll have a profile created with the results of the personality test.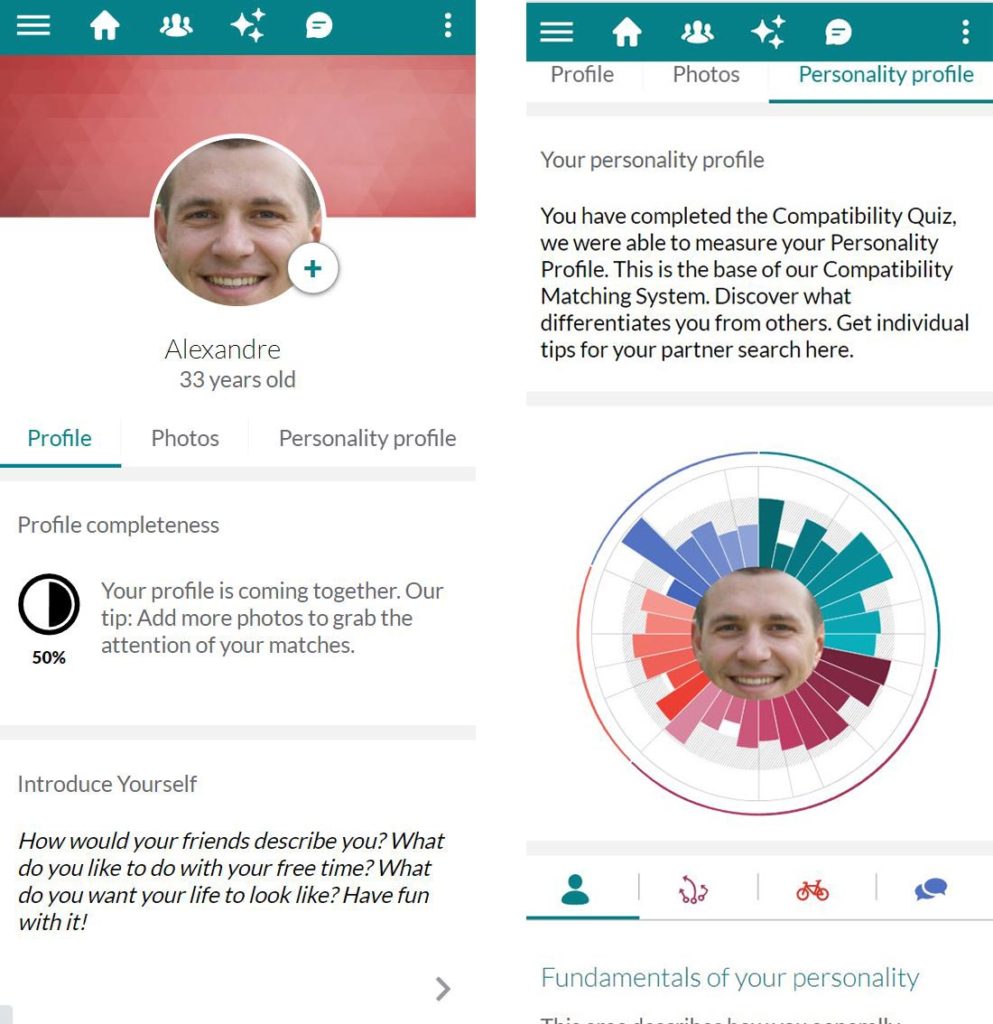 The result of this personality test should enable the eharmony application to find and suggest profiles of singles compatible with you. Either because you're similar on certain points, or because you complement each other. That's why it's important to fill in the personality test correctly when you register, and not to answer the questions at random.
It takes about 10 to 20 minutes to finish the questionnaire.
Key features
As you can see, eharmony's major feature is its compatibility algorithm. Using your personality test and those filled in by other members, it will make a match and display the best users compatible with you, with the help of a score.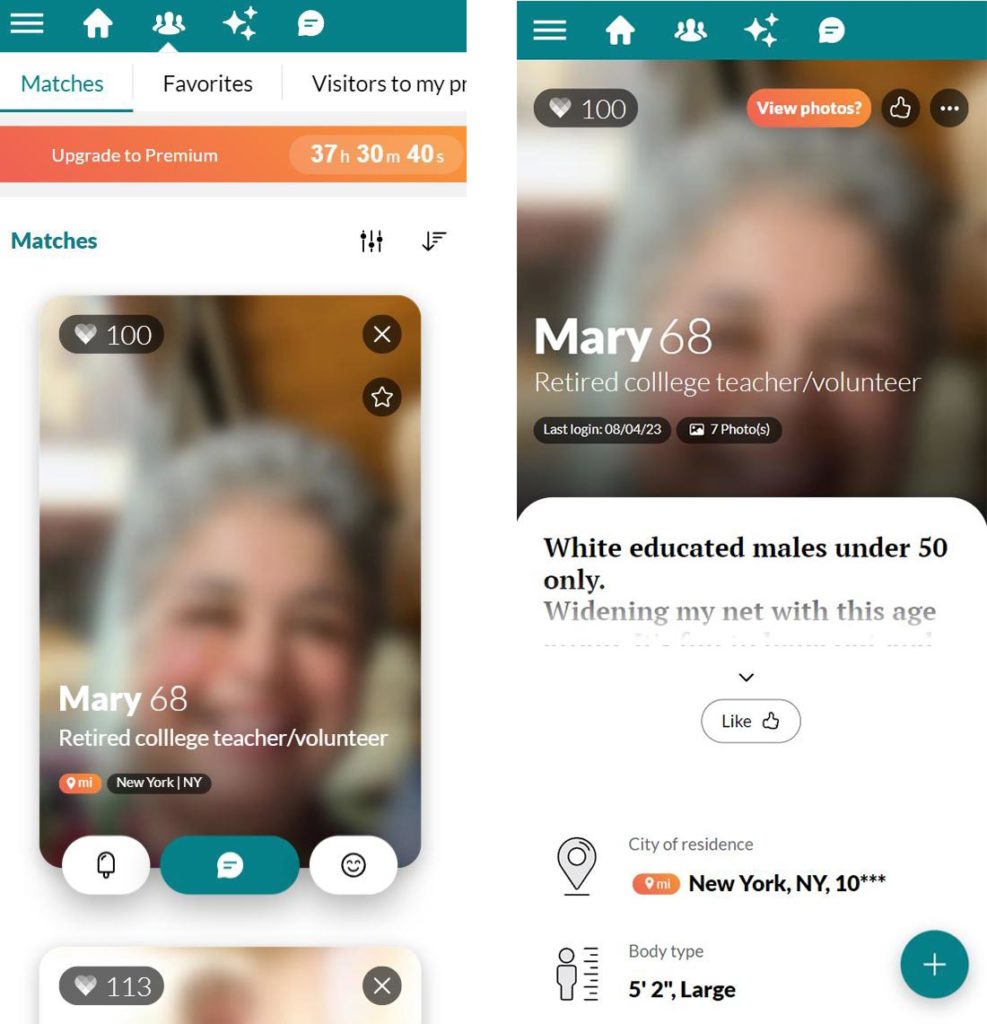 Otherwise, the other features are classic: bookmarking members, liking profiles, seeing who has visited my profile, filtering the search, etc.
The application's functions are very easy to use, thanks to a well-designed interface. Everything is pretty intuitive!
eharmony algorithm: how it works!
eharmony is one of the most popular and successful dating apps in the world, and it owes much of its success to its unique algorithm. This system is based on scientific research, psychological insights, and user feedback.
It was created by a co-founder who is a Christian theologian and a clinical psychologist. Dr. Neil Clark Warren, who also founded eharmony, helped develop the matching system with J. Galen Buckwalter, a former Chief Scientific Officer at eharmony.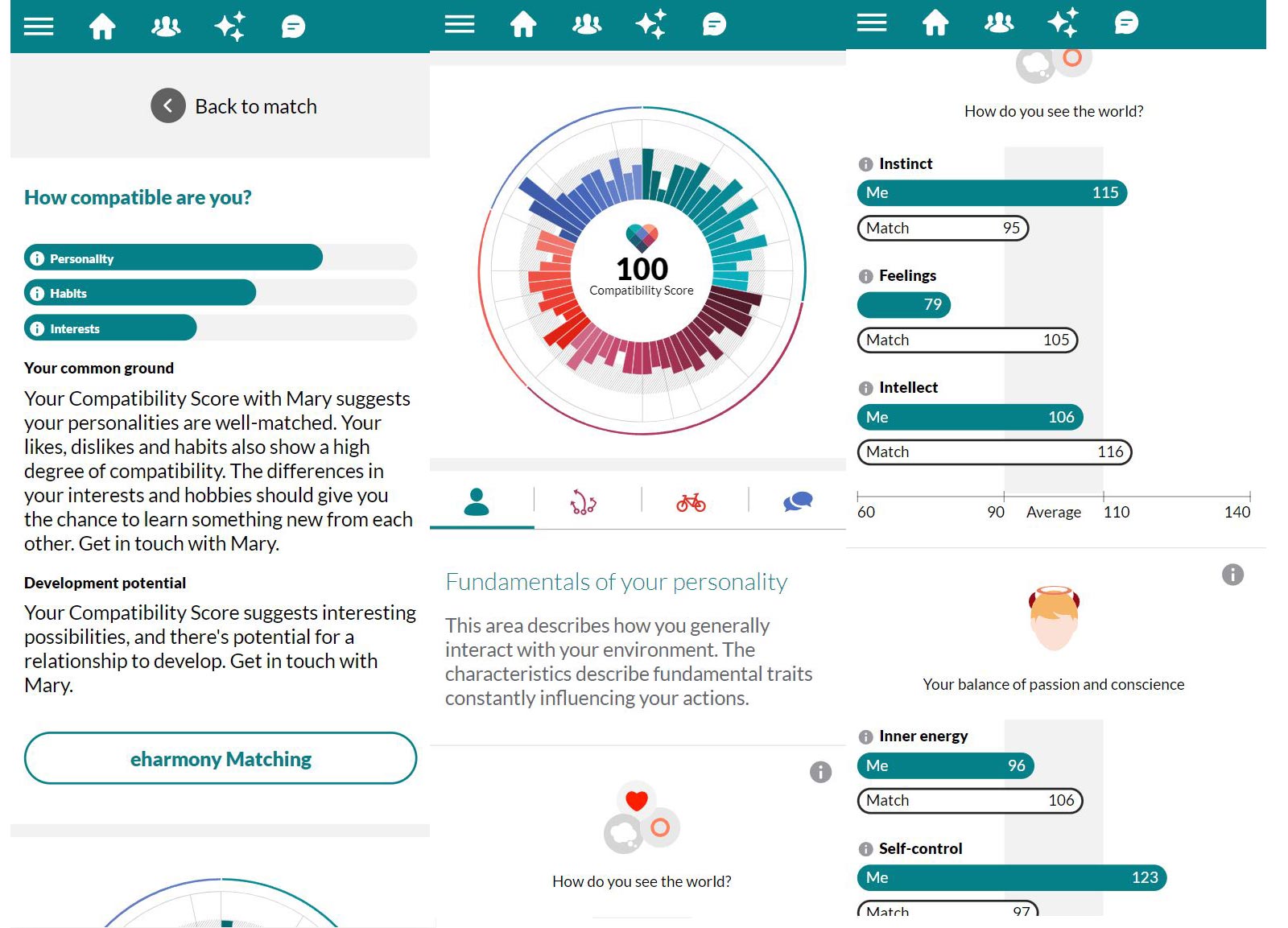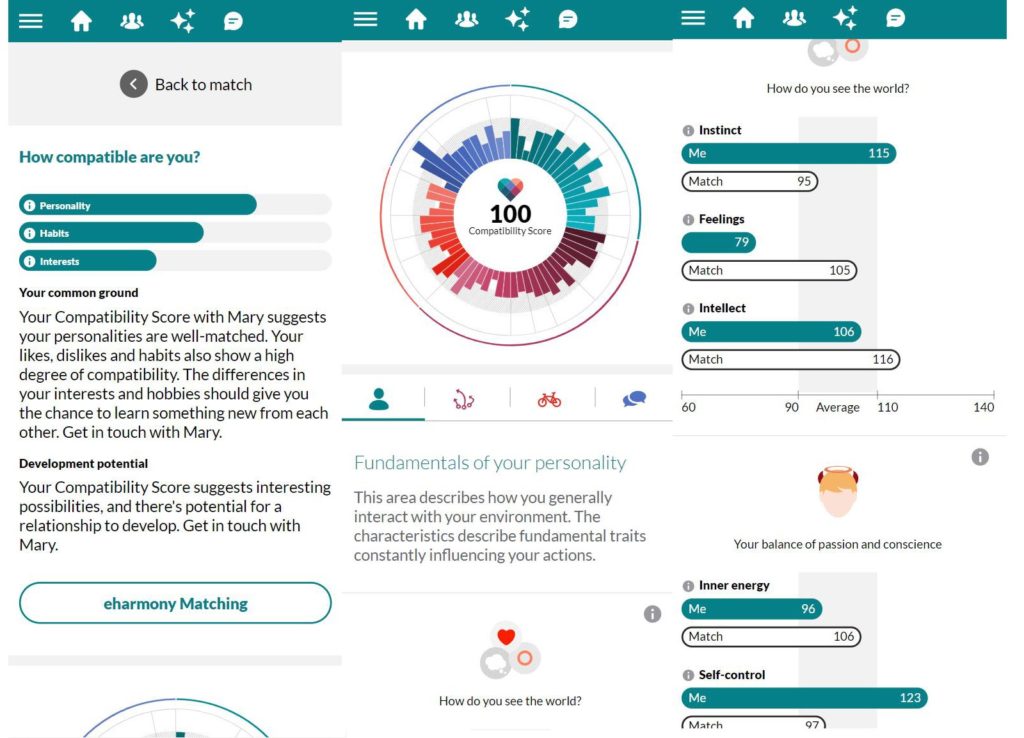 It considers 29 dimensions of compatibility when matching you with someone. These dimensions are divided into six sections: Emotional Temperament, Social Style, Cognitive Mode, Physicality, Relationship Skills, and Values and Beliefs. Each section covers various aspects of your personality, preferences, and values.
It shows you how compatible you are with a match using percentages. When you view a match's profile, you can see how much you have in common with them in different categories, such as emotional intimacy, physical intimacy, intellect, and altruism. You can sort these categories by highest or lowest compatibility to help you decide whether to contact them or not.
What's free?
Downloading, installation and creation of an eharmony account are free. But let's face it, eharmony is mainly a paid service.
First, let's look at what's free: you'll be able to view profiles that "match" who you've bookmarked, see the results of your personality test, and so on.
Another free feature is that you can send your first message! And the free offer ends there!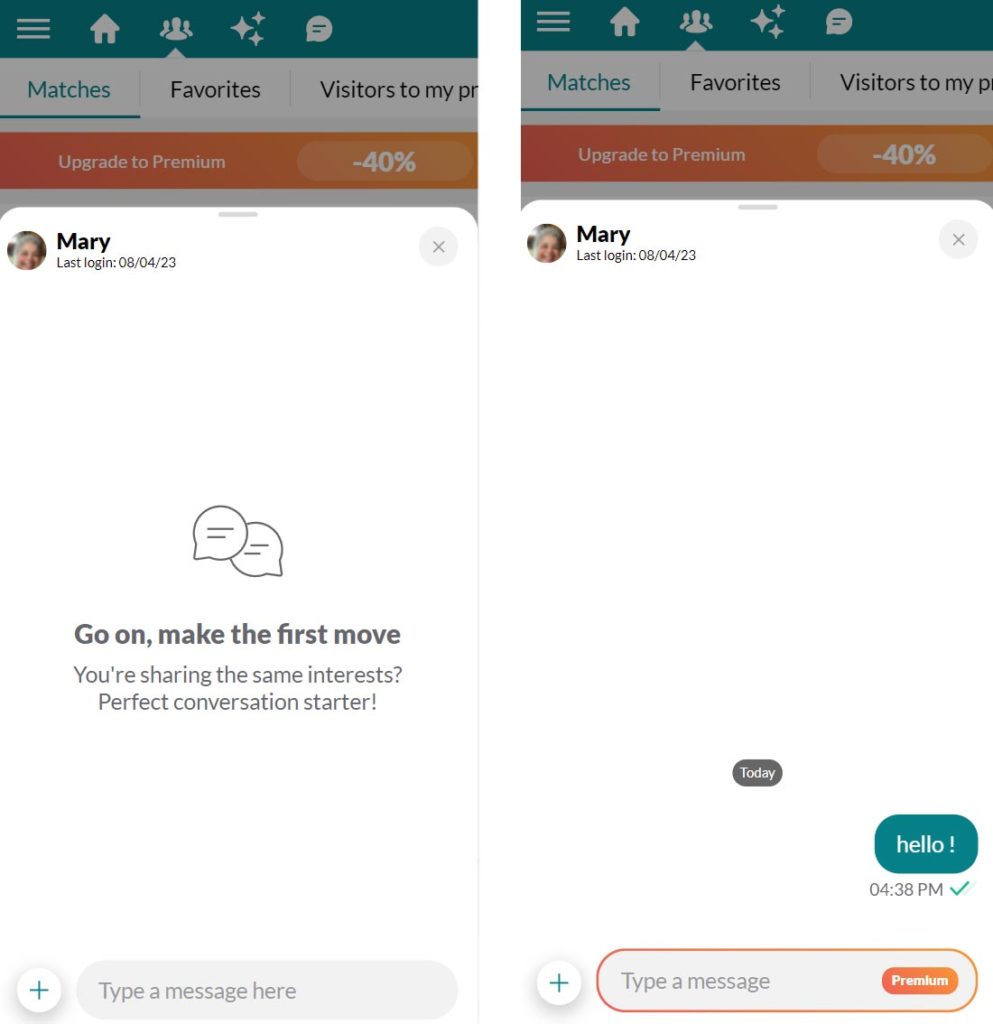 If you get a reply to your first message, which we hope you will, you'll need a premium account to reply again. Likewise, if you want to see users' photos, you'll need a premium account.
However, it's worth pointing out that the free trial version of eharmony is enough to give you a good idea of the application's quality, and whether you should go ahead and take out a subscription… or uninstall the app!
The most expensive dating app?
Tempted to sign up for a premium account? The application offers 3 packages: light 6 months, plus 12 months, extra 24 months.
While the majority of users choose 12 months for its better durability/price ratio, you should be aware that it takes between 3 and 6 months to meet people… If you're not sure about 12 months, but you're used to meeting people, the 6-month subscription, although more expensive on a monthly basis, will do the trick.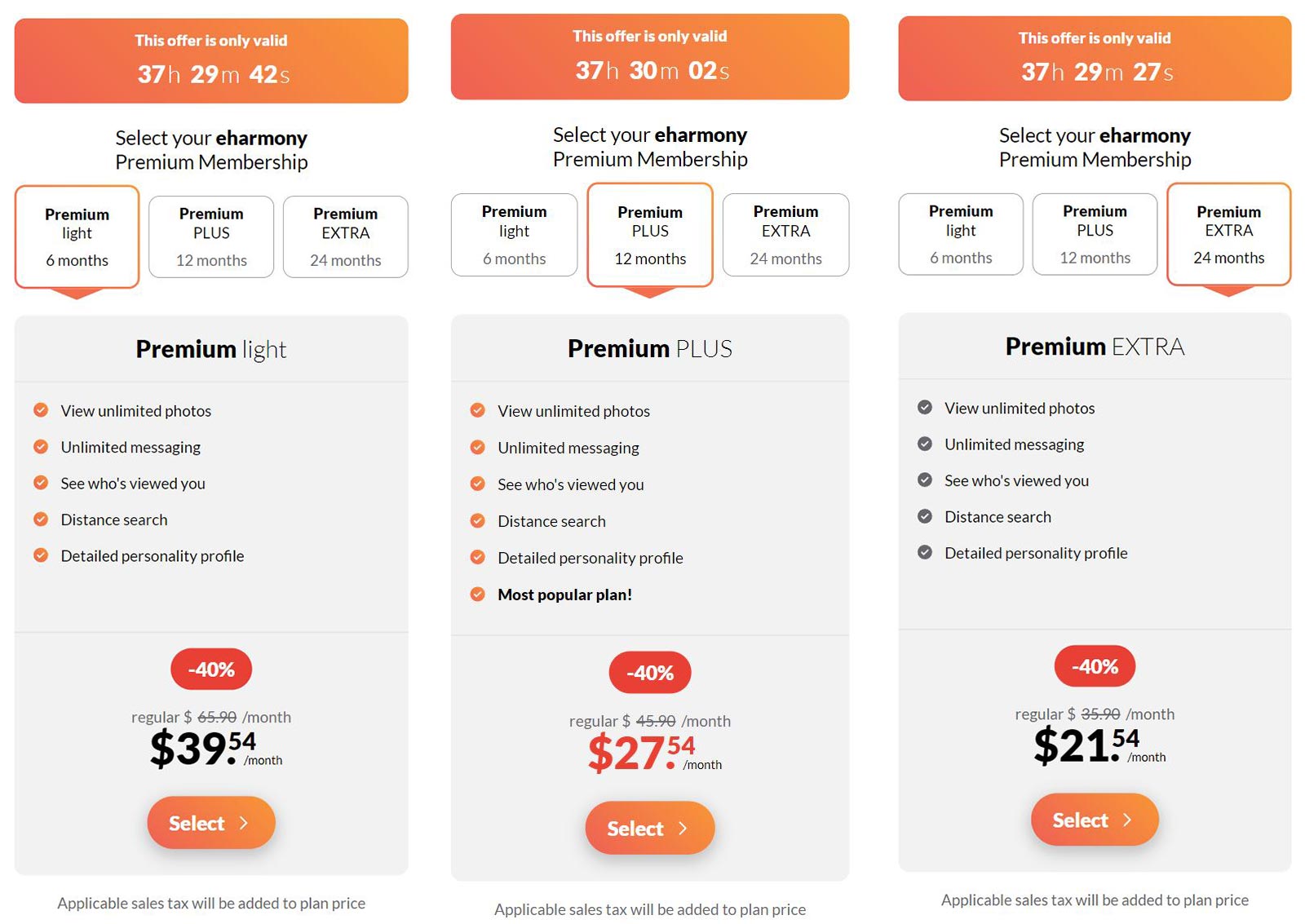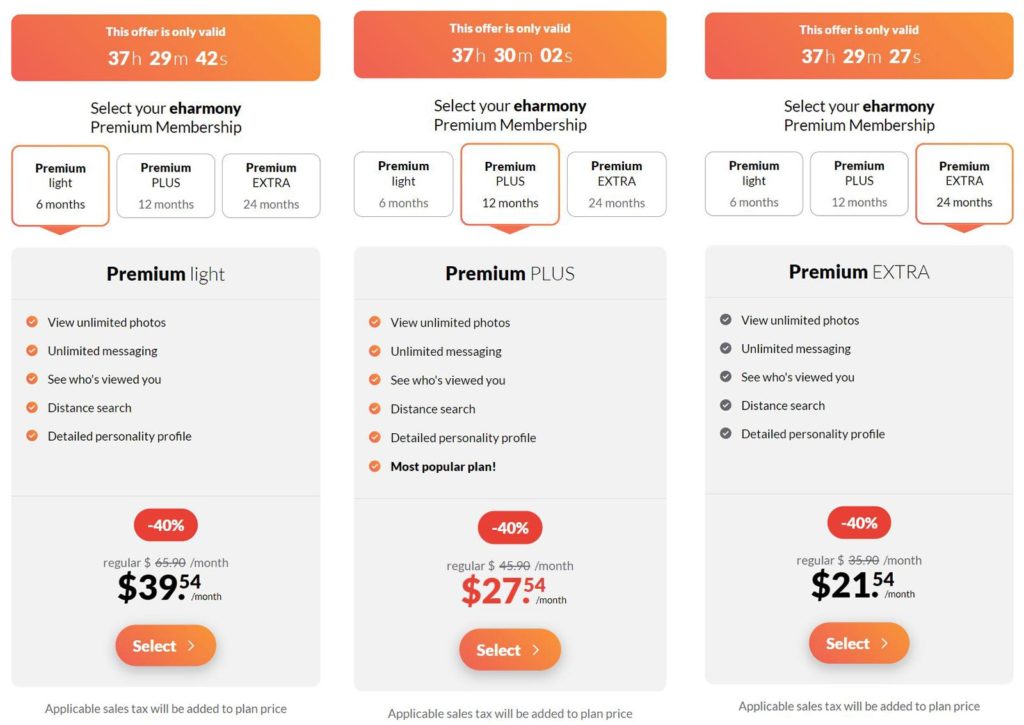 Also, note that you should always take out an eharmony subscription with a discount. Yes, eharmony offers discounts on its subscriptions almost all the time. It would be a shame to pay full price!
Eharmony has higher rates overall than the average dating service. This can be justified by the fact that it offers you an efficient way of finding love, thanks to its popularity and dating algorithm. And in the end, it's priceless.
About the author