Eharmony register: how to create an account
By Alexandre (admin), last updated on September 6, 2023
Almost ready to join the eharmony dating site? As you'll see, this site is far from the traditional one where you just fill in a password, a username and an email to sign up.
No, to succeed on eharmony, the registration phase is essential. Why is this? Because it's a test with a powerful compatibility algorithm. If you answer the questions too quickly or give the wrong information, the profiles proposed will be irrelevant.
And it's no coincidence that he got one of the highest scores in our eharmony review, ranking it among the best dating sites.
We'll show you how to create the perfect account for success on eharmony.
Registration step by step
To create an account, start by logging on to the official eharmony website.
On the home page, enter your genre and the genre you're looking for. Although eharmony is designed for heterosexuals, it also works for homosexuals. You can say you're a man looking for a man, or a woman looking for a woman.
In our case, we'll put a man looking for a woman. And if you're a heterosexual woman, a woman looking for a man.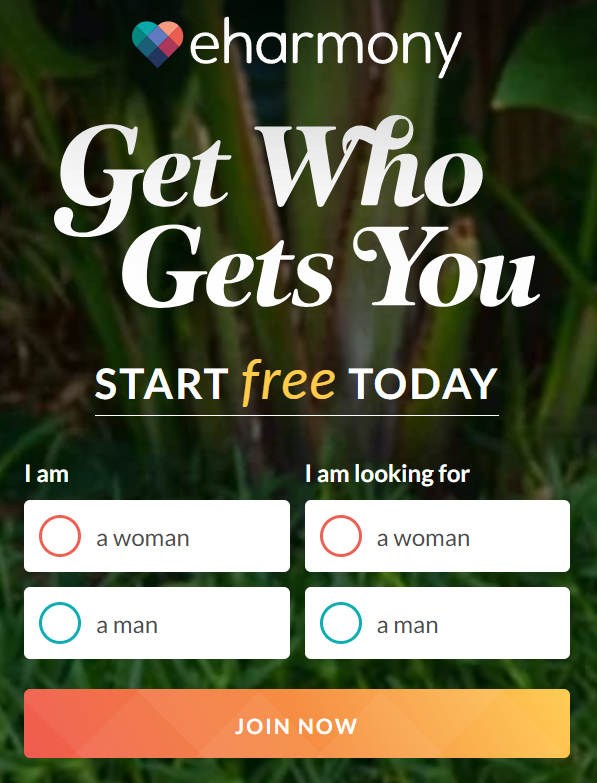 Once you've entered your gender and the gender you're looking for, the site will ask you for your email address and a secure password. A word of advice: avoid using the same password as on any other dating site you might have registered with. For example, enter your usual password followed by the word "eharmony".

Now we come to the most interesting and, above all, important part: the personality test! Here it's called the Compatibility Quiz! Ready to spend some time filling it in? As a reminder, this quiz will help define your personality, with the results of your test available on the site, as well as suggest compatible singles.
We're not going to give you all the questions below, as they often change and it's important to preserve the spontaneity of your answers.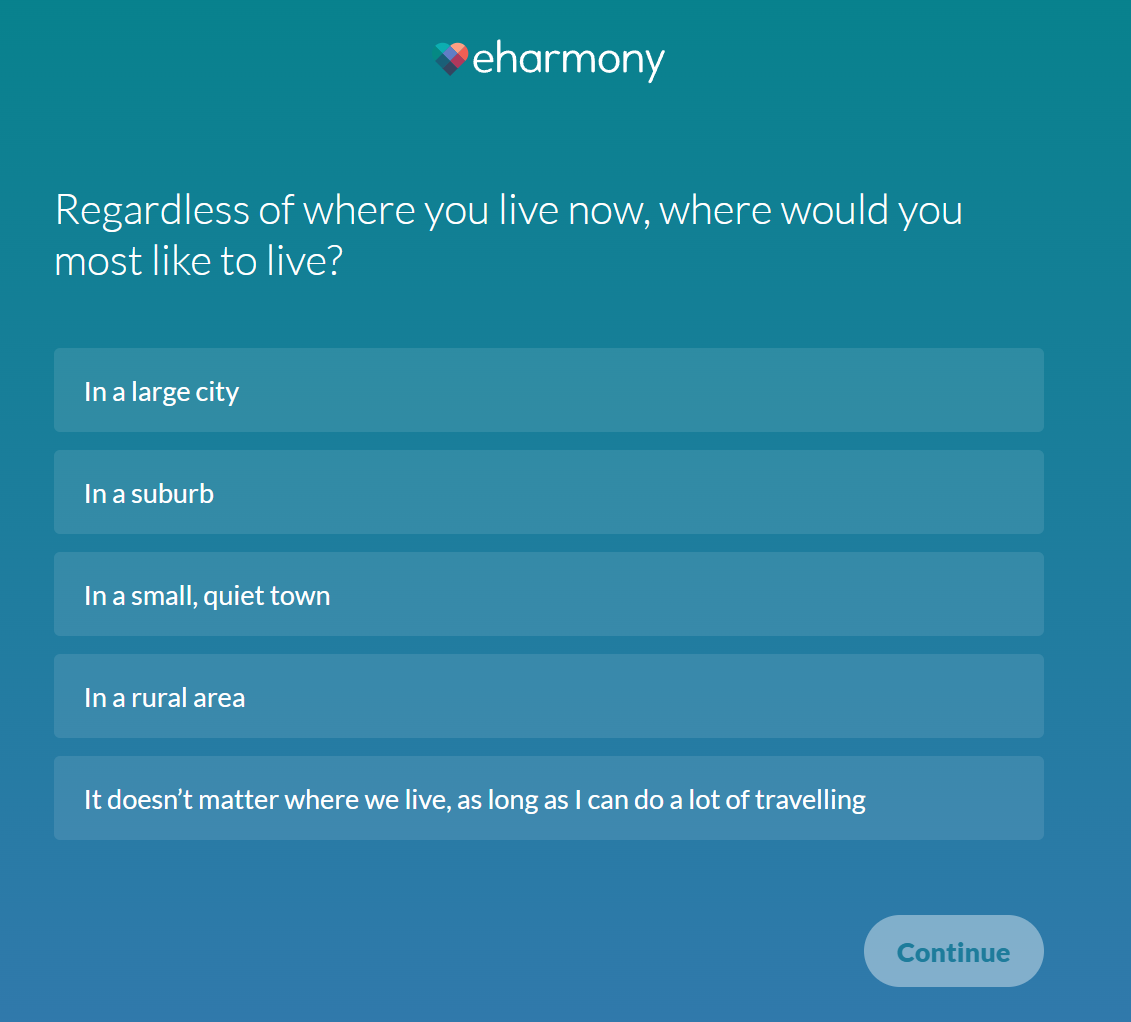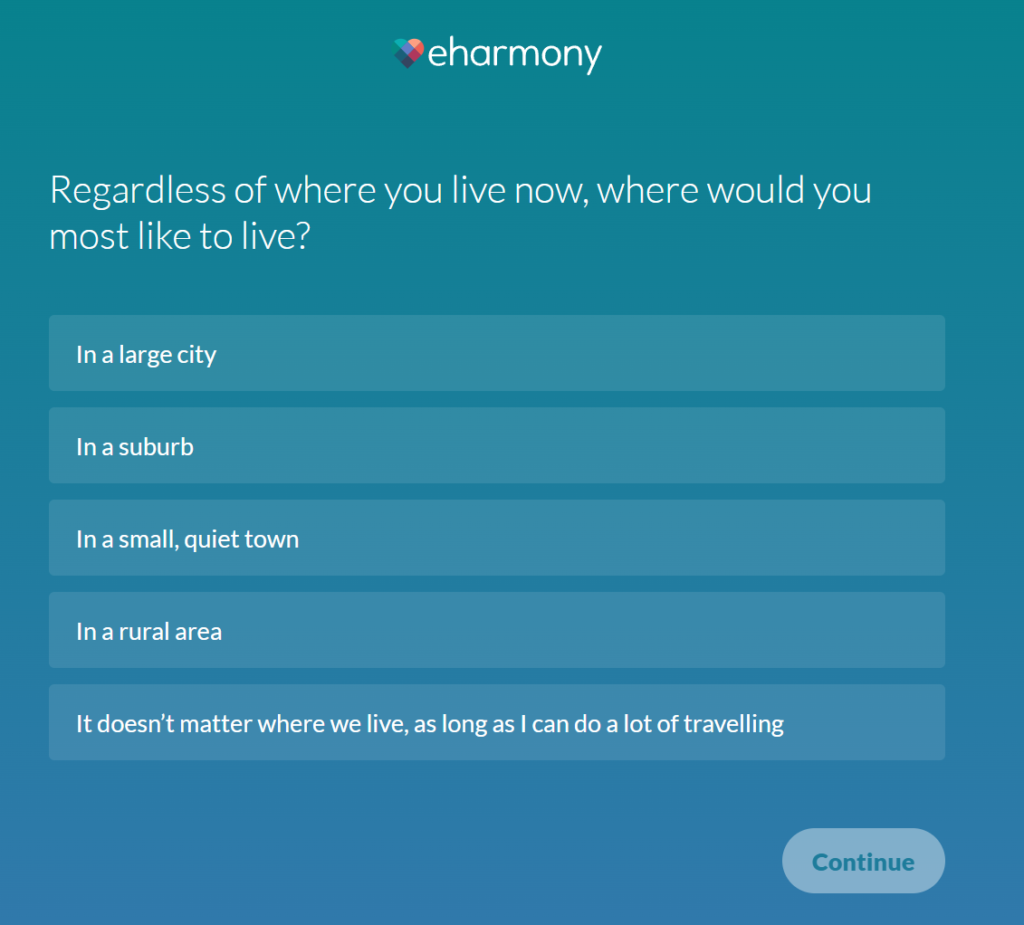 All we can say is that the questions will take up about 15 to 20 minutes of your time and will cover your lifestyle, your type of love relationship, but also your various aspirations such as family, career, friends, etc.
Have you finally completed the personality test? Congratulations!
You'll now have free access to the results in your eharmony account, sorted into 4 categories:
"how do i communicate" "what characterizes me", "how do i orgnanize my everyday life" "what drives me"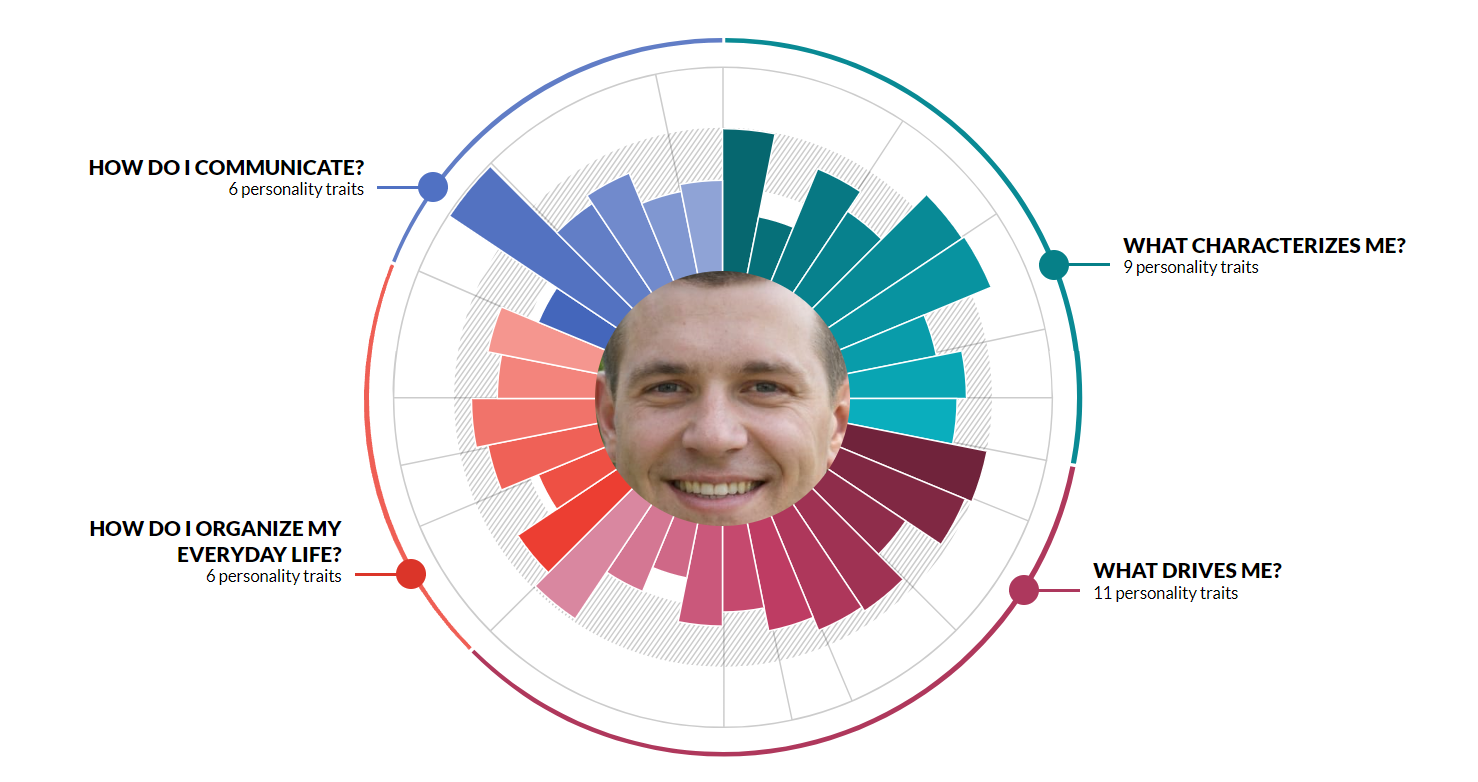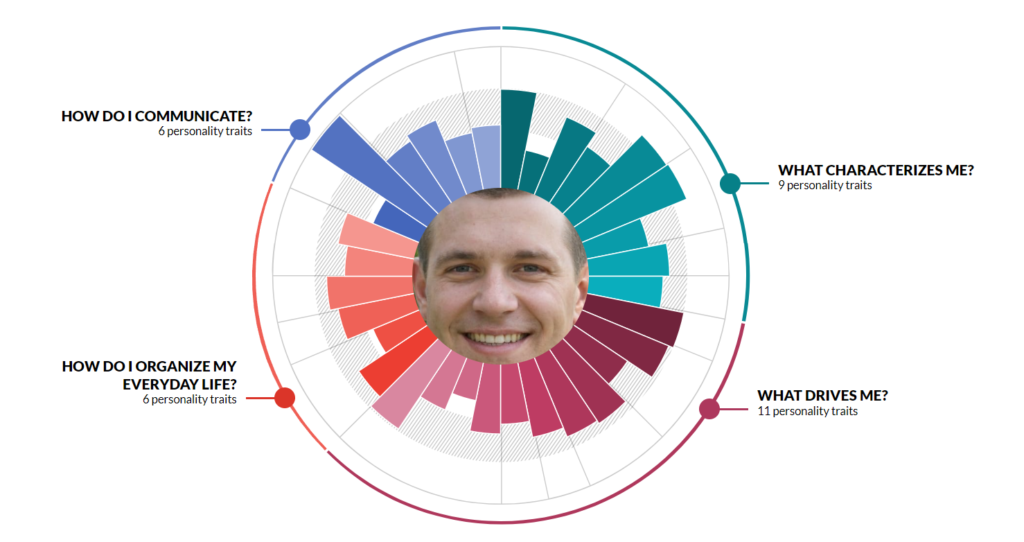 You'll also have free access to other information such as your personality, your vision of the couple, your lifestyle and your way of communicating.
It's interesting to look at the numbers, not that it will have any real impact on your life, but to understand the strengths and weaknesses of your character.


But the most important element impacted by the personality test is eharmony's Match functionality.
It's in the Match tab that the site will suggest profiles of singles who are compatible with your profile. These are your matches, not random profiles! This is truly one of the site's best features, and a real advantage over other alternatives.
Profiles are displayed with a score; the higher the score, the more likely the single's profile is compatible with yours. However, don't try to contact only profiles with a score over 100; profiles with a score over 80 or 90 can also be very good. And yes, there are some things in love that aren't mathematical.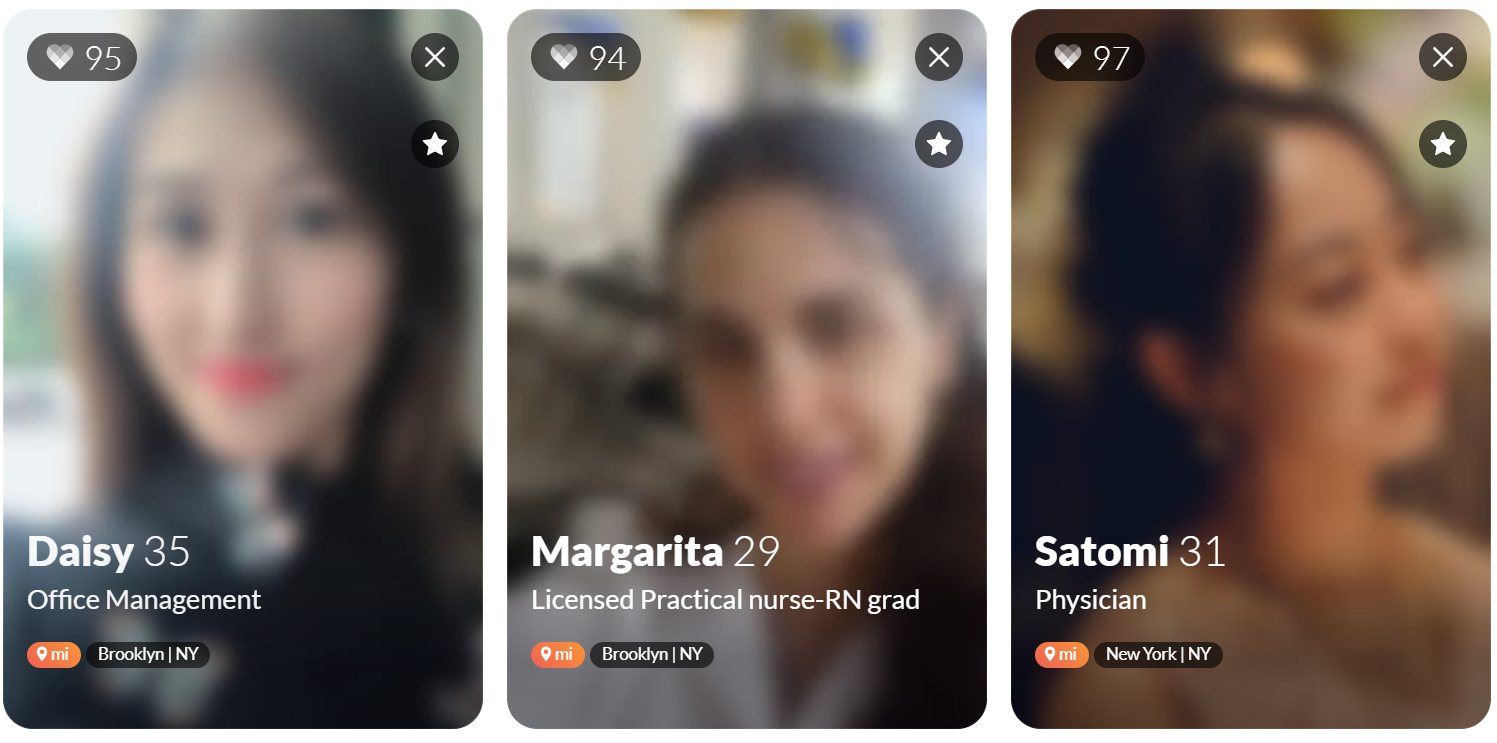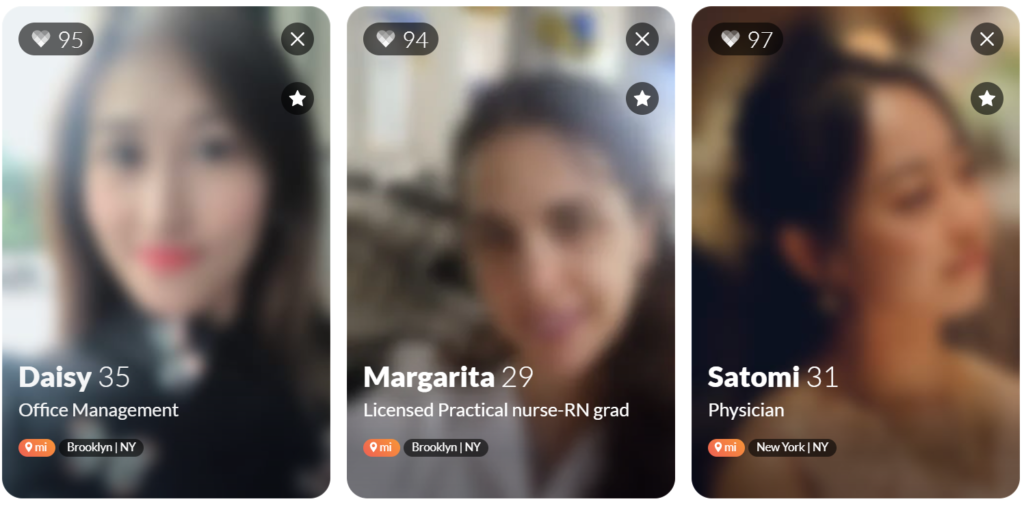 You'll then see what you have in common and what you don't. It's always a good idea to check before you contact the person to see if there are things that are blocking you. For example, if you're not at all a person who expresses your emotions, while other people are quite the opposite, and you know in advance that this will be something blocking a fulfilling relationship, then this compatibility score will show it.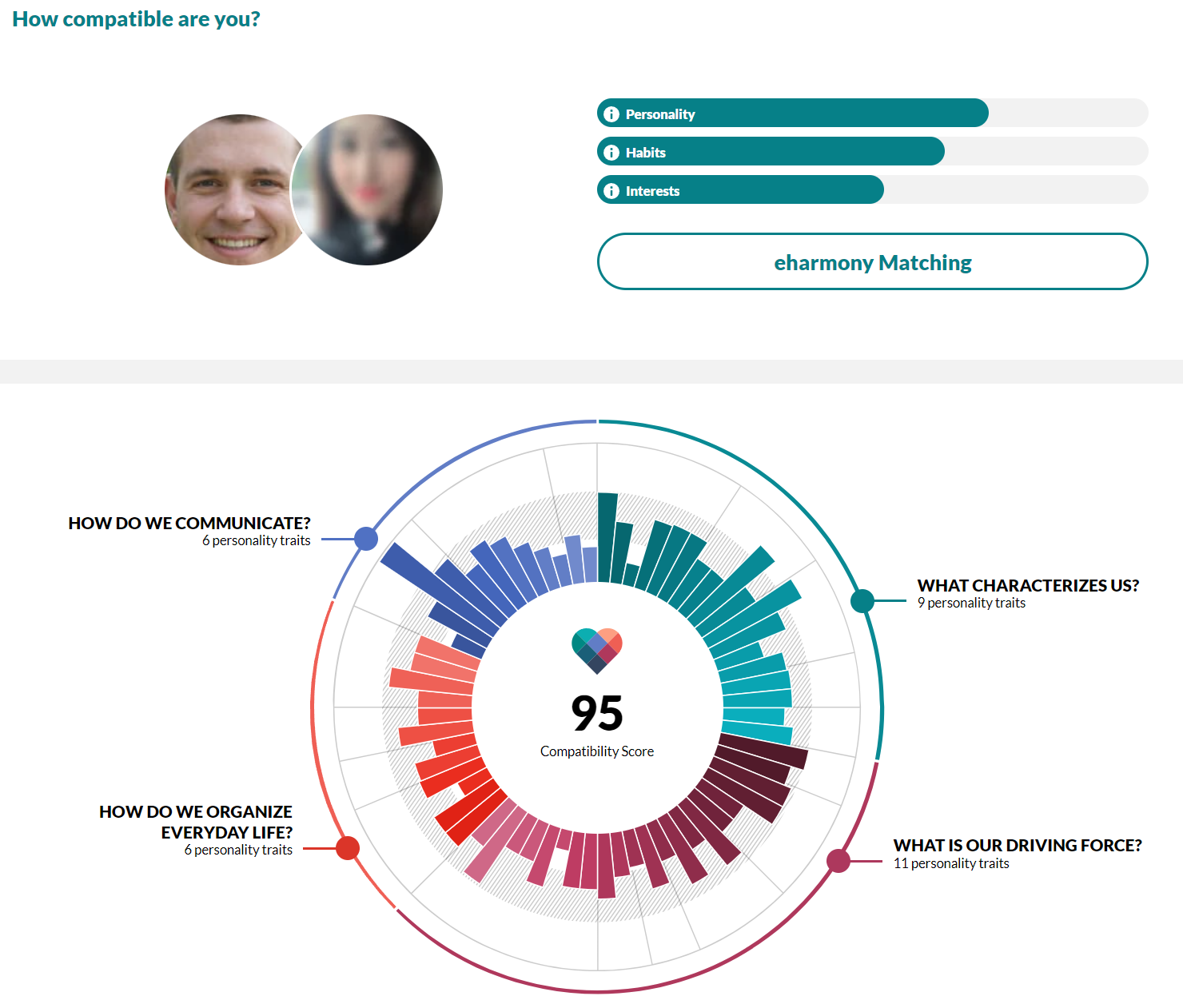 Now that your account has been created and you've seen all about the personality test, you may be wondering why the photos are blurred?
That's because, once you've created your account, you're a free member.
What is eharmony free trial
But all this is free? Like most dating services, eharmony offers a free trial. This offer allows you to test some of the eharmony's free features.
For example, filling in the personality test, viewing personality profiles, searching for members and consulting their profiles are all free of charge and included in the trial offer. You won't need to pay anything for it.
However, this trial offer is there to convince you that the site is serious and that the proposed members are of high quality. To view unblurred photos or chat with other members, you'll need a Premium membership.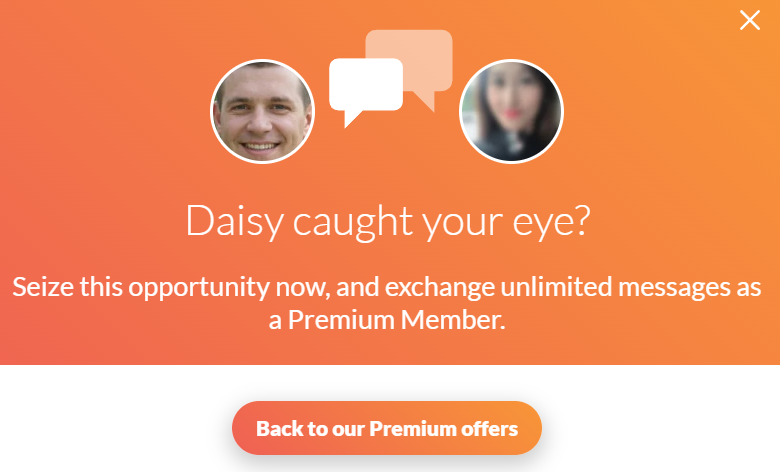 If you decide not to take out a subscription because you're not convinced, then you won't be able to do much on the site other than browse the profiles, without seeing the photos and without being able to contact them…
Eharmony offers me to pay, why?
Let's be clear, while registration is free and there are many free features, eharmony is what might be considered a paid dating site. If you're tempted by a subscription, be aware that eharmony isn't known for being the cheapest dating service.
In fact, eharmony is a premium dating site, with advanced features. The singles who register are all looking for love. So there's no question of SWIPEing and multiplying your encounters.
It's not the cheapest, but thanks to its various subscription offers, eharmony sorts out those singles who are just curious and those who are serious. It's a small investment, but in the end you'll find the right person to accompany you for the rest of your life.

Prices range from $59.90/month to $25.90/month, depending on the duration of the subscription, but eharmony often offers special offers to make the cost more affordable.
Is registration the same on the application?
Are you more the type to meet people on a phone than on a computer? Good news, eharmony is also available as an app. You'll be able to take advantage of the many benefits, such as dating from anywhere, or even video chat.
To answer your question, yes, account creation is the same between the dating site and the dating app.
Is it easy to unsubscribe?
The answer is definitely yes. Eharmony has not made it difficult to unsubscribe from a membership or delete an account. You can easily delete your eharmony account from your profile, and even choose to put it on standby rather than delete it.
It's reassuring to know that you can easily disengage from the platform.
About the author