Elite Singles vs Eharmony: who is the best?
By Alexandre (admin), last updated on September 21, 2023
It is a frequently asked question: who is better between Elite Singles and Eharmony? Which one should you sign up for? Which one is better for me?
Well, we tested both of them. While the two dating services may seem similar, there are many different elements that separate them: features, type of singles, popularity, costs, free trial.
Features: equality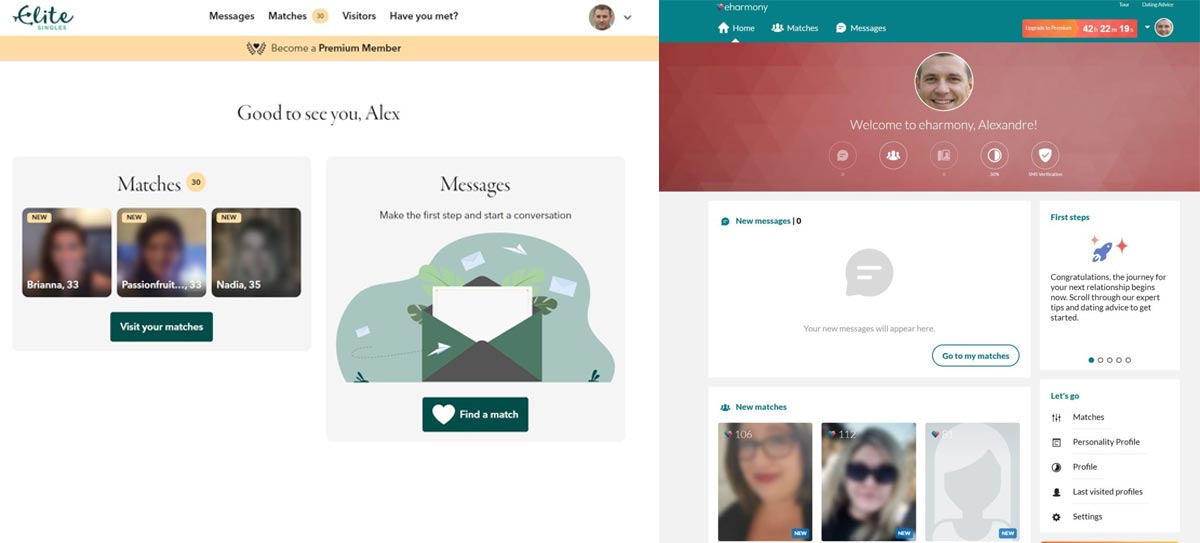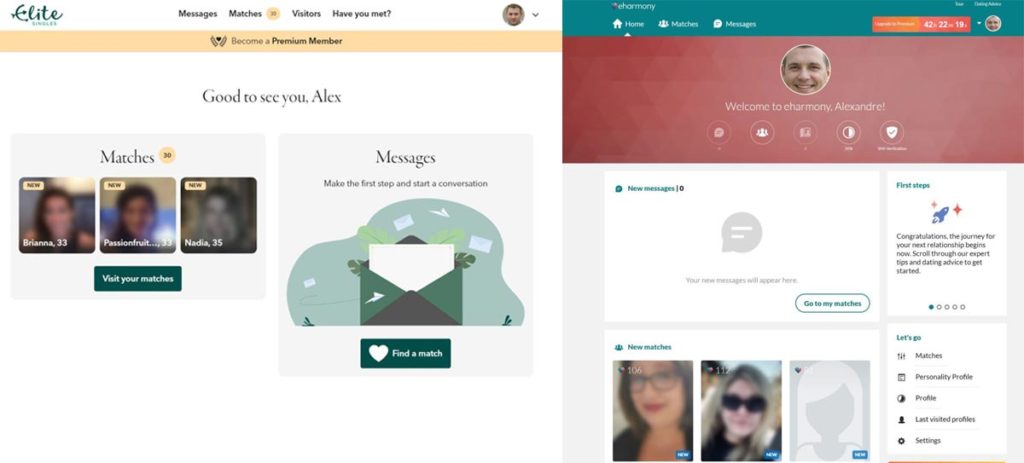 Let's start with the simplest part: the features.
Both Elite Singles and Eharmony offer the same thing: to make quality matches using a compatibility algorithm.
Both dating services will ask you to fill in a long personality test when you register. This will then allow the compatibility algorithm to suggest profiles of singles compatible with your values, your aspirations, etc.
If each site has its own algorithm with slightly different results, it is very difficult to judge and say who is the best from this point of view.
Both sites also offer to display a compatibility score on members' profiles.
So for the features: equality!
Types of singles: important differences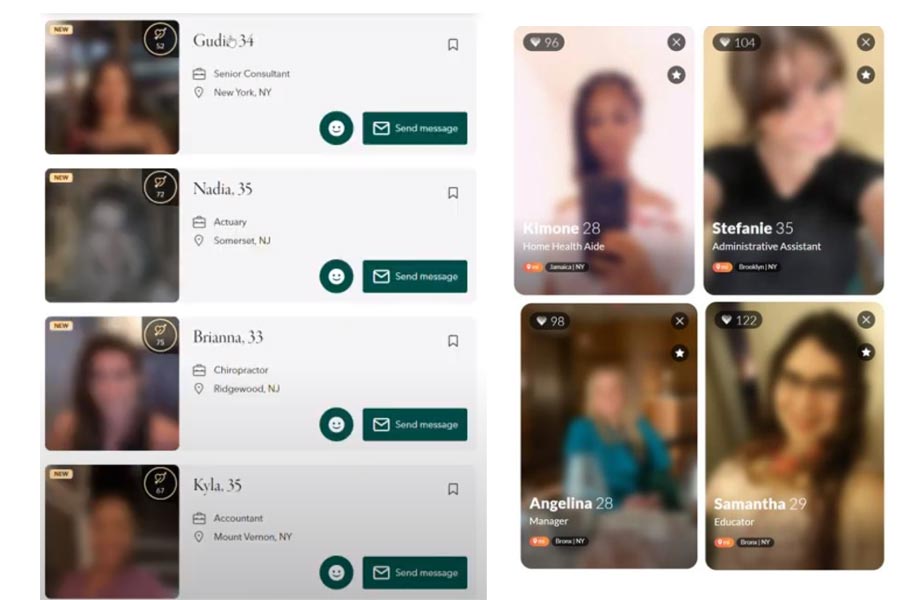 If there is one thing that distinguishes Elite Singles from Eharmony, it is the type of singles for whom it is intended. This may be the point that will make you sign up for one or the other.
Elite Singles is for career-minded singles, for whom work is an important part of life. These singles are looking for the same thing in their future partner because it is a common aspiration that will make life together easier. The income level of these singles is also often above average. It is not uncommon to see self-employed, entrepreneurs, executives, managers, etc..
Eharmony also offers quality singles but without making any distinction on profession or income level. Nevertheless, as we will see later with the price of subscriptions, Eharmony is intended for demanding singles who are ready to invest some money in a subscription to date quality singles. There are all professions, all religions, on eharmony.
Popularity: eharmony


When you sign up for a dating service you hope for one thing: choice!
Indeed, you can have the best dating platform in the world with the best features, if you do not have enough users, it will be a failure.
Who hasn't felt the frustration of taking the time to register on a dating platform only to have a dozen singles near you and no new singles offered every day?
Then rest assured, both Elite Singles and Eharmony are popular enough to offer you a very large number of members, with new users every day.
However, let's face it, eharmony is much more popular than Elite Singles. It will therefore mathematically offer a larger selection of members.
Subscription prices : Elite Singles the cheapest
One thing is certain, whether it's Elite Singles or Eharmony, these are not free or cheap dating sites. Both sites offer quality dating with demanding singles. This requires a minimum fee (even if the registration is free).
If the price of the subscriptions can vary according to the profiles and the discounts, we notice that Elite Singles is a little bit cheaper than Eharmony.
| | Elite Singles | Eharmony |
| --- | --- | --- |
| 3 months | $37.95/month | |
| 6 months | $21.95/month | $55.90/month |
| 12 months | $19.95/month | $35.90/month |
| 24 months | | $25.90/month |
| | | |
The commitment for the Elite Singles subscription ranges from 3 months to 12 months, while the commitment for Eharmony ranges from 6 months to 24 months.
Singles usually take either the 6-month or 12-month subscription.
Rest assured for Eharmony's costs, it is not uncommon for the site to discount subscriptions by 50%. For example it is possible to have a subscription for $27.95/month for 6 months of commitment.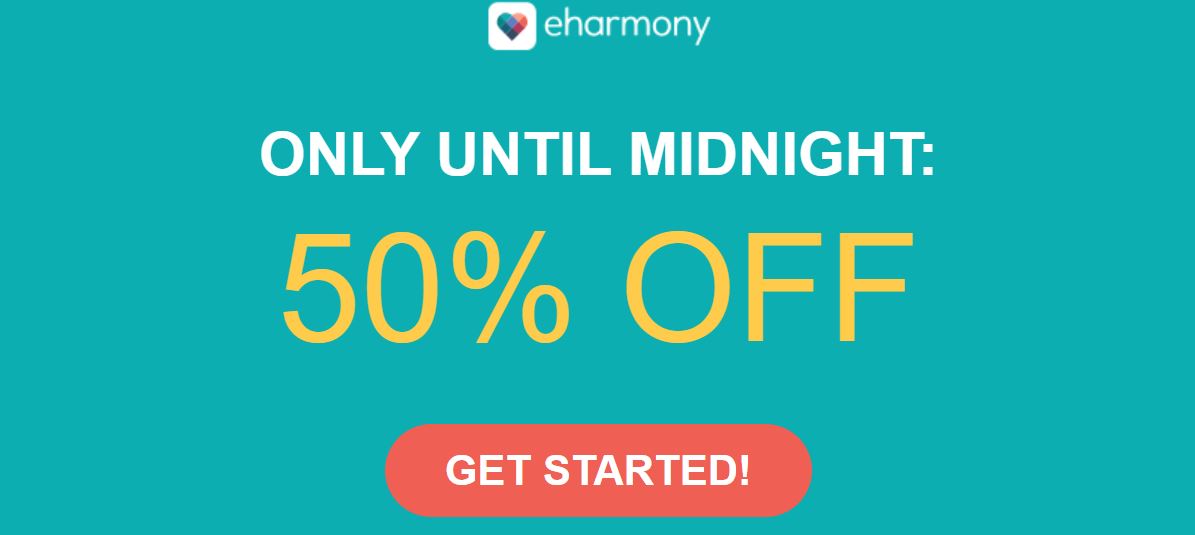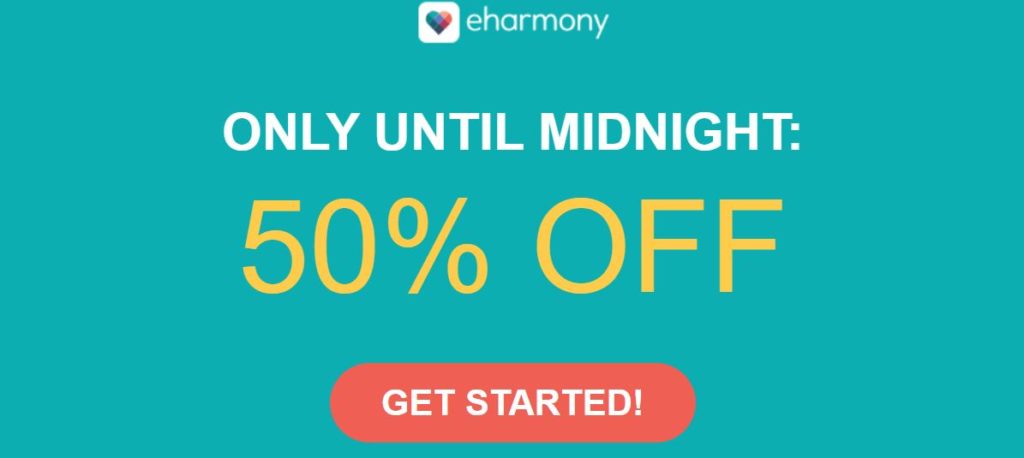 Nevertheless, if we don't count the promotions, Elite Singles wins this duel.
More about costs:
Free trial : equality
All paid dating services offer a free trial.
These trial offers are free depending on the platform. Some offer 7 days of 100% free use, others offer restricted free features but still allow you to meet people, and others only allow you to test the interface.
Both dating platforms offer to test their services for free, without paying. You can register, fill in the personality test, see the suggested singles profiles and search for singles.
However, with the free trial offer you won't see the members' photos (they are blurred) and you won't be able to send and read private messages. You will have to take out a subscription for this.
In this respect, Elite Singles and Eharmony are equal.
More about free trial:
Conclusion: which one do you choose?
Now you know which service to choose between Eharmony and Elite Singles. Still not sure?
Our Elite Singles vs Eharmony comparison chart will help you make your final choice.
| | Elite Singles | Eharmony |
| --- | --- | --- |
| Features | Equality | Equality |
| Type of singles | Career-minded singles | High-quality singles |
| Popularity | Less popular | More popular |
| Costs | Less expensive | More expensive |
| Free trial | Equality | Equality |
If you're more interested in eharmony, you might be interested in our content dedicated to alternatives to eharmony. Here you'll find all the similar dating sites and what makes them different.
About the author