Elite Singles : Updated Membership Costs and Prices 2023
By Alexandre (admin), last updated on May 5, 2023
Interested by a dating matchmaking website and want to know how much dating Elite Singles costs, and what features come with a Premium membership?
Elite Singles offers a free trial that you may have already used. You will then need to purchase a subscription to get all the features. All you need to know about EliteSingles costs and premium features below.


Bellow, all up to date information about Elite Singles Membership.
Elite Singles Memberships costs June 2023
There are 3 membership options : Premium Light, Premium Classic, Premium Comfort.
| Elite Singles membership | Cost per month | Total cost | Total Discount |
| --- | --- | --- | --- |
| Premium Light 3 months | 37,95$/month | 113,85$ | |
| Premium Classic 6 month | 21,95$/month | 131,70$ | -42% |
| Premium Comfort 12 months | 19,95$/month | 239,40$ | -47% |
The more months you commit to, the less you pay.
The "Premium Classic 6 month" subscription is the most interesting. If you want to take your time, the 1-year offer is the most attractive. Elite Singles is not offering the 1 month membership option.
Note the full subscription fee is charged up front.
There is also a free dating Basic Membership to do basic things like send messages and see photographs.
Payment Options are : Paypal, Visa, MasterCard, American Express.
Elite Singles Premium Features
A premium membership is a must if you want to be successful in dating with the EliteSingles platform.
With Elite Singles Premium you can have :
Unlimited communication with people
Intelligent matchmaking service
View all member photos
See all profile visitors
Read receipts for messages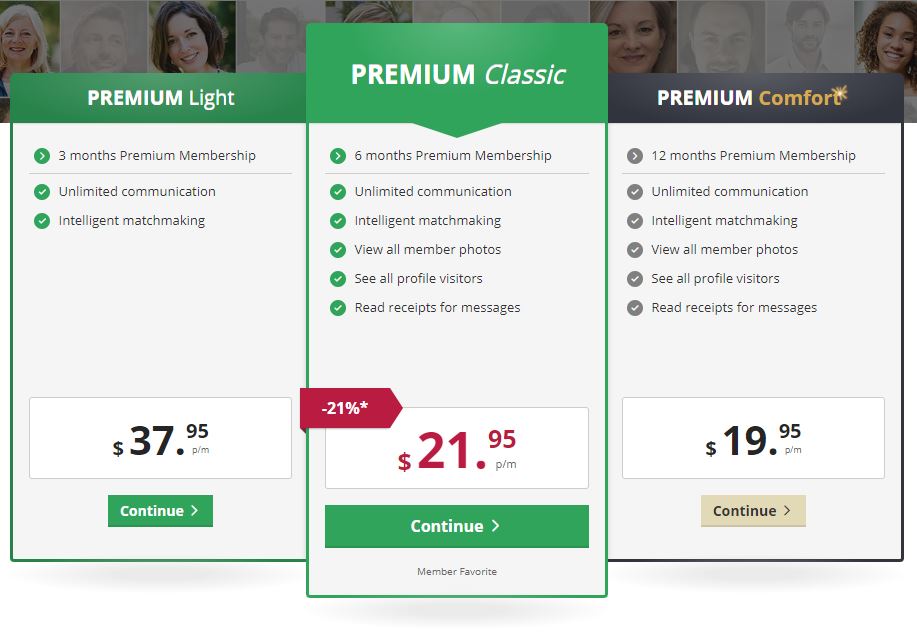 You can subscribe to a membership after answered many screens of questions. However, you can skip the subscription screen to choose to subscribe later and try the free features of Elite Singles without paying.
From time to time, you may see the normal Elite Singles cost lowered due to a sale. We see these offers around holidays or offered to those who have signed up for a free account but haven't upgraded.
Is Elite Singles worth the money?
Elite Singles promises high quality singles thanks to an above-average pricing and a personality questionnaire.
It's the absolute opposite of tinder, grindr, okcupid, plenty of fish, zoosk…
The counterpart is a smaller number of members. But it's the way to date singles with good relationship. Join now, try Elite Singles service with free register and test during a couple of day if you find some singles matching with your personality. Elite Singles might work well for you.
With the subscription you can also use the Elite Singles application which will allow you to be notified as soon as a single sends you a message, in addition to being able to search profiles directly from your phone.
Does Elite Singles offer a discount on the subscription price?
The price of the Elite Singles membership is fairly stable, but the dating service often offers discounts on the price of your membership depending on your age and gender. This means that not everyone has the same subscription price.
There are also special times when the site makes more aggressive discount offers, for example on Valentine's Day.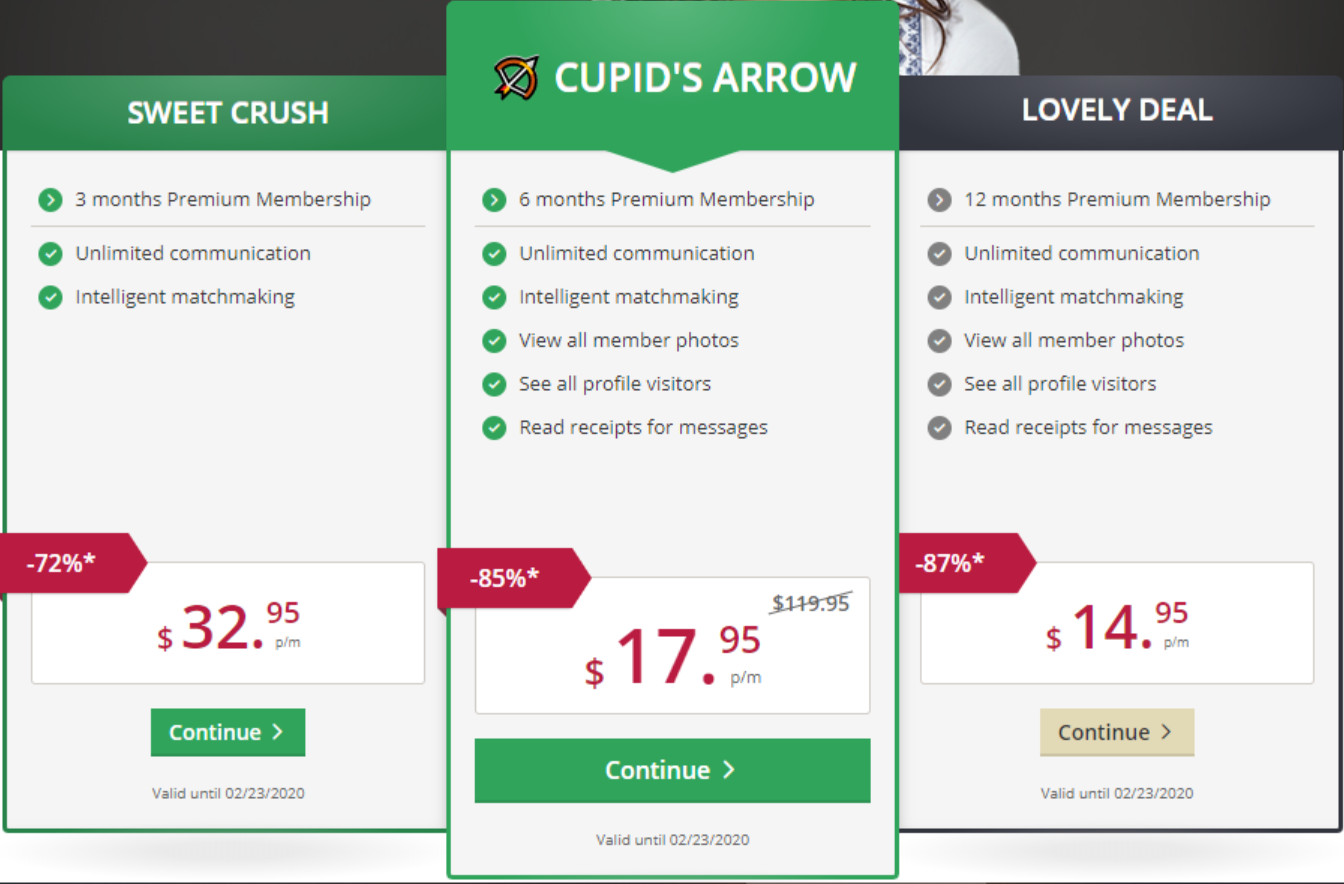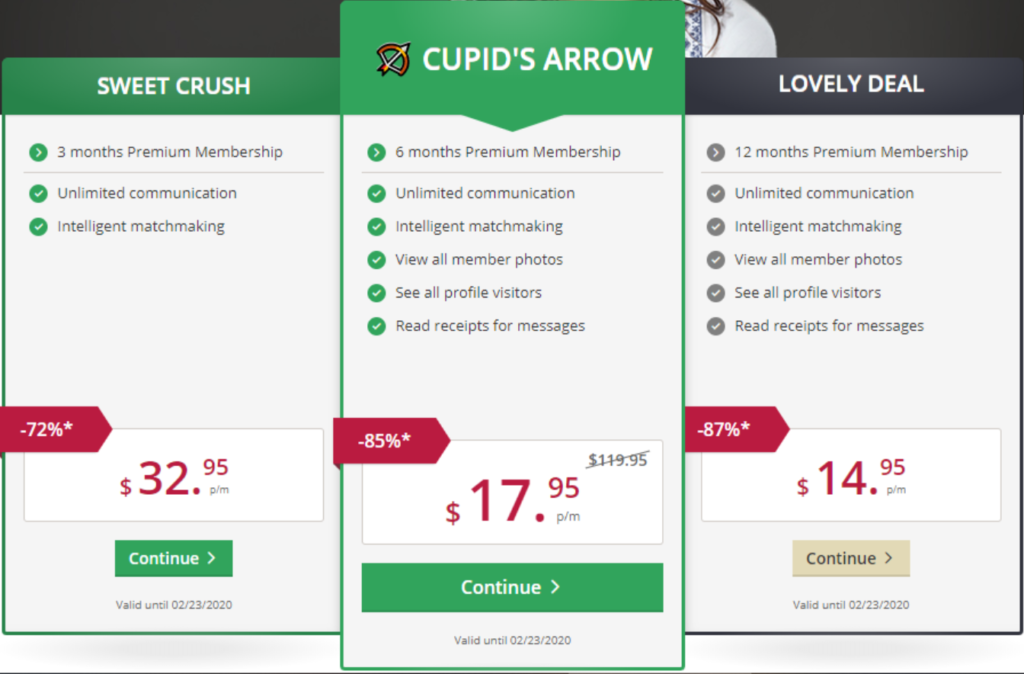 Also, if you've been registered with Elite Singles for several weeks but still haven't subscribed, the dating site may send you a personalized promotion by email.
However, in our opinion, Elite Singles is already a dating site that is well priced for the quality it offers. The price of EliteSingles subscription is for example cheaper than the cost of eharmony.
What age group is Elite Singles for?
There is no minimum or maximum age for membership in Elite Singles. However, it is noted that the majority of members are between 30 and 50 years old. This is due to the fact that the singles registered with Elite Singles are business leaders, executives, doctors, lawyers, and other professionals with high level positions.
These are singles who have dedicated a great deal of time to their professional careers and therefore register with Elite Singles in order to find singles with similar income and/or education levels. Elite Singles singles are looking for efficiency over quantity.
Can you use Elite Singles for free?
Yes you can try Elite Singles for FREE because it is not mandatory to paid for register ans search profiles.
There is a free dating Basic Membership. With this offer you can create a profile, answer the personality questionnaire and know the result, see the compatible singles according to the Elite Singles algorithm and consult the members' profiles. Learn more on the page Elite Singles Free Trial. But, with a free account, you cant send messages to both free dating and paid dating users, and view photos. If you want to meet people with Elite Singles, a subscription is mandatory.
How to turn off auto renewals ?
Like most dating sites, when you take out a subscription, there is a commitment period that you choose which is 1, 3, 6 or 12 months. What happens at the end of this commitment period?
Your subscription will be renewed automatically if you do nothing. This is called automatic renewal. Our advice is to deactivate it as soon as you have taken your subscription so that you don't forget it.
If you'd like to turn off the auto renewals, go to My Account > Cancel > Continue > Confirm.
How cancel Elite Singles subscription?
Do you have a subscription? It is very easy to cancel the Elite Singles subscription.
First of all, you should know that, like most dating sites, subscriptions are automatically renewed. If you don't cancel your subscription before the anniversary date, your subscription will automatically be renewed for the same period.
Then, when you take out a subscription, for example for 3 months, if you cancel your subscription after 1 month, the other 2 months are due.
To cancel your Elite Singles subscription simply go to your account, click on cancel in the subscription area and confirm. To get the detailed procedure, go to the page how to cancel an Elite Singles subscription.
Is EliteSingles for seniors?
Are you over 50 and wondering if Elite Singles is right for you?
Elite Singles is for the discerning, career-minded single. There are singles over 50 on Elite Singles but it is not necessarily the most suitable site for seniors.
In our opinion, if you are between 50 and 60 years old, you can try Elite Singles, and if you are over 60, try SilverSingles. You'll have a wider selection of singles over 60 at SilverSingles, and it too offers matchmaking with a compatibility algorithm.
About the author