Zoosk
See 10 reviews from members for Zoosk.
Launched in 2007 Zoosk is an international dating site which announces one goal : to help peope connect. Zoosk owes its strong growth to social networks like Facebook, Bebo, Hi5 and MySpace. It also offers for some years applications for Android, Apple iOS and Amazon.  Zoosk is a great fit for casual dating, finding a serious relationship.
Want to sign up for zooks? Want to know if this is the right dating platform for you?  All you need to know about Zoosk bellow. Are the customers happy with it? Is the Zoosk dating experience really fun? All information bellow : presentation, free services, premium, costs, app, free trial and our review.
Zoosk presentation

Well designed, Zoosk allows millions of singles nearly to the place where you live to get in touch and why not, find the soul mate. Thanks to a rapid success, Zoosk has built a community of 50 million members (called Zooskeurs) across more than 40 countries in the world, with 35 million user accounts just for USA. Million new messages are sent daily.
Zoosk is a dating site where registration and profile viewing are free but also allows its members to buy premium options to offer virtual gifts (to show interest) or to subscribe to a premium subscription to respond to a private message.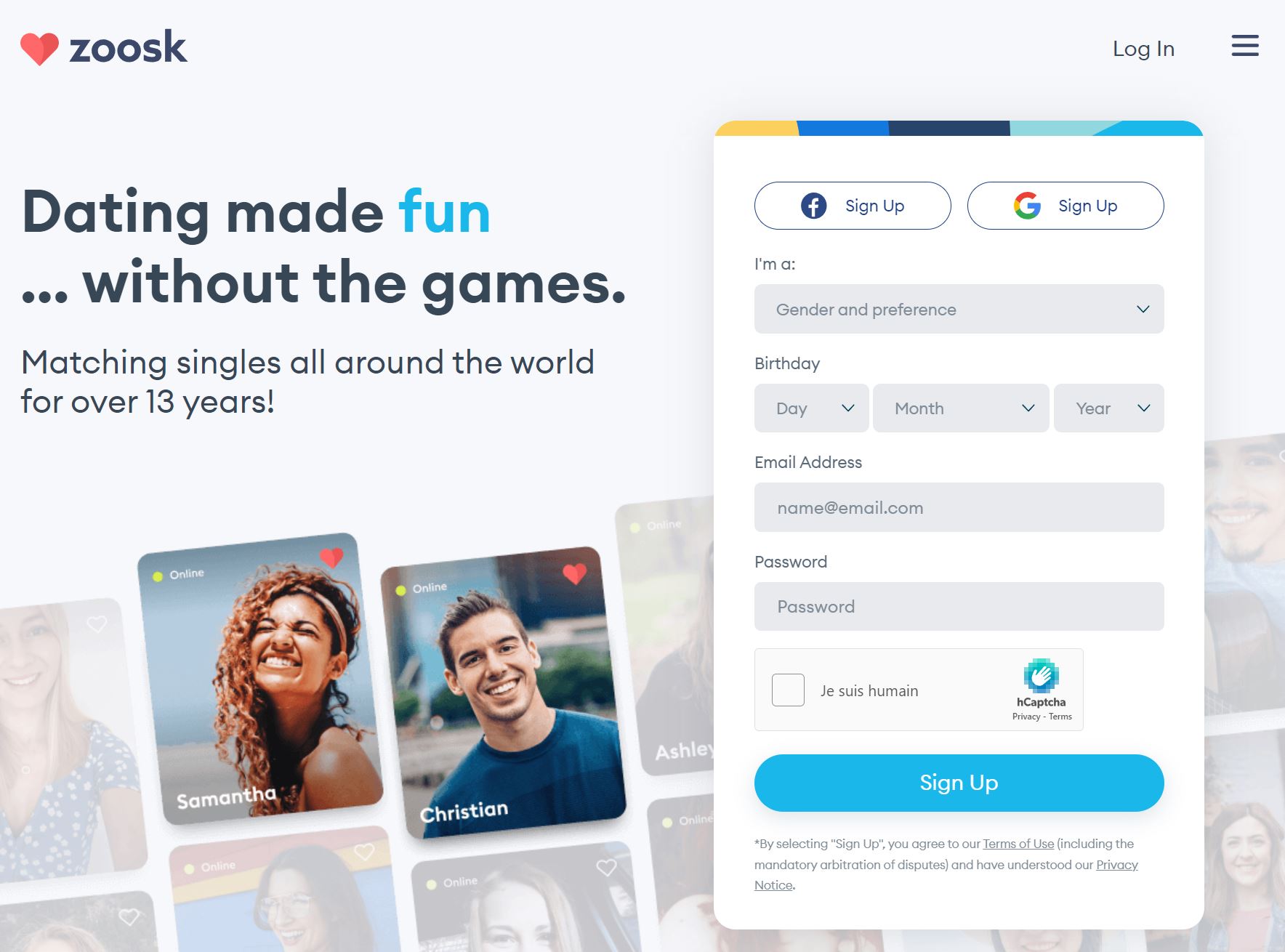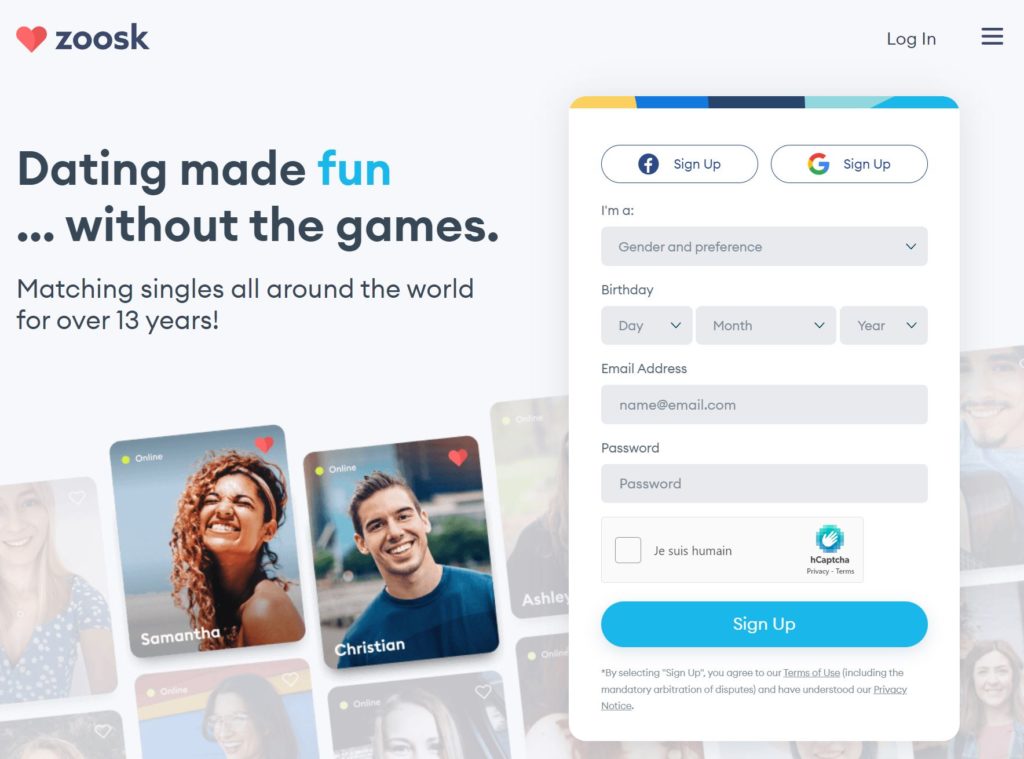 Zoosk is a good dating site for love, flirt and chatting with single people. There is no specificities like christian dating, senior dating, etc. The vast majority of Zoosk members are between 20 and 50 years old. If you are over 50, check out our Zoosk Senior page.
Free Services
You can register for free at Zoosk, without credit card. It's a good way to test the dating site. With a free Zoosk account you can :
Registration and creation of a dating profile with photo and description
Start searching for singles
Send an unlimited number of messages and winks
View the thousands of Zoosk profiles in your area
Discover by mail who has viewed your profile
See if a person was recently online on their profile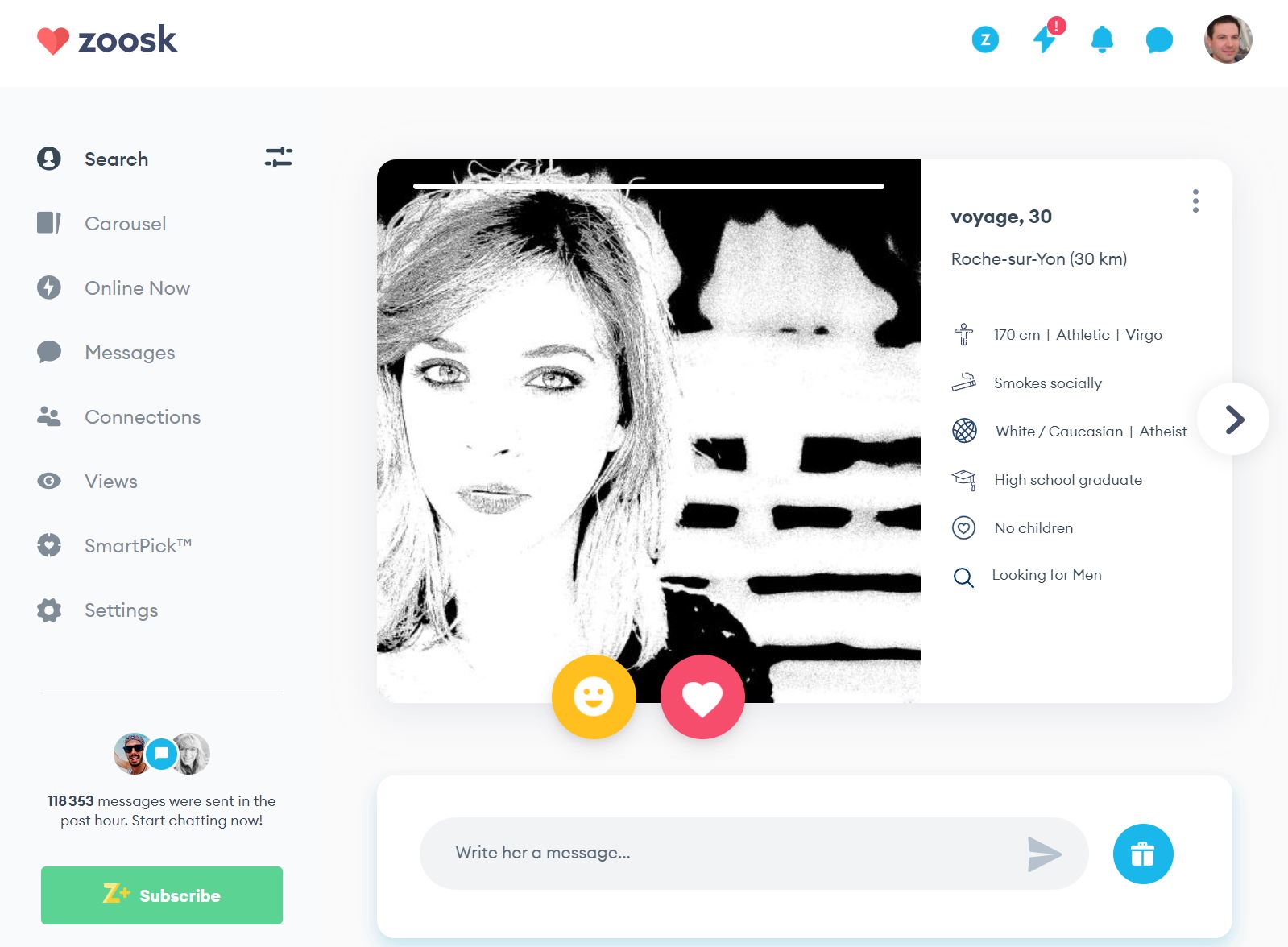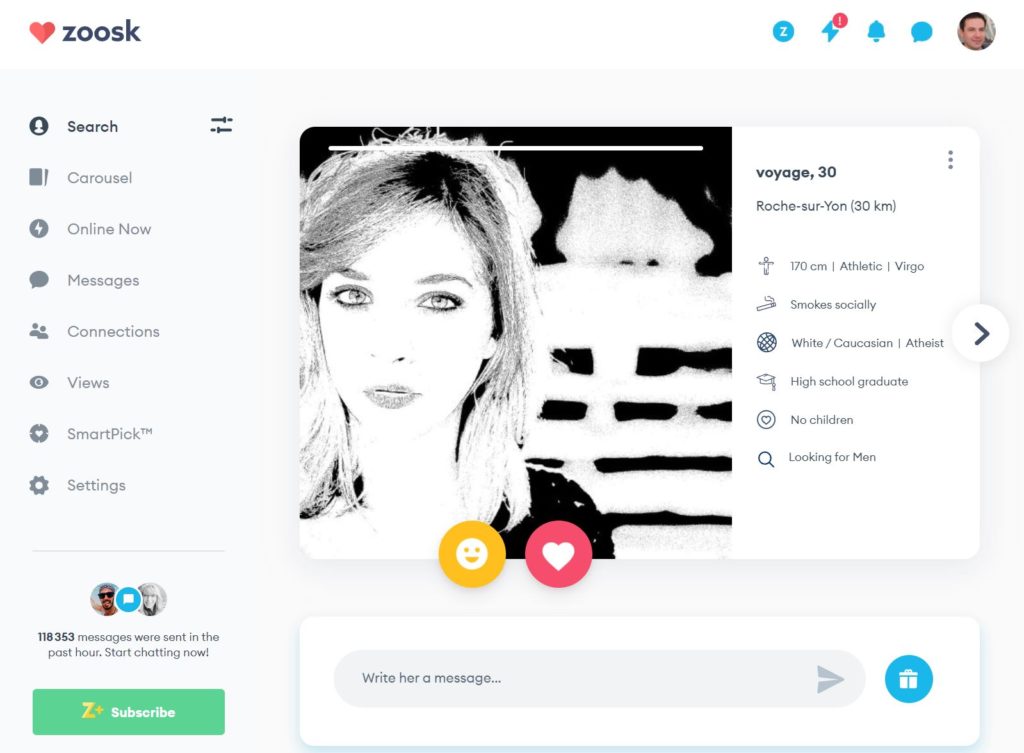 Zoosk Costs and Prices
How much does it cost ? If you want to enjoy premium features, find the prices of the Zoosk subscriptions :
Pass 12 months : $14.95 / month
Pass 6 months : $14,95 / month
Pass 3 months : $24,95 / month
Pass 1 month : $34,95 / month
Zoosk subscription prices are average for dating sites. 


The 6-month subscription is the most attractive financially and gives you enough time to use the Zoosk dating site and dating application to make several matches. Take a look at all Zoosk costs and prices.
Zoosk Dating App
Zoosk App is available on Apple App Store and Google Play Store. You can download dating app and use the same account as on the website. Thanks to the app you have Zoosk in your pocket and you can meet singles everywhere at everytime !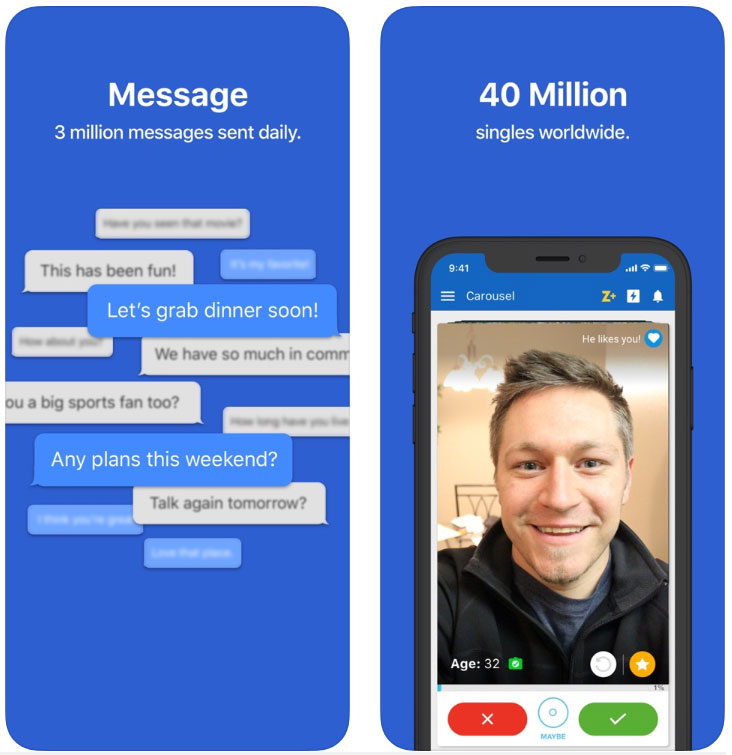 The Zoosk application is of course especially interesting if you have paid a subscription. Otherwise you will receive messages in your smartphone, without being able to answer them. Frustrating! The ergonomics of the application is well done and, for some time, a "match" system, like Tinder, is possible. This helps to meet single people nearby only based on age and photo. Other big advantages about Zoosk App it's the video feature.
Zoosk free trial
You can register on Zoosk for free!  Click on the picture below.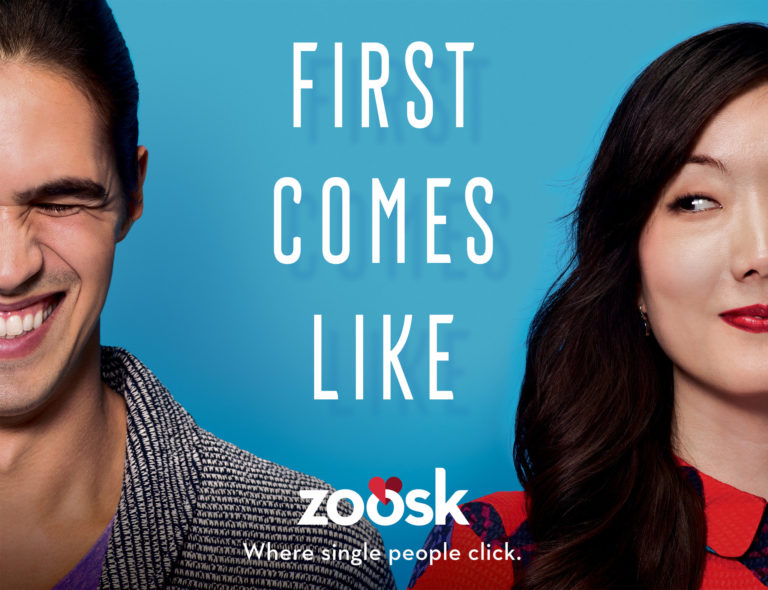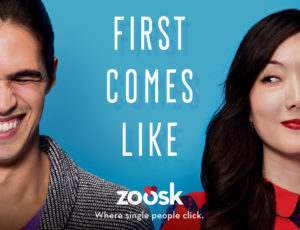 With Zoosk Free Trial, Like most dating services, you can try the Zoosk site and application for free, without a credit card. You will then have a free account and access to free features.
Trying Zoosk for free is the best way to make your own opinion about Zoosk. If you don't like it, just unsubscribe from Zoosk. You will not have paid anything.
Our quick review on Zoosk
Is Zoosk a good dating site? Since 2007 Zoosk has been able to gather a large number of serious members and its design makes navigation and search profiles very simple. Moreover most profiles are active and it is therefore easy and fast to contact another Zooskeur.
However since the boom of the launch thanks to the social networks in 2007, many members have deserted this online dating site. Zoosk seems to be more successful in Canada than in USA. Despite this, there are a significant number of users who appreciate the zoosk service and the spirit of the site. The site indicates that several million messages are exchanged every month. So even if it is not the most popular dating site, it's a good dating service and it is still worth a try. Especially with the free trial. You could find a partner with Zoosk.
Like on all dating services, there are scammers so be careful. Learn more about this dating site, registration, how to contact a Zoosk member, etc,  read our full Zoosk review.
10 reviews from Zoosk members
From newest to oldest
Zoosk
Amélia

opinion -

November 10, 2022

at 8:57 am

Hello, I live in Canada so this opinion is only mine and my experience may be different from my American friends but zoosk is my favorite platform. I used tinder for a long time but the principle of match and "consumption" did not suit me. I found zoosk to be a more relaxed community of singles, looking to meet new people, sometimes friendly, sometimes serious, we can more easily share common interests. The price of the subscription for 6 months, moreover when you have a promotion, is interesting. My opinion is that if you are looking for singles between 25 and 40 years old, who are "cool" to date, this is the right site.

Rachel April

opinion -

June 17, 2022

at 2:39 pm

After having tested Zoosk for several weeks, only on the application I specify, here is my opinion. The positive point of Zoosk is its interface which, unlike other dating sites, is fun to use. There is also the number of members which is a positive point. The quality of the members is really variable. There are curious people like me, people who are interesting but do not have a subscription, and people with a subscription but who are very selective. So Zoosk is a good dating application, not necessarily the best one to find love but I think it's a bit like Tinder in terms of quality of members. The disadvantage of Zoosk compared to Tinder is that on Tinder you can exchange messages for free. So, in the end, was I able to meet people thanks to Zoosk? The answer is yes, I have been able to exchange messages with people through the application and then I have met them. I haven't found the love of my life yet, but the contract to meet people is fulfilled.

Olivia

opinion -

May 31, 2022

at 2:12 pm

Thank you for your helpful content. A lot of information to know before registering on zoosk. Following your advice I did a free trial before taking the step of a subscription. I also used the Zoosk app which is very well done. I have made a few contacts, but no real dating yet.

Natalia

opinion -

November 3, 2021

at 2:15 pm

I have tried zoosk and here is the beginning of my opinion: at the beginning, it was a very interesting dating site. Easy registration, very fun and simple interface, many registered members, etc. So only positive things. I took a subscription because the price is very low. Then, a few days later, I realize that even if I have visits on my profile and a lot of likes, I have no response to my messages. I took a 3 months subscription so that still leaves me time to test but I wonder what is the proportion of zoosks members really active.

Camilia

opinion -

July 31, 2020

at 3:33 pm

I'm looking for love and search for the best dating site. Is zoosk reliable? I can read good and bad reviews. Thanks.

Frederic

opinion -

March 28, 2020

at 5:37 pm

I'm a zoosk member since 2 weeks. Some profiles reply to my messages, some not. I test 2 more weeks and I will see if I want to renew my subscription.

zooskuser

opinion -

January 22, 2020

at 2:56 pm

Ok Zoosk is a dating service with matchmaking, etc. but it's a big disapointement. I register on zoosk for 3 months and I never can meet people. So it's complicated to find love if you cant meet someone! My advice, dont lost your time on zoosk and try other dating service or dating apps like okcupid, eharmony, POF,..

Kim

opinion -

November 20, 2019

at 11:26 am

I tried zoosk the last days… there are romance scams, inactive profiles and maybe…. fake profiles? I'm not very happy, I used the pass 1 month. I'm heterosexual, single parent, I will try anothe casual dating website.

Rony

opinion -

December 27, 2018

at 5:49 pm

Zoosk is a sh*t dating site ! I want to leave zoosk ? How to cancel zoosk suscription ? Thanks !

Alex

opinion -

November 28, 2018

at 7:57 am

Hi ! I tried zoosk for 3 months. At first satisfied, I am today rather disappointed of Zoosk. I can not make a qualitative dating. I'm thinking of trying another dating site.
Participate by rating Zoosk dating site
In addition to leaving a comment below, you can rate the dating site (provided you have tested Zooskm) by giving it stars. Optional if you haven't tested the site.
Give your opinon about Zoosk