Zoosk vs Elite Singles: How to Choose Between them? A Comprehensive Comparison
By Alexandre (admin), last updated on May 17, 2023
You know almost everything about Zoosk and Elite Singles and yet you're still not sure which one to sign up for?
We will be able to help you because we have tested both and know their strengths and weaknesses. The objective points of comparison are: the features, the type of singles you can meet, the popularity, the price, the possible features in the free trial.
Features: equality
Zoosk and Elite Singles have some similar and some opposite features.
Both dating services allow you to create an account and a profile with photo, ad, hobbies, etc. It is also possible to have singles suggested and to search for singles manually according to your own criteria. In both cases, you will not be able to contact singles in the free version.


On Zoosk, you will be able to see the full profiles of users with their public photos. You can also send virtual gifts.
On Elite Singles, you will be able to fill out a personality test in order to have profiles proposed by a compatibility algorithm. The profile photos are blurred in the free version.
As you can see, each site has its strengths and weaknesses in terms of features.
Type of singles: they are the opposite
Zoosk and Elite Singles are aimed at completely different singles. This is where you can mainly decide between the two sites.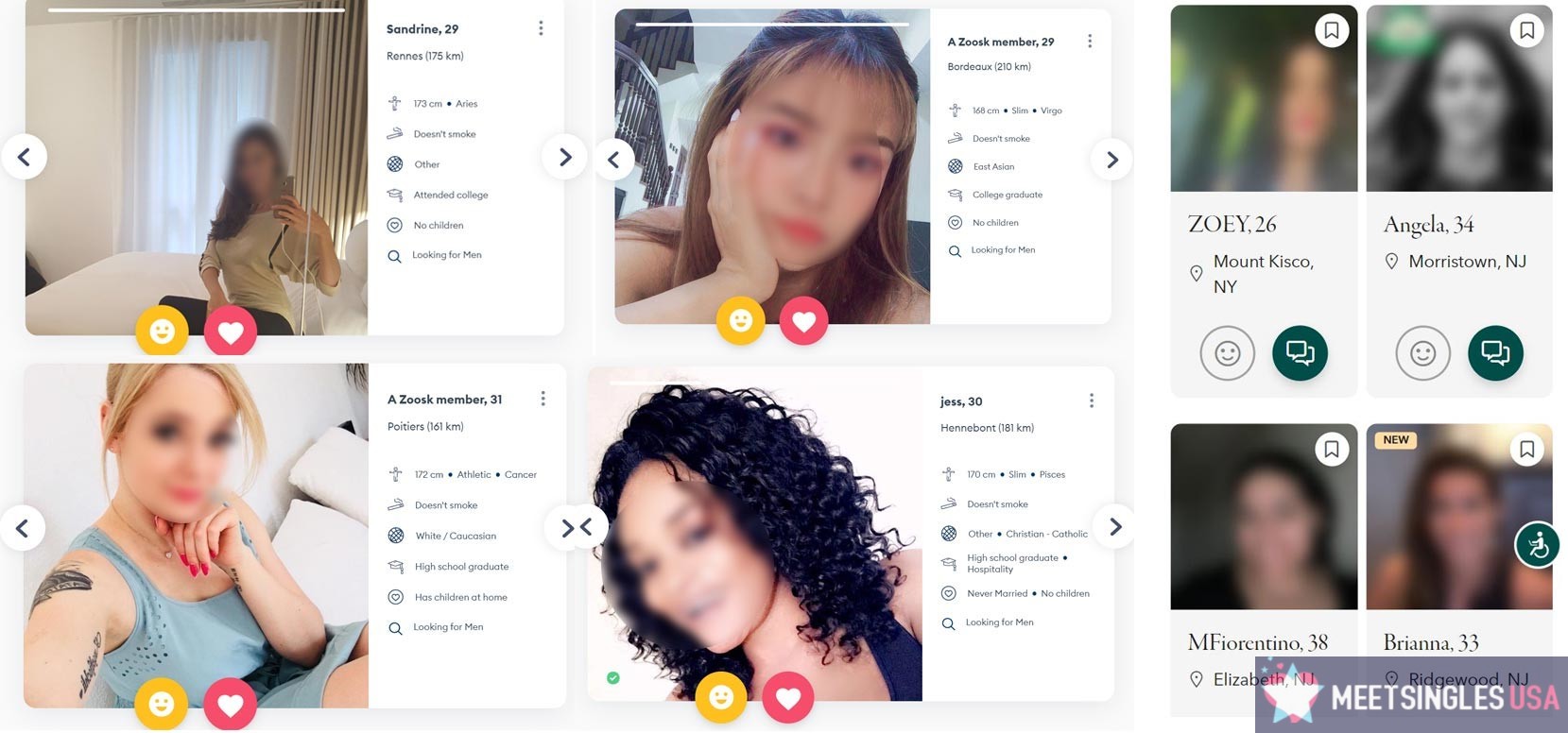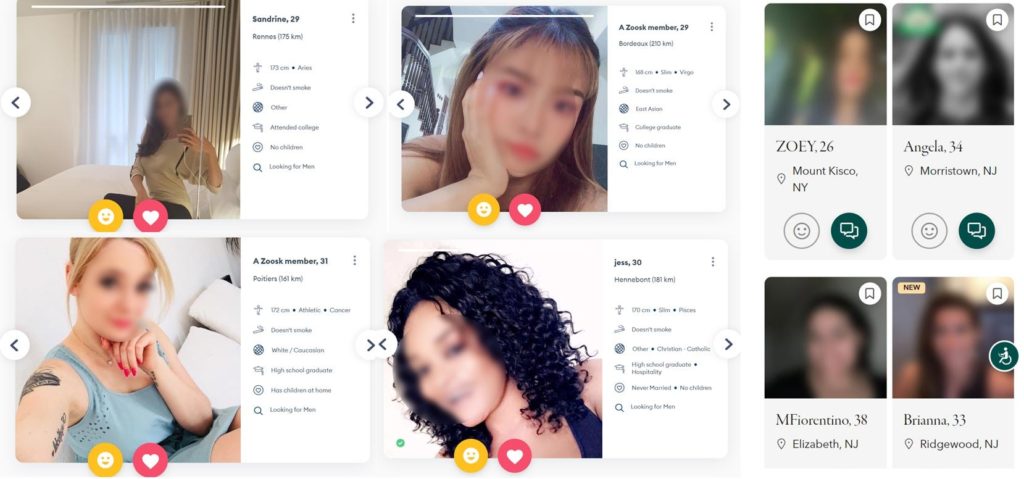 On the one hand, Zoosk is aimed at singles between the ages of 18 and 40 who are looking for a casual or serious relationship. Who want to test online dating and have access to a maximum of singles.
On the other hand, Elite Singles is aimed at singles between 30 and 50 years old, who are demanding, career-minded, with an above-average income level. On this site we look for quality singles rather than quantity.
Popularity: Zoosk
The popularity of a dating service is very important. The more popular the site or app is, the more singles it will have online and the more new singles will sign up every day.
Regarding Zoosk vs Elite Singles the comparison is clear, over the last 5 years, we can see that Zoosk is much more popular than Elite Singles.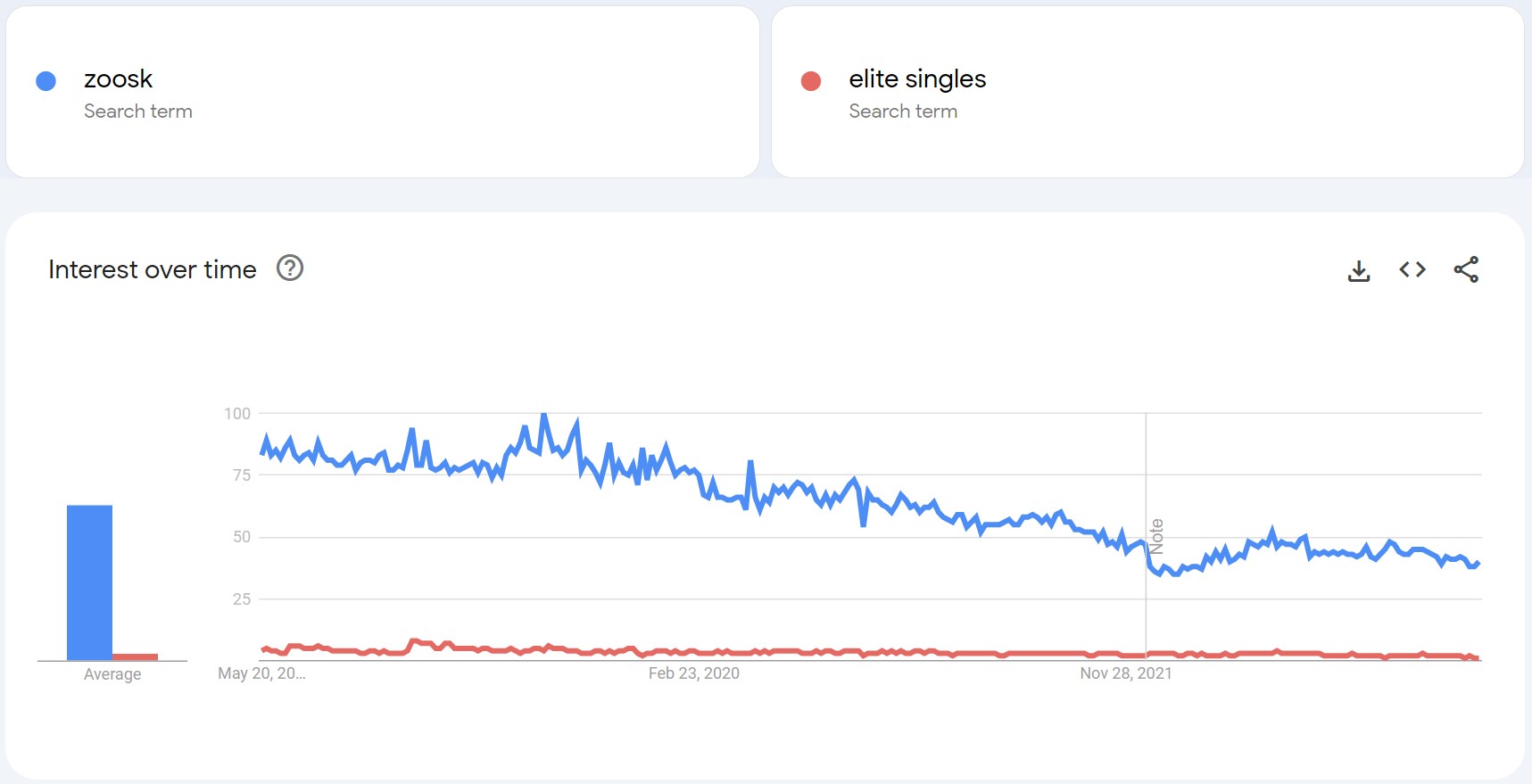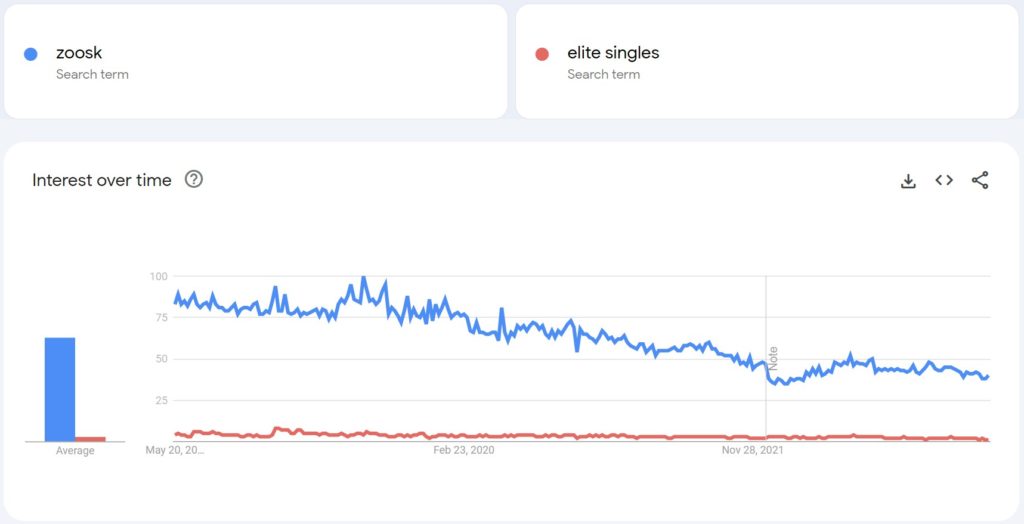 Although careful, Zoosk has lost almost half of its visibility in 5 years!
Moreover, Elite Singles is less popular than Zoosk but the former aims more at the quality of the meetings than the quantity.
Nevertheless, if we had to choose, Zoosk is the most popular and will therefore have more members online and new members per day.
Costs: Zoosk is the cheapest
As explained in the features section, neither Zoosk nor Elite Singles are 100% free sites. They have some free features and some paid features.
In order to have access to the paid features, you will have to take out a subscription, which means that the commitment goes from 3 months to 1 year.
| | Zoosk | Elite Singles |
| --- | --- | --- |
| 3 months | $24,95 / month | $37,95/month |
| 6 months | $14,95 / month | $21,95/month |
| 12 months | $14.95 / month | $19,95/month |
Zoosk is therefore the cheaper of the two services. The reason for this is very simple. Zoosk is a popular, mainstream dating service that wants to appeal to the masses. While Elite Singles is aimed at a specific category of singles, the CSP+. The price is deliberately higher in order to create a barrier to entry.
Learn more:
Free trial: Zoosk win
Good news, you don't have to take out a subscription right away. As usual, both sites offer a free trial version to test the features. If you are convinced, you can then take out a subscription.
The trial version of Zoosk allows you to test 90% of the site's features: search for members, carousel, see members' profiles with photos, etc.
The Elite Singles trial version allows you to take the personality test, see compatible singles, sort them by compatibility score, view member profiles. A small weakness for Elite Singles, in the free version, the photos are blurred.
That's why, although the sites are quite different, the fact that the photos are blurred in the free version is a weak point for Elite Singles.
Learn more about :
Conclusion: which one to choose between Zoosk and Elite Singles?
It's time to choose between one or the other. With everything you know, the choice is pretty obvious.
| | Zoosk | Elite Singles |
| --- | --- | --- |
| Features | mainstream | personnality test |
| Type of singles | 18 – 40 yo | 30 – 50 yo |
| Popularity | Very popular | Less popular |
| Costs | Cheap | Expensive |
| Free trial | Yes | Yes |
If you are between 18 and 40 years old and want to meet as many singles as possible, for casual or serious relationships, choose Zoosk!
If you are between 30 and 50 years old, and you prefer quality over quantity, with demanding singles, looking for a serious relationship with a compatible person, choose Elite Singles!
About the author