Match.com
By Alexandre (admin), last updated on July 6, 2023
The biggest online dating site with free registration and quality profiles. That's why Match.com has been a leader for years. You want a long term relationship? You are a single men or single women looking for love? You want to meet new people? See more about this dating service below to know all information you need about Match.
Match.com presentation


If Match.com meets such a success in the United States, it's because it's one of the first dating website, the registration which is free, the quality profiles and because navigation and research are simple. An advanced search filters (gender, age, location, interests, looks, personal information, and lifestyle) called Discover help you to find relevant singles.
This success in numbers: 100 000 active members weekly with a total of 2 500 000 just in the USA! This success is linked to the numerous advertisements and videos broadcasted by the dating website.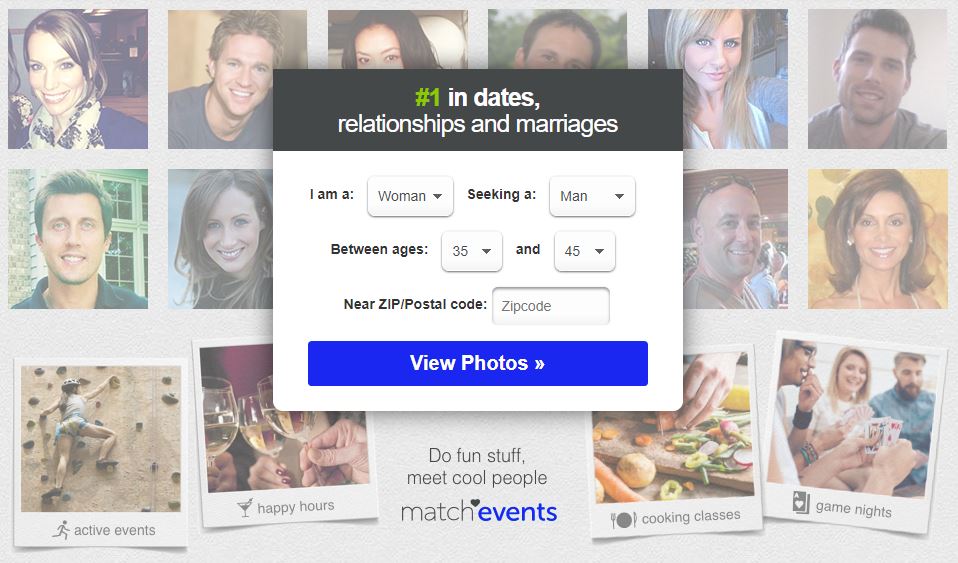 Match Free dating Services
Like most standard dating sites, Match offers a free registration to try the website. With a free account, you can :
Free dating profile creation
Match search
Receive matches
Send winks and likes (clicking a heart on a profile)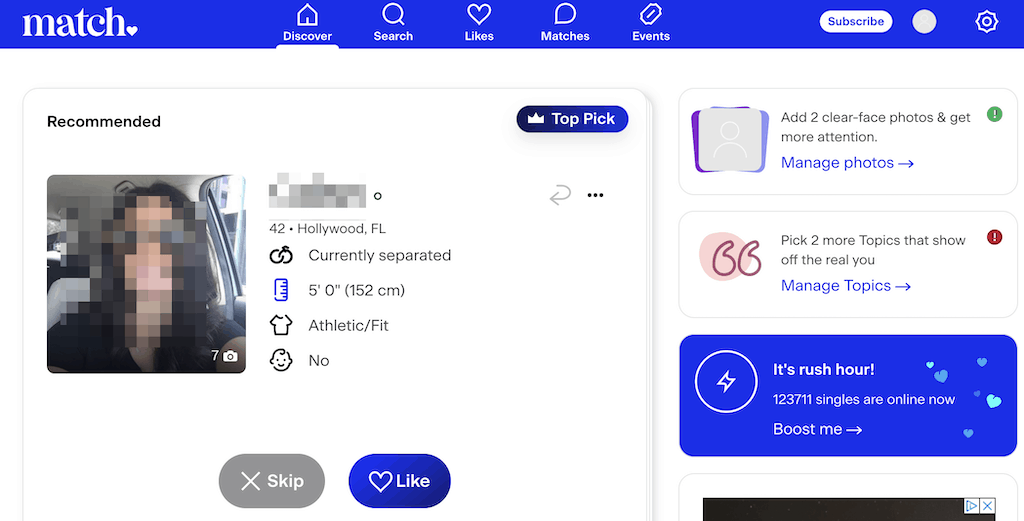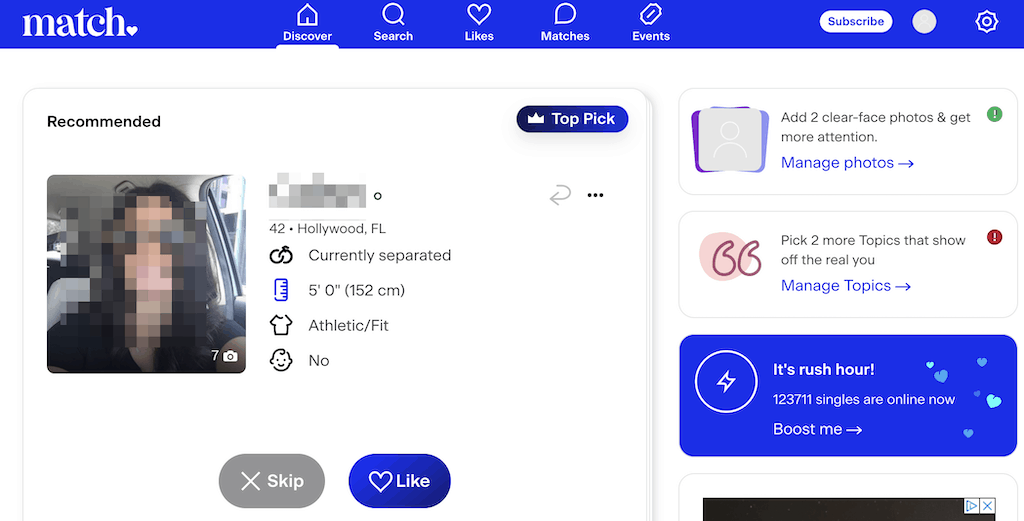 As you can see, profile interface is very clear and user friendly.
Match.com Costs and subscription Prices
What does it cost to join match com? If you want to enjoy premium features, take a look at the prices of the Match.com subscriptions:
3 months: $12.99/month
6 months: $9.99 $/month
12 months: $7.99 /month
See more about all Match cost and subscription prices.
Membership is automatically renewed at the end of your minimum commitment period. See Match.com free trial.
Match.com free trial
Want to Join Match for free?
For a free trial register at match, click on the picture below.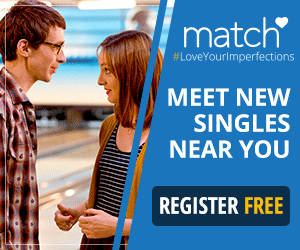 Our review on Match.com
Match is not Okcupid or Tinder for casual dating. I you want a true and serious relationship Match.com is, from our point of view, the best online dating site. All profiles are interesting because they are moderated by a dedicated team from Match (and if you have a few messages from suspected profiles, you can report them). The headquarters of this website is in the US as well as its customer service.
In addition, on Match.com, registration is free and does not commit you. You do not have to put a credit card at registration. If you still hesitate and are looking for a serious relationship, you can register on Match.com and create your profile with confidence.
From time to time, you can find promotional offers Match.com free trial to test all the functions of the site. Interested about Match ? Join now !
For senior singles, you can try OurTime.
Match vs Elite Singles
Elite Singles is a dating site with a personality test and compatibility algorithm and Match is a more basic but very popular dating service. Which one is better? Go to Elite Singles vs Match to find out.
Match alternatives
Appears in guides:
About the author
7 reviews from Match.com members
From newest to oldest
Match.com
Chloe

opinion -

July 23, 2021

at 7:24 am

Tips : I used match since many weeks and it is very important to have a complete profile to have more message and like. I started a few day with only one picture and no description and since I added more information about me, I have many contact by day.

ghislainny

opinion -

January 22, 2020

at 3:13 pm

Match is the best dating site to meet someone and finding love. There are a lot of services lke dating advice, a good customer service and a lot of single people.

juliet

opinion -

March 12, 2019

at 11:36 am

I registered on Match.com many years ago and it's crazy what the website has changed! Before there was no advertising in the interface and it was rather restrained but simple. Now when you register on match.Com there is advertising in free mode and the interface is more complex because the site wanted to develop a lot of features. I registered again recently to find love but it's a real change!

Tony

opinion -

January 29, 2019

at 7:55 pm

My review : match.com registration is easy and it's fast to find singles. I tried the dating site for 1 month then I took a subscription for 3 months. Many singles are looking for a serious relationship. There are people who are not serious like everywhere, you have to be careful and everything goes well.

Paulcalif

opinion -

December 12, 2018

at 2:10 pm

I tested a lot of dating sites. I have been on match.com for several months. This is the site that brings me the most satisfaction. I recommend it without doubt.

MaryTex

opinion -

December 10, 2018

at 6:56 pm

Hi ! I'm mary, 29 years old. Haven't found love at work or in my circle of friends, I just registered on match.com hoping to find THE love.

Jess

opinion -

December 2, 2018

at 5:38 pm

I tried eharmony and match.com and I have a good feeling with match.com. After 1 month I got in touch with a few people. I met someone. Currently I will recommend.
Participate by rating Match.com dating site
In addition to leaving a comment below, you can rate the dating site (provided you have tested Match.comm) by giving it stars. Optional if you haven't tested the site.
Give your opinon about Match.com