Hinge Review 2023, is the app designed to be deleted worth it?
By Alexandre (admin), last updated on July 26, 2023
Overall rating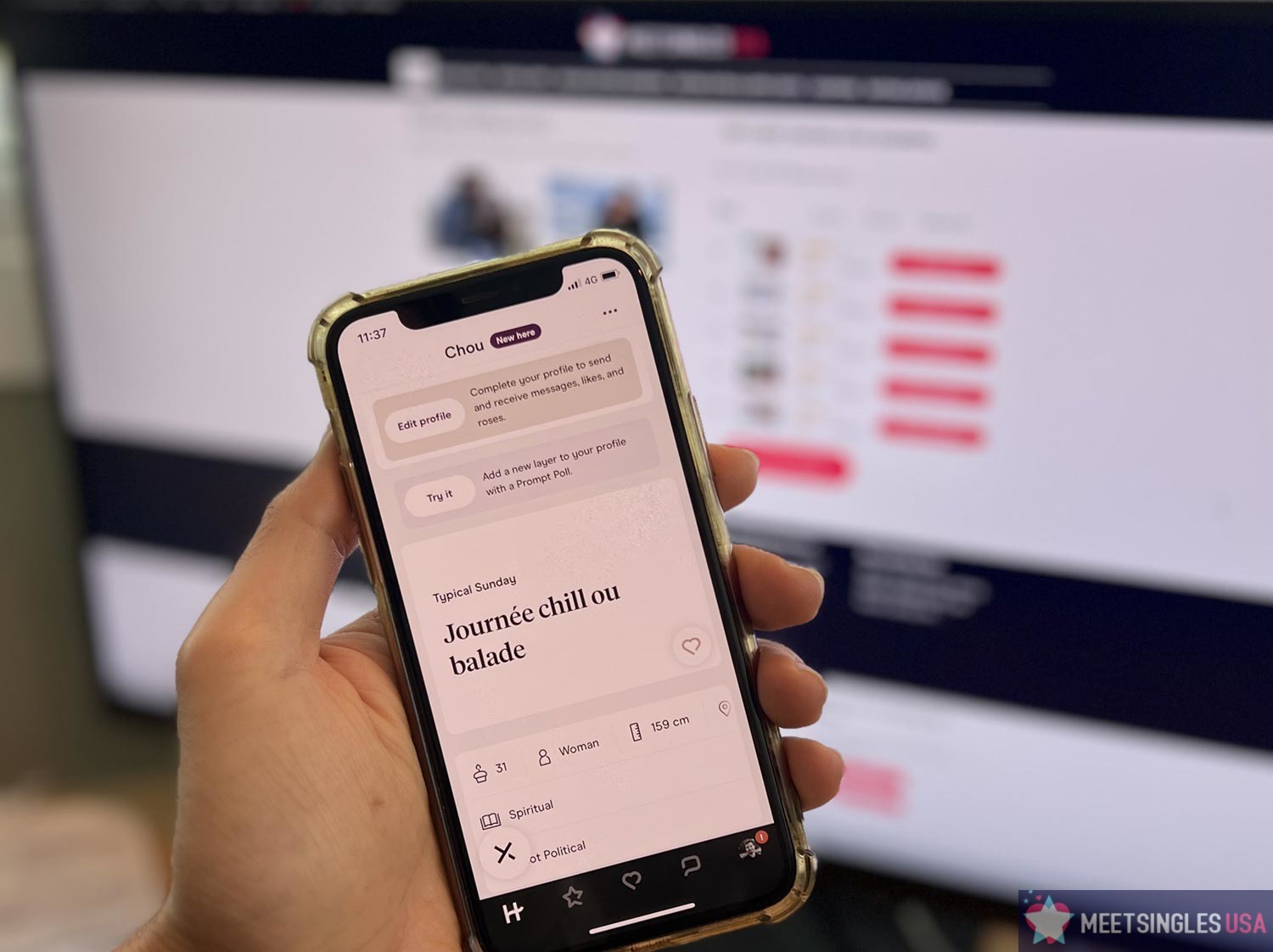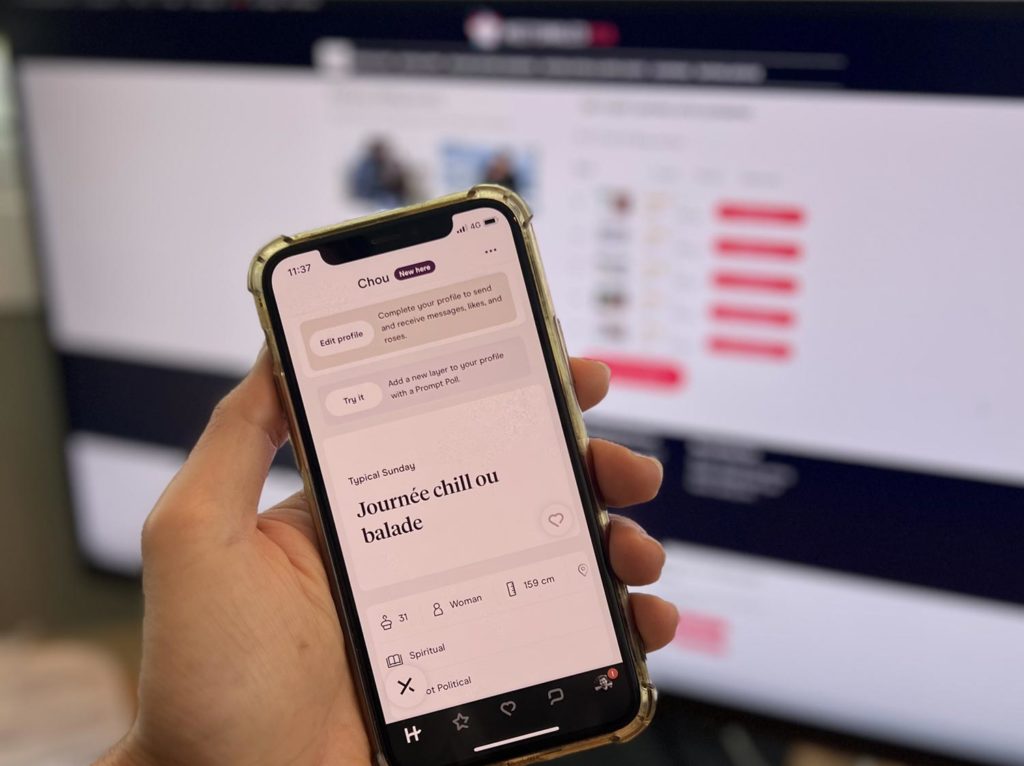 Pros
✅ Graphical and fun interface
✅ Complete and high quality profiles
✅ Interesting features such as voice tagging
✅ CSP+ users
✅ Ability to send messages for free
Cons
❌ Limitations of the free version, especially for finding members
❌ Not many users at the moment
❌ Price of HingeX subscription
Today we are going to test Hinge, the new dating application recently bought by the Match group in 2019. Yet the American group already owns Tinder, POF or Match. So, why is Match group betting a lot on Hinge?
It's because, unlike Tinder, Hinge is aimed at singles who want a serious dating. It is more trendy and less "old-fashioned" than Match, which is also intended for serious dating and has been around for more than 20 years, but is having trouble making the transition to dating applications.
The American group wants to repeat the success of Tinder, with Hinge, making it the leading dating application for singles looking for a serious relationship and love. So, is Hinge the new Tinder? That's what we are going to test!
Registration, (long) account creation
It starts, as usual, by downloading the application from the AppStore if you have an iPhone or the Google Play if you have an Android. On the Apple AppStore, Hinge is rated 4.5/5 with more than 685K ratings, not bad! And it ranks 5th among dating apps.
As on most of the dating applications, the registration and the connection is done thanks to the cell phone number and no longer thanks to the email. This has the advantage of offering a very quick registration for the user, and also to verify that we are dealing with a real profile on the Hinge side.
Now we will create our profile. You'll see, it's long: first name, last name (optional), email address (and yes, it is), date of birth, location, gender, sexual orientation (straight, gay, lesbian, bi…), height, origins, children, family projects, city of origin, place of work, place of schooling, diploma, religion, political ideas, alcohol, tobacco and drugs. We are not far from a dating site by affinity!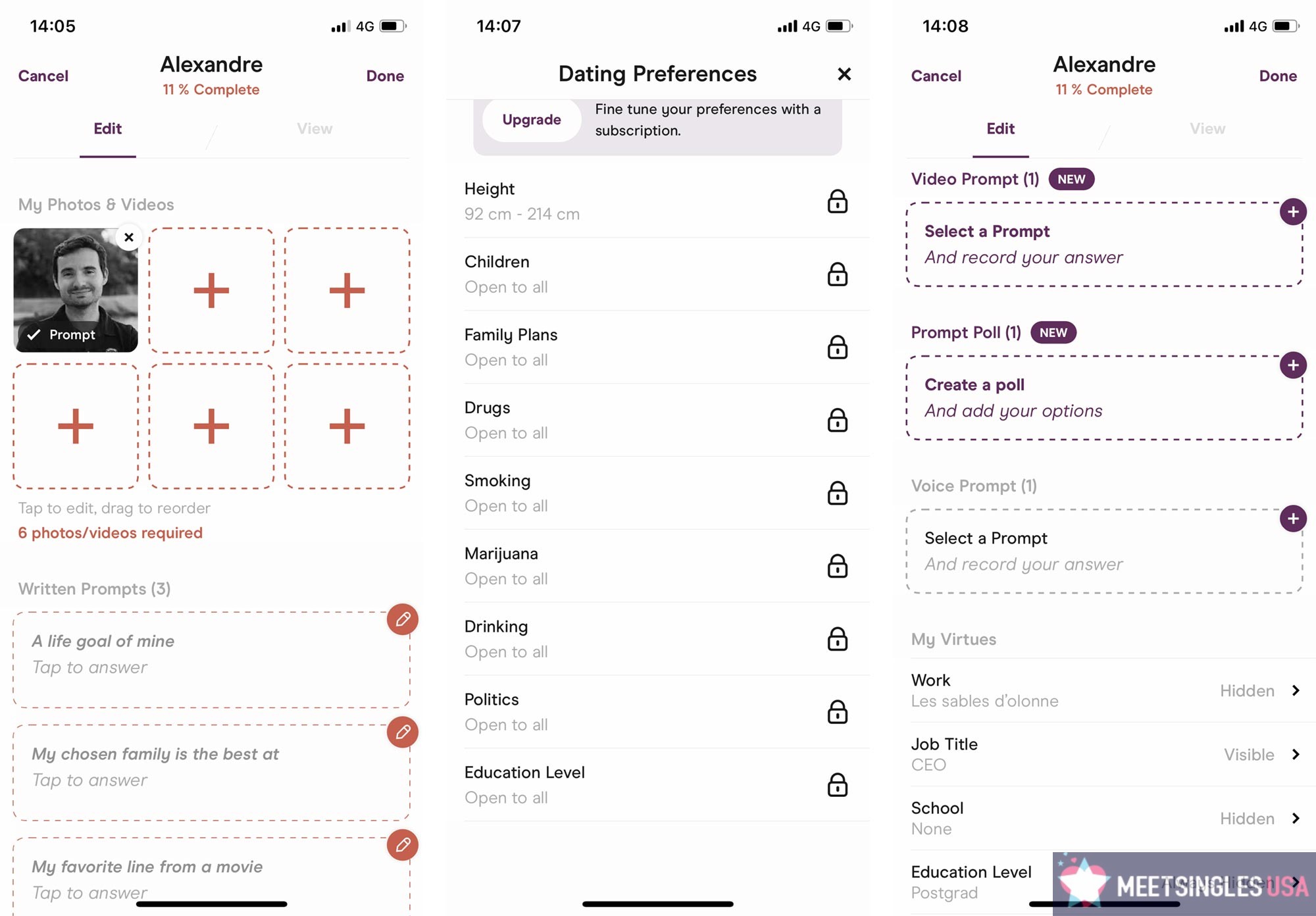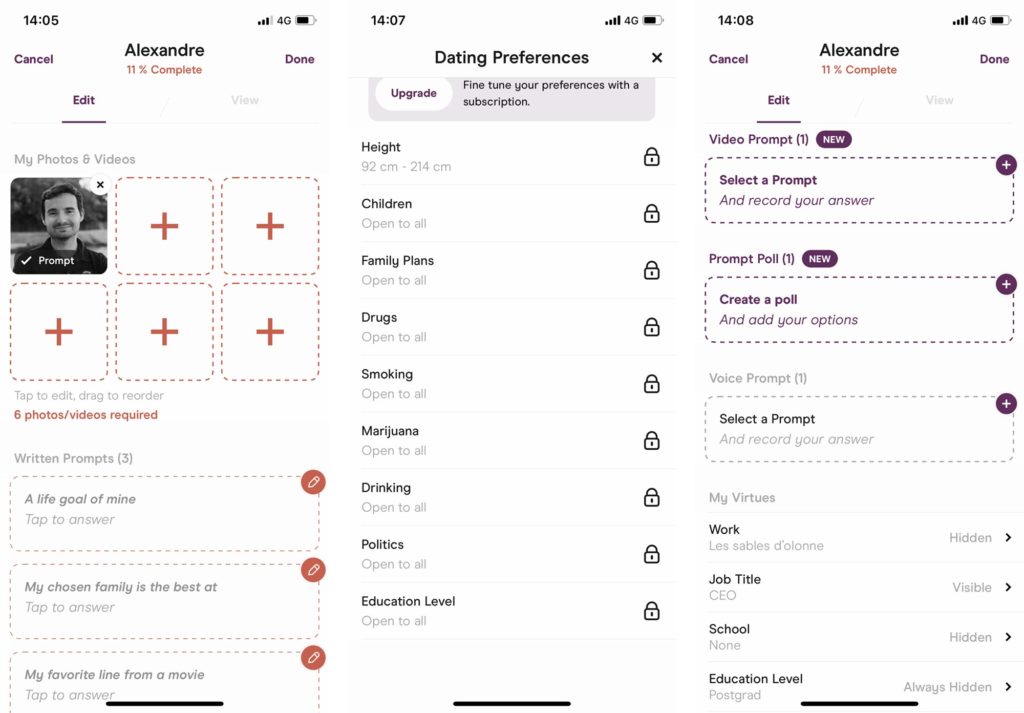 Add at least 6 photos to be able to send likes and hope to have matches, add a tagline for each photo, add a voice tagline, … yes this step is rather laborious. It is rare that an application or a dating site asks for 6 photos, associated texts for each of them, a voice tagline etc. Already the creation of the profile was rather long, either you give up or you persevere. We understand that Hinge wants very complete profiles because it is about having a serious relationship, but we find the creation of the profile too complicated/long compared to Tinder or Match for example. We have more the impression to be on eharmony… it is perhaps the wanted goal?
Discovering the Hinge application
We are finally on the home tab of the Hinge application. This one proposes, thanks to all the information given during the registration, singles compatible with your profile. You can browse the entire profile proposed and either click with the heart or pass with the cross.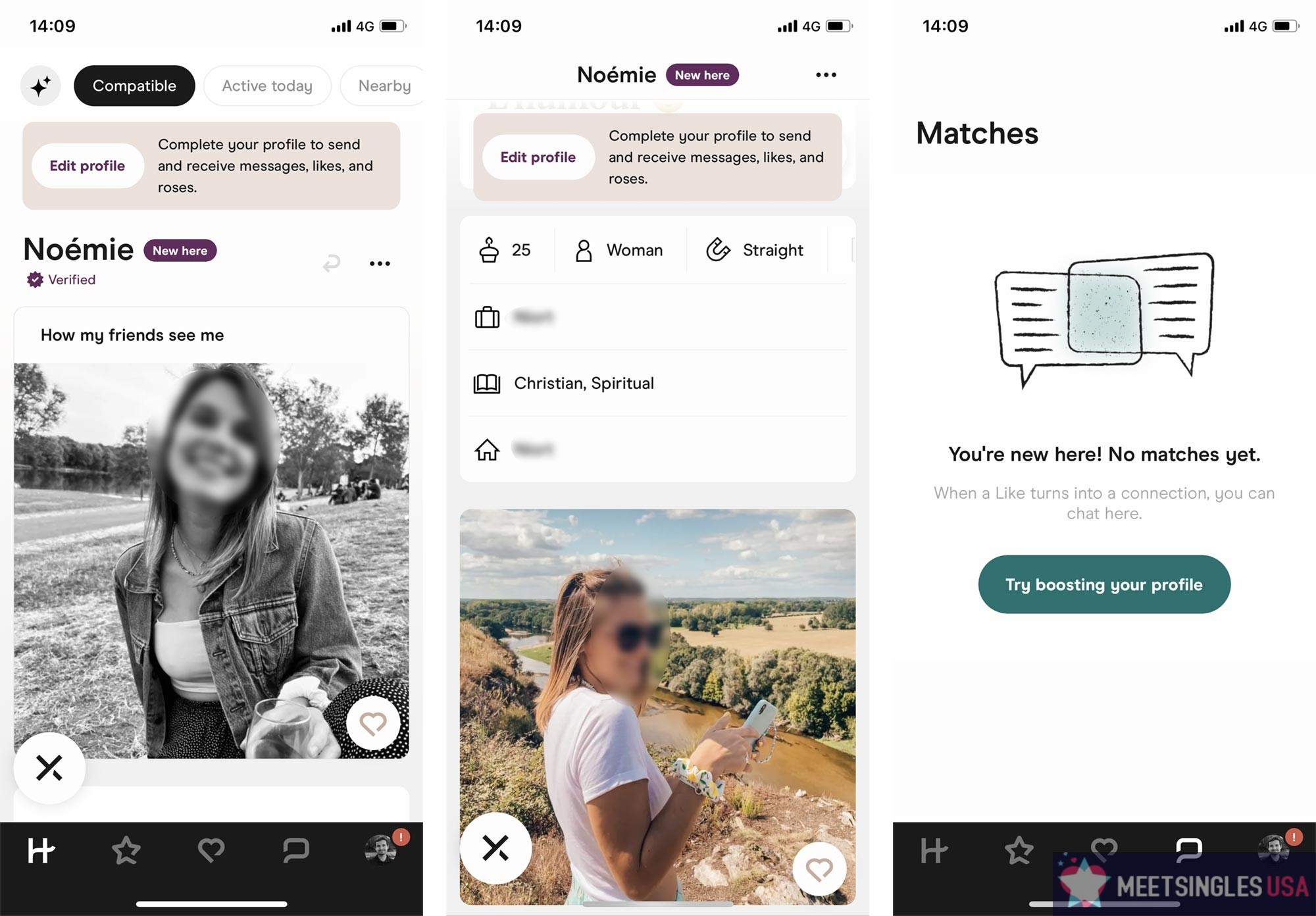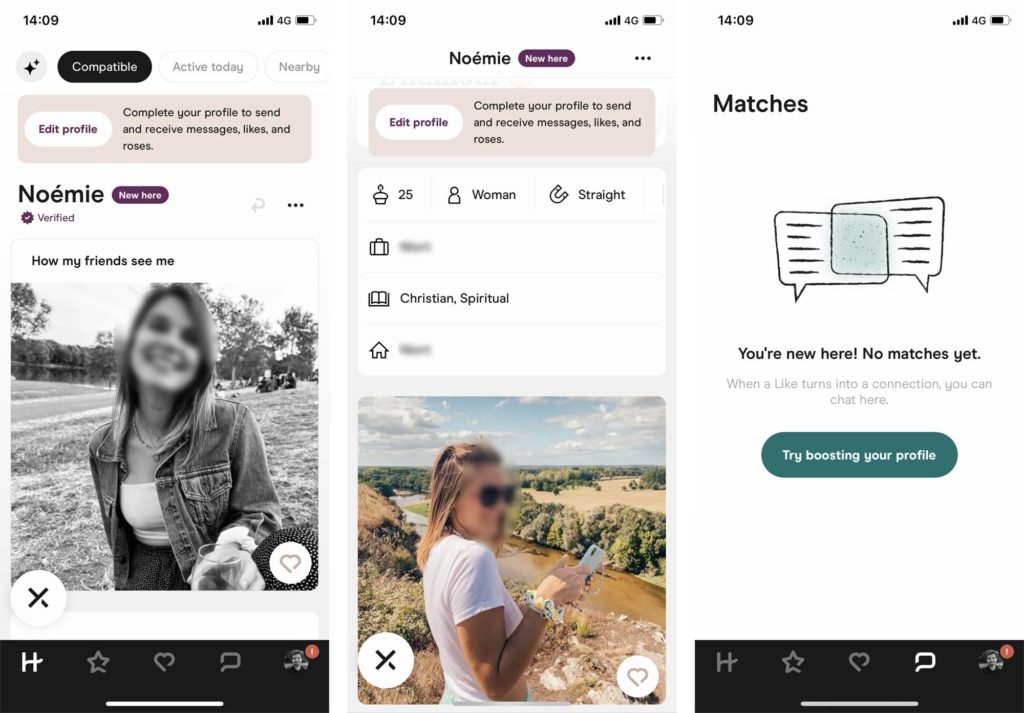 The interface can be a bit complicated at first because there are two levels of navigation. A first level with Home, favorites, like, message and profiles. Then a second level with, in the Hinge home tab, several sub-tabs: Compatible, active today, nearby, new member. Note that in the free version you will only have access to compatible. You will need to take out a Hinge+ subscription to access active, nearby, new member.
Once you understand this, you have to admit that the interface is graphical, fun, modern although a bit loaded with information. At least it is different from what we are used to see in other dating apps. We feel that a lot of work has been done on the interface to make all the features easily accessible.
In terms of the type of Hinge users, we are clearly looking at 25 to 40 year olds.
This is clearly the target of Match and even more so of eharmony. There are doctors, salesmen, clerks, entrepreneurs, executives…
As for the number of users, it is very positive. Hinge offers a lot of profiles located from 10 to 50 miles! If you live in a big city you will have thousands of singles that will be offered.
Hinge Free : what you can do without paying
Let's start with the most important thing: yes, you can send messages without paying a subscription on Hinge… under conditions!
Indeed, you will need to have a profile with 6 photos/videos and a voice tag to unlock the possibility to send likes. You will then need a reciprocal like to have a Match and finally start a conversation.
So yes, you can send messages for free, but only if you have a very complete profile and a reciprocal match.
Then, you will not be able to access the tabs to have access to the members currently online, nearby or new member. You will have to make do with the compatible feature.
This is frustrating because, as you will have read, If you live in a small town, the Hinge application offers singles sometimes located 50, 100 or 150 miles away. We would have liked to be able to see the singles nearby for free…
Hinge+ and HingeX subscriptions
Unless you have a great profile and live in a city with a lot of Hinge users, a subscription will quickly become necessary to increase your chances of meeting people.
For now, there are two subscription options: Hinge+ and HingeX.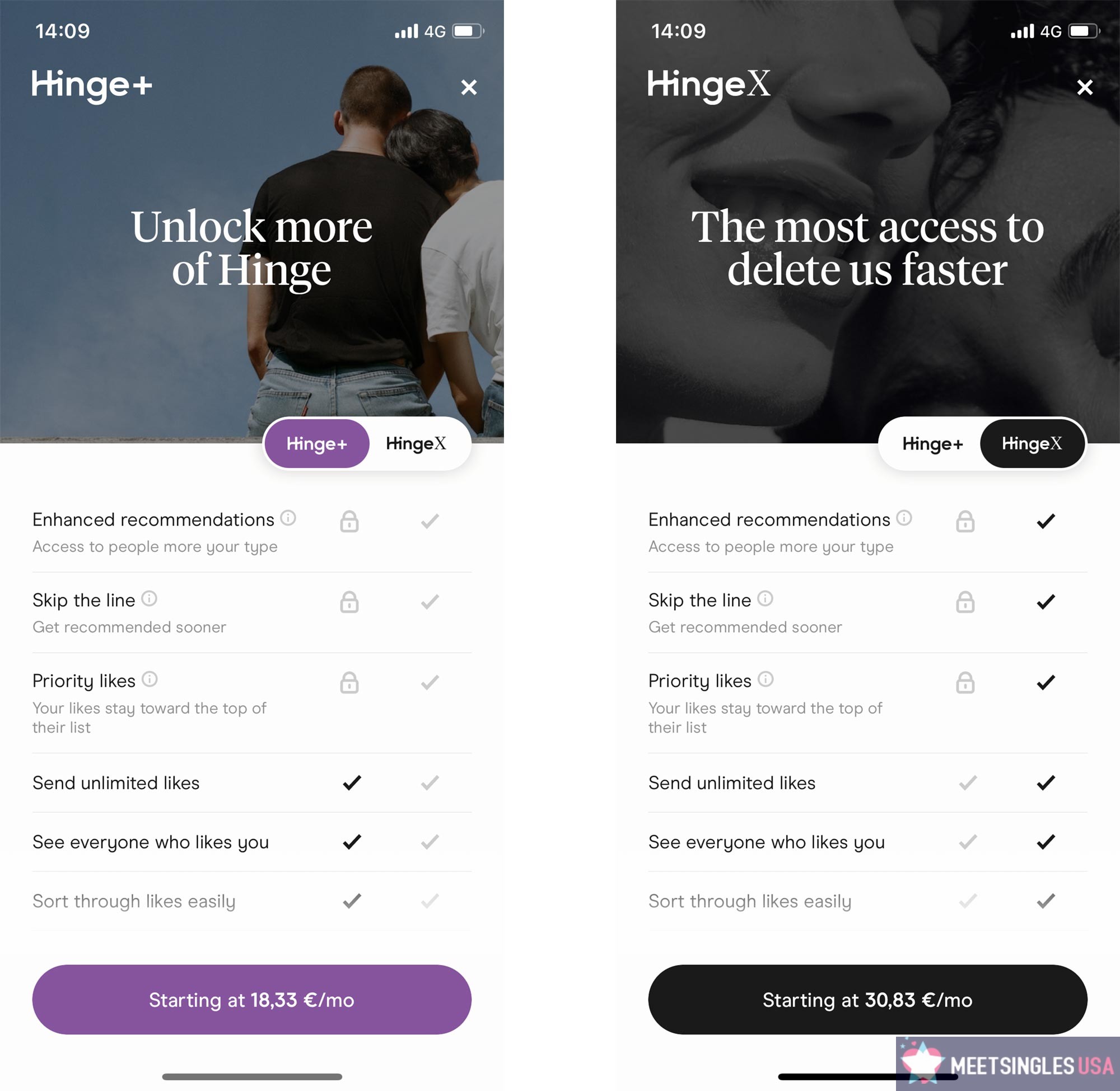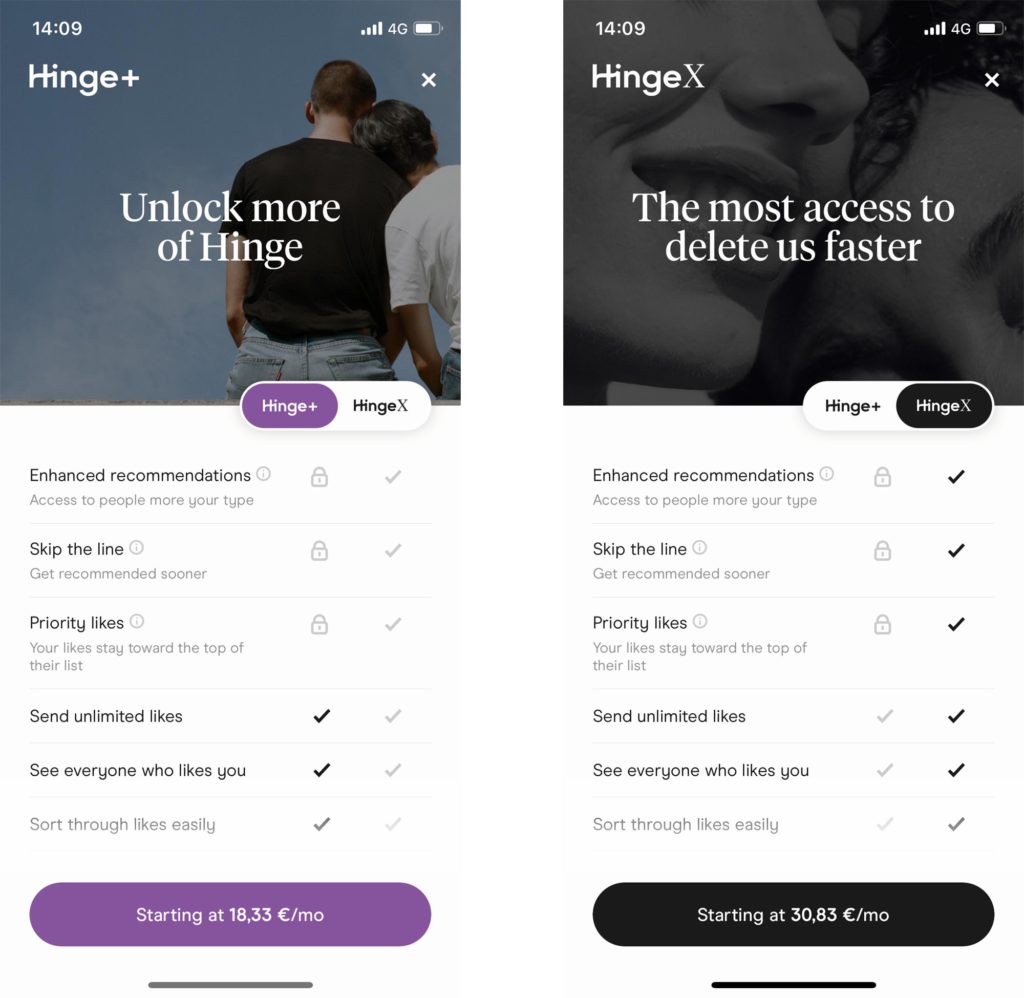 Hinge+ allows you to
send unlimited likes
see which users like your profile
sort through the likes
more ways to explore (location, online, new…)
Hinge+ cost
1 month : $19.99 / month
3 months: $13.33 / month
6 months: $9.99 / month
HingeX allows you to
get better recommendations,
have your profile highlighted more often
to have priority likes
HingeX cost
1 month: $49.99 / month
3 months: $33 / month
6 months : $24 / month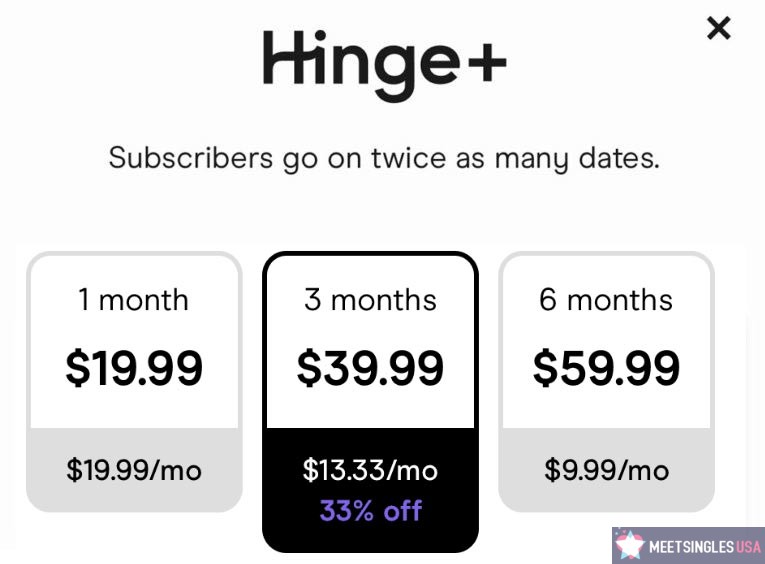 In our opinion, the Hinge+ subscription is interesting just to have more possibilities to discover other singles by location, online, etc. This is clearly what penalizes the free version of the application.
The HingeX subscription could be interesting if there were many users of the app. This is not the case today, but it may change! For now the HingeX subscription is not worth its price.
Once again, we can see that Hinge is really aimed at the CSP+ and is positioned as a competitor to eharmony or Elite Singles.
Pros
✅ Graphical and fun interface
✅ Complete and high quality profiles
✅ Interesting features such as voice tagging
✅ CSP+ users
✅ Ability to send messages for free
Cons
❌ Limitations of the free version, especially for finding members
❌ Not many users at the moment
❌ Price of HingeX subscription
Verdict
Hinge is an interesting dating application. It is intended for singles who are looking for a serious and loving dating and who have perhaps never tried online dating sites and applications. On Hinge all the profiles are of very good quality with really complete and interesting singles profiles.
The only real weak point of Hinge today is its user base which is still too small in some cities and this has the consequence of being a brake to take a subscription. For the moment, Match, a more generalist site, or eharmony, a site for people of all ages, have more users. We are not worried about the Match group, which has already succeeded in the past to make Tinder a successful application, to do the same to Hinge. See you in a few months or years to know if it has evolved favorably.
In the meantime, even if you can test Hinge, if you want to make serious encounters today, eharmony, also available in app, remains the leader. If you are more demanding and want to meet people with high incomes like on Hinge, try Elite Singles.
Comments Rating
( reviews)
Hinge alternatives
Appears in guides :
About the author