Match.com cost and subscription prices 2023
By Alexandre (admin), last updated on May 21, 2023
If the registration to the online dating site Match is free, it is preferable to subscribe to a membership to benefit from all the features. Stop searching, all you need to know is here : see below all Match costs information for a relationship with premium members.
Match 2023 subscription pricing
Below, all the different Match subscriptions.
Match Standard Plan subscription
Standard Match Plans that will give you access to message and chat. The less expensive monthly plan start from $7.99 / month.
Pass 12 months: $7,99 / month
Pass 6 months: $9,99 / month
Pass 3 months: $12,99 / month
Let there be no misunderstanding, the 3 months, 6 months and 12 months subscriptions are billed at once. As you can see on the caption below, there are two plans available : premium, the most expensive, and standard, the less expensive. Both have pros and cons.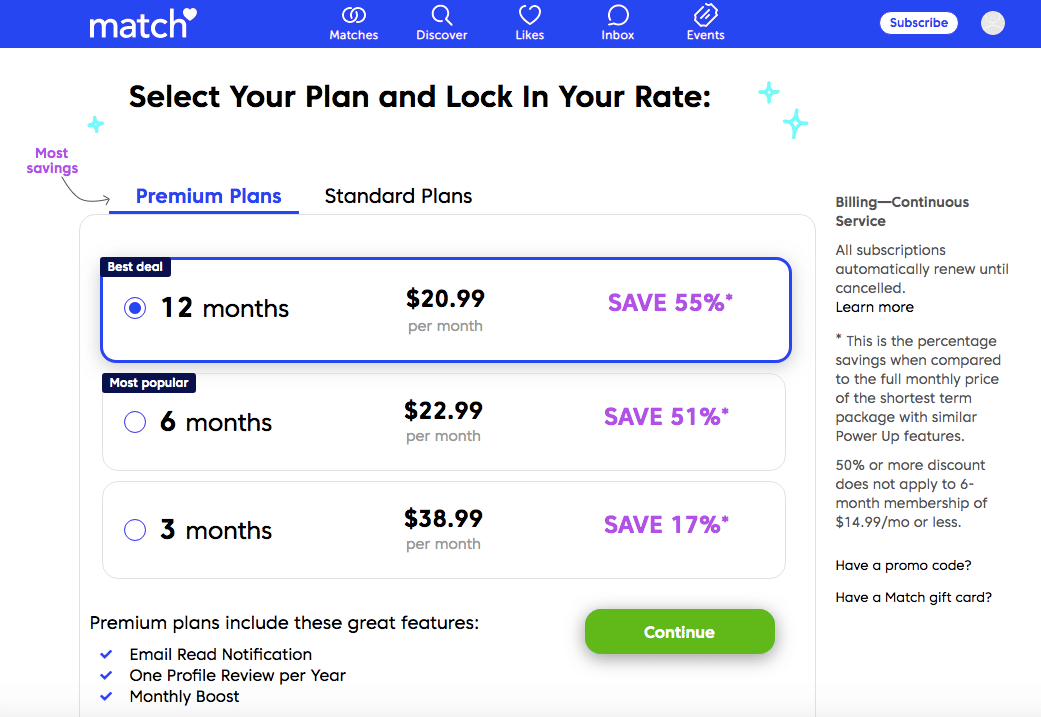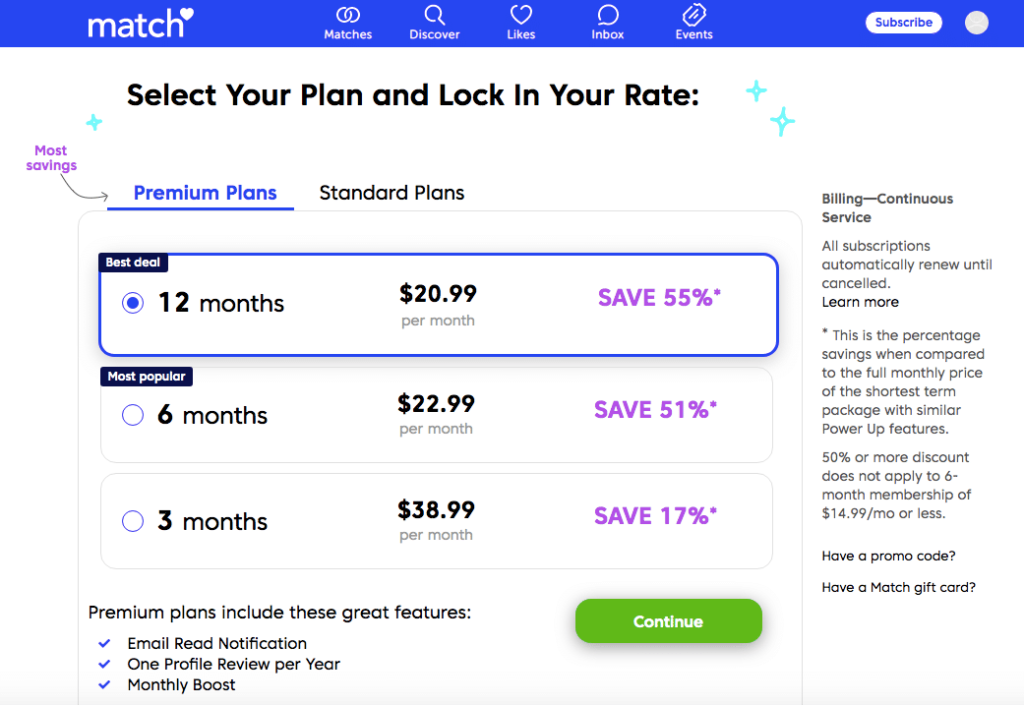 From time to time Match offers promotions to his online dating service, with 30% off all subscriptions.
Be assured, the payment of a subscription is secure and is done by credit card. It's possible on the website and the app.
Match features with subscription
With a premium subscription, you have all options included :
Fee based Services (premium)
Receive and replay messages from other users
Send messages to both paid and free users
Receive notification when your messages are seen by the recipient
Meet singles IRL with match events
Match Premium Plan subscription
Pass 12 months: $20,99 / month
Pass 6 months: $22,99 / month
Pass 3 months: $38,99 / month
With premium plan subscription you have access to Zen Mode an Boost Mode.
Zen Mode option
Zen Mode means that only profiles that match your chosen criteria can contact you.
Match boost
You can increase how easy it is for your profile to be viewed in the hopes of increasing your matches.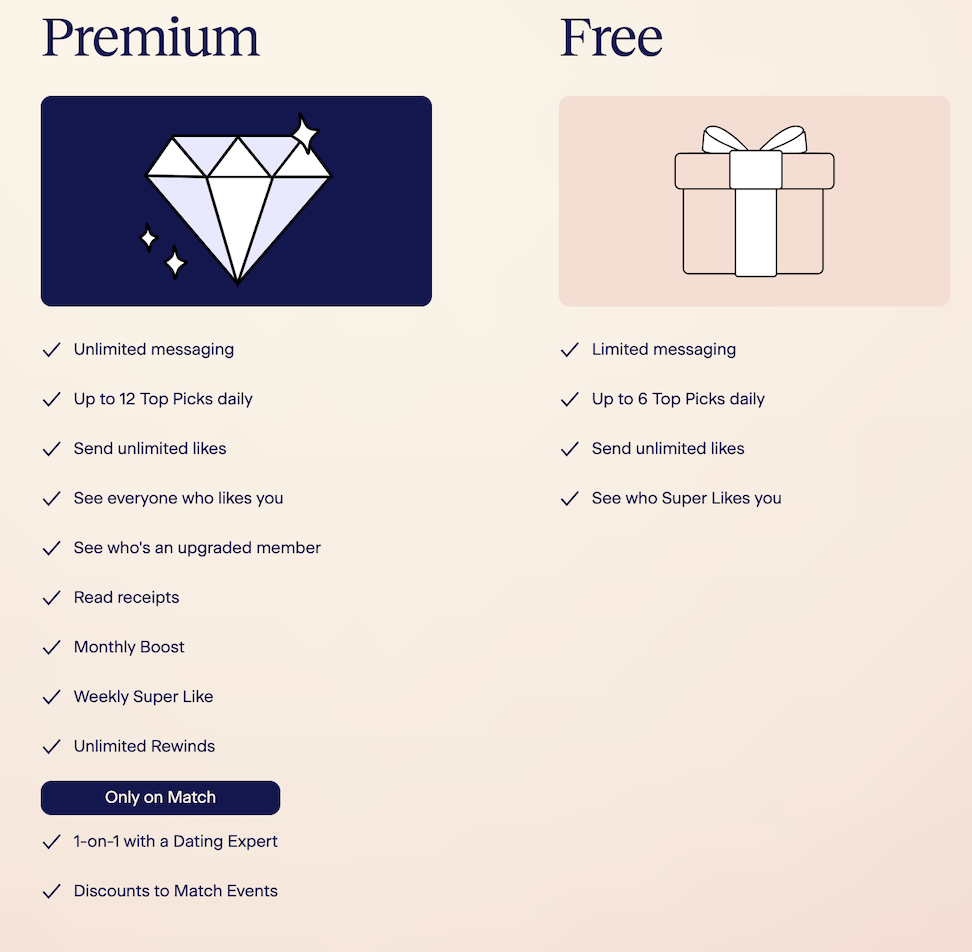 Price difference between men and women?
If for years Match favored the rates of its subscriptions to the advantage of women, this in order to promote the parity man / woman in its website, it is no longer the case.
Mentalities have now evolved and Match has understood this. The subscription price for boys and girls is the same price! On a paid site, users are generally looking for long-term relationships. This is valid for both men and women.
Match for over 50
Match recognizes that seniors have different needs than other generations. To accommodate these preferences, the company has set up a dating community specifically for those over 50 years of age. If you're over 50, choose OurTime.
What about the Match Free subscription?
There is currently no free Match subscription. Also, the Match 3 days free offer does not exist anymore.
Indeed, to test the seriousness of its dating site, Match offered to test its site for free for 3 days without commitment.
To find out more, go to our Match Free Trial page.
Interested by Match ? You can read our Match Review. Need help? Feel free to use comment below. We will answer your questions.
About the author