OkCupid
See 0 reviews from members for OkCupid.
Okcupid is a dating service for singles looking for friends, short-term dating, long-term dating or hookups. Another dating service? Is it different? Do I have to sign up for it? We explain it all to you!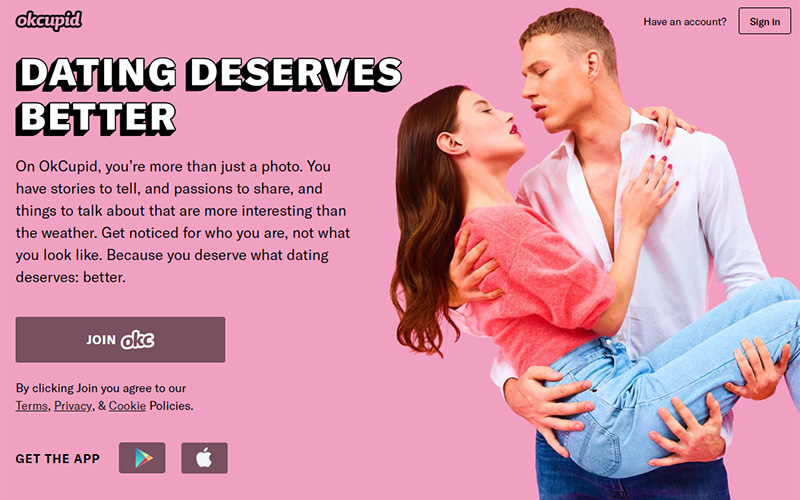 OkCupid presentation
Upon registration, you can choose several types of relationships at registration and even look for non-monogamous relationships. A personality test, with 15 questions, will allow to better define your profile and will allow okcupid to propose you members who could interest you. These questions are varied: duration of your previous relationships, religion, politics, job, money, and even astrology! If only 15 questions are randomly offered at registration, you can later answer more than 500 questions!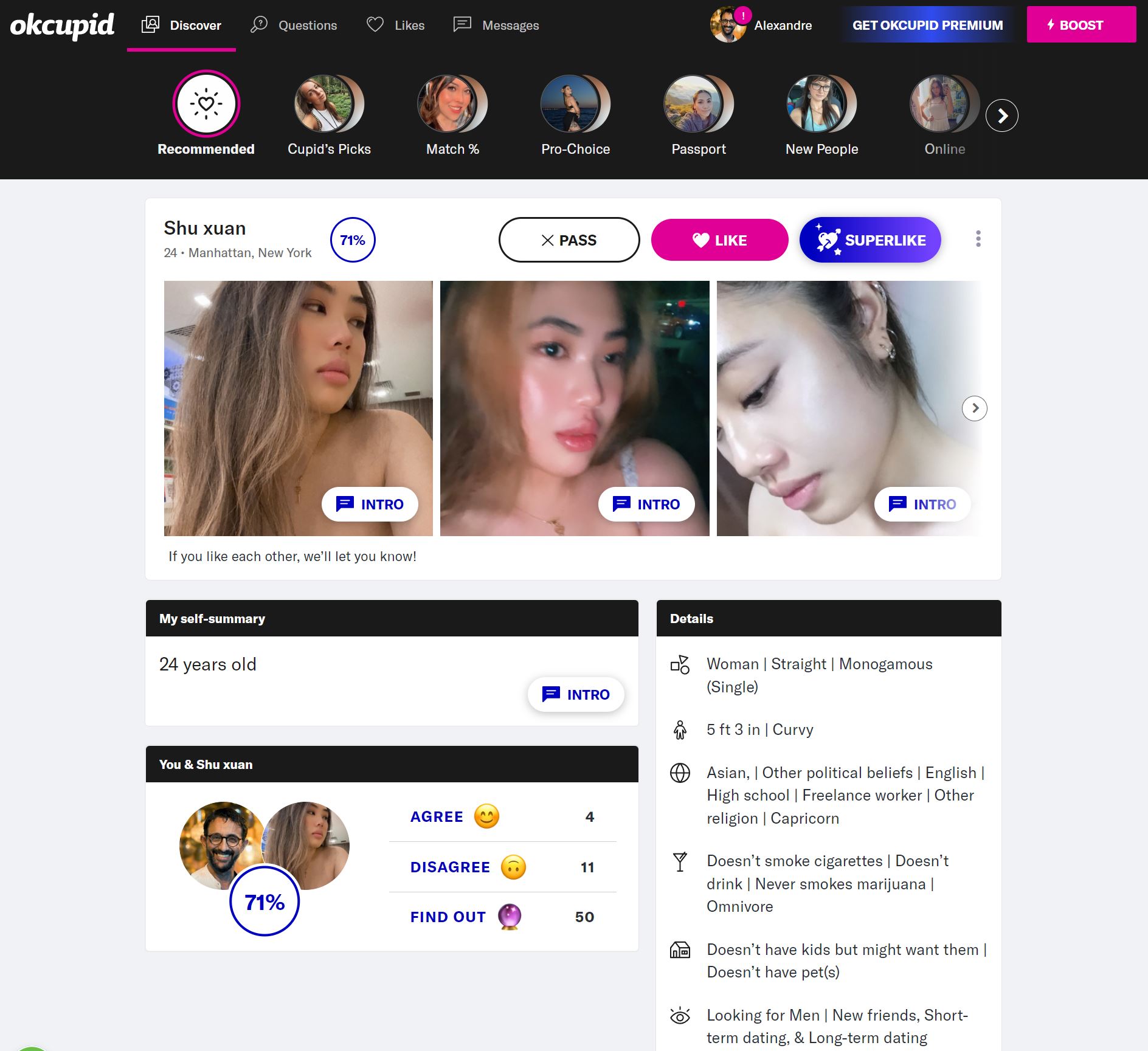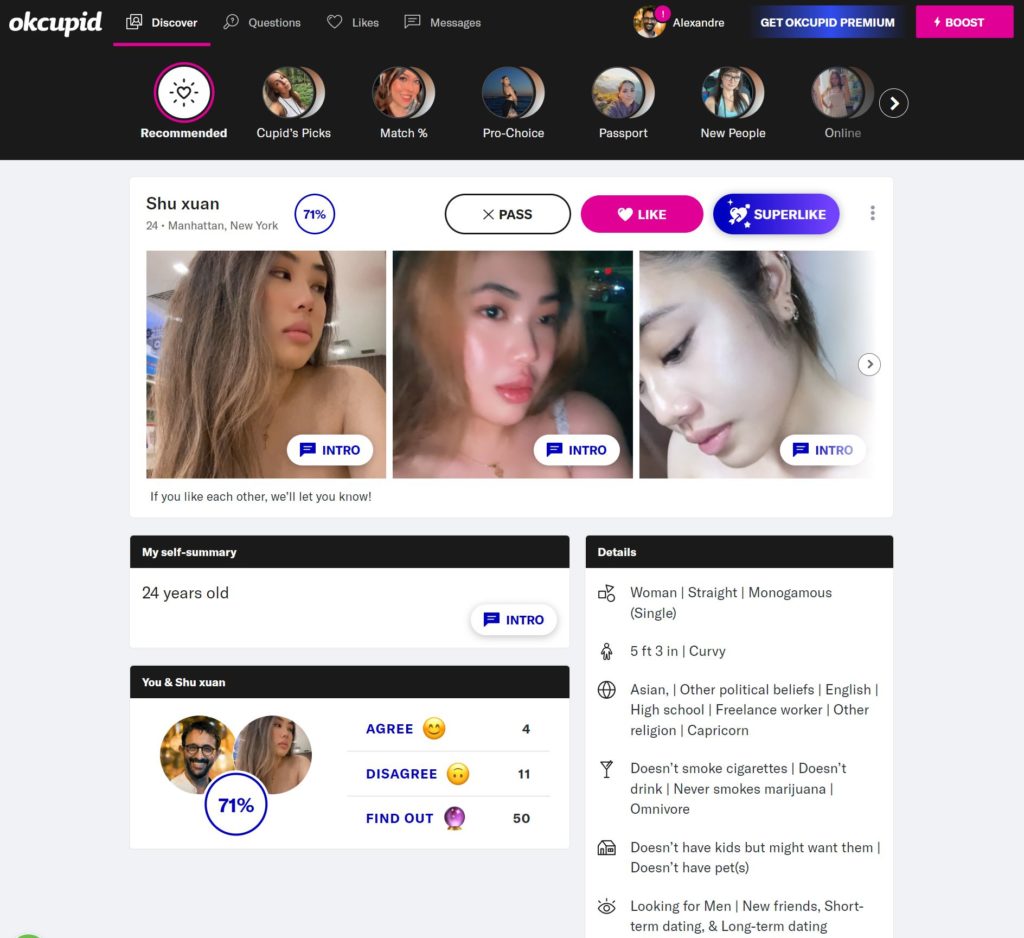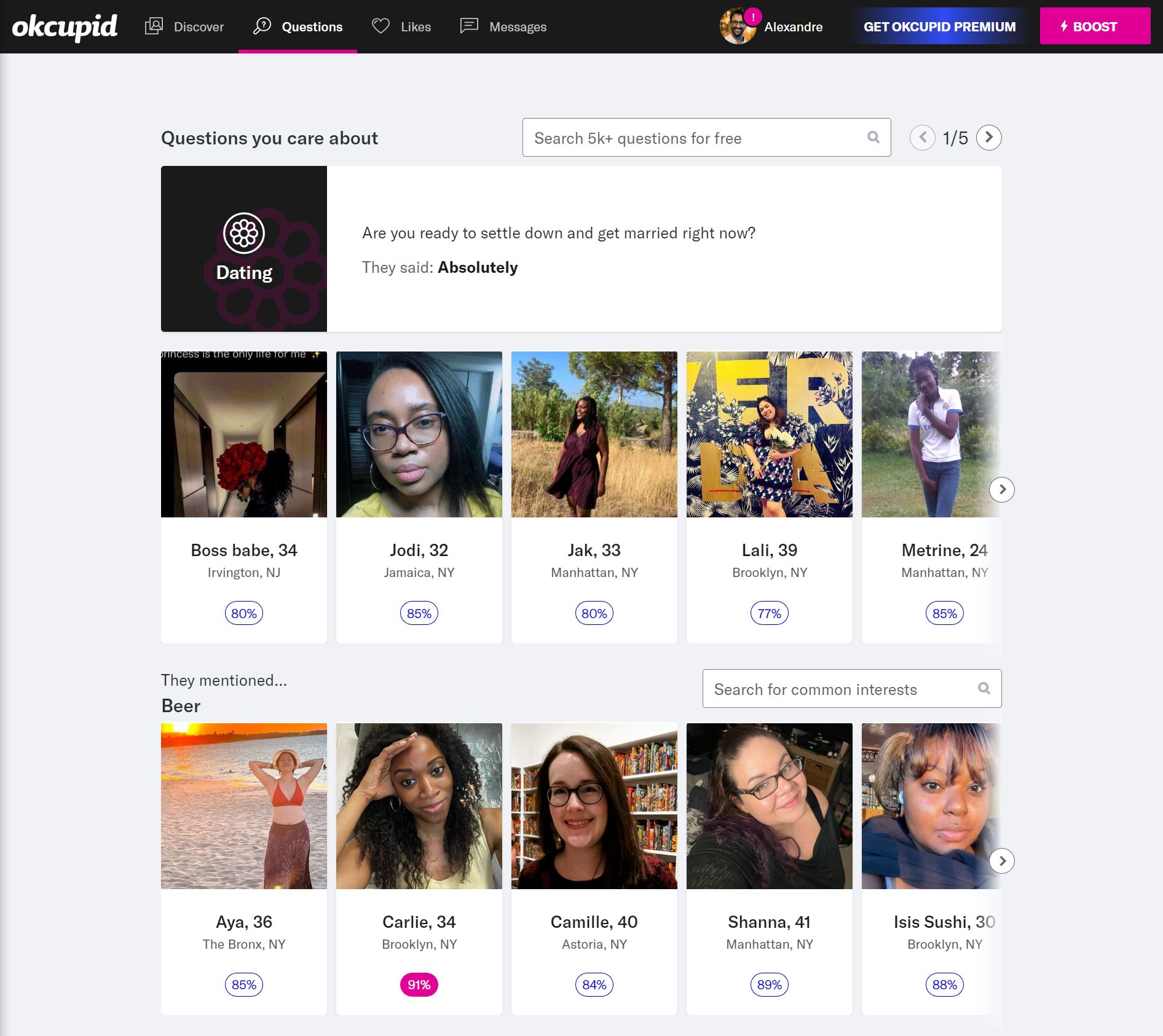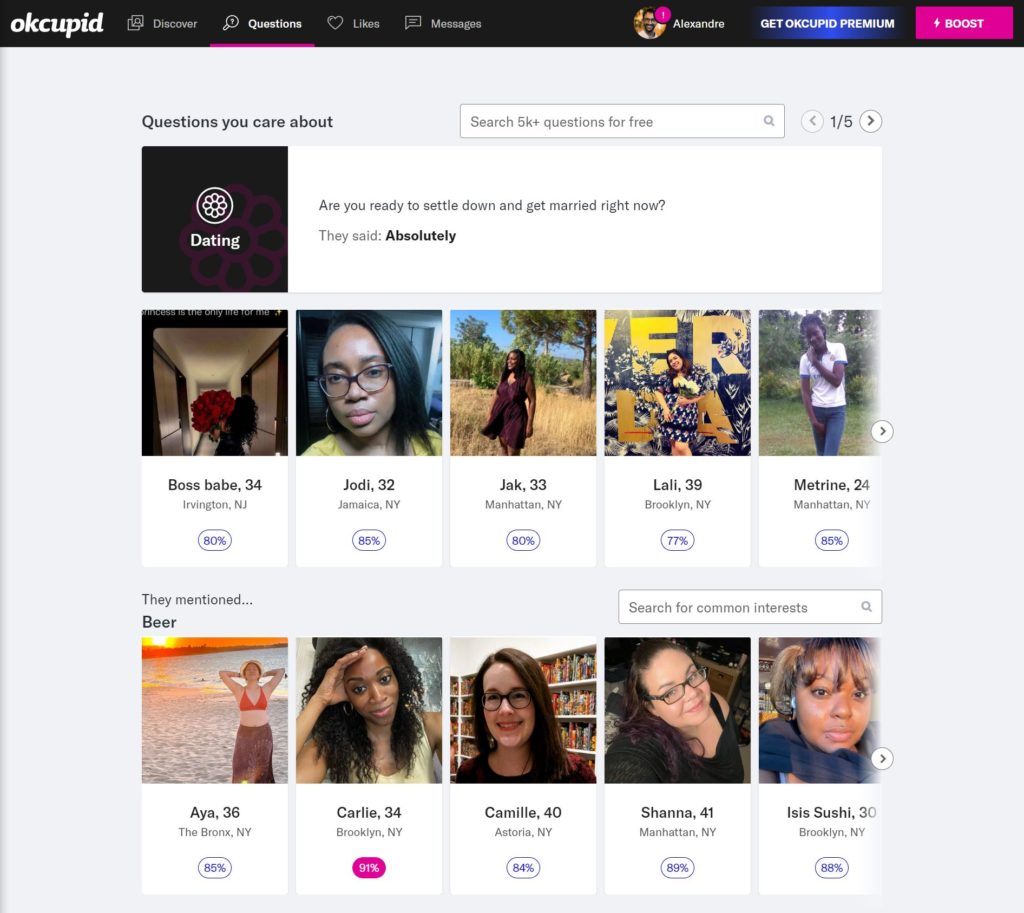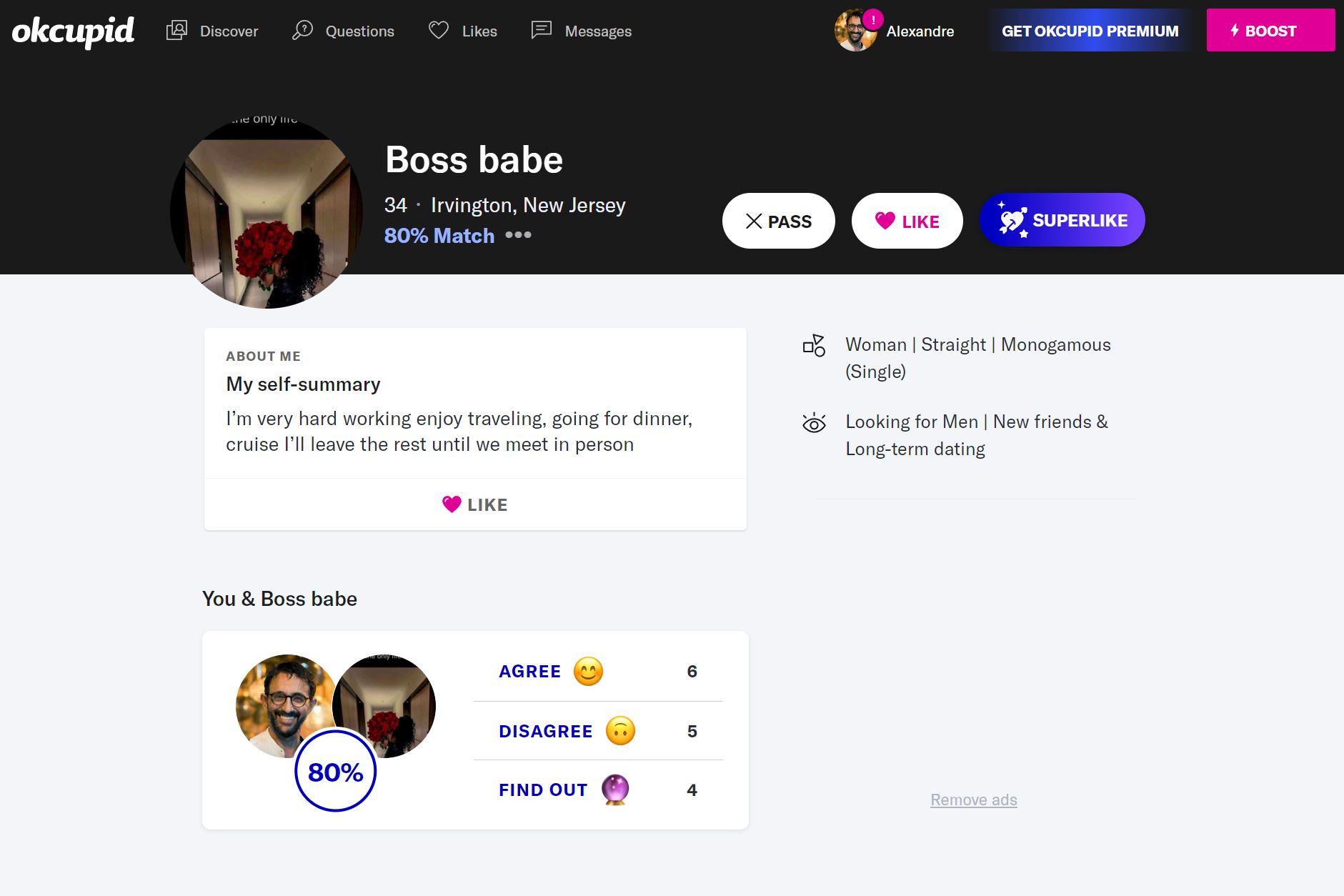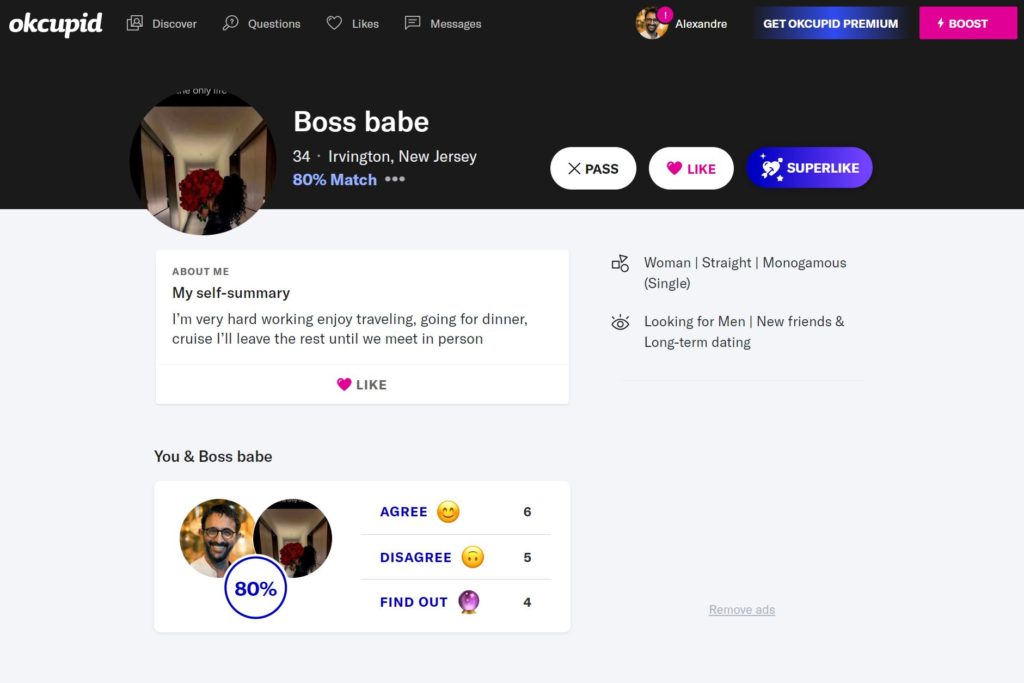 After registration, when you arrive on the homepage, you will find codes from other dating services but also some features exclusive to okcupid.
The discover tab displays a profile that could be compatible with you. The essential information is there: photos, location, size, his ad and a compatibility score. You can then tell if you like, like a lot or pass. Another profile will then be proposed.


Still in the discover tab, the "cupid's picks" function allows you to tell if you like a person just by his picture. The Match function will propose you the profile that has the highest compatibility percentage with you. The passport function will propose you a compatible single in any country of the world : Australia, Japan, China, all countries.
The Questions tab allows you to search for singles according to their answers to the questions asked at registration. For example you can search for the question: "Would you consider dating someone who generally does not eat vegetables?" and display the profiles that answered Yes or No to this question.
In short, Okcupid offers many ways to find and meet compatible members.
For the more classic features we find the Like tab to see who has liked our profile or the profiles we have liked, and the message tab to see the history of conversations with other members.
Please note that on Okcupid you will not be able to send a message directly. You can send a short note along with a like or a superlike, but you will need a reciprocal like in order to chat by messenger.
Okcupid Free
Okcupid offers many free features:
Free profile creation
Personality test
Match searching
Messaging other users
display of advertisement
limited number of liles per day
limited match per day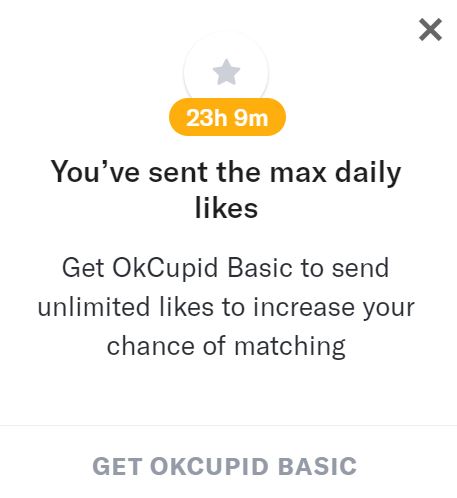 This is already a lot, but to be able to enjoy Okcupid without limits, you will have to take a Basic or Premium subscription.
Okcupid Basic
Send unlimited likes
Filter out the peope who don't fit
Unlimited rewinds
Unlock your intros
No ads
Okcupid Premium
All Basic features + :
See who likes you
3 SuperLikes every week
See responses to questions you haven't answered yet
Okcupid Costs
How much does it cost? If you want to enjoy premium features, take a look at the prices of the okcupid subscriptions.
Okcupid Basic
Pass 6 months: $17.49/month
Pass 3 months: $23.33/month
Pass 1 months: $34.99/month
Okcupid Premium
Pass 6 months: $22.49/month
Pass 3 months: $29.99/month
Pass 1 months: $44.99/month
The price of Okcupid is below average for dating sites. See all okcupid cost and subscription prices.
Okcupid quick review
So is OkCupid a good dating service and worth looking into?
The answer is yes! We were positively surprised by Okcupid. Usually sites with personality tests are heavy with abstract questions. Here, only concrete questions that you can answer and that will allow you to meet singles online, nearby or on the other side of the planet.
The fact that it is possible to contact singles for free, within a certain limit is a plus.
Finally, many profiles of quality singles, between 25 and 50 years old, with several photos, descriptions and complete profiles, the top.
Okcupid may not look like it at first, but it is a serious dating service that can help you find your future partner.
Okcupid free trial
Would you like to test okcupid? You can register for free right now. No credit card will be required for registration.
Appears in guides :
Participate by rating OkCupid dating site
In addition to leaving a comment below, you can rate the dating site (provided you have tested OkCupidm) by giving it stars. Optional if you haven't tested the site.
Give your opinon about OkCupid