OkCupid
See 0 reviews from members for OkCupid.
Belonging to the Match.Com group, Okcupid is a dating site dedicated to quick, fun and no tomorrow relationship.
OkCupid presentation

OkCupid is a dating site dedicated to fun relationships. Registration is fast, with a quick personality test, everything is done to get you started quickly. The sending of message is free. An instant messaging system is available (thanks to an advertising system). The are many profiles but all are not qualitative. However, is this the goal of okcupid?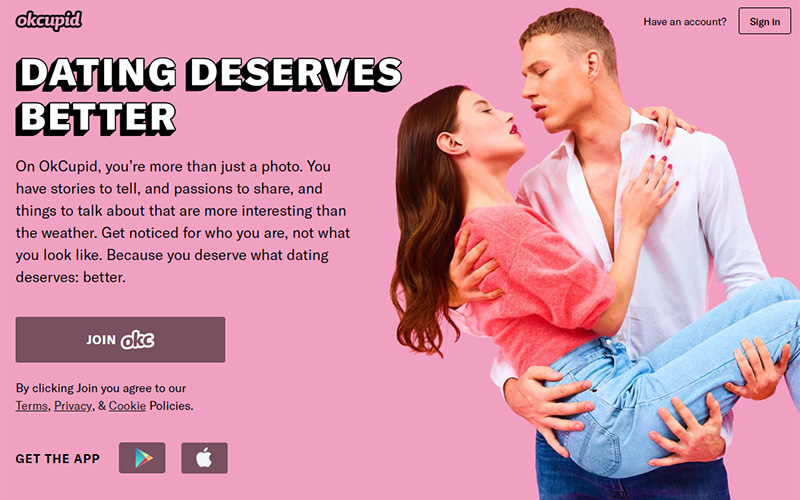 Free Services
Free profile creation
Personality test
Match searching
Messaging other users
Costs and Prices
How much does it cost? If you want to enjoy premium features, take a look at the prices of the okcupid subscriptions:
Pass 6 months: 4,95 $ / month
Pass 3 months: 7,95 $ / month
Pass 1 months: 9,95 $ / month
The price of Okcupid is below average for dating sites. See all okcupid cost and subscription prices.
Okcupid free trial
Soon !
Our review on Okcupid
Okcupid is for quick and fun relationships. If you are looking for a serious relationship, this is not for you.
Okcupid is on the same position as Badoo or Zoosk. It offers a free message service, many members and once suscribed, the opportunity to have free-ad and an highlighted profile.
Participate by rating OkCupid dating site
In addition to leaving a comment below, you can rate the dating site (provided you have tested OkCupidm) by giving it stars. Optional if you haven't tested the site.
Give your opinon about OkCupid