Catholic Match Review: What You Need to Know Before Joining This Dating Site
By Alexandre (admin), last updated on June 8, 2023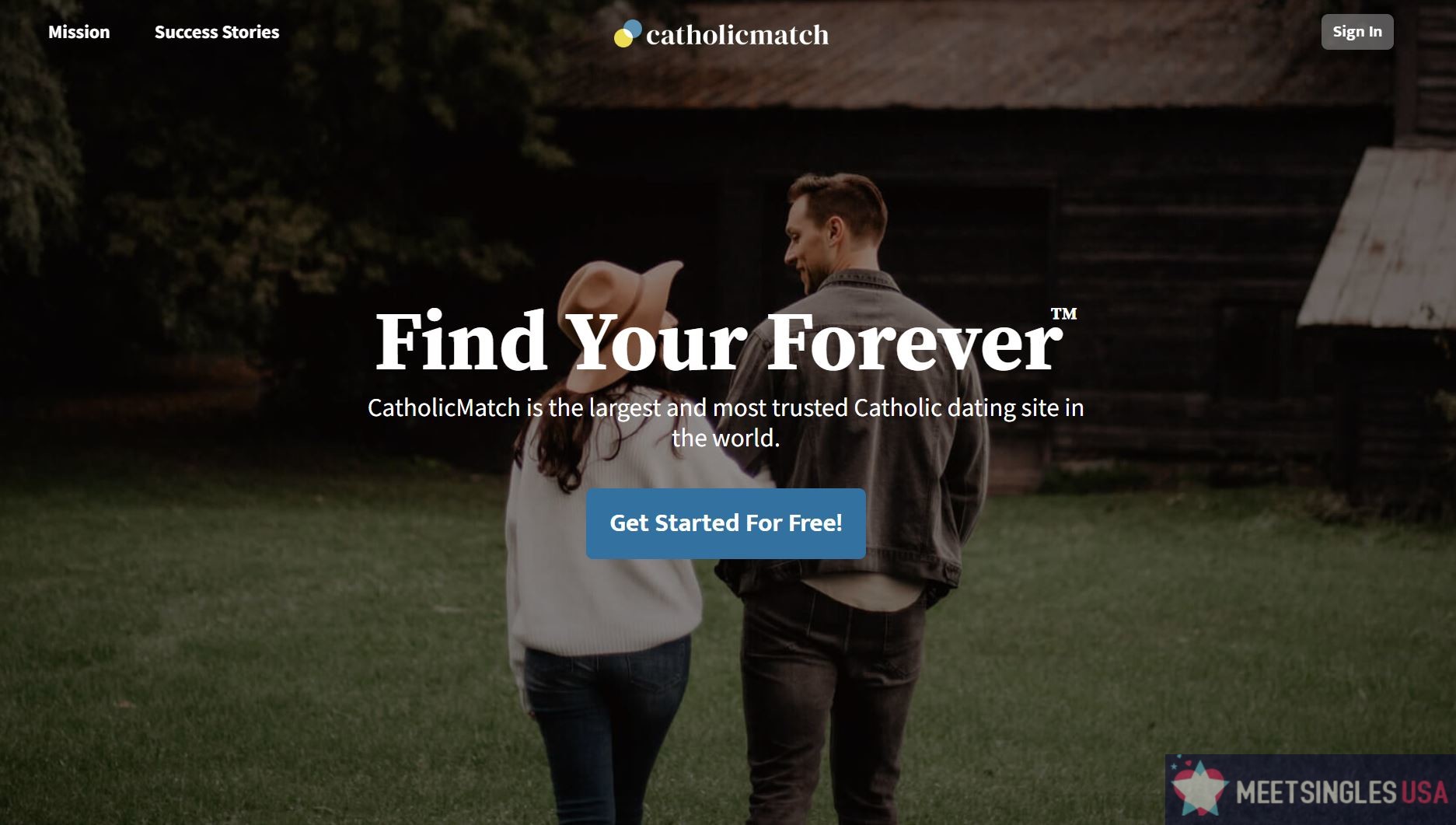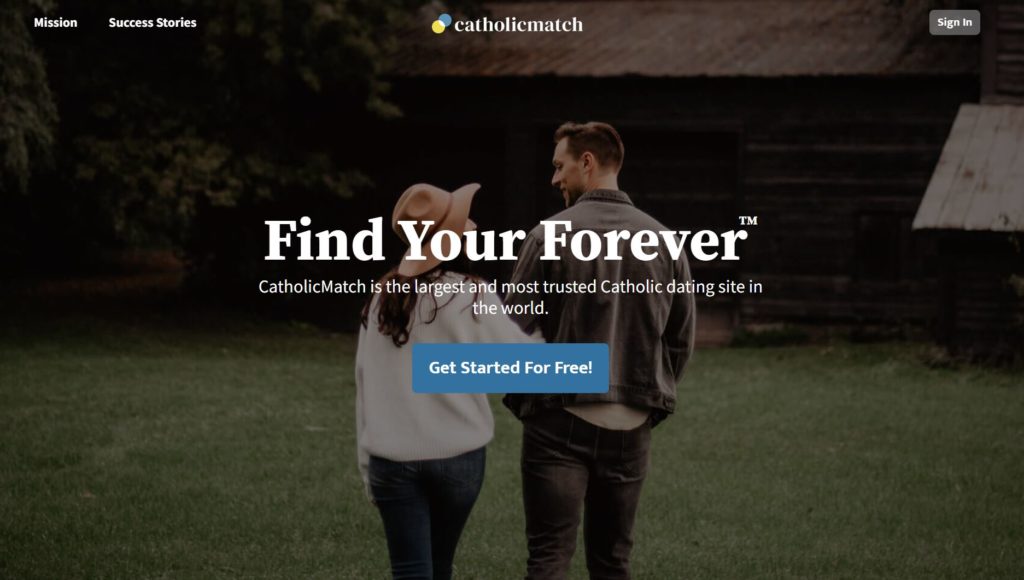 Our rating
Pros
✅ Serious dating site with experience
✅ Classic features that work
✅ High quality profiles
✅ Catholic singles only
✅ 6-month subscription price
Cons
❌ Cannot view last login date
❌ Subscription price 1 month
❌ No 3-month subscription
❌ Application that does the job, but nothing more
Looking for a single Catholic dating site to find love? There are many dating services for Christians. The best known are Christian Mingle and Christian café. But another, Catholic Match, is reserved for Catholic singles.
So what about Catholic Match? Is it a serious site? Is it worth a try? Is it really possible to find love? We'll find out in our test below.
Why you should use Catholic Match to date new people?
Whatever your religion, tens of millions of you are looking for love. Love allows you to blossom and create bonds tinged with feelings. Like many singles, you're looking for someone with the same values and aspirations. Religion can also be part of the selection criteria. And when you consider that there are over 70 million Catholics in the USA, you're bound to find someone compatible.
That's why it may be worthwhile for you to use Catholic Match if you're single, living in the USA and religious practice is a criterion of choice for dating a new partner.
Presentation
Catholic is a dating service for Catholic singles looking for a real and serious relationship. The service stands out on two counts. Firstly, it's for Catholics only, and secondly, it allows you to match people by compatibility.
We exist to help you find your forever love; someone who shares your values and desires a Sacramental marriage.

CatholicMatch
Launched in 1999, it was one of the first dating services to be created on the Internet. So it's not some ephemeral service that just popped up out of nowhere. The fact that it's been around for so long is a guarantee of its seriousness.
Registration
Let's start registration! The site starts by asking you for your email address, password, first name, last name (will be hidden), city, gender, marital status and date of birth.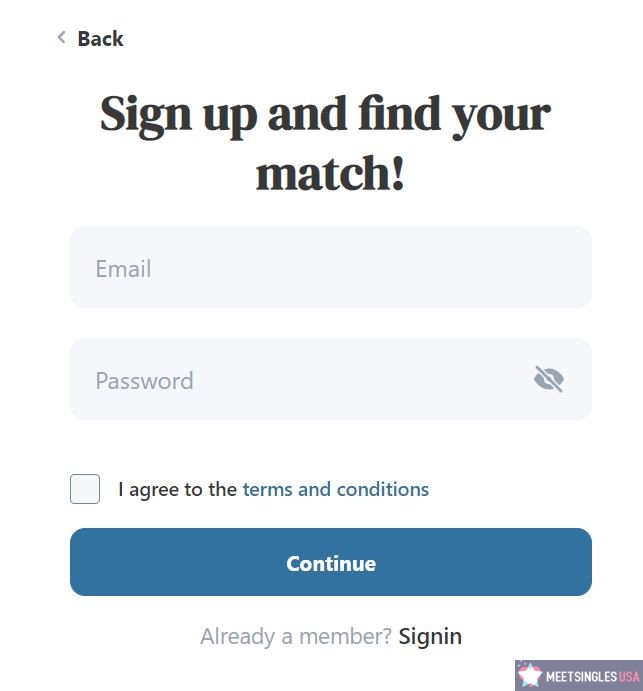 Depending on the city you've previously entered, the platform will ask you which diocese you're in. It's pretty well done.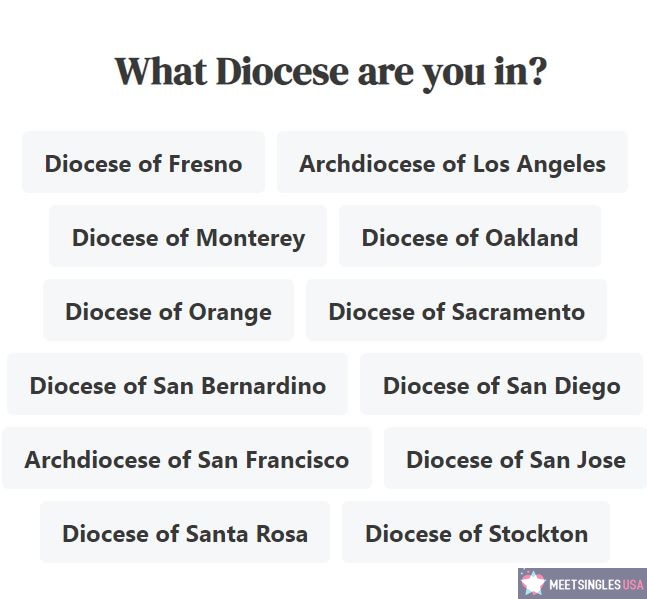 Next comes personal information such as your height, ethnic origin, alcohol consumption, smoking habits, whether you have children, your political views, your level of education and your job.
The site will then ask you about your faith. How long do you practice, how long do you go to mass, your preferred liturgical style, are you ok with contraception and premarital sex.
It's almost over. Here's your introduction. This is perhaps the part to spend the most time on. These few lines should announce who you are and what you're looking for. After your photo, this is the ad that will be read first. So if you want to get replies to your messages, take your time.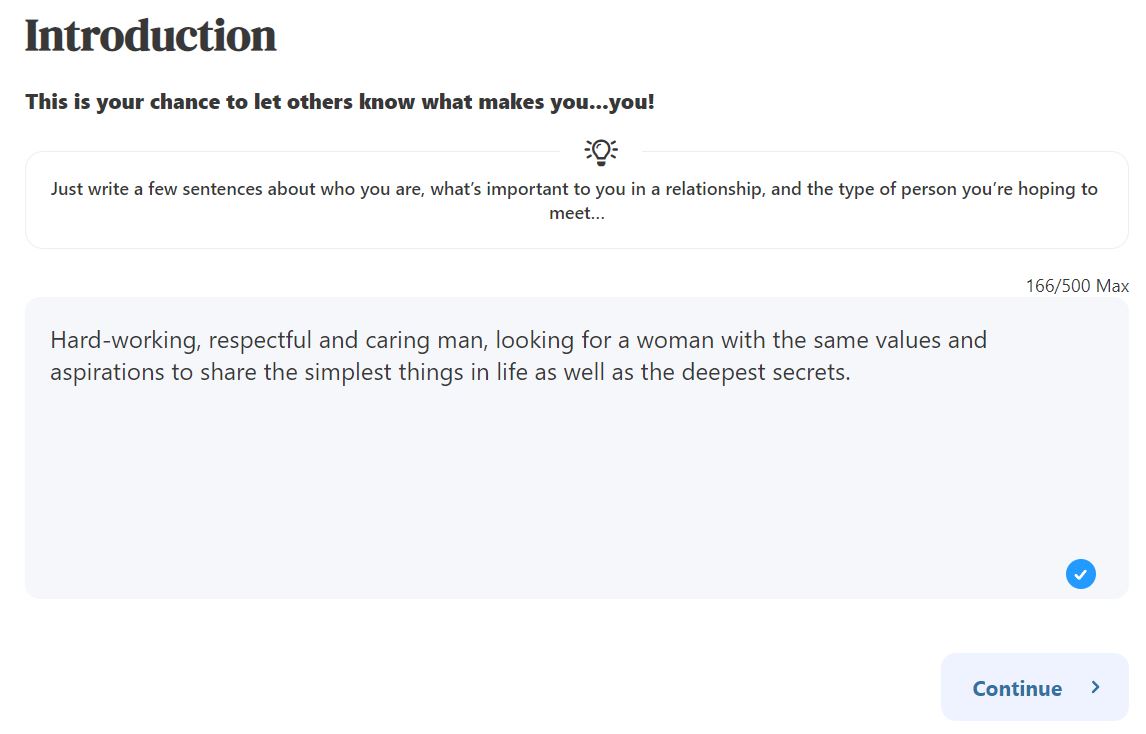 And finally, the site will ask you to select areas of interest such as indoor or outdoor activities, your faith, your favorite food, films and series, music, reading, sports and travel….
...and last but not least, one or more photos of you! Here again, as with the ad, it's important to choose your photos carefully. Your face should be clearly visible, so make sure you're smiling, and include photos of yourself in a variety of situations. Avoid photos of you with other people, which will be rejected. Because yes, all photos will be manually validated by the site.
Interface and features
After registering for ten minutes or so, we're finally on the Catholic Match interface, ready to try out all the features!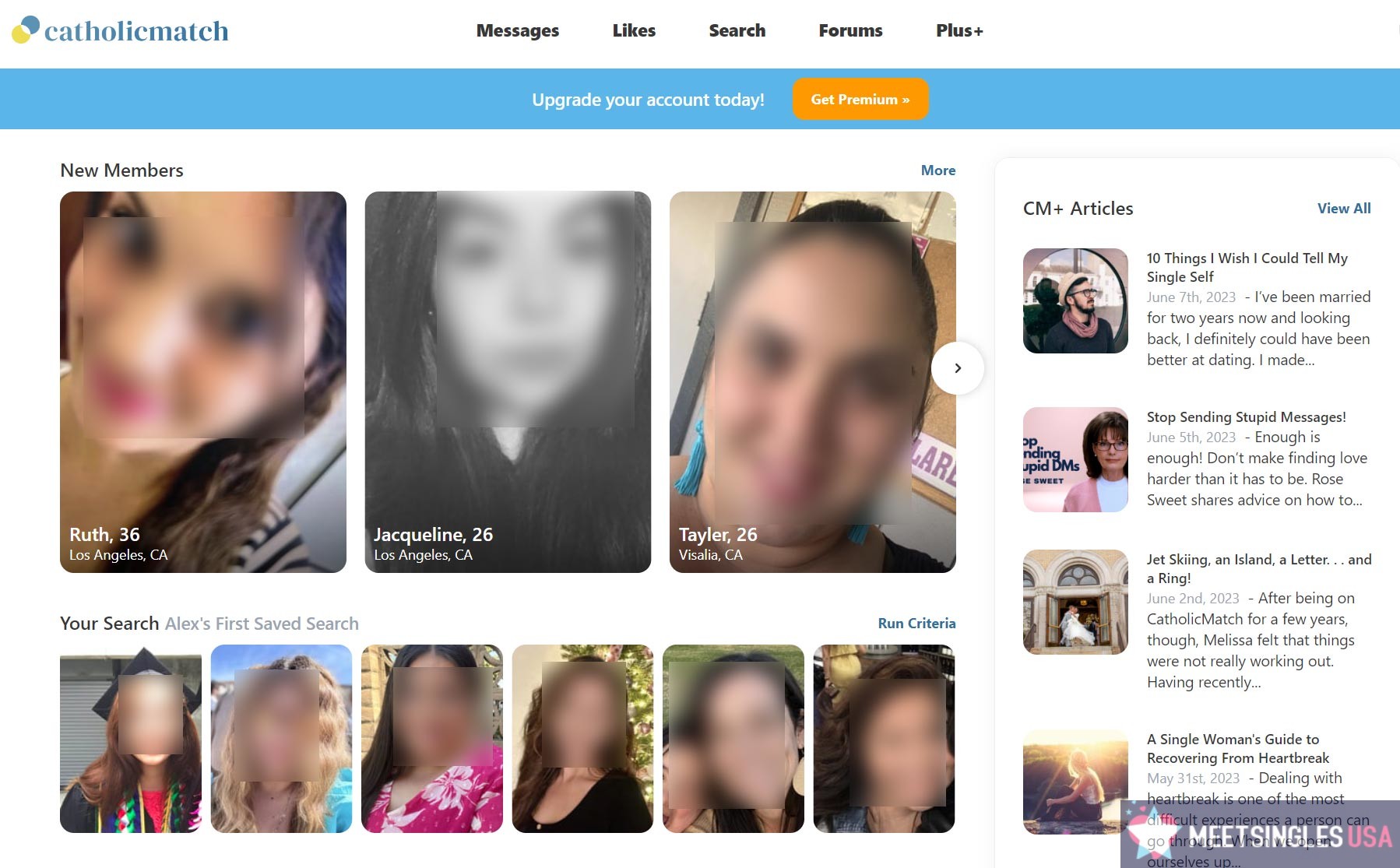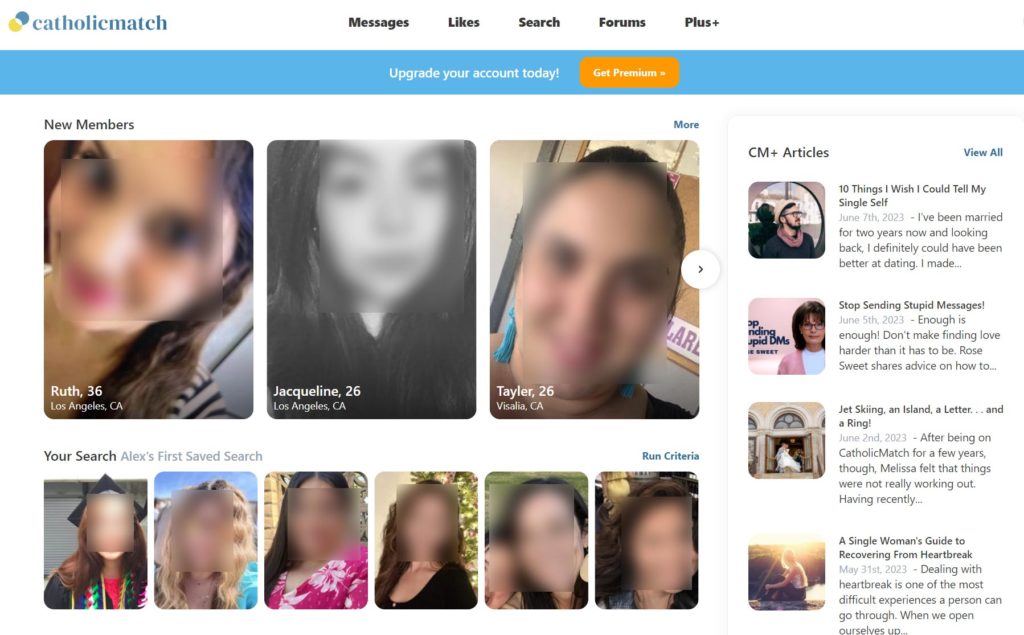 The home page is easy to understand.
First you have new members at the top of the page, users matching your search and matches below that, birthday members next and finally a photo gallery of several members. This home page is very photo-oriented. That's why it's so important to have a really good profile photo.
The first feature we're interested in is the member search. A pleasant surprise: in the free version, you can access all members with photos and a number of search filters: age, location, but also gender, height, ethnicity and body type.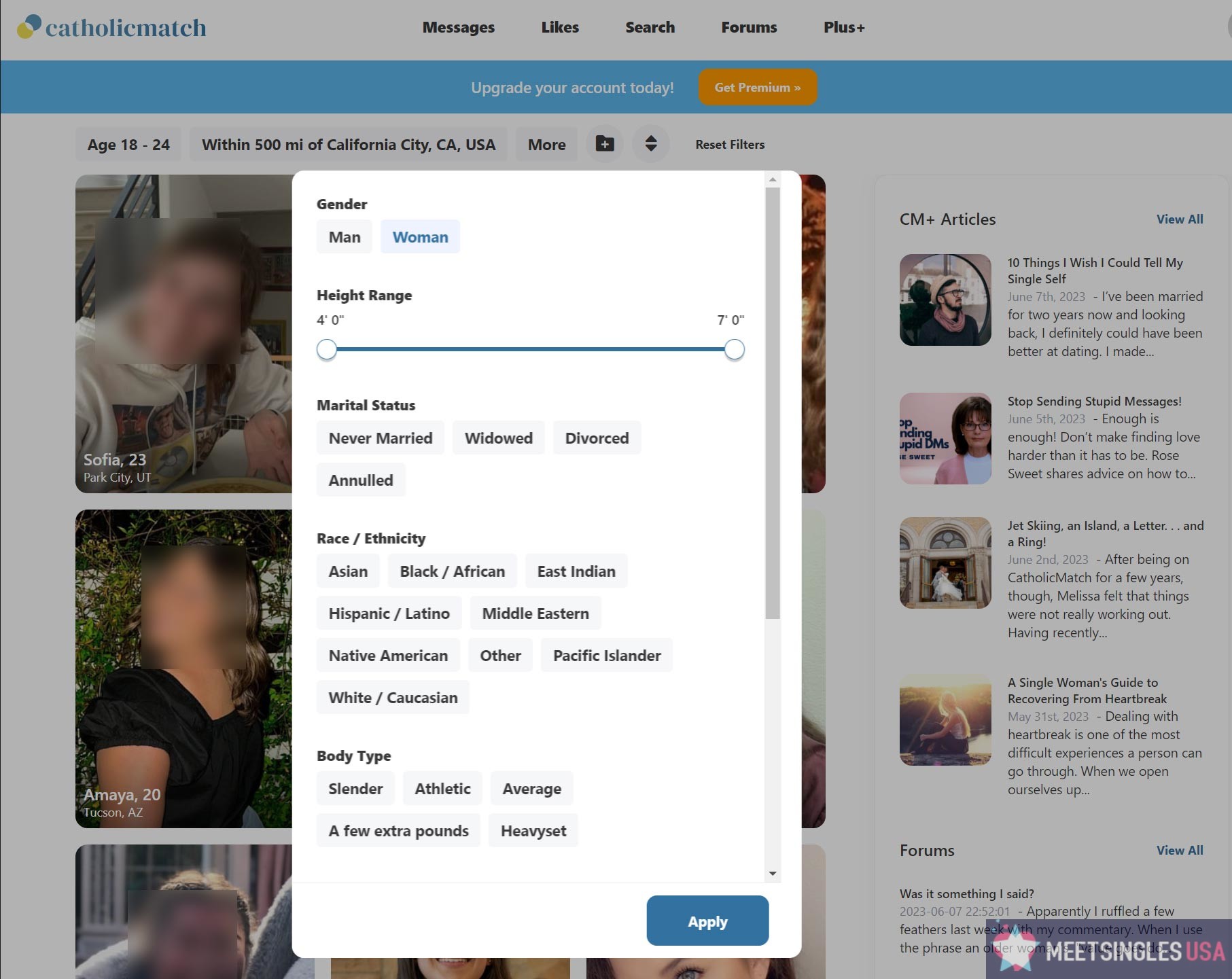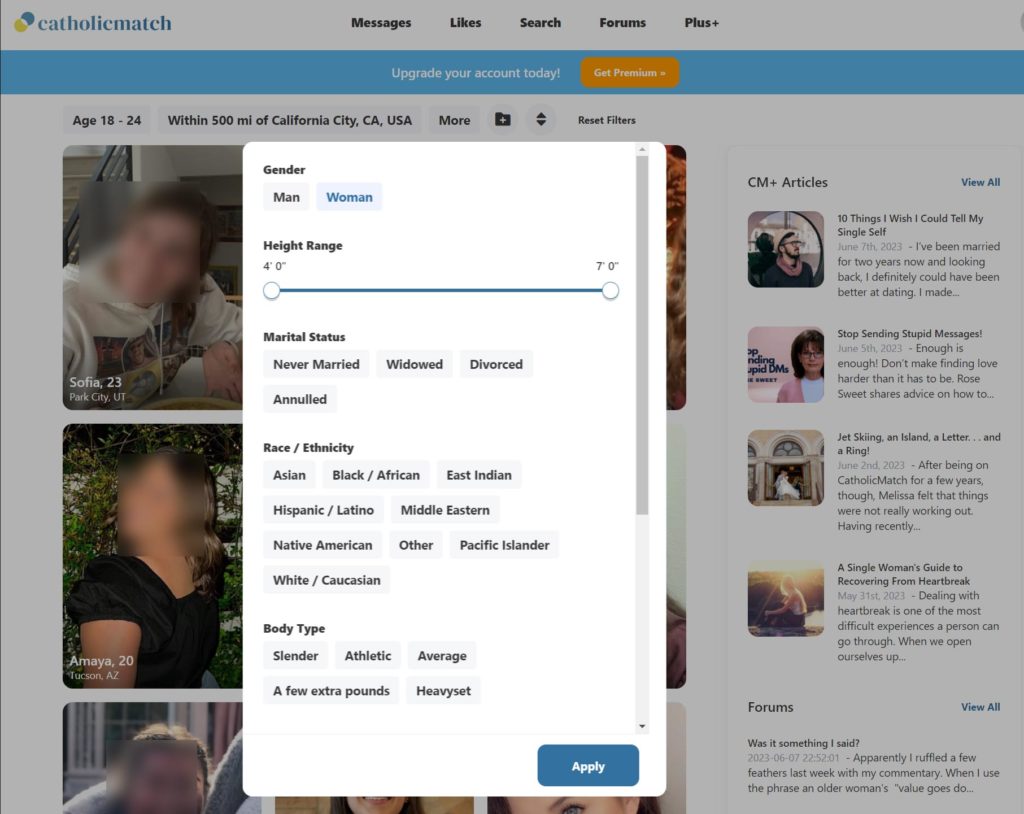 Other filters are reserved for premium members, such as tobacco, alcohol, children, education and politics. In our opinion, however, the free filters are sufficient.
Then, the other very important feature of the site, because it's a matchmaking site, is the "Portrait Match".
The site will ask you questions about your values and aspirations. These questions will be used to establish a score, so that in the end, you'll be matched with like-minded singles.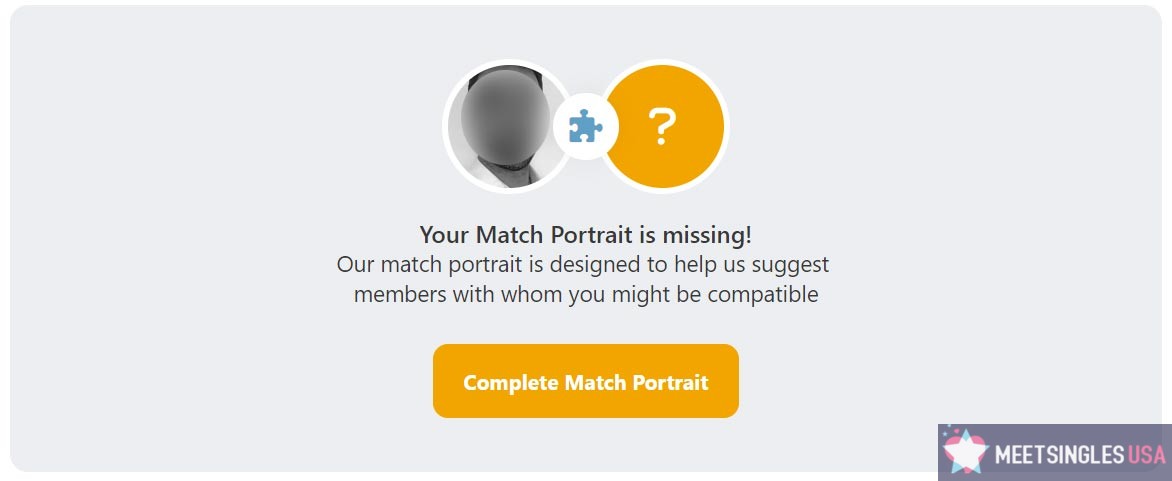 We don't want to hide the fact that this questionnaire is rather long to fill in. But that's where Catholic Match was clever. Rather than imposing it at registration and losing potential users who don't complete it, you can choose whether or not to complete it after you've registered. Still, it's highly advisable to do so if you want to meet people by compatibility. Otherwise, Catholic match is just another dating service.
Quality members
Unsurprisingly, the quality of Catholic Match members is very high. There's plenty of choice, and profiles are complete with one or more photos and a good ad. We've gone through a lot of profiles and on the whole they're all good. There don't seem to be any fake profiles. That's a very good point.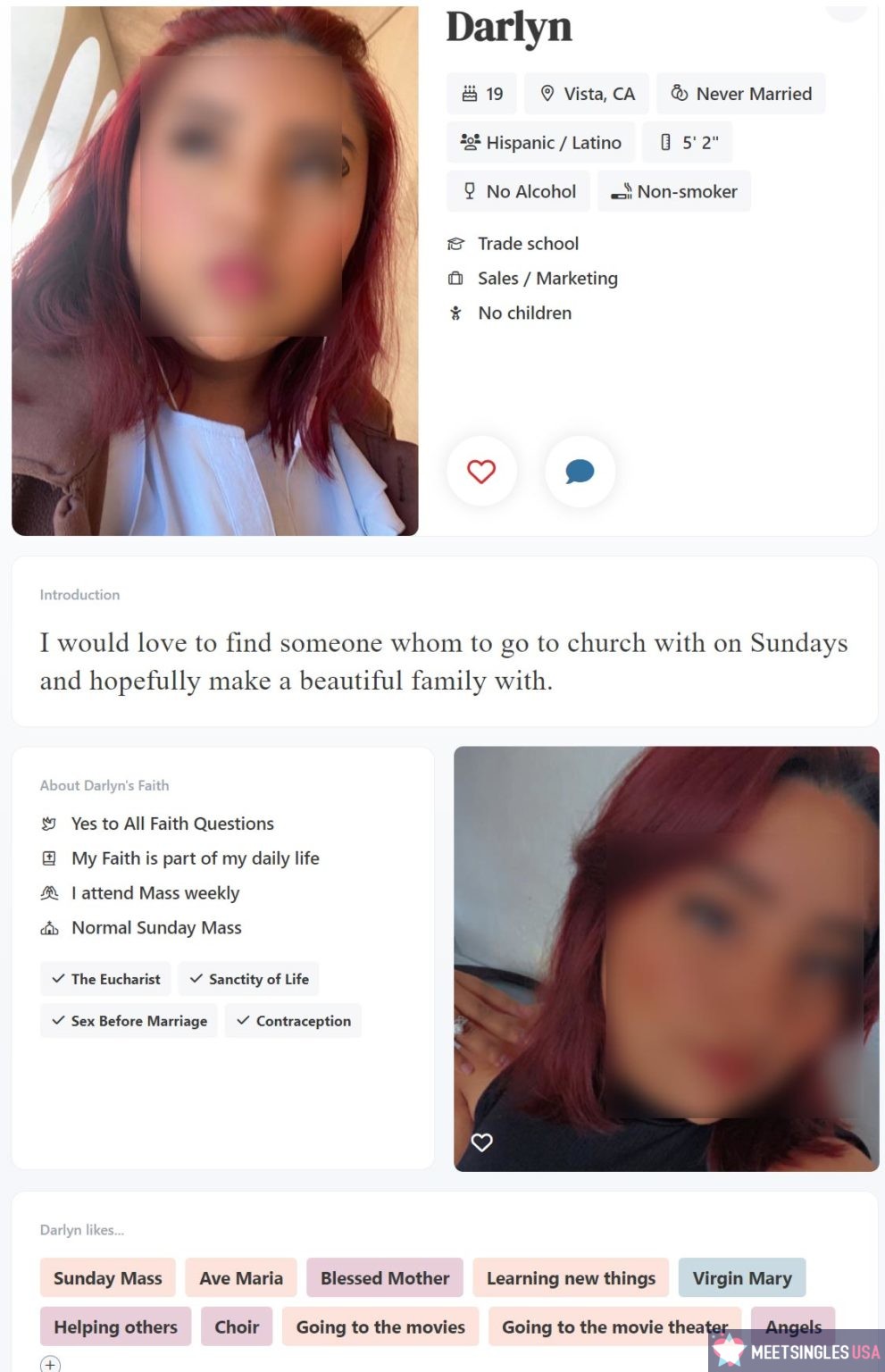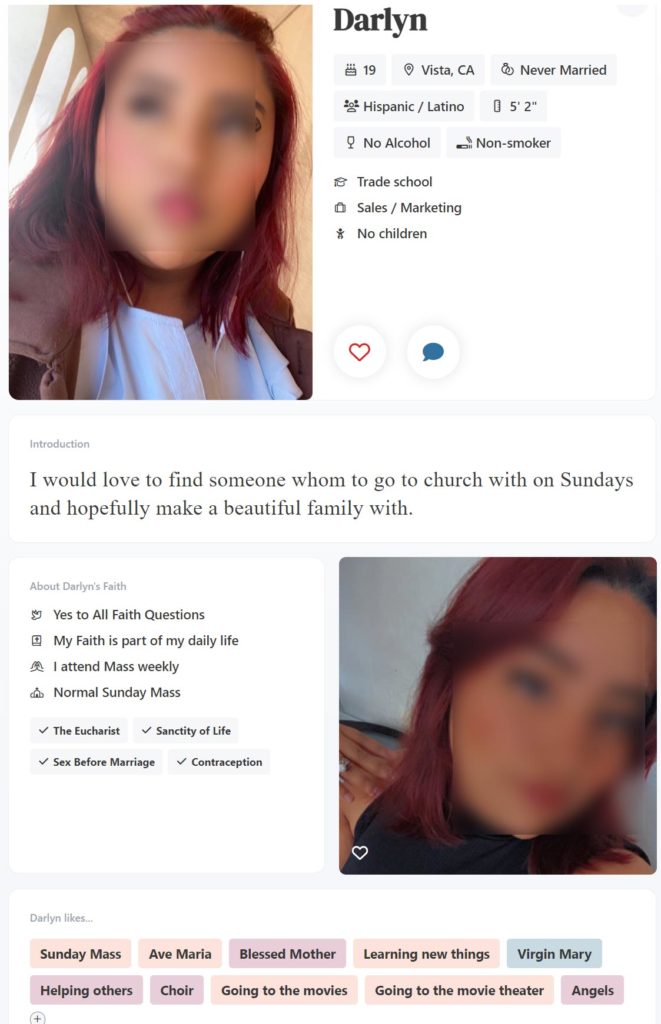 If there's a negative point to be made about the profiles, it's that you don't know when you last logged on. This means that profiles are displayed which may be interesting, but you risk taking the time to send a message to a member who hasn't been logged in for a long time.
Membership / cost
As you've seen, there's a lot you can do for free in Catholic Match. However, a premium subscription is available. The site makes no secret of the fact, announcing it both before and after registration.
Let's compare free vs. paid features.
| | Free | Premium |
| --- | --- | --- |
| Create a profile and view others | X | X |
| Read and reply to received messages after a waiting period | X | |
| Unlimited message initiation | | X |
| Basic search features | X | |
| Advanced search filters | | X |
| Message mutual likes & matches | X | X |
| View other singles' profiles | X | X |
| Limited profile likes | X | |
| Unlimited Profile likes | | X |
| View who likes or views your profile | | X |
As you can see, even if there are restrictions, it's still possible to meet people for free with Catholic Match. You'll just have to be more patient, as you'll need a reciprocal match before you can send a message. In the free version, you won't see who has liked your profile, but in the premium version you will.
So the free version is good to try out, and the premium subscription is more comfortable once you're convinced.
Catholic Match Cost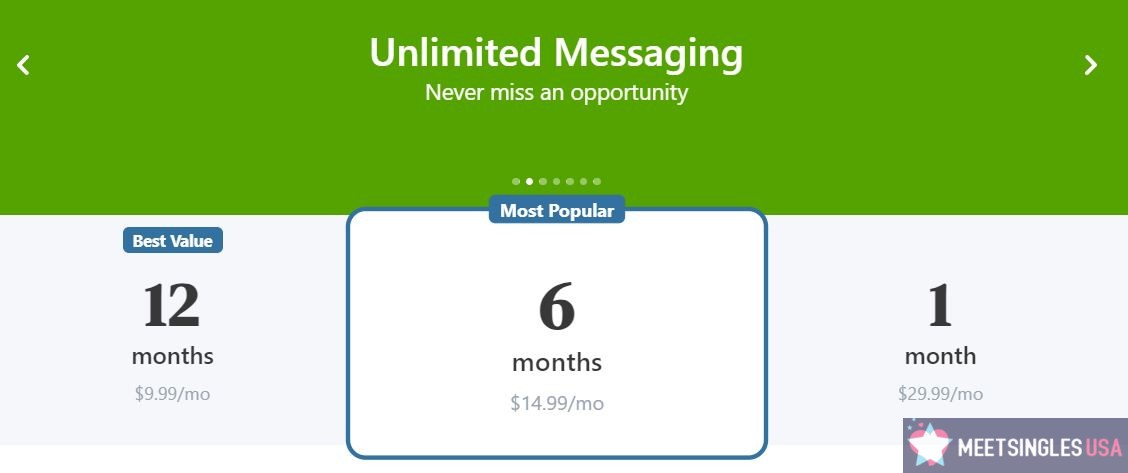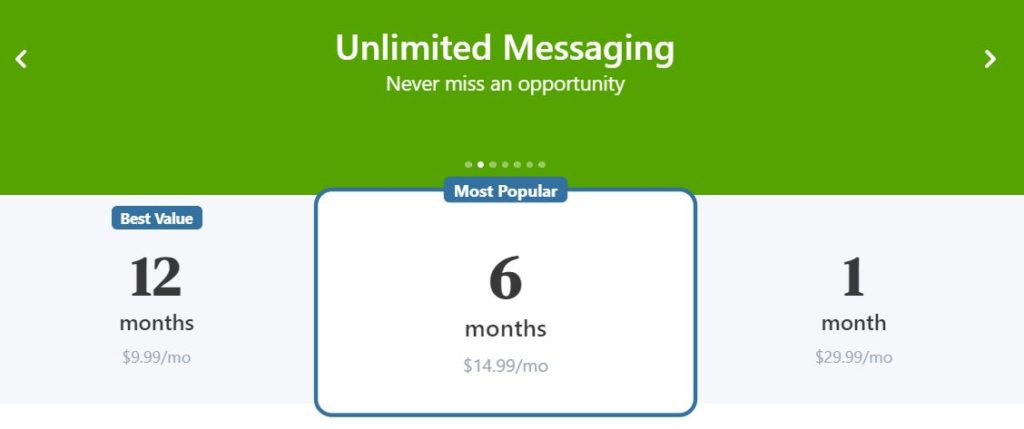 1 month : $29.99/month
6 months : $14.99/month
12 months : $9.99/month
In our experience, the price of a 1-month subscription is a little high, considering that when you take out a 1-month subscription, it's generally to test the site. Then there's the lack of a 3-month subscription, which is the preferred option on other platforms.
In the end, the best deal is to take out the 6-month subscription at $14.99/month, as this is a good length of time to take the time to do some online dating and find love.
App
If you're always on your phone, then the Catholic Match app may be of interest to you. You can download it for iPhone and Android, and log in with the same credentials as the website.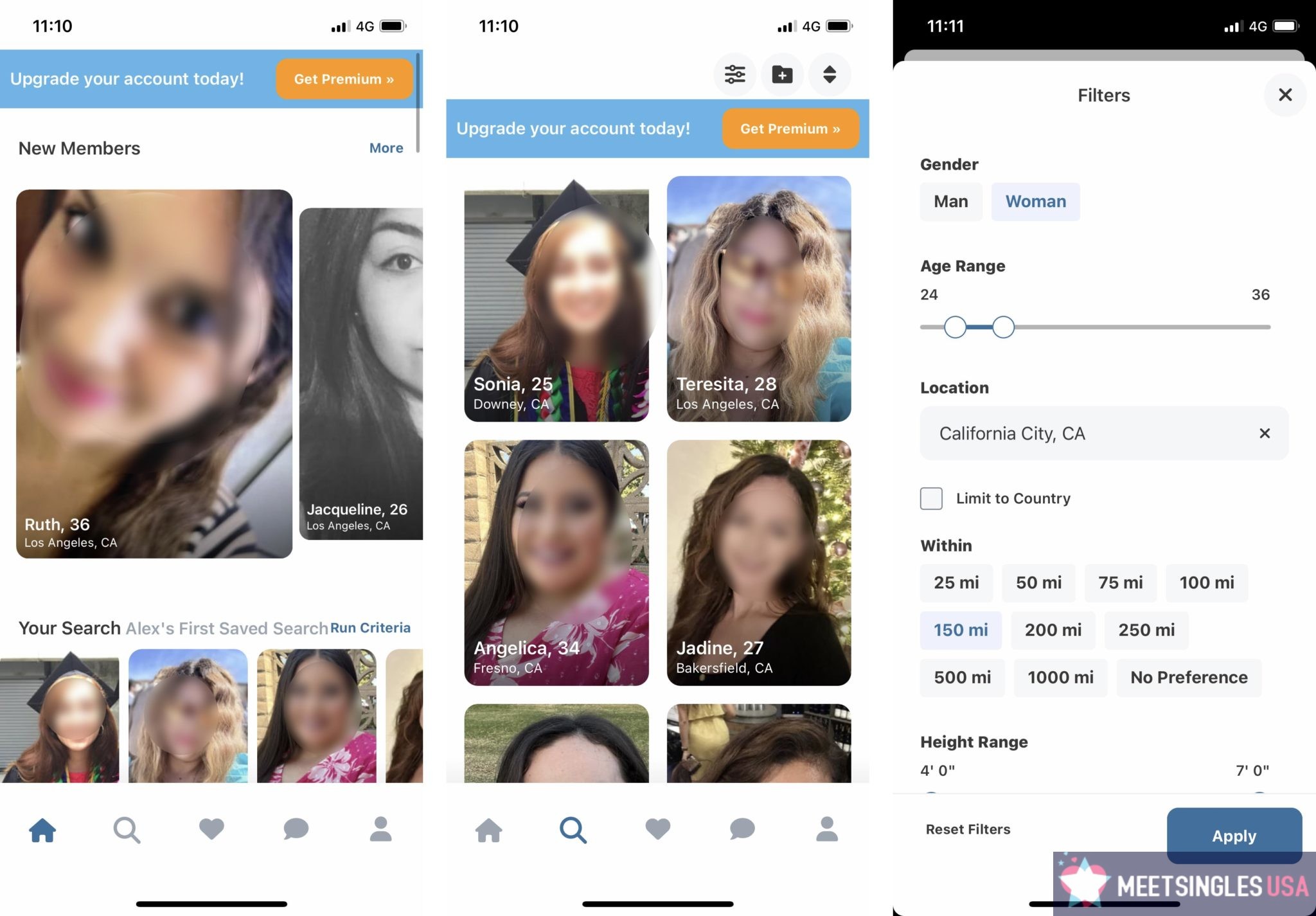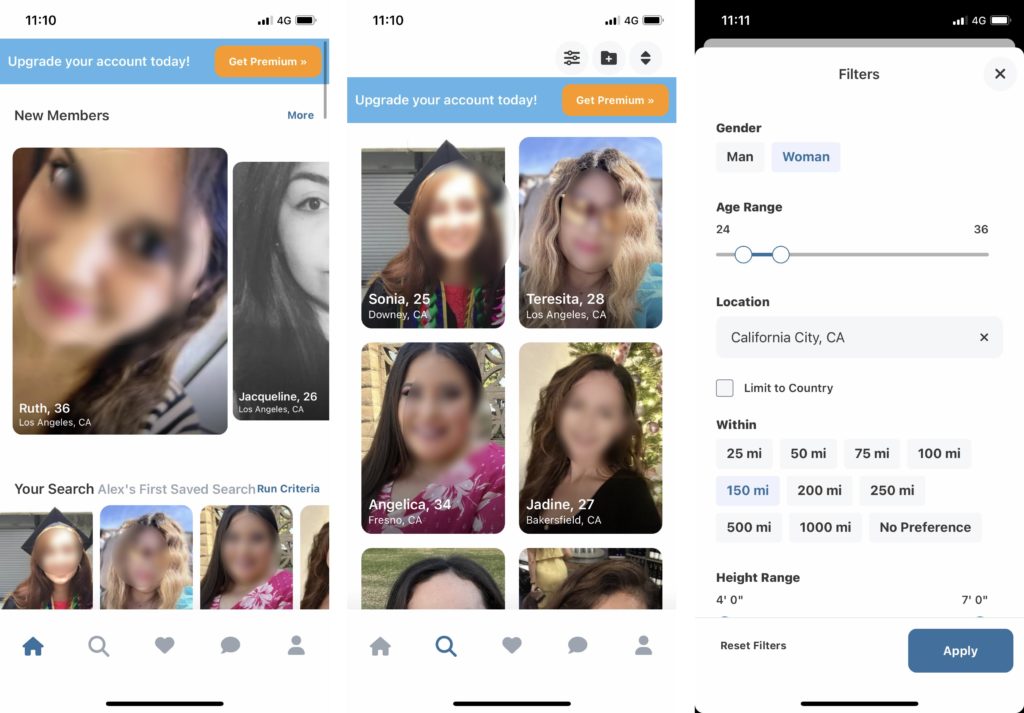 The application's interface is very uncluttered. There are no exclusive features; it's exactly the same as the website, but on an app. A bit of a shame when others offer an enhanced experience on the phone.
Pros
✅ Serious dating site with experience
✅ Classic features that work
✅ High quality profiles
✅ Catholic singles only
✅ 6-month subscription price
Cons
❌ Cannot view last login date
❌ Subscription price 1 month
❌ No 3-month subscription
❌ Application that does the job, but nothing more
Our Catholic Match Review
Verdict
Finally, what do you think of eharmony in general ? If we take into account the pros and cons, the score is 5-2, so we can say that our overall opinion about eharmony is more positive than negative.
Well, that's the case.
We were not on eharmony when we started using it so we could write this article. We discovered a platform that we really liked and that is too underrated.
For us, a brand as well known as eharmony is rather a good sign because we know that there is a large number of users who use their app and that therefore we have a lot of chances and opportunities to meet dozens of people.
In addition, a large group with the means often means a permanent investment in the most user-friendly development. You can feel it at eHarmony. Their website and their application are extremely well made and pleasant to use, a real pleasure when you spend a lot of time on it like me.
Obviously, this gives a positive opinion of eHarmony.
Of course, the disadvantages we talked about above taint the positive points a bit, but in the end it's almost impossible to have only advantages.
The subscription is a bit expensive and you have to have some means to afford it.
And still.
There is a marketing strategy at eHarmony because the monthly subscription is relatively expensive but in reality if you take it over 12 months, it is immediately more affordable.
So our advice is: try it even with eharmony free trial version, you should not be disappointed.
Comments Rating
( reviews)
Catholic Match alternatives
Featured in our guides:
FAQ
How do I participate in the forum on Catholic Match?
Log in to your Catholic Match account and click on the Community tab at the top of the page. Click on the Forums link under the Community tab. You will see a list of different forum categories, such as Dating & Single Living, Faith & Spirituality, Prayer & Support, etc. Choose the category that interests you. You can read the posts by other users and reply to them by clicking on the Reply button at the bottom of each post.
About the author