Jdate Review 2023
By Alexandre (admin), last updated on February 23, 2023





You are a single man or woman of Jewish religion and for you, religion takes an important place and is essential in a couple life? There are many dating services that allow you to filter singles by religion. But there is also one that specializes in dating for Jewish singles: Jdate. According to a Jdate study of 1,000 Jewish weddings, 52% began with an internet date. That's the reason why, if you are still single, you should try Jdate, the leading online dating service for Jewish singles.
How does Jdate work? How to register, what are the free and paid features? Is Jdate worth it? That's all you'll learn below in our test.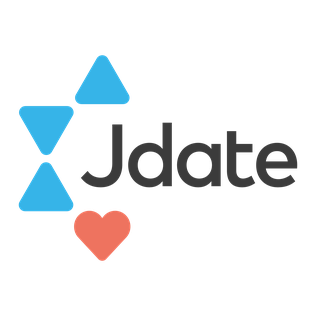 Jdate presentation
Created in 1997 (still!) Jdate is, in addition to being one of the first dating sites, one of the only ones specialized for dating between singles of Jewish religion. For information Jdate belongs to the same group as Christian Mingle or Elite Singles, so this site benefits from the experience and seriousness of other platforms. Even before signing up, it is a guarantee of seriousness.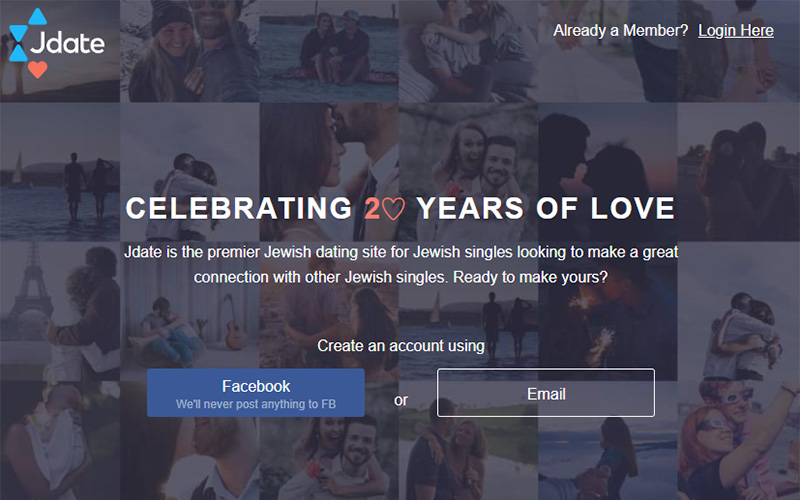 Jdate is available in almost every country in the world and in several languages: German, English, Spanish, French… This is interesting information because, even though most of the time we are looking for people to meet close to home, you can communicate with Jewish singles on the other side of the world. However, Jdate's customer service is located in the USA and is available 7 days a week.
Jdate Free Register
The registration to Jdate is relatively fast: after the first name, last name (confidential), age and city, you will be asked your height, your Jewish movement (Conservative, Traditional, Orthodox, …), your occupation, if you have and/or want children and your level of education. This information is basic in order to have a minimum profile at the creation of the account. To finish, you can fill in some interests such as sports, activities, travel, music, …
In a few minutes you will have access to the Jdate homepage with the list of profiles located nearby and suggested matches.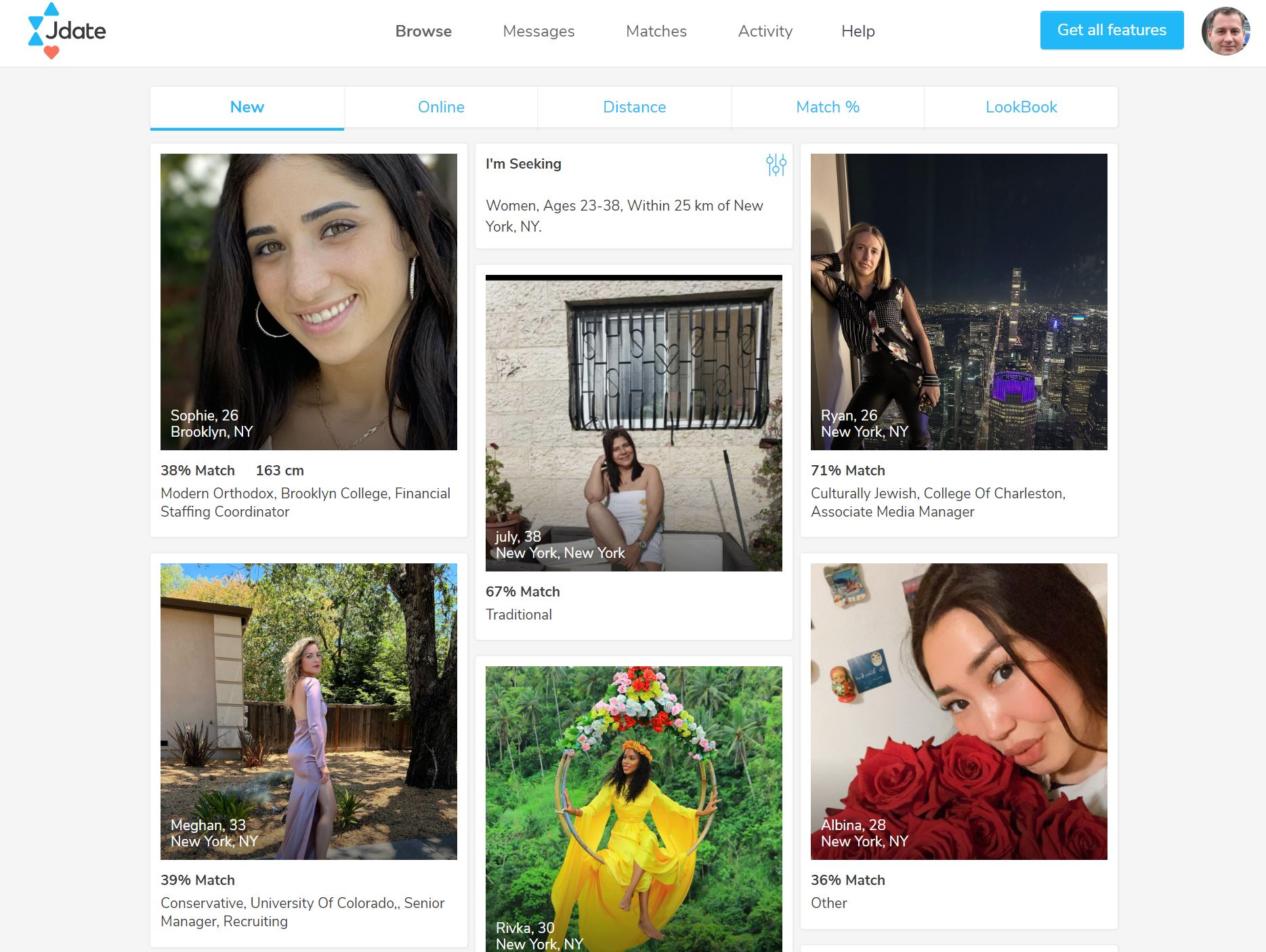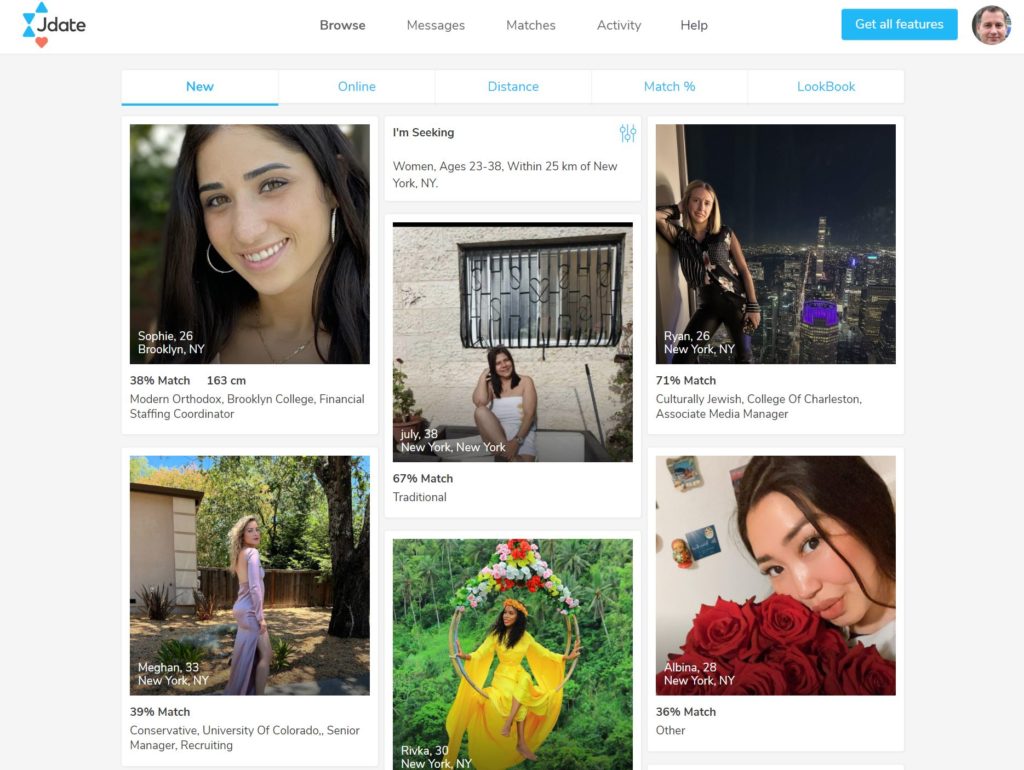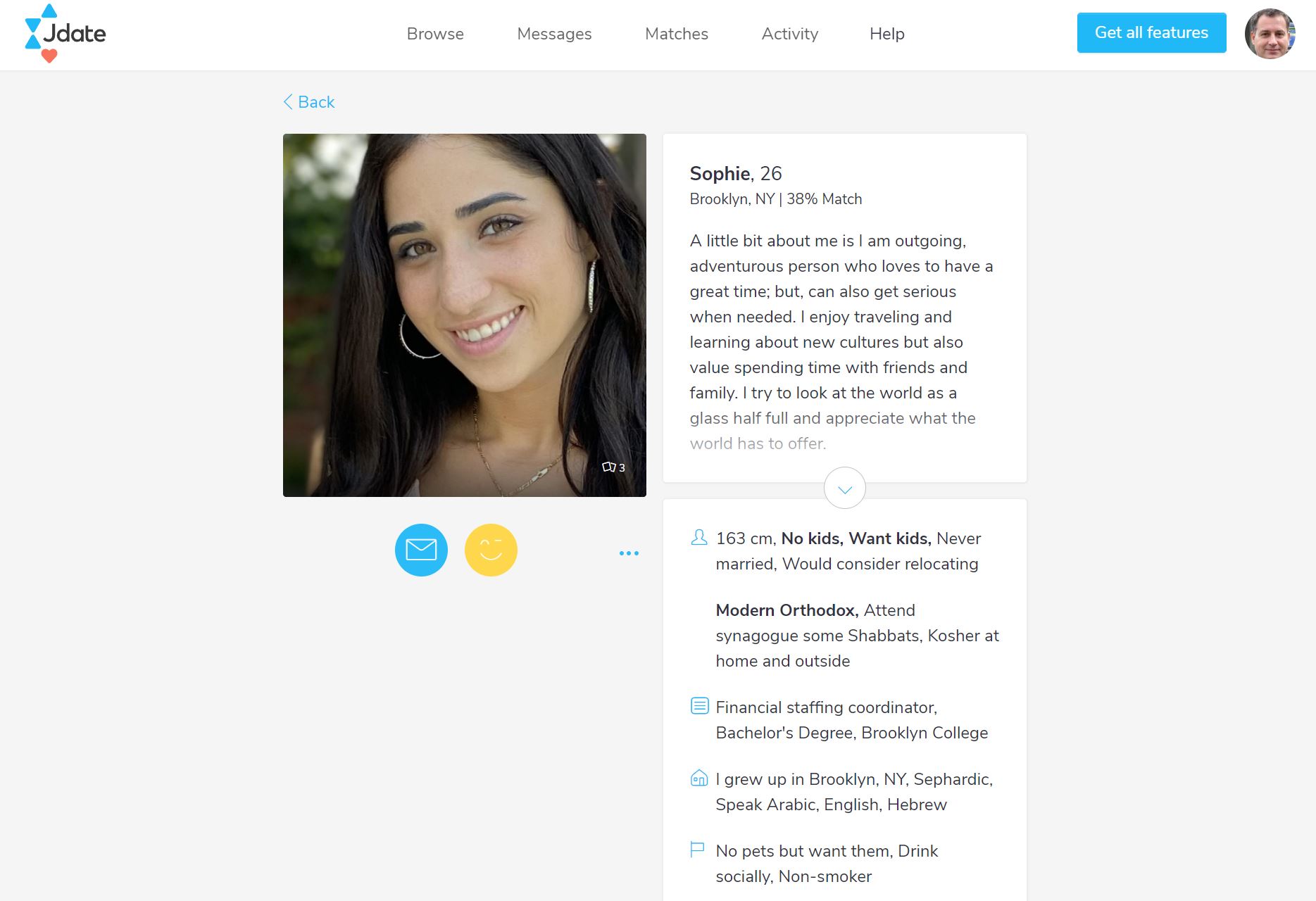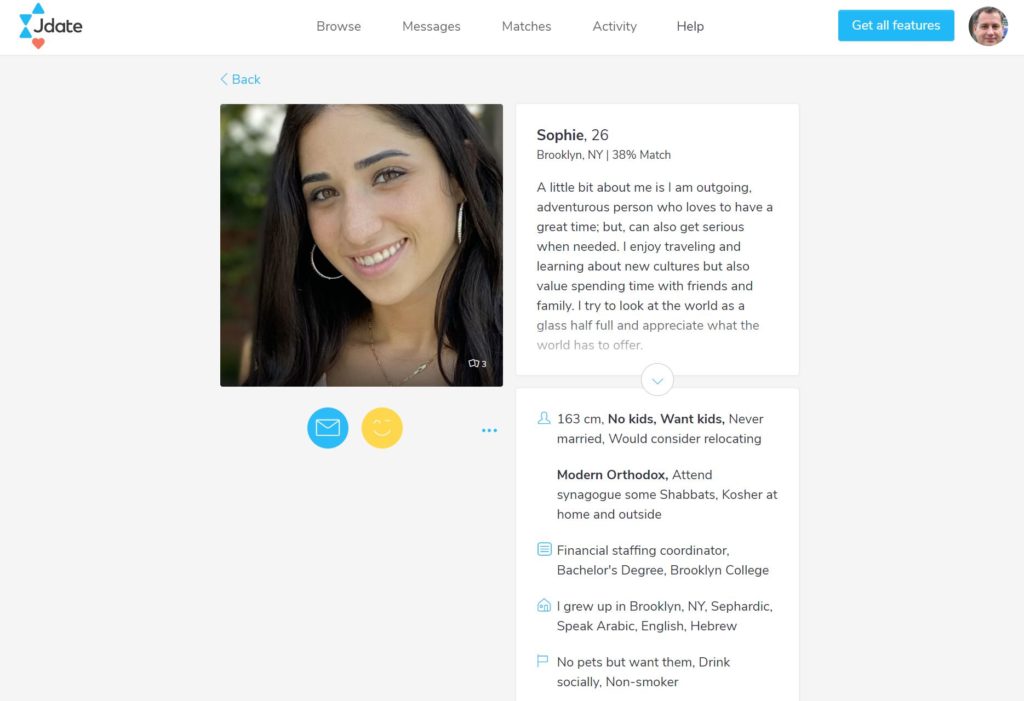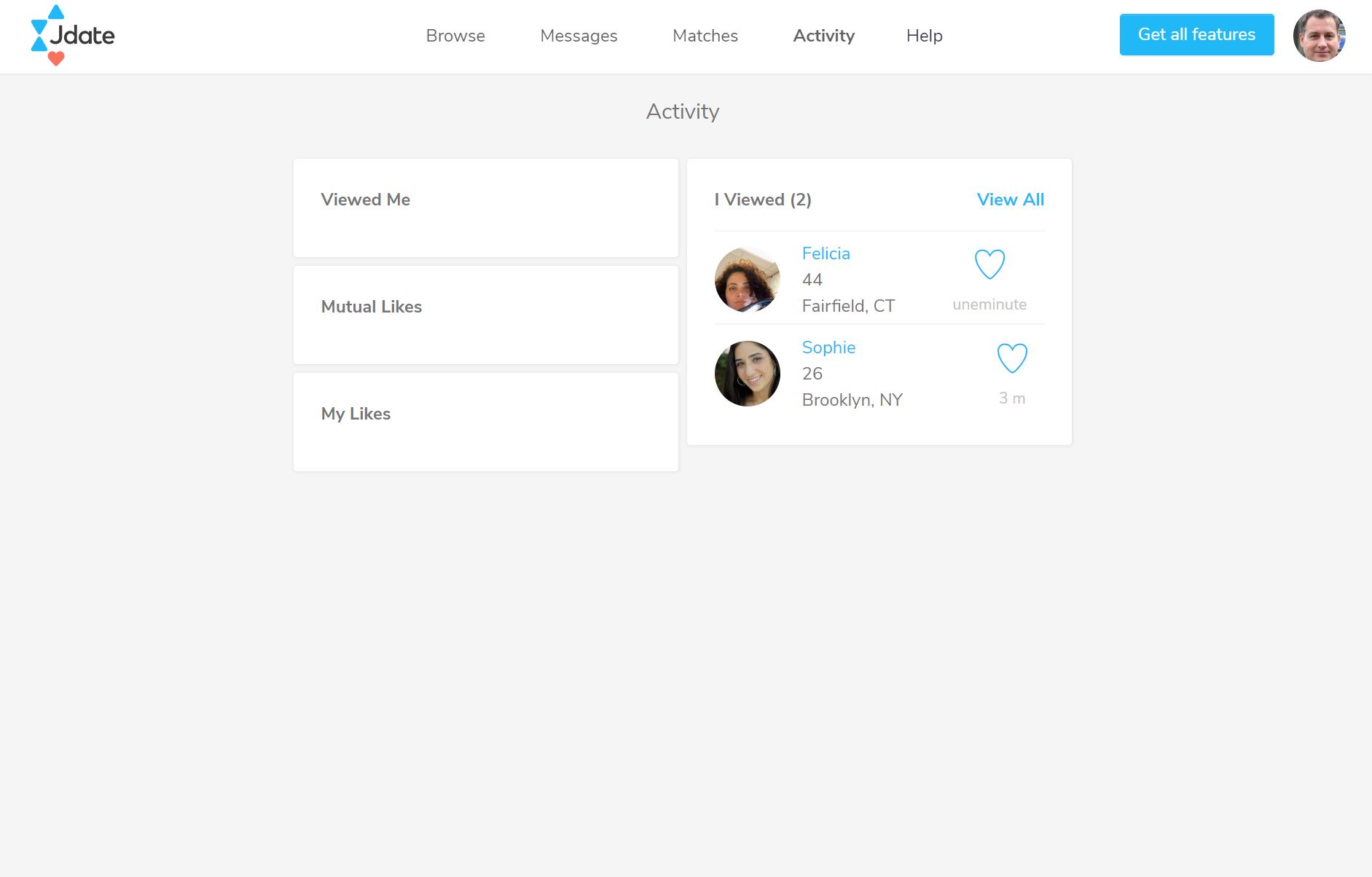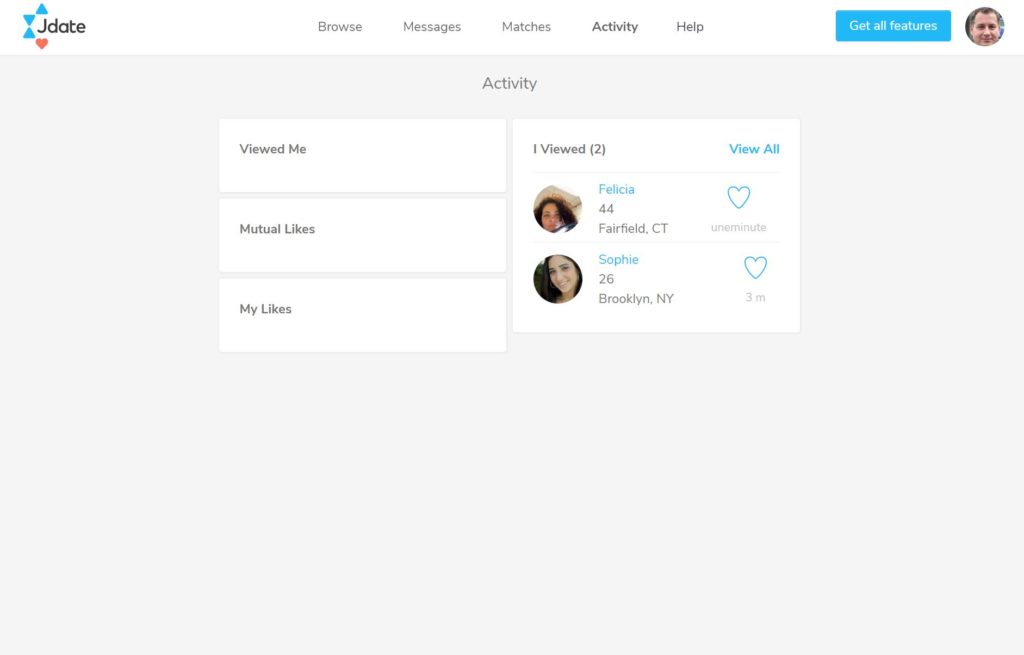 The use of Jdate is very simple. From the homepage the platform offers you profiles of singles who may match you with the possibility to filter by new, online, distance and compatibility percentage. The lookbook feature is a bit like Tinder, namely the possibility to like or not a profile from a photo and a description.
Thanks to the registration questionnaire, the vast majority of users have a complete profile with several photos, an ad and personal information such as height, occupation, location and hobbies. This is a very good point.
It is possible to register and use Jdate for free. Indeed, at the end of the registration, Jdate will propose you to take a subscription, you can skip this step to start using the platform with its free features.
The free features on Jdate are the classic ones of a dating site:
Create an account and a profile
Search for singles
View profiles
View a photo
Send winks
Edit your profile
Receive notifications of compatible singles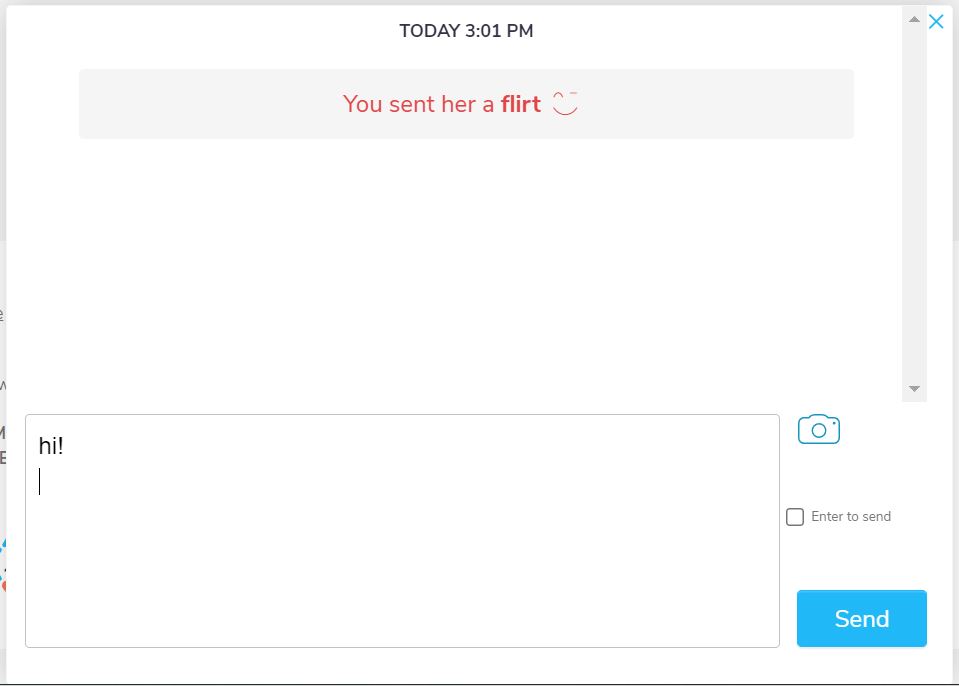 The site might suggest that it is possible to chat with users for free because a chat window opens. However, when you click on send, you will be redirected to the subscription page.
Free Jdate is especially handy for finding out if you have any compatible profiles nearby that interest you and deciding whether to subscribe or unsubscribe.
Jdate Premium
As you will have understood, it is possible to do many things with the free version of Jdate, nevertheless an essential functionality remains to be paid: the messaging. And yes, Jdate is a paid dating site and assumes it totally in order to guarantee a good quality level of users.
If you are convinced by the free version: quality and number of profiles near you, then you might be interested in taking out a Jdate premium subscription.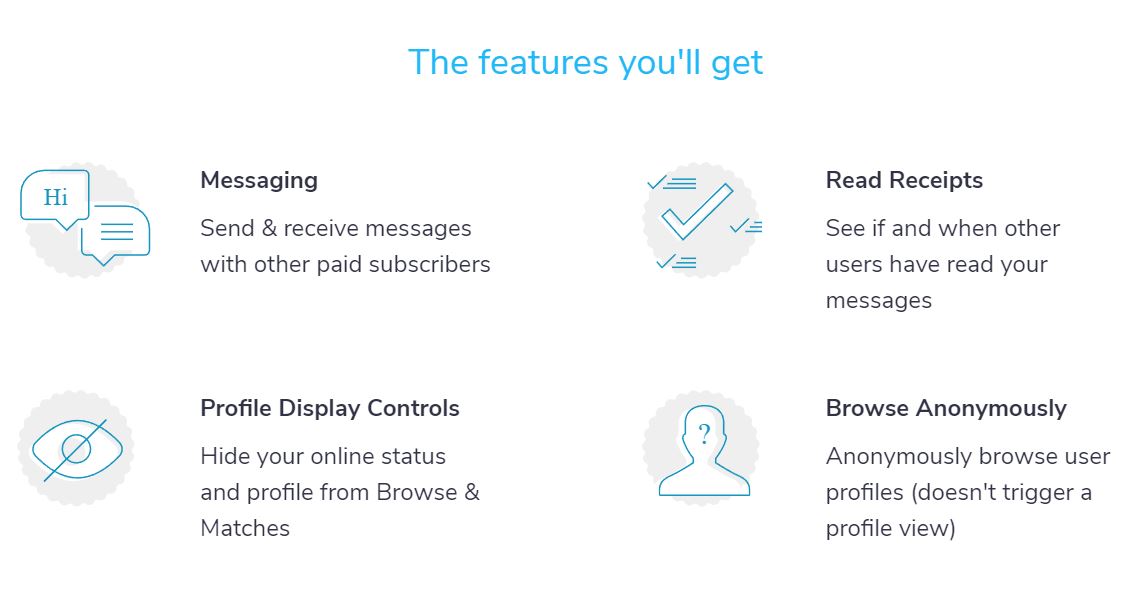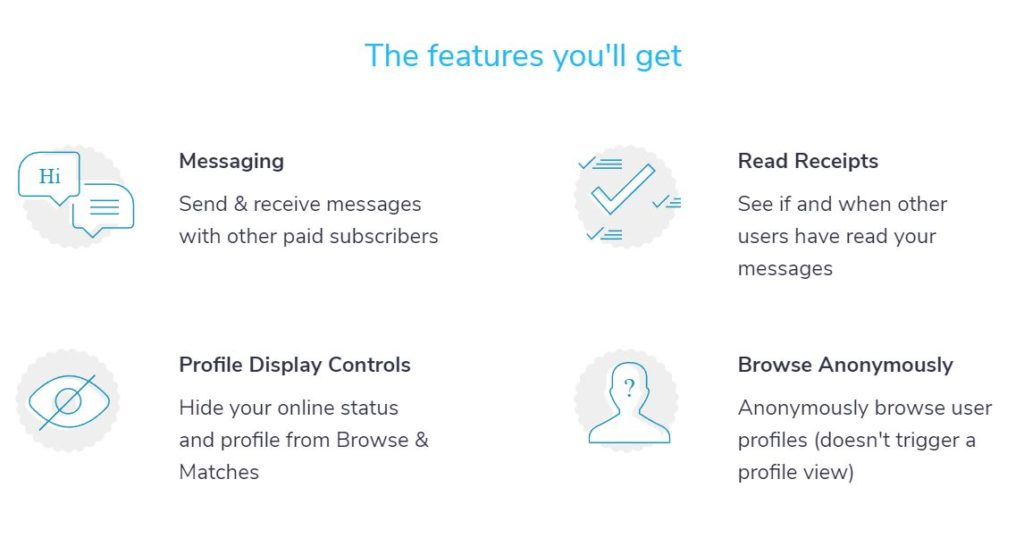 Want to take out a Jdate subscription? Here are the premium features offered by the site:
Get access to all of a users photos
Send & receive messages with other paid subscribers
See if and when other users have read your messages
See which users have liked your profile
See who has been visiting your profile
These paid features are classic but essential to really use the dating service. An advice, if you take a subscription, take the time to complete your profile to the max in order to make it attractive. Having a Jdate subscription does not guarantee that you will get a response from singles every time. So you might as well put all the chances on your side.
Jdate Cost
Like all premium accounts, Jdate offers several subscriptions at several prices. Jdate is no exception to the rule by offering a 1 month, 3 months and 6 months subscription.
How much does it cost to join JDate? If you want to enjoy premium features, find the prices of the Jdate subscriptions: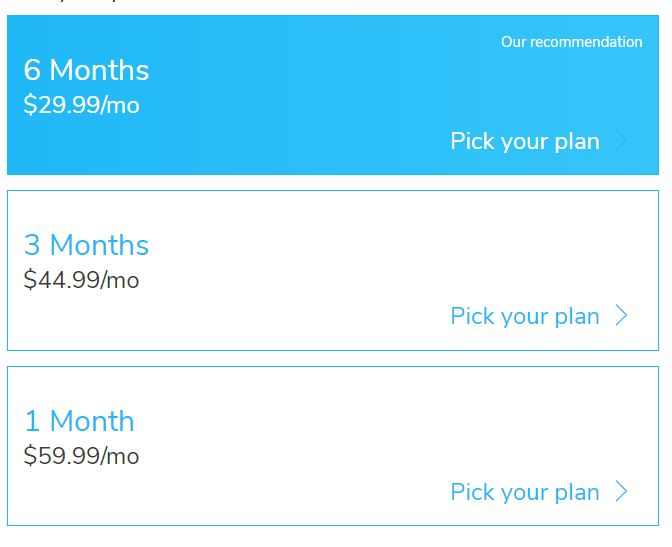 1 month : $59.99/month
3 months : $44.99/month
6 months : $29.99/month
Jdate subscription prices are in the high range for dating sites. These are the usual subscription prices charged by high-end dating sites.
The 6 months subscription is the most interesting financially. Please note that subscription prices may vary depending on user profiles or current promotions. See all Jdate cost and subscription prices.
Jdate review
So, is Jdate a good dating site for Jewish singles? Is it worth it?
If religion is very important to you and you absolutely want to meet Jewish singles, Jdate is almost the only solution that exists. The only alternative would be eharmony which offers a search filter by religion (and therefore Jewish).Apart from that, Jdate offers quality profiles, the interface is very simple and you know in a few minutes if compatible singles are in your geographical proximity.
Pros:
the only serious dating site for Jews
large number of single Jewish members
available in many countries
possibility to view profiles with photos for free
Cons:
higher than average subscription price, at the level of high-end dating sites
It is recommended to wait a few days with a free account to see if you have visits on your profile and likes.If this is the case, don't hesitate to take out a subscription, if not, try eharmony which is a bit cheaper with a lot of quality members too.
About the author
Participate by rating Jdate dating site
In addition to leaving a comment below, you can rate the dating site (provided you have tested Jdatem) by giving it stars. Optional if you haven't tested the site.
Give your opinon about Jdate