Coffee Meets Bagel Review 2023: A Refreshing Alternative to Swiping Apps
By Alexandre (admin), last updated on July 6, 2023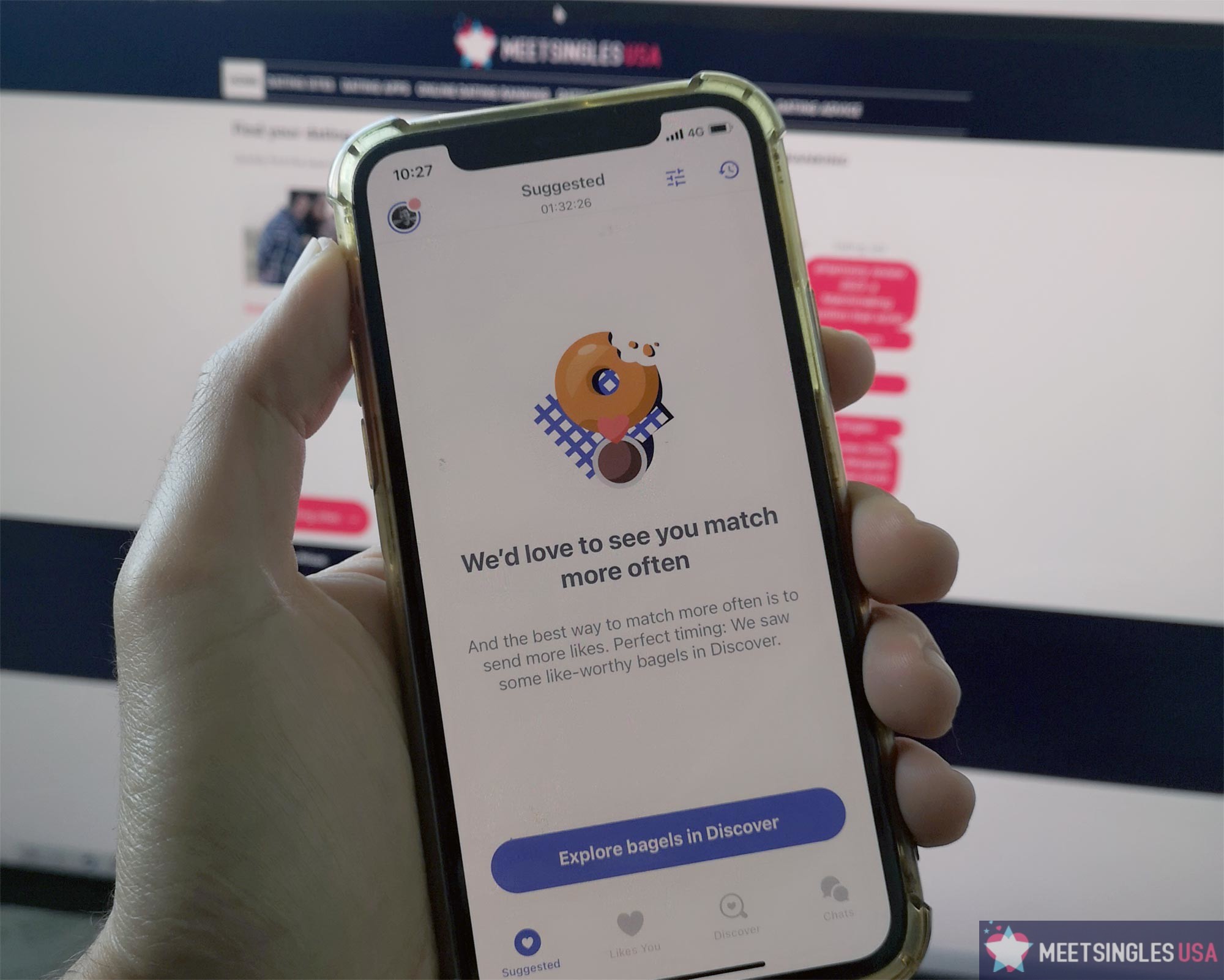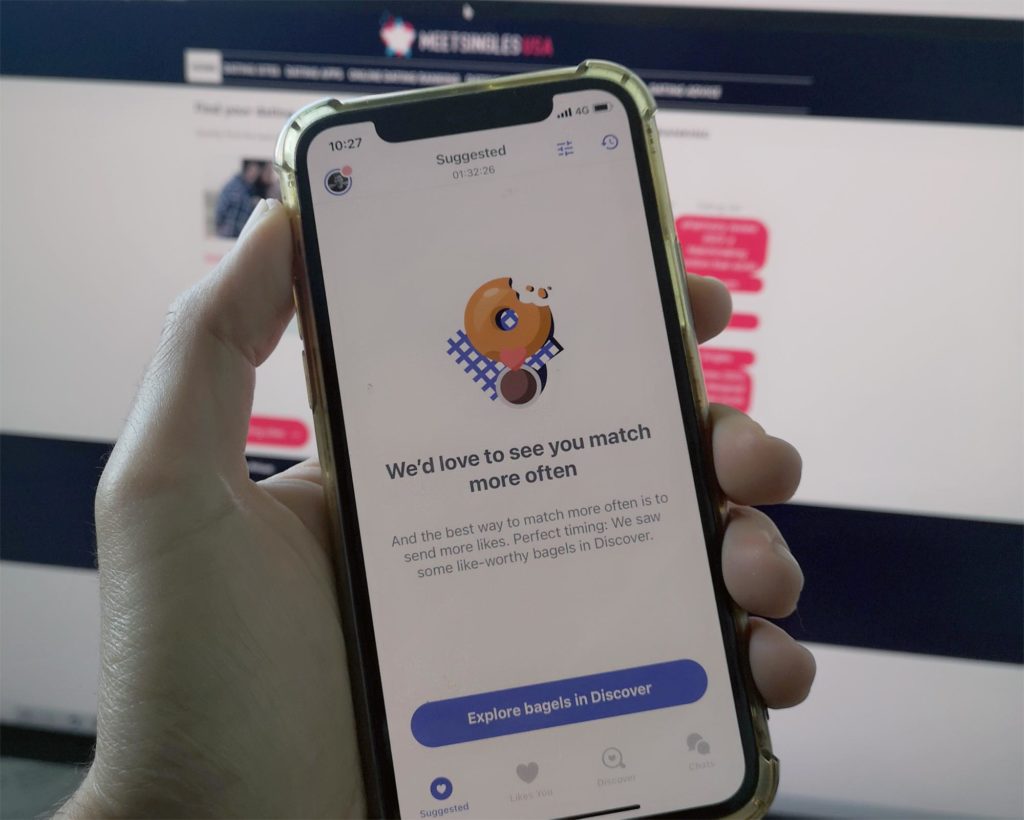 Overall rating
Pros
✅ A quality application, fluid and fun
✅ Quality profiles
✅ Credits (beans) offered upon registration
✅ The concept of having one compatible match per day
✅ The price of the premium subscription is well positioned
Cons
❌ We would like to have credits offered every month
❌ Not accessible in dating website
❌ Would deserve to be more popular than eharmony or hinge
We hear more and more about this dating application that would allow to find the right person, without wasting time: Coffee Meets Bagel.
Behind this metaphorical name of a coffee that meets a bagel, there is a simple but effective concept: every day a reciprocal match is proposed to two users. If the conversation starts, you have a maximum of 7 days to decide to have a date, otherwise it will be deleted.
So, is Coffee Meets Bagel as effective as it claims to be? Is the promise of quality dating fulfilled or is it just a smoke screen? That's what we're going to test with our review of Coffee Meets Bagel.
Create a new account on the app
Coffee Meets Bagel is exclusively available on Android smartphone and iPhone. There is no web version for computer available.
So we downloaded and installed the application on our iPhone. First positive sign, the app is rated 4.4/5, it's reassuring.
Once the application is launched, CoffeeMeetsBagel clearly announces that it is a service for serious daters.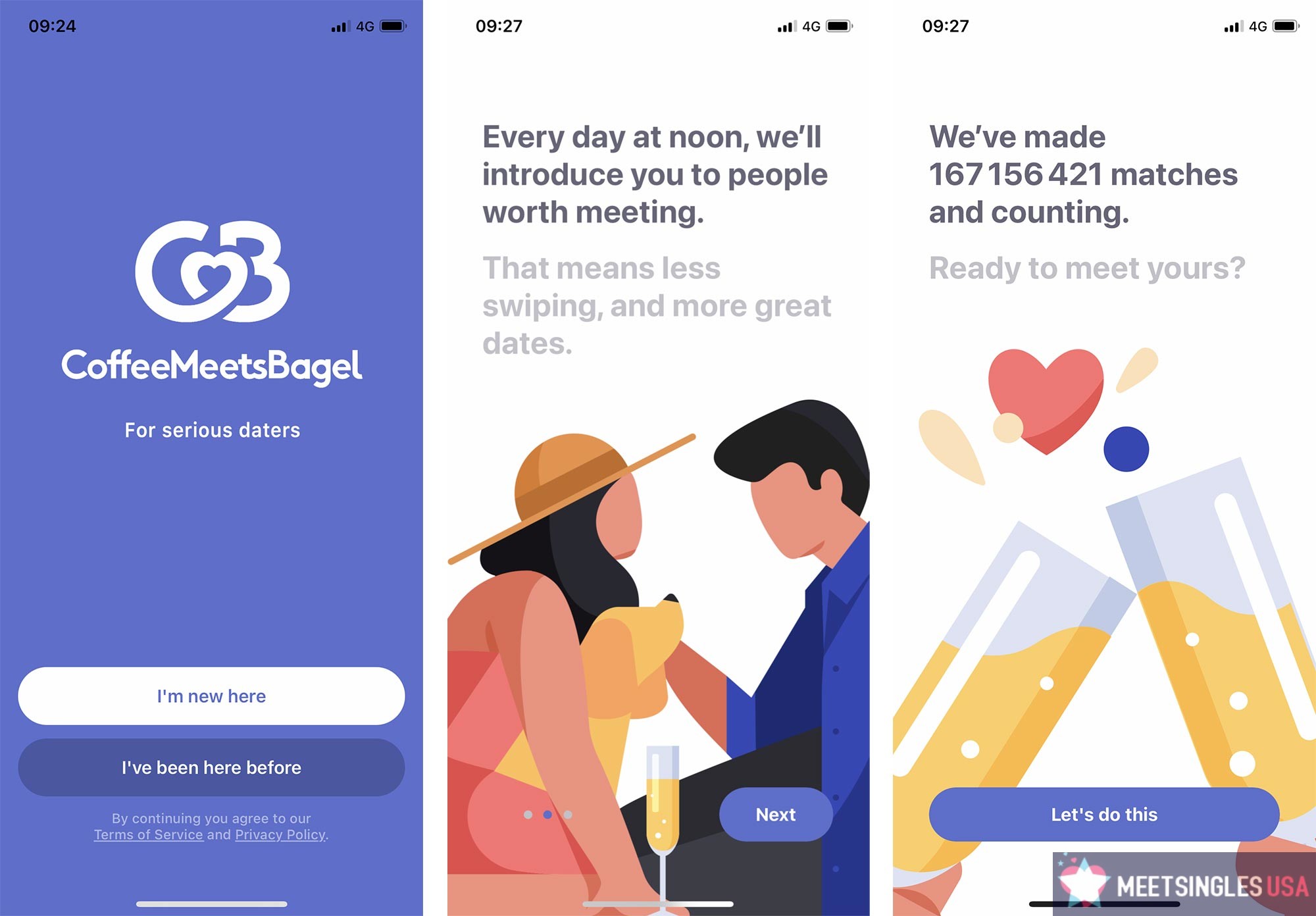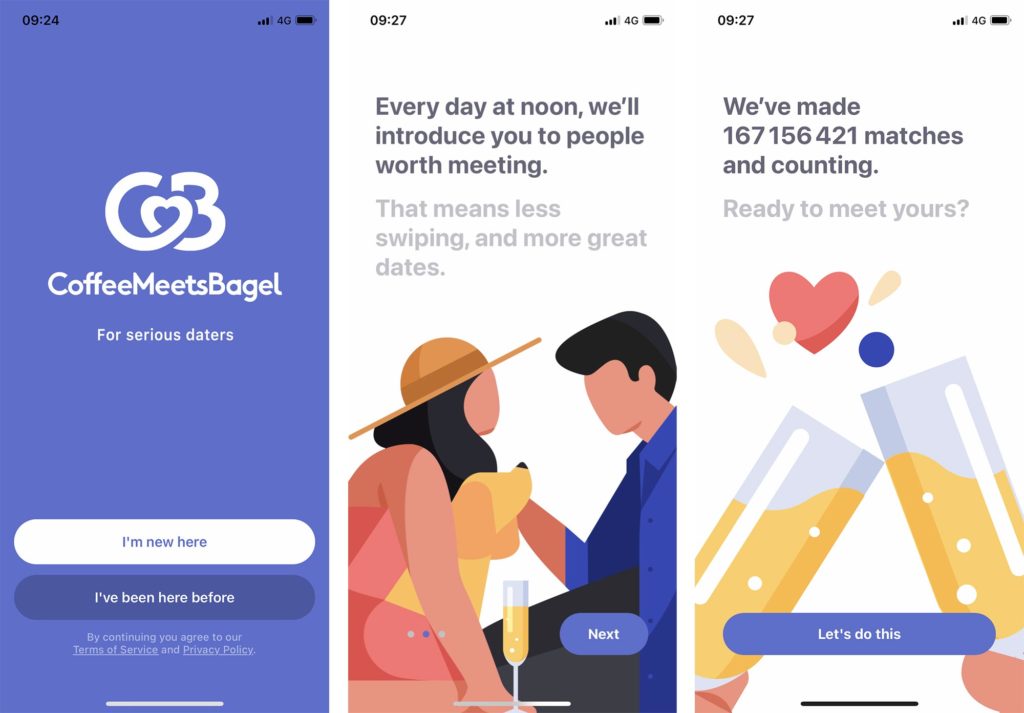 You can tell if you're new or if you already have an account. In our case we will create a new account.
The account creation starts directly with a validation by SMS. This allows us to verify that you are a real user and by a malicious person who has several email addresses on several dating services …
CMB will then ask you your first name, your last name (which will remain private) and your email address. On the next screen you will be asked what type of relationship you are looking for (marriage, serious relationship, casual, I don't know…). Then specify your gender, your sexual orientation, your date of birth and your place of residence.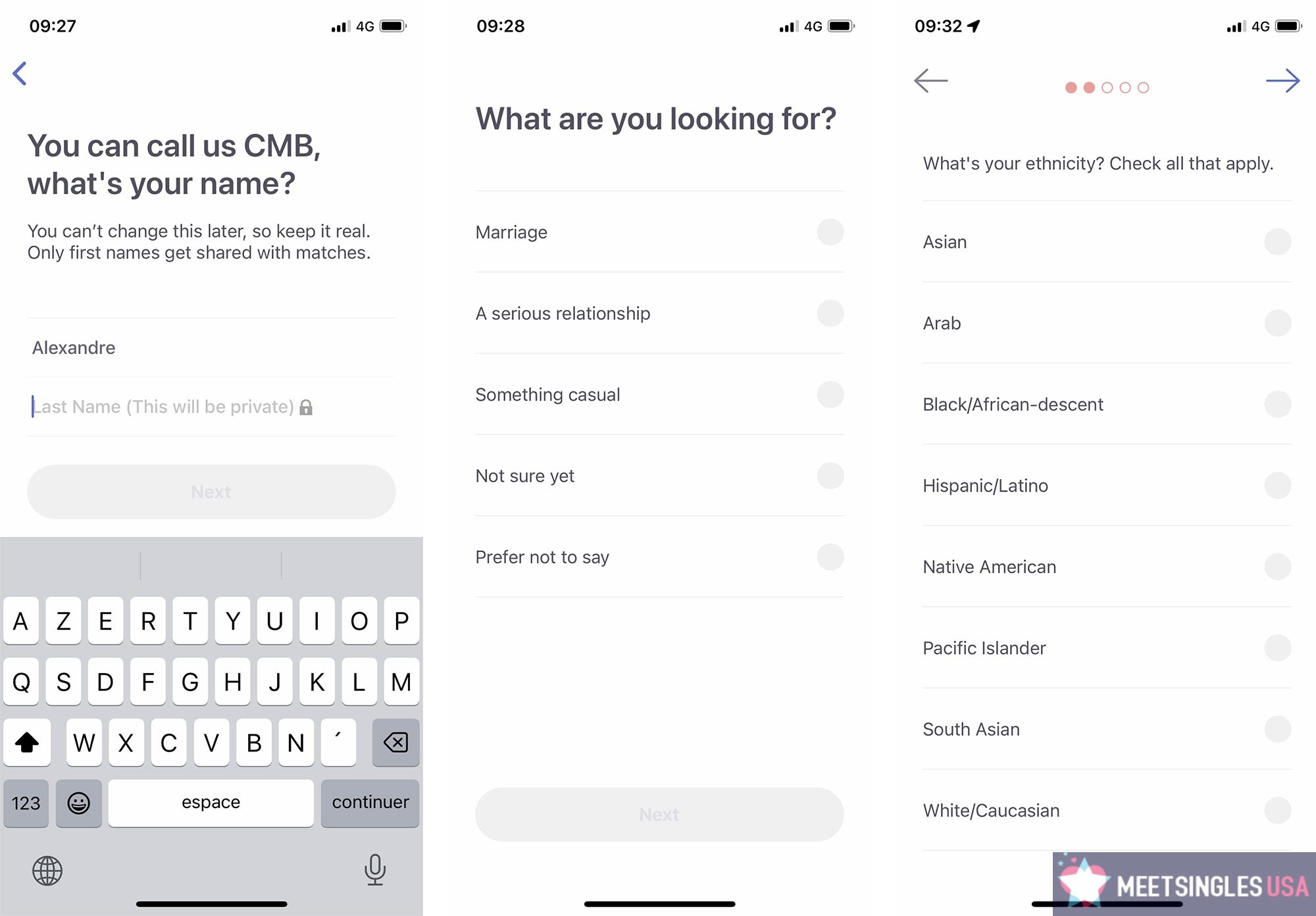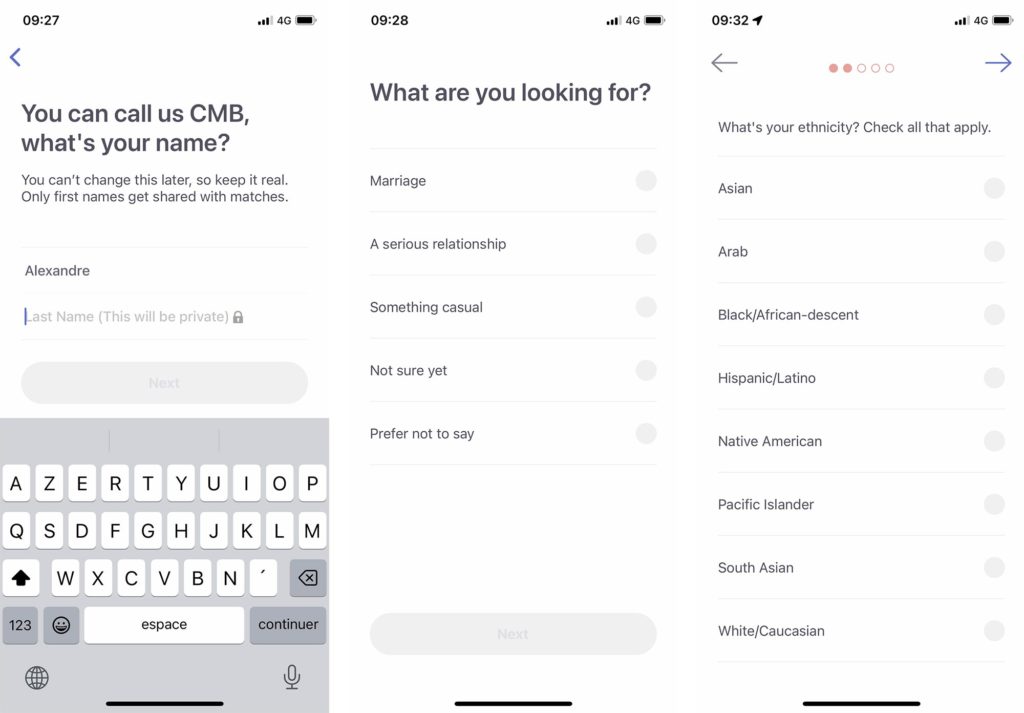 Then, CMB asks you if you already have experience on online dating services, to add photos (you can skip this step but it's still recommended if you really want to meet people) and some questions about you: height, ethnicity, religion, work, school, …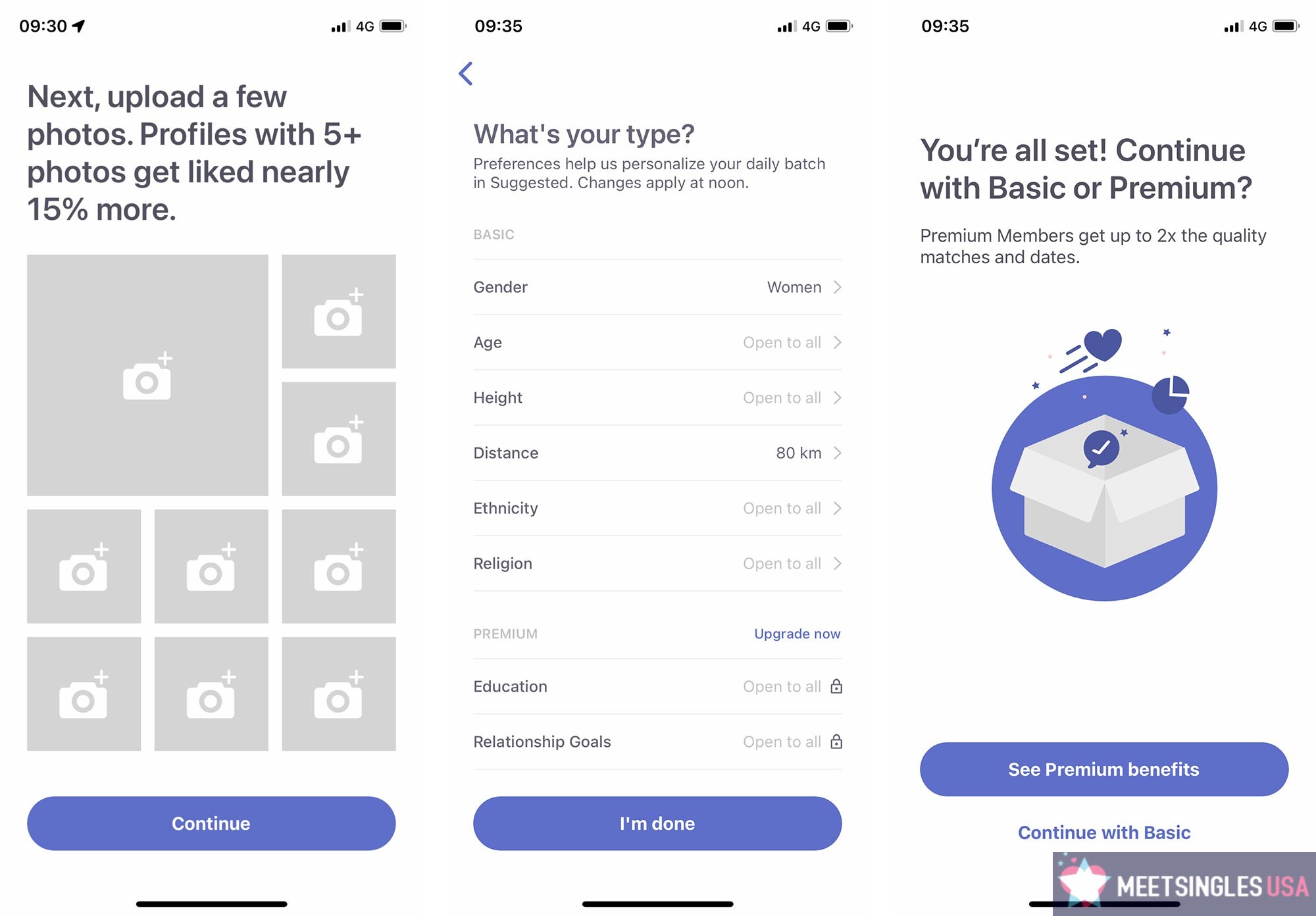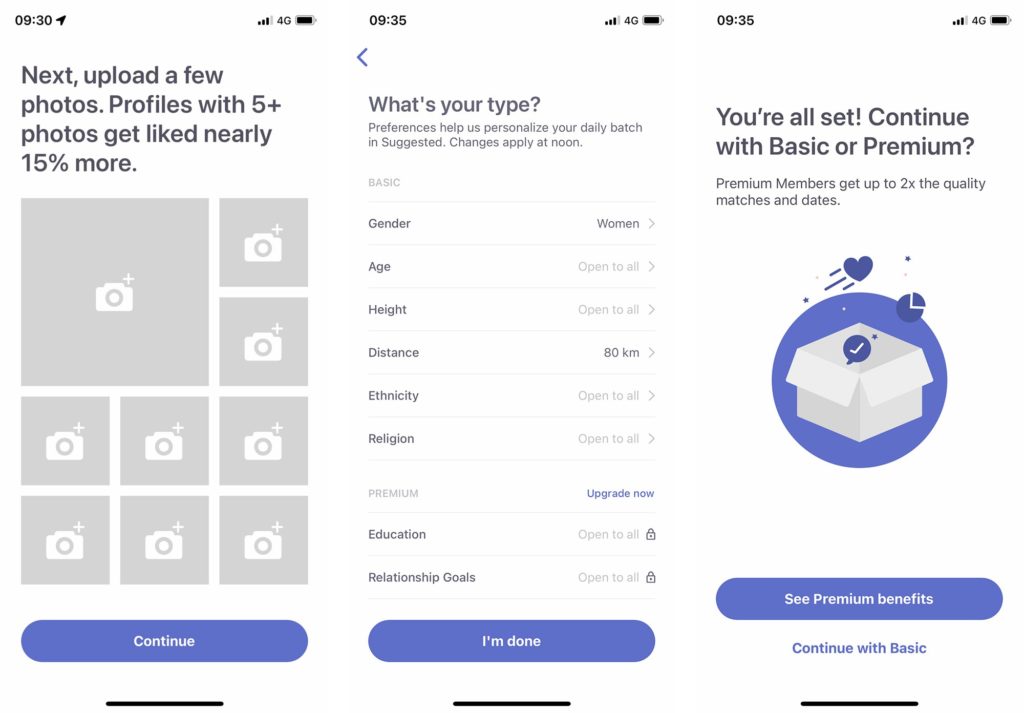 And finally, you will be asked the ideal profile of the person you are looking for: gender, age, height, distance, ethnicity, religion, education, etc. As for many dating services, CoffeeMeetsBagel offers you to take a premium subscription when you register. By choosing Continue with Basic, you can try the application for free. We will come back to the premium subscription later.
Discovering the application
After this relatively long registration, we are finally on the interface of the CoffeeMeetsBagel application with a freshly created account.
As a reminder, the principle of CoffeeMeetsBagel is to propose you every day a compatible profile and this, reciprocally. It is therefore normal that when you create a new account there is no compatible profile proposed, you will have to wait until the next day for that.
A counter at the top of the screen even tells you when the next compatible profile will be displayed.
Apart from that, here is how the interface of the CMB application works:
suggested to see the compatible profile of the day
likes you to see all the profiles that have liked you
discover to search for profiles manually
chats which is the discussion area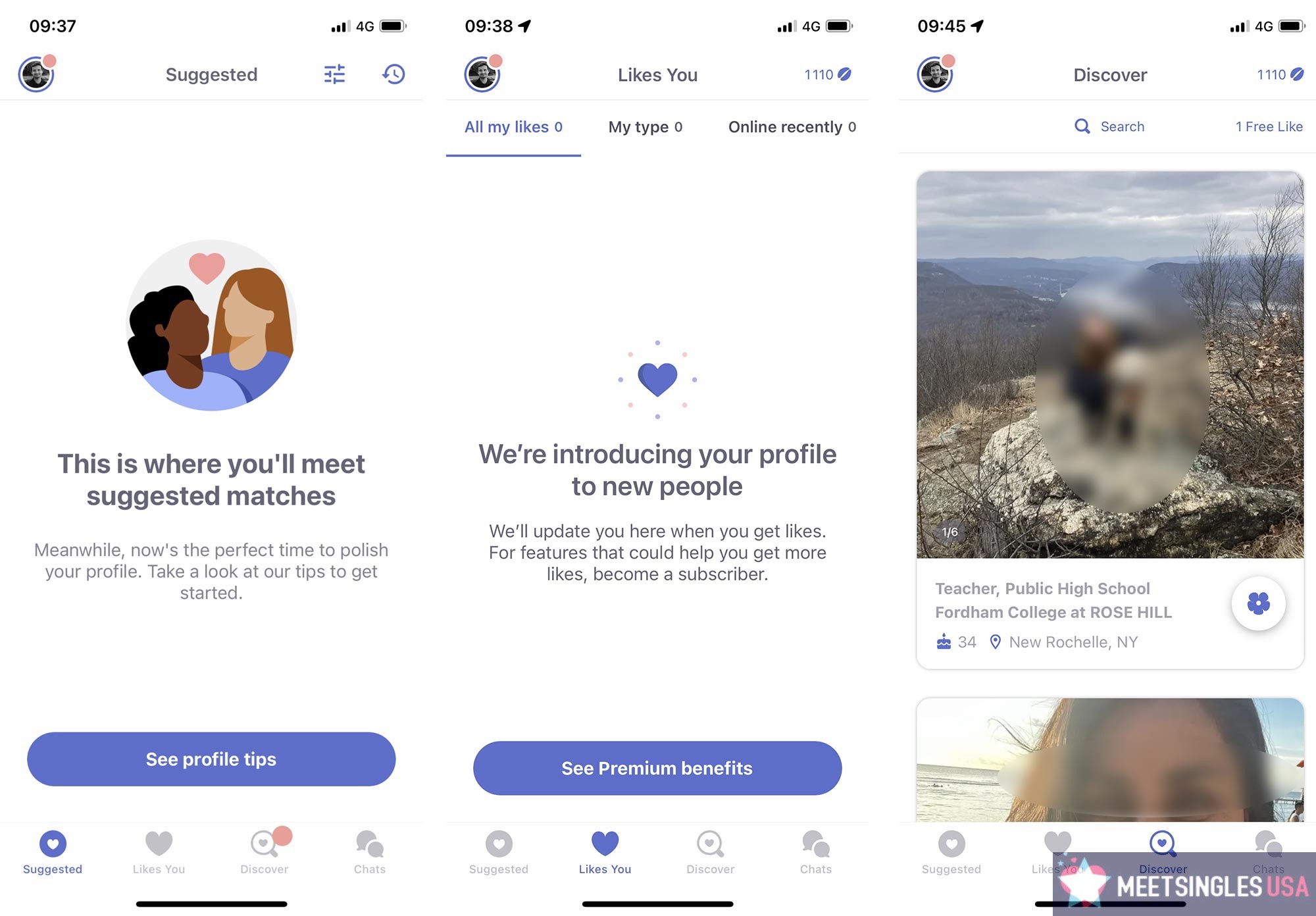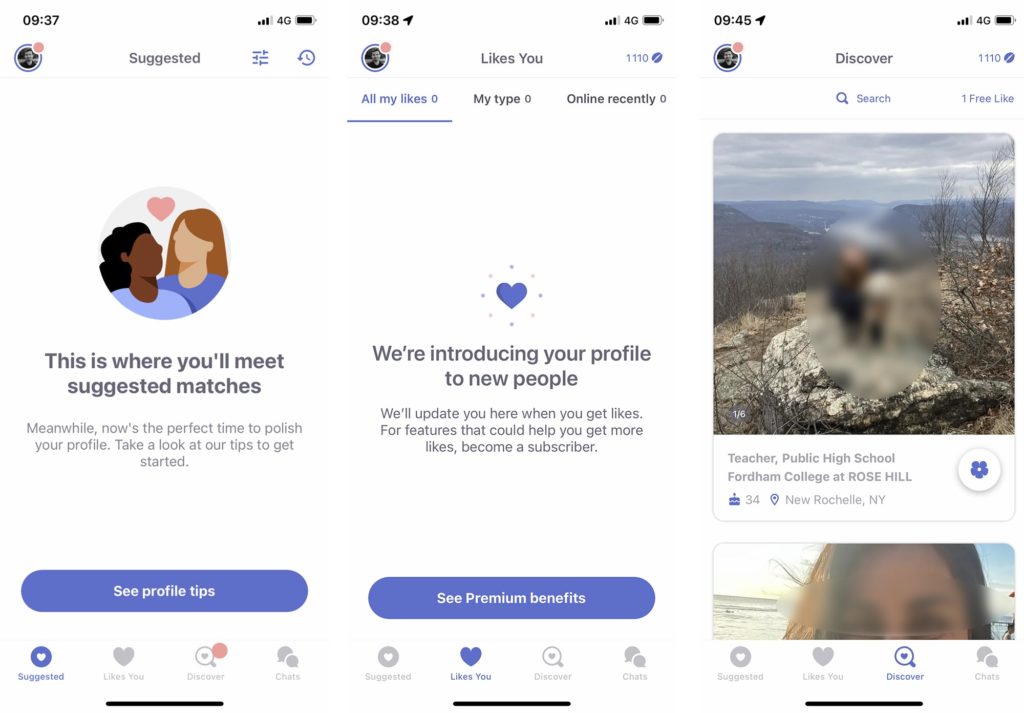 In short, a very simple interface to use and understand. We appreciated in the search tab to filter the active profiles in the last 72 hours.
To understand the vocabulary of the CMB application:
Flowers are likes
Coffee beans are credits
Profile quality
Some profiles are well filled, others are satisfied with the essential like us. On the whole it remains very qualitative.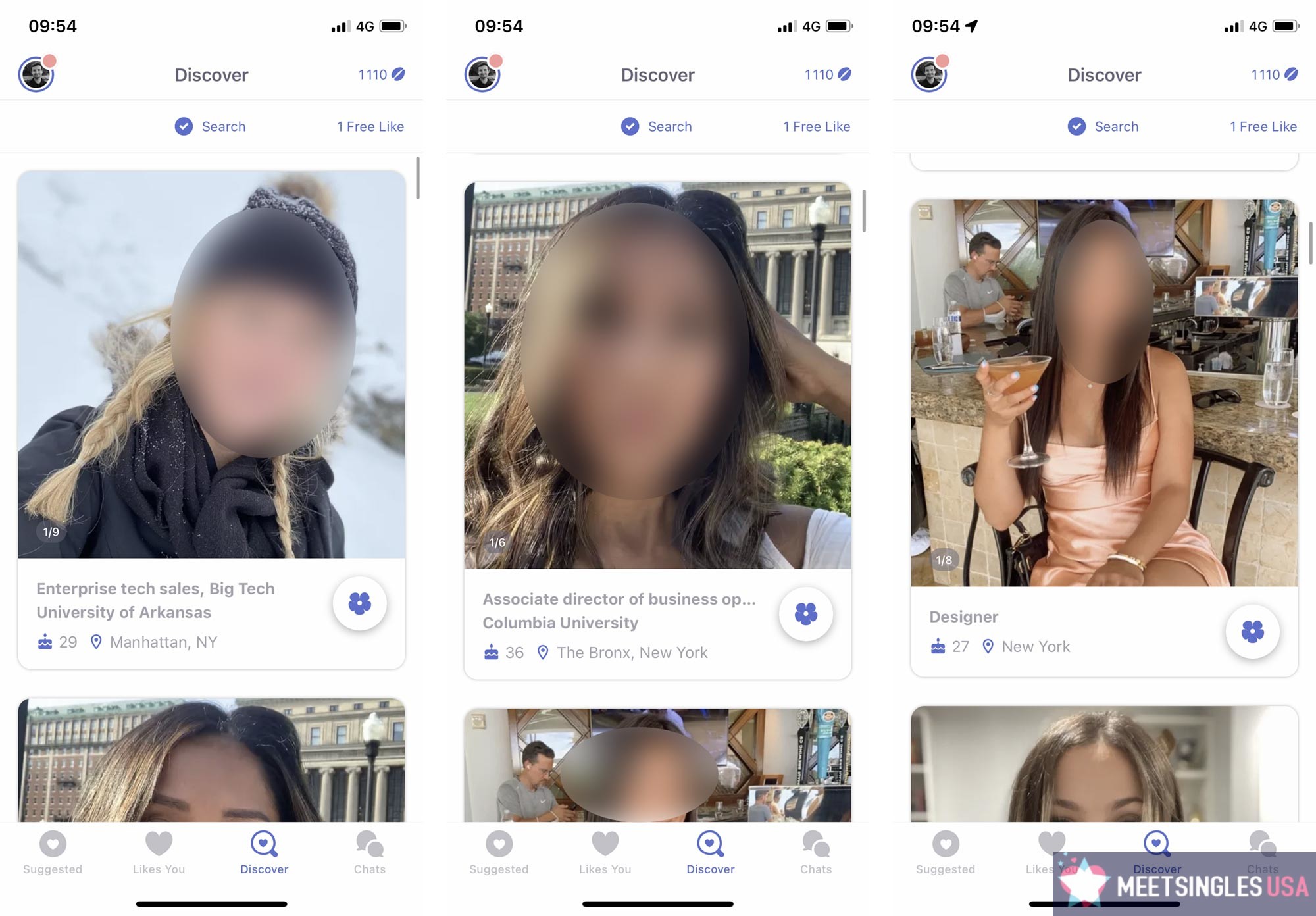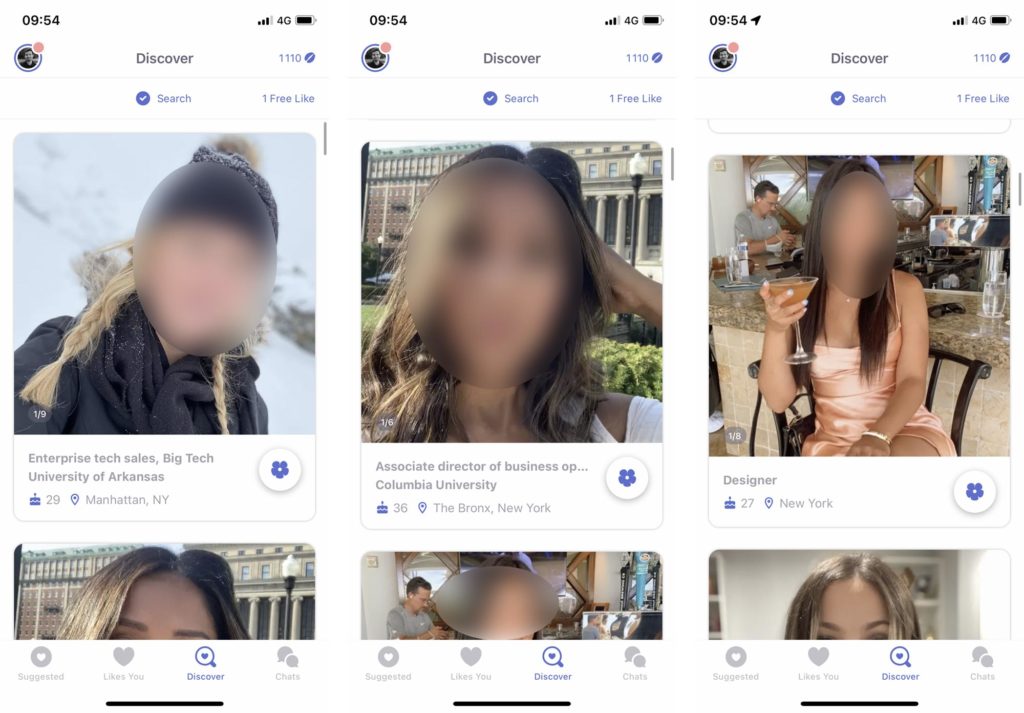 Most of the singles have a rather high level of education or a good career… unless they are compatible profiles because we have informed during our registration that we have a master.
In any case coffeemeetsbagel gives a good impression about the profiles.
What you can do for free
The free version of CoffeeMeetsBagel is really interesting because in order to contact someone you need to have a reciprocal like, and to send likes (called feurs in the app) it will cost you coffee beans.
And when you sign up, with the free version, you get 1110 coffee beans and it is possible to earn more by inviting friends on the application and following the CMB insta account.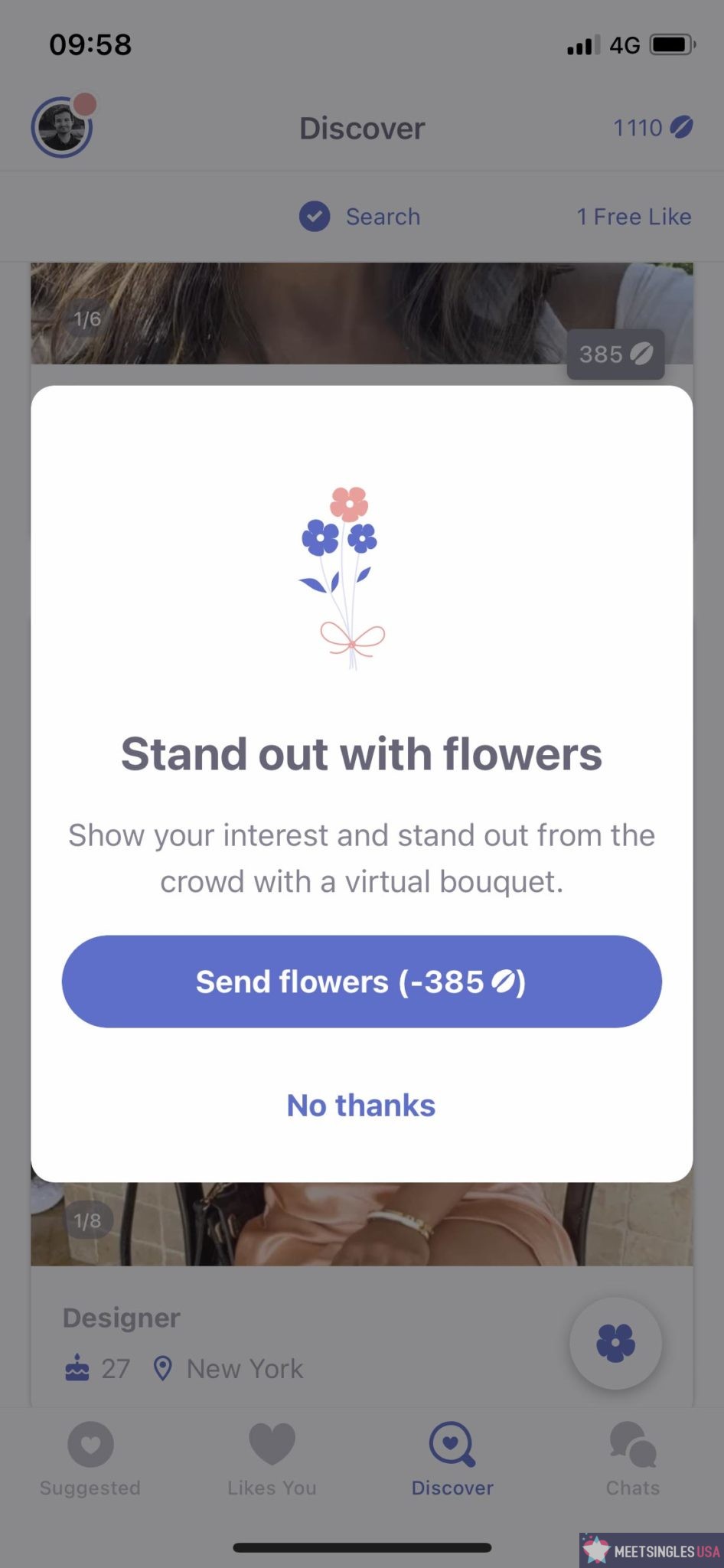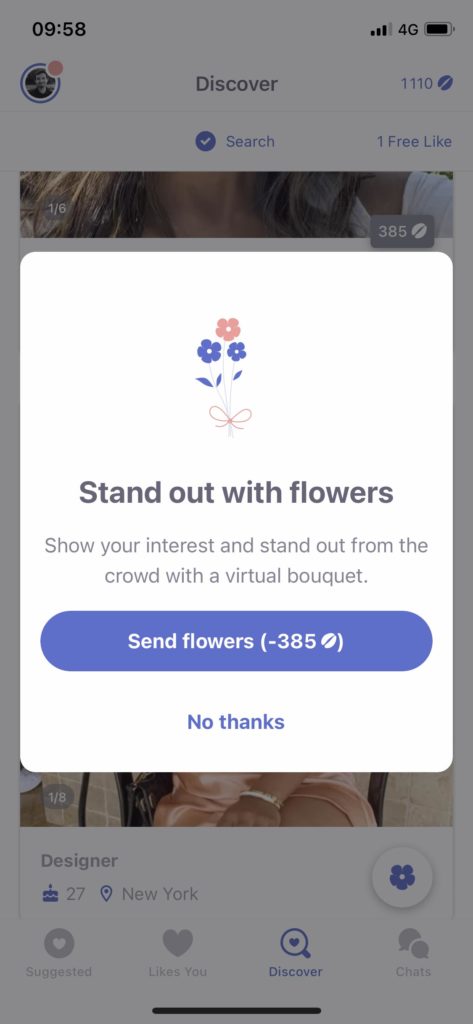 Send flowers (like) will cost you 385 coffee beans. So for free you can like about 3 profiles.
If these profiles like you back, you will be able to chat with them for 1 week.
When you will have used up all your coffee beans, you can either buy more by batch or take a subscription.
What you can do with the subscription Premium / Mini
You have used up all your coffee beans in likes!
Maybe it's time to look into CMB subscriptions. In addition to offering you coffee beans, they offer many benefits.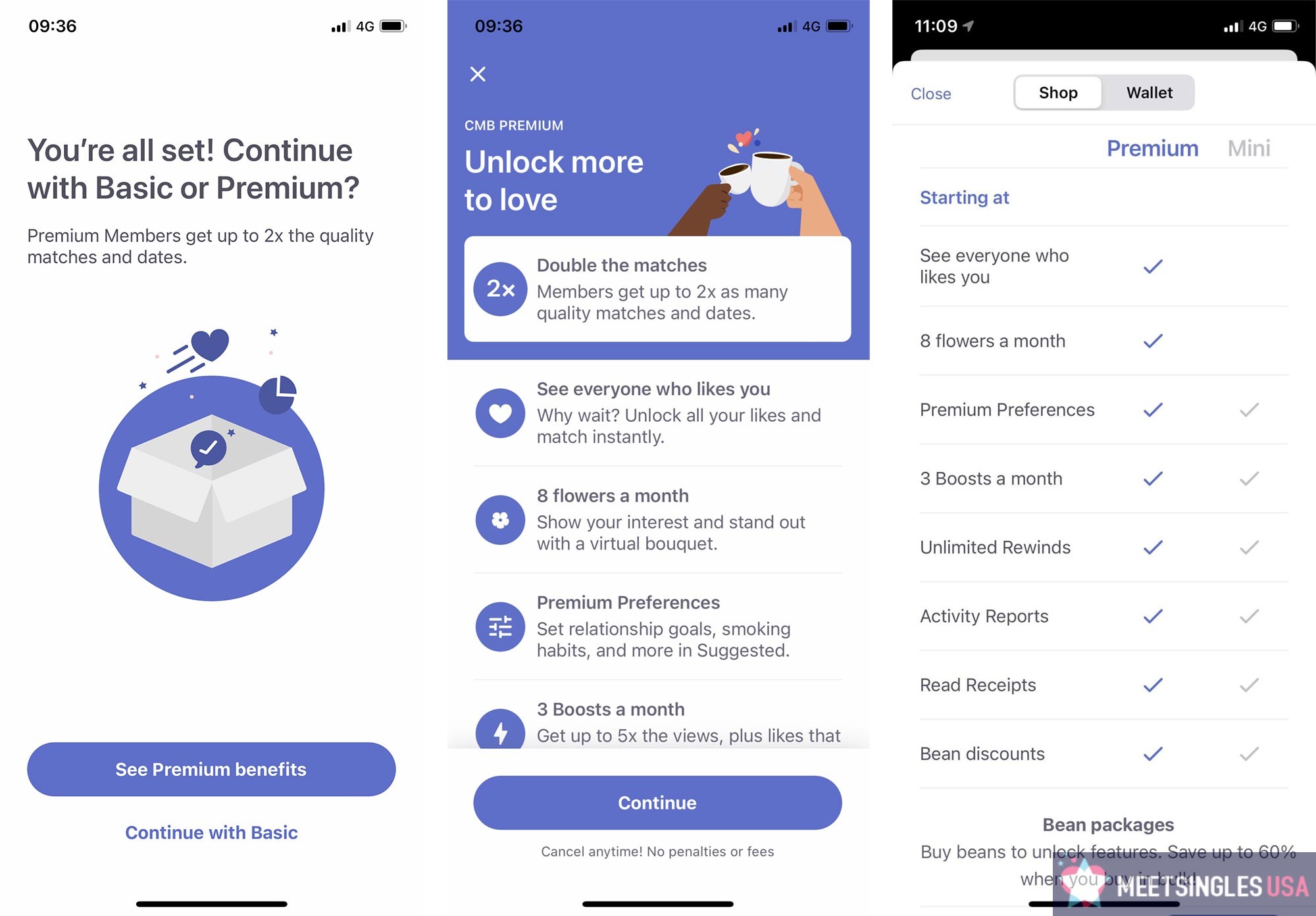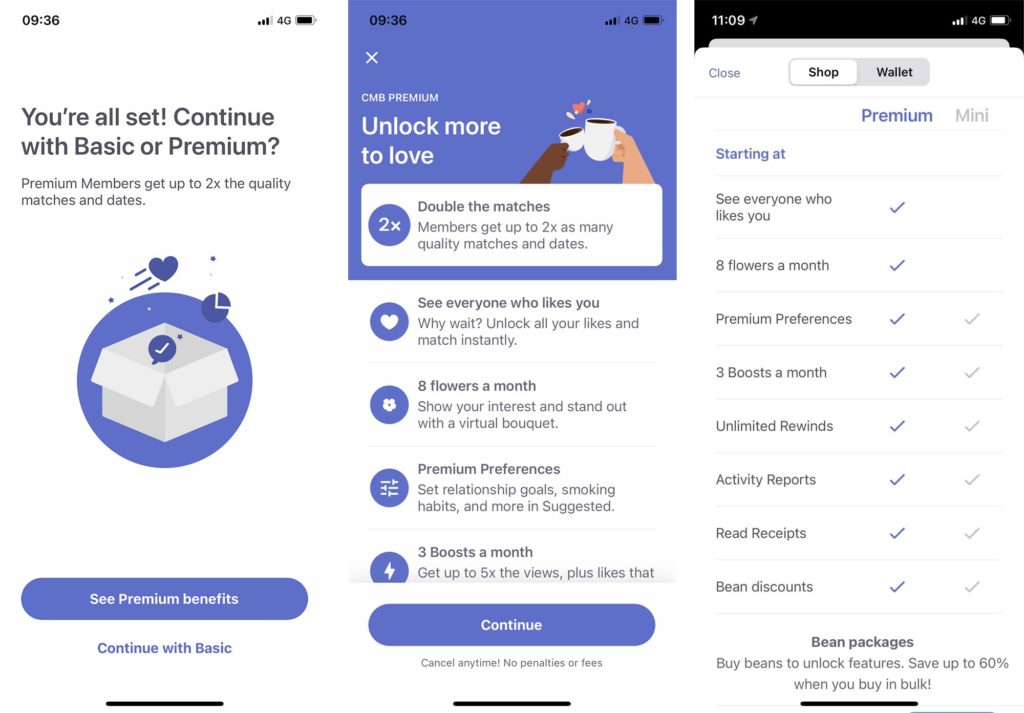 There are 2 subscriptions and packs. We'll explain.
Premium subscription – $34.99 / month
you can see all those who have seen your profile
8 flowers per month, so 8 likes
3 boosts per month, to have your profile highlighted
unlimited rewinds to review old games
activity report
acknowledgement of messages read
discount on coffee bean packs
Mini subscription – $10 / month
3 boosts per month, to have your profile highlighted
unlimited rewinds to review old games
activity report
acknowledgement of reading messages
discount on coffee bean packs
Coffee beans pack:
3000 coffee beans: $24.99
200 coffee beans: $2.99
100 coffee beans: $1.99
Note that subscription prices may vary depending on users and promotions. The price of the subscription will also vary depending on the length of the commitment.
| | 1 month | 3 months | 6 months |
| --- | --- | --- | --- |
| Basic | $0 | $0 | $0 |
| Mini | $15 | $10 | $8.33 |
| Premium | $34.99 | $24.99 | $19.99 |
From time to time, CoffeeMeetsBagel offers promotions on subscription prices, such as this promotion that allows you to have 6 months of subscription for $71.99, or only $11.99 per month.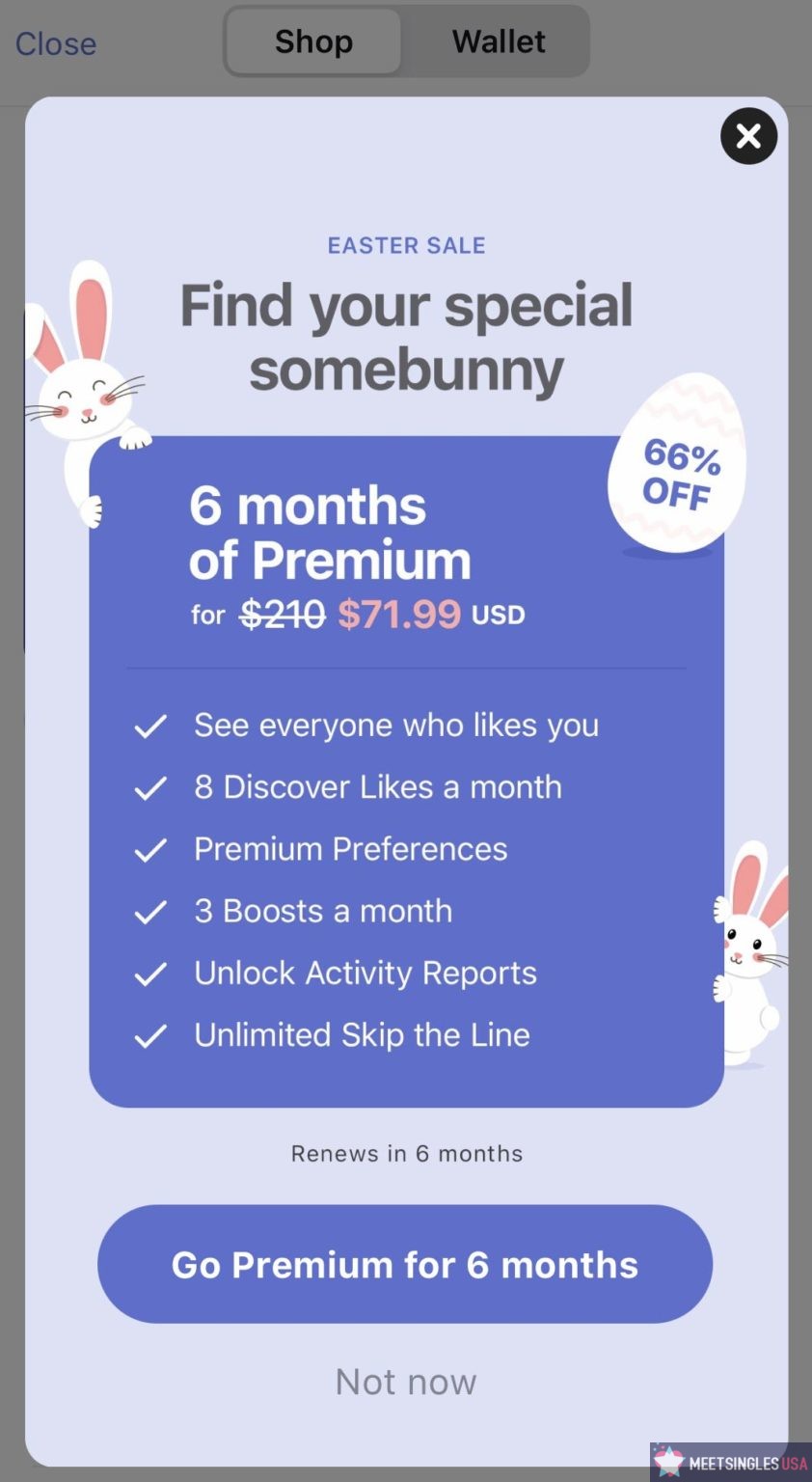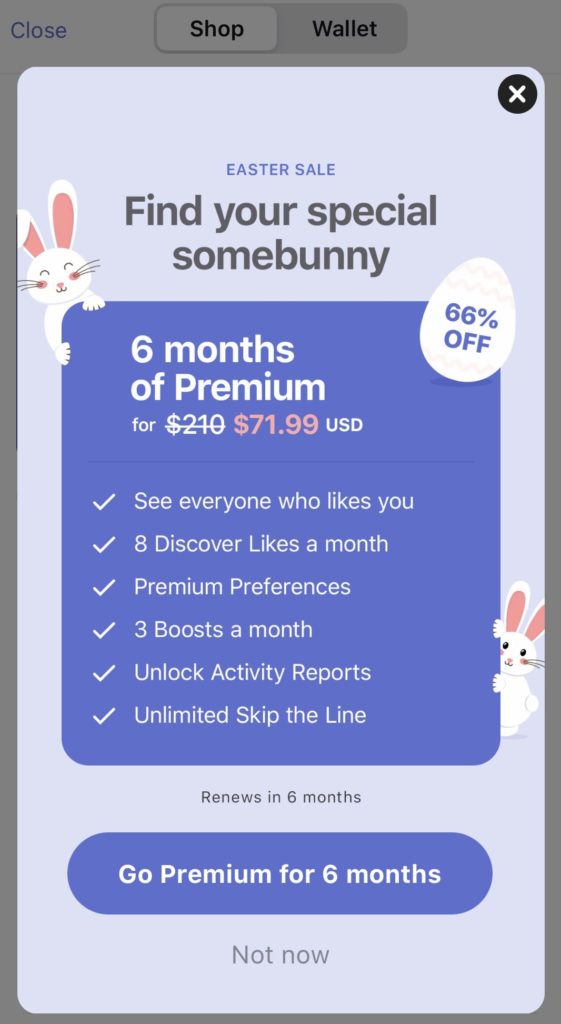 Overall, for a rather premium dating service, CoffeeMeetsBagel is well priced.
Pros
✅ A quality application, fluid and fun
✅ Quality profiles
✅ Credits (beans) offered upon registration
✅ The concept of having one compatible match per day
✅ The price of the premium subscription is well positioned
Cons
❌ We would like to have credits offered every month
❌ Not accessible in dating website
❌ Would deserve to be more popular than eharmony or hinge
Verdict
Coffee Meets Bagel is sincerely a dating app that we enjoyed. If you are looking for serious singles this is the place to be.
The differentiating concept of having one compatible match proposed per day, and having only a limited number of likes per month allows you to do slow dating and to take the time to choose the profiles you want to contact.
The profiles are really of good quality and those that were suggested really corresponded to our expectations.
The question we ask ourselves is that, as Coffee Meets Bagel belongs to the Match group and the latter wants to accelerate Hinge, a similar dating application, what is the future in the medium / long term for Coffee Meets Bagel which is already doing a good job?
The only weak point we can put on Coffee Meets Bagel is that it lacks a bit of popularity to have more members and be more known.
Comments Rating
( reviews)
Coffee Meets Bagel alternatives
Appears in guides:
About the author