BlackPeopleMeet Review 2023
By Alexandre (admin), last updated on March 16, 2023





BlackPeopleMeet is a dating service belonging to the Match group. It is intended for single people looking for black singles. Please understand that you can be non-black and look for a black single on this service.
The BlackPeopleMeet service is mainly used in the USA. Available in dating site and dating apps, it has already been downloaded more than 1 million times and is number 1 dating app for black singles.
Who is blackpeoplemeetic for? Is it a good black dating site? If yes, at what price and are there alternatives? This is what you will learn below with our review.
BlackPeopleMeet Presentation
To start our review, a presentation of Blackpeoplemeet is necessary. To access the BlackPeopleMeet service you will need to either log in if you already have an account, or create a new account. The same account can be used between the website and the dating application.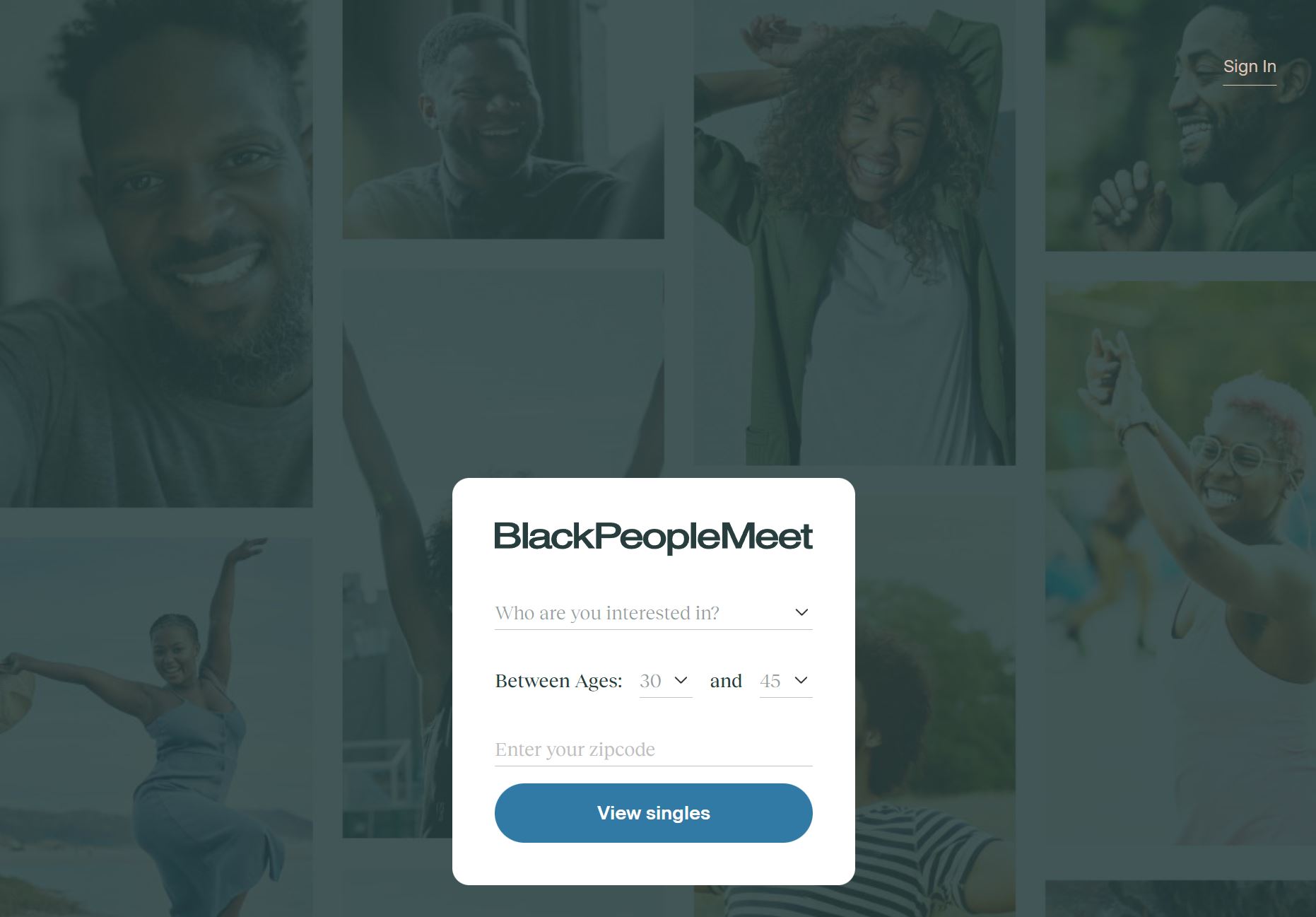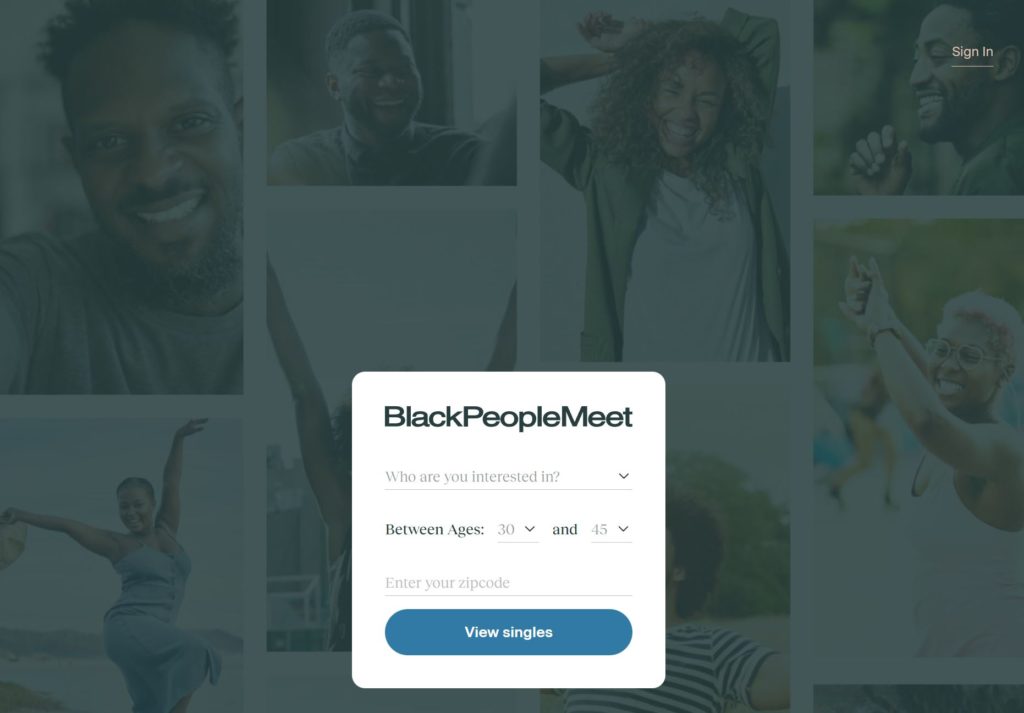 For the creation of an account, you will be asked for the classic : gender searched, age searched, postal code, date of birth, … Then once the account is created, before connecting to the site, you will be asked more personal questions: cigarette, child, alcohol, weight, religion …
Finally, last step, BlackPeopleMeet will ask you if you want a free or premium subscription. You can skip this step by clicking on "continue with free".
These few questions will help the site to propose you singles compatible with your search. Indeed, even if BlackPeopleMeet is not a matchmaking service, there is still a Match tab that has this feature.
Let's be clear that this is not BlackPeopleMeet's strong point, its strong point is to offer the largest selection of black singles in the USA.
In addition to that, these few questions at registration allow us to have more complete profiles than those who do not ask questions at registration.
In addition, to complete the registration process, you will need to provide a phone number to verify your account via SMS.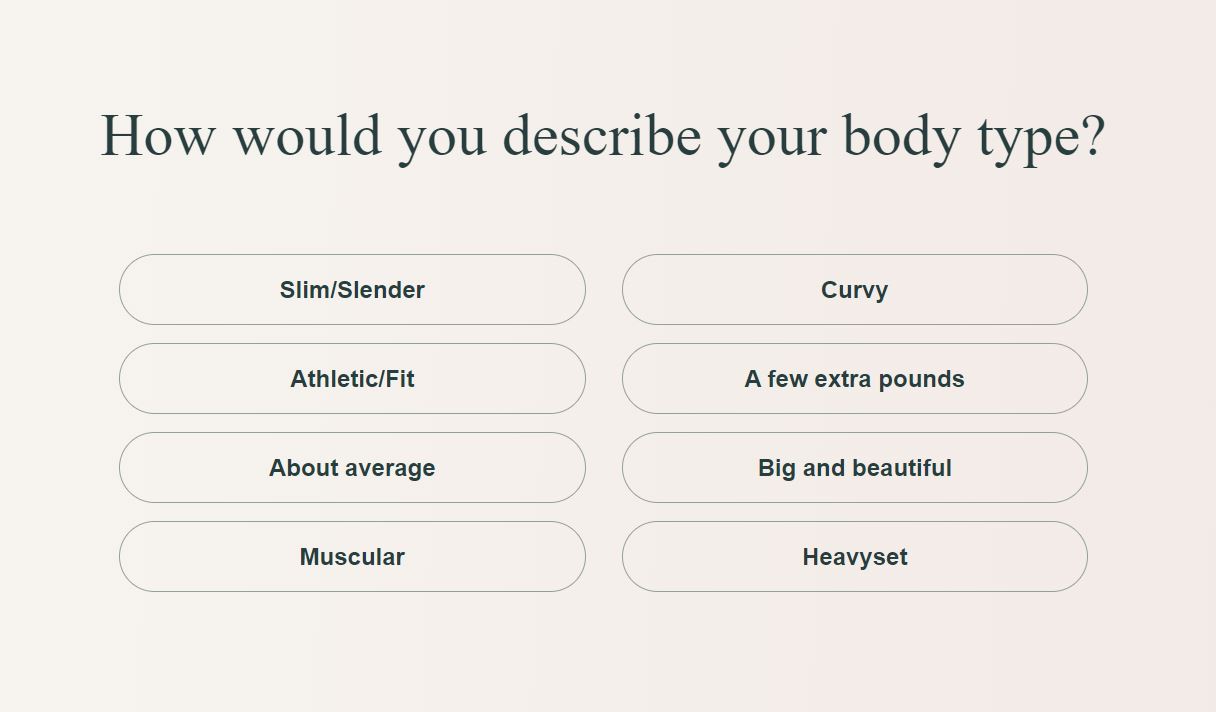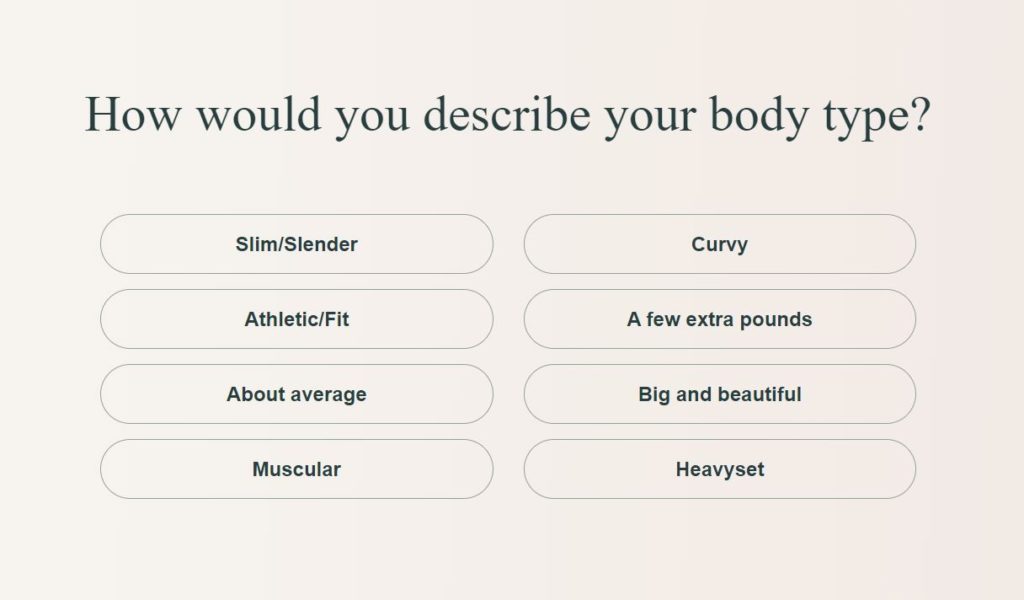 In terms of interface and features, BlackPeopleMeet is very similar to OurTime, Match or Plenty of Fish.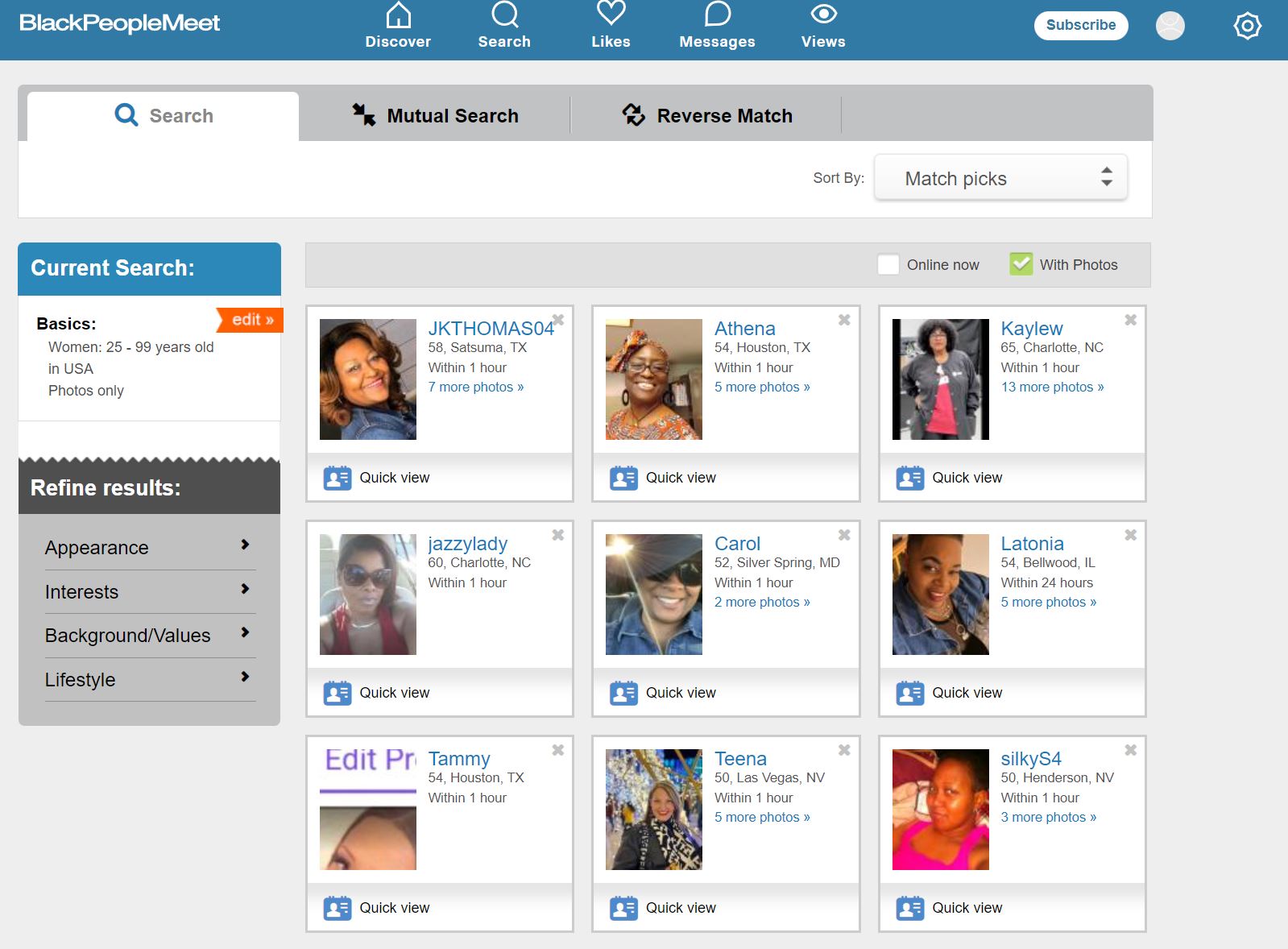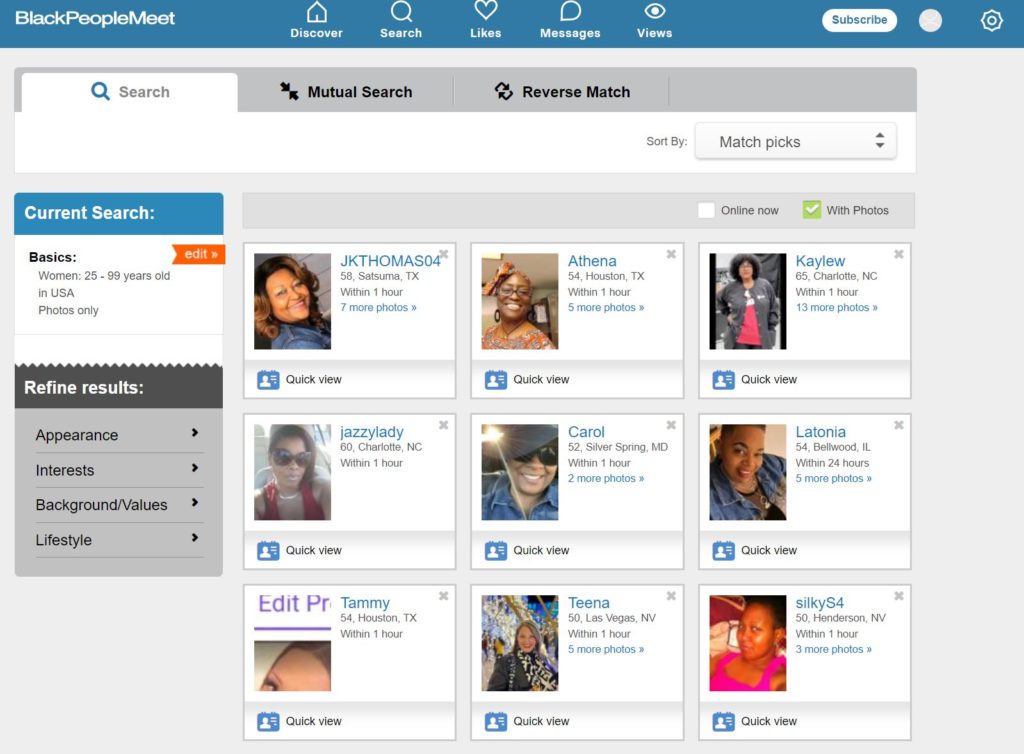 You have a home screen called Discover that shows you the latest registered singles you might be interested in, nearby online singles or your matches. In the search menu, you will be able to manually search for singles according to several criteria: age, location, appearance, interests, values, lifestyle… It is possible to filter to see only singles online or with photo.
The Likes menu allows you to see which singles have liked your profile and which ones you have liked as well. Indeed, it is possible to bookmark profiles. This allows you to contact these profiles later on, but more importantly, to send them a notification. The single will then be able to see your profile in return and at least like you back, at best contact you, at worst do nothing.
In the messages menu, you will find all the private messages you have sent or received. This is the heart of the dating platform because this is where everything happens. And finally the view menu allows you to see the profiles that have seen your profile. If a profile has seen your profile and has not liked or sent a message, it is useless to insist.
BackPeopleMeet Free VS Paid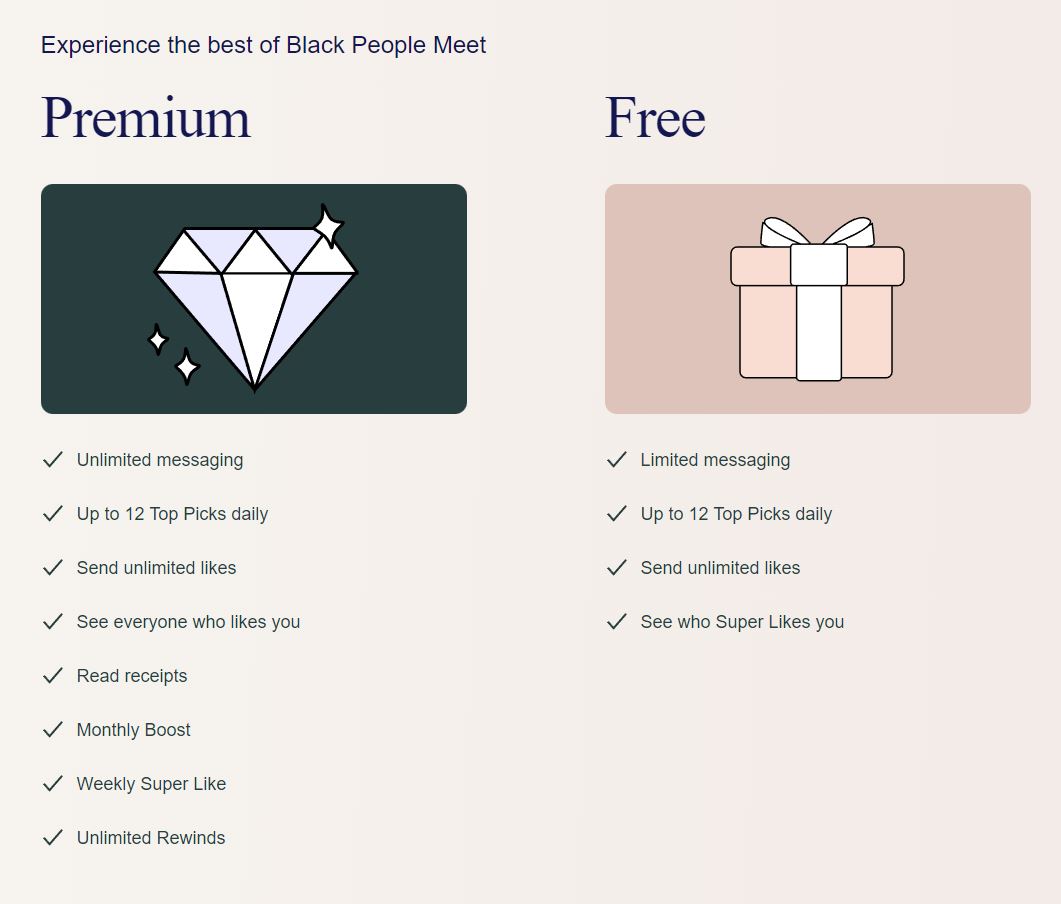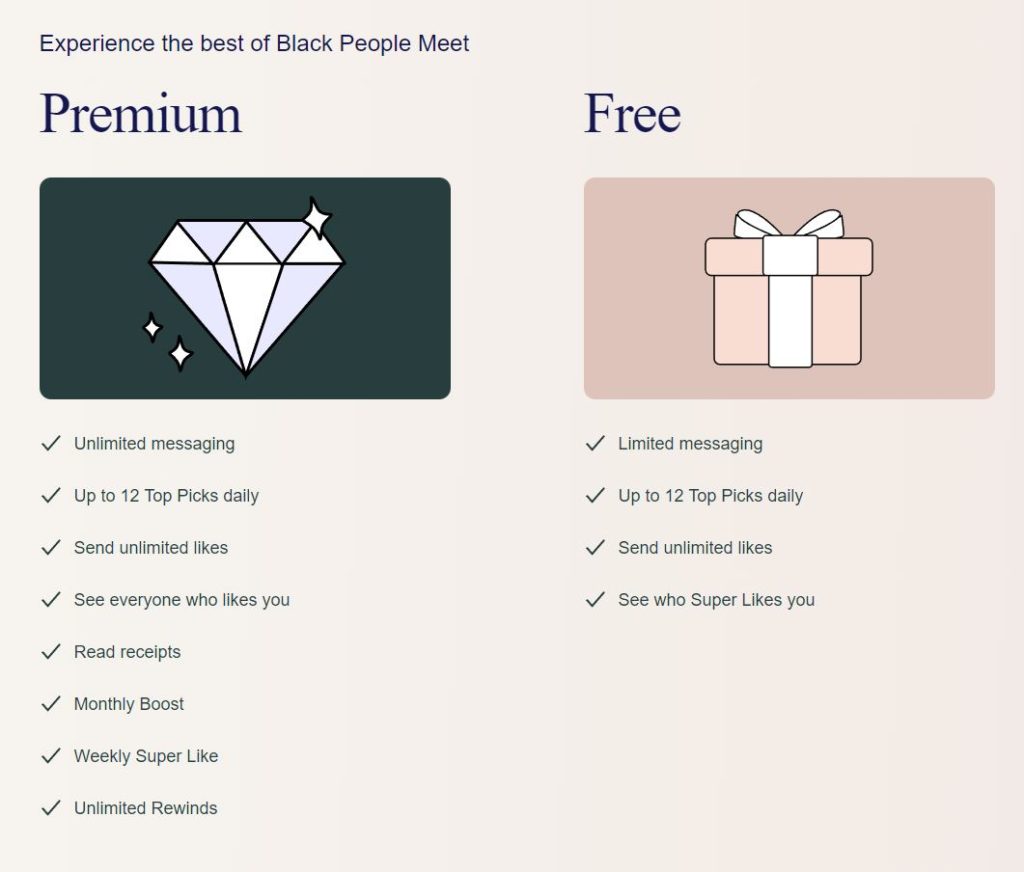 Unless you are new to online dating, it will not be a surprise for you, like most online dating sites, BlackPeopleMeet offers a paid version: Premium.
However, BlackPeopleMeet allows you to do many things for free:
complete your singles profile
Send limited messages daily to "Top Picks" selected by Black People Meet
send unlimited likes
see who liked you
search for profiles
But the free experience will end there. If you want to contact all the singles you want and more, you will have to buy a paid subscription.

BlackPeopleMeet Premium allows you to:
send unlimited messages
send limited messages
see who has liked your profile
see message acknowledgements
have your profile boosted in search results
How much does it cost to join BlackPeopleMeet?
The vast majority of BPM users who are convinced by the free version take out a subscription. As you have seen, this subscription offers the great advantage of being able to send an unlimited number of messages to all users.
BlackPeopleMeet offers 3 subscription packages: 1, 3 and 6 months.
BlackPeopleMeet Cost
1 month : $18.99
3 months : $38.99
6 months : $69.99
BlackPeopleMeet's subscription price is really affordable compared to other dating sites. If you want to become a member, we advise you to take the 6 months subscription which will give you the time to exchange with a maximum of users and to make several meetings before finding the right partner.
BlackPeopleMeet Promotion
The dating platform may offer promotions on the subscription price to help you take the step of subscribing.
A few weeks after we signed up with a free test, without subscription, we received an email with a promotion offering 65% off the subscription price.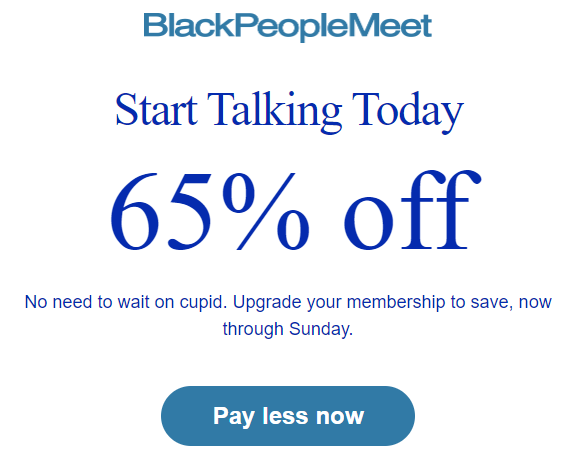 A very interesting promotion offer because it divides the price of the subscription more than by two. This makes BlackPeopleMeet a really cheap dating site.
BlackPeopleMeet App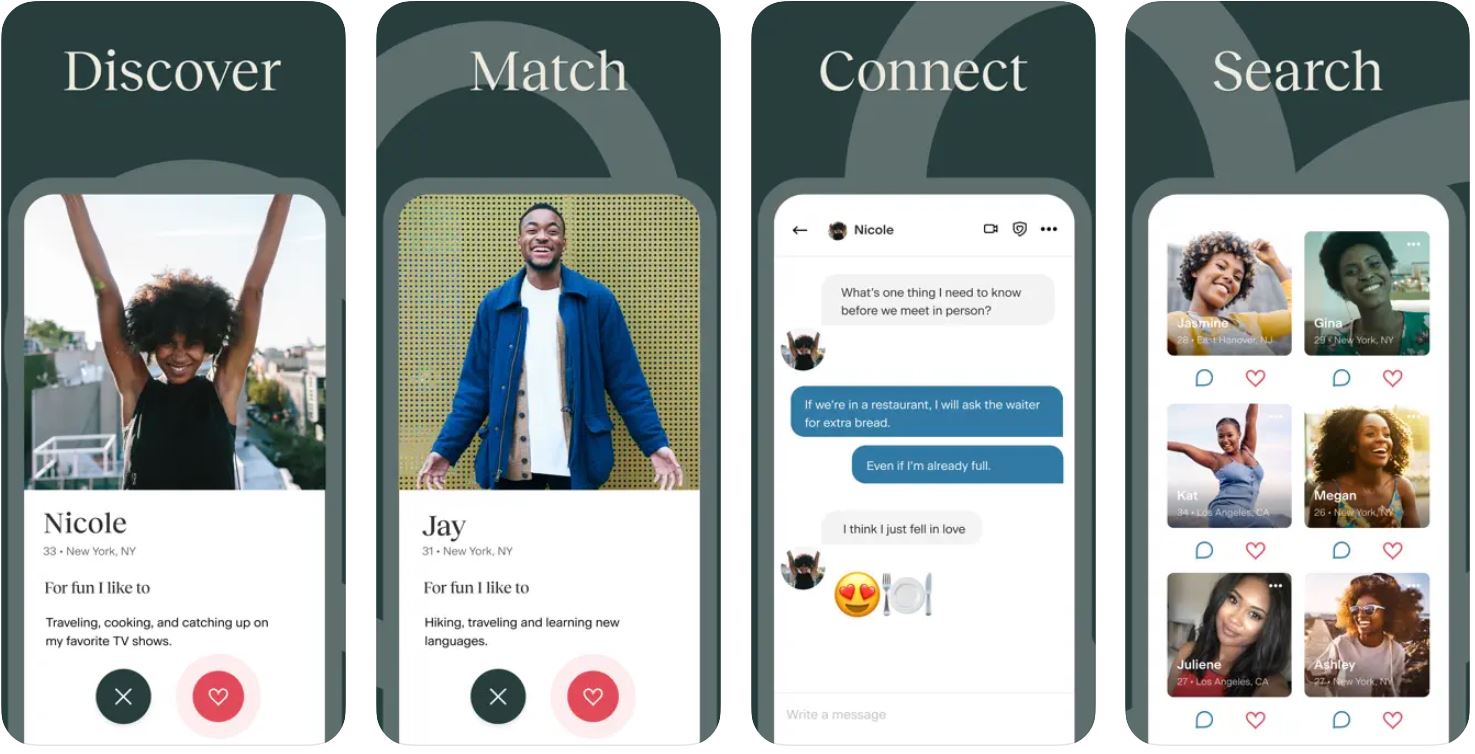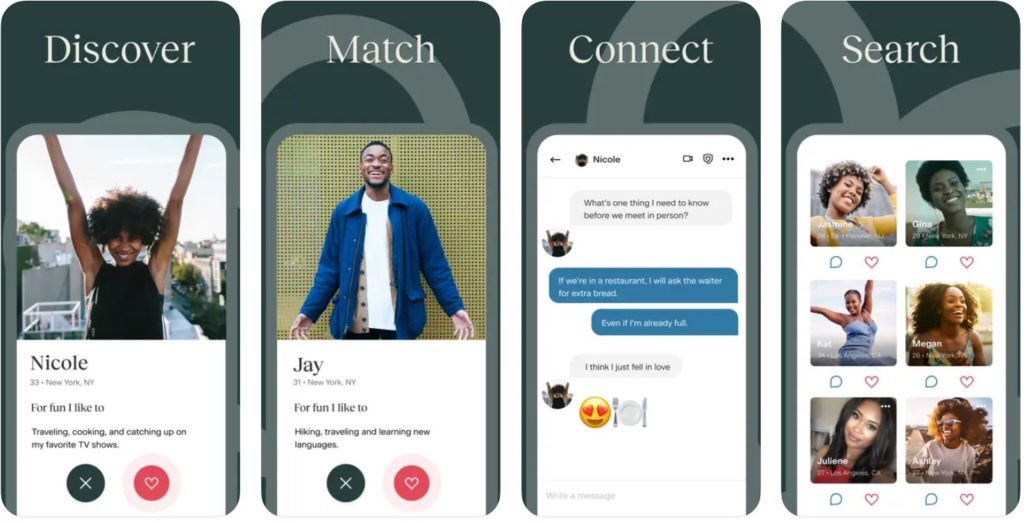 Like all dating services, BlackPeopleMeet is available as a smartphone application for Android and iPhone.
This application, downloaded more than 1 million times and rated 4 stars out of 5, allows you to access the same features as on the website but from your sofa (or anywhere else).
The BlackPeopleMeet application has a more Tinder-like presentation with suggested profiles where you have to say with a photo and a short description if you read the profile or if you pass.
Otherwise the features are similar: profile searches, instant messaging, etc. In our opinion this application is well made, fluid, stable and offers a good user experience.
Don't forget that if you have an account on the website, you can use the same on the application and vice versa.
BlackPeopleMeet Reviews
Is BlackPeopleMeet a good site?
Now you know everything about BlackPeopleMeet! In any case you already know a lot. BlackPeopleMeet is definitely a good dating service if meeting black singles is a must for you to make love. If you are looking for a dating site for serious relationships, it is probably the best dating service for that.
Pros
Platform with the most black singles members
Quick registration
Easy and fun interface on computer and smartphone
many free features
Affordable subscription price
What is the best dating site for black singles?
It is theoretically possible to meet single blacks on all dating services. For example, if you are demanding, you can register on eharmony to have only black users. If you are Christian, you can sign up for christian mingle and get only black users. If you are over 50 years old you can register on silver singles and filter to get only black users.
In short you will have understood, BlackPeopleMeet is one of the only services 100% dedicated to black singles. It's up to you to decide if you want to go to generalist and filter, or to BlackPeopleMeet.
About the author
Participate by rating BlackPeopleMeet dating site
In addition to leaving a comment below, you can rate the dating site (provided you have tested BlackPeopleMeetm) by giving it stars. Optional if you haven't tested the site.
Give your opinon about BlackPeopleMeet