Hinge app reaches 4 million downloads!
By Alexandre (admin), last updated on November 7, 2023

The Hinge application is owned by the Match Group, which is betting heavily on it to become a leading international dating application, on a par with Tinder, which it also owns. And the gamble seems to be working, with good progress in terms of downloads and paying users.

Incidentally, Hinge is a bit like the anti-Tinder, since the former is designed for long-lasting, loving encounters, while Tinder is just there to help you meet people quickly. Hinge is what Match in the USA and Meetic in Europe have never been able to achieve in terms of applications.

Match Group is therefore pleased to announce in its latest quarterly report for 2023 that Hinge's sales are up 44% on the same period last year, reaching $107 million at the moment, and $277 million over the whole of 2023. We're still a long way from Tinder's $1.42 billion, but Match Group may finally have its new flagship app.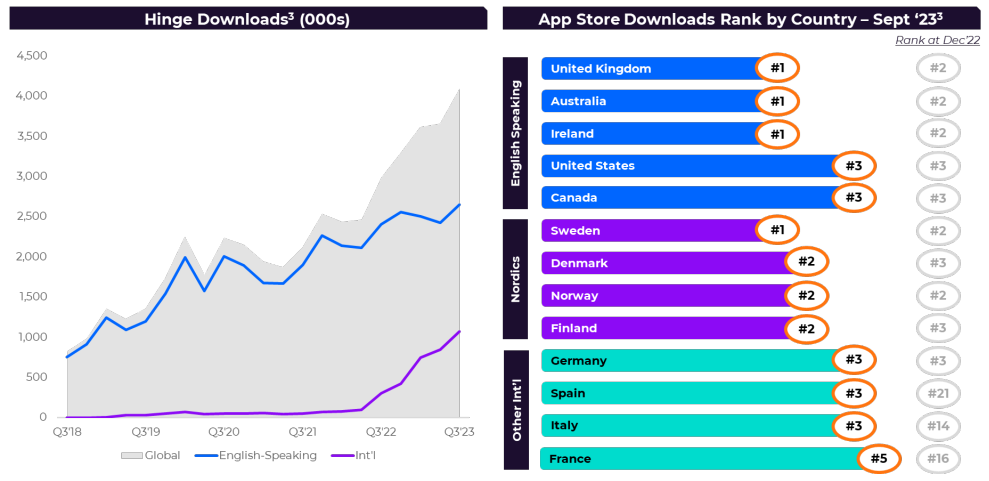 Hinge owes this growth to its launch on the European market in Q3 2022. Hinge is well positioned in the various application stores, with top download positions in the UK, Australia, Ireland and Sweden. In Germany, Spain and Italy it ranks 3rd, and in France 5th.
As we saw in our last review, Hinge is far from "cheap", with subscriptions ranging from $20/month to $40/month. Despite this pricing policy, Hinge is said to have over 1 million paying users, with revenue per user of between $25 and $30.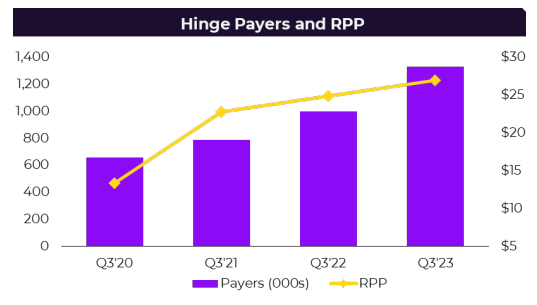 It will be interesting to follow Hinge's progress on the American market, to see if it will succeed in becoming the leader, or even, one day, replace Match?
About the author
Give your opinon about Hinge app reaches 4 million downloads!