1tense
See 8 reviews from members for 1tense.
Looking for a dating service for serious singles looking for a lasting relationship and love? 1tense is a ew dating site for singles looking for a serious and lasting relationship. And good news, itt's a 100 % free dating site. Interested? To know everything about this dating service: presentation, features, application, read more.
Introducing 1tense
1tense is a new player in the field of serious dating on the Internet. The site is available in all English, French and German speaking countries. It is intended only for singles looking for a serious and lasting relationship. Registration is free with no trial period. It allows to use all the features of the site for free. At the creation of the profile, it is possible to inform the values, aspirations, hobbies and character. It is possible to search for singles on these criteria.
Once your profile is created, you will need to confirm your account by email. Your profile will also be pending validation by the moderators. Indeed each profile is validated manually. If your profile is refused it is because it does not respect the rules of use of the site.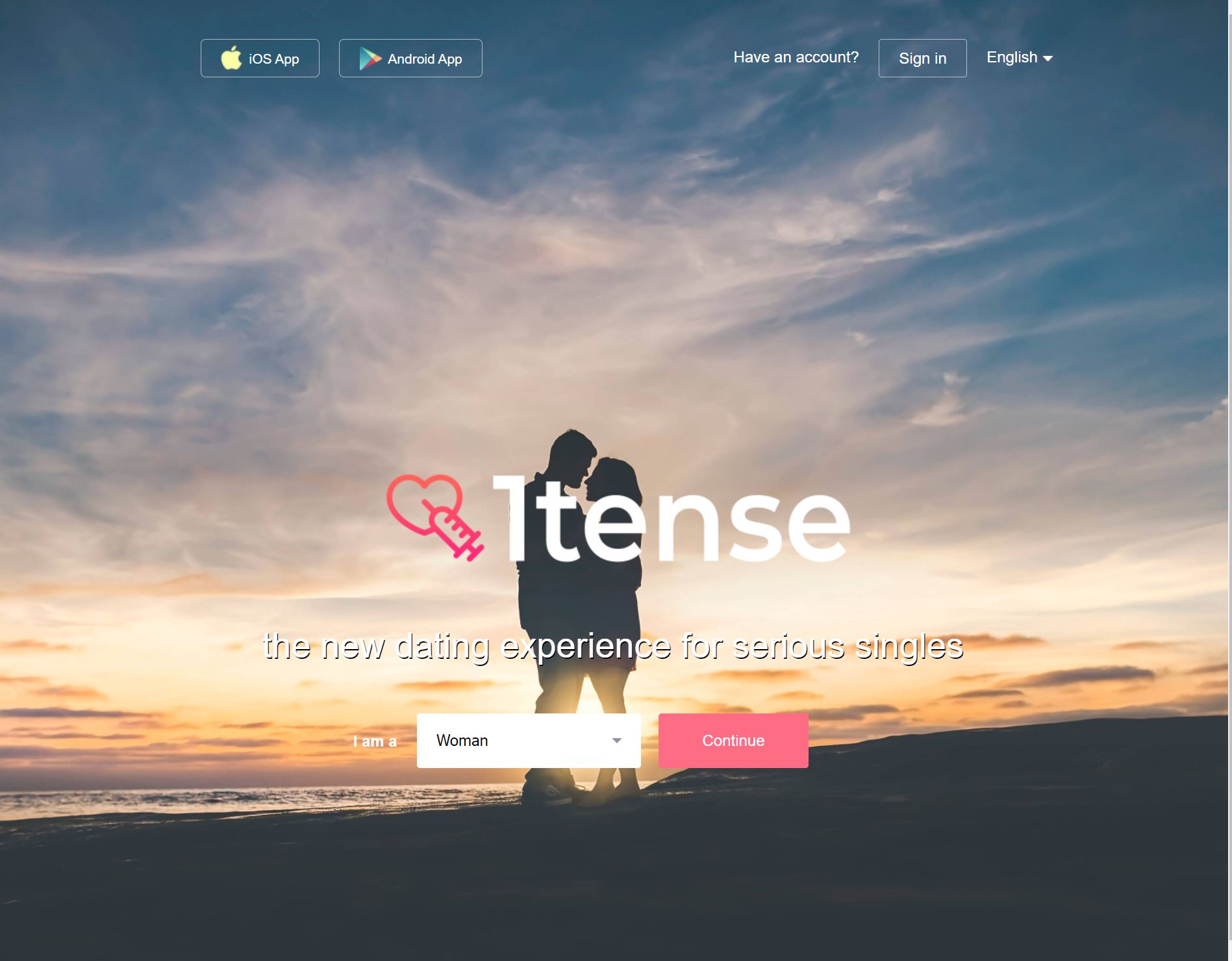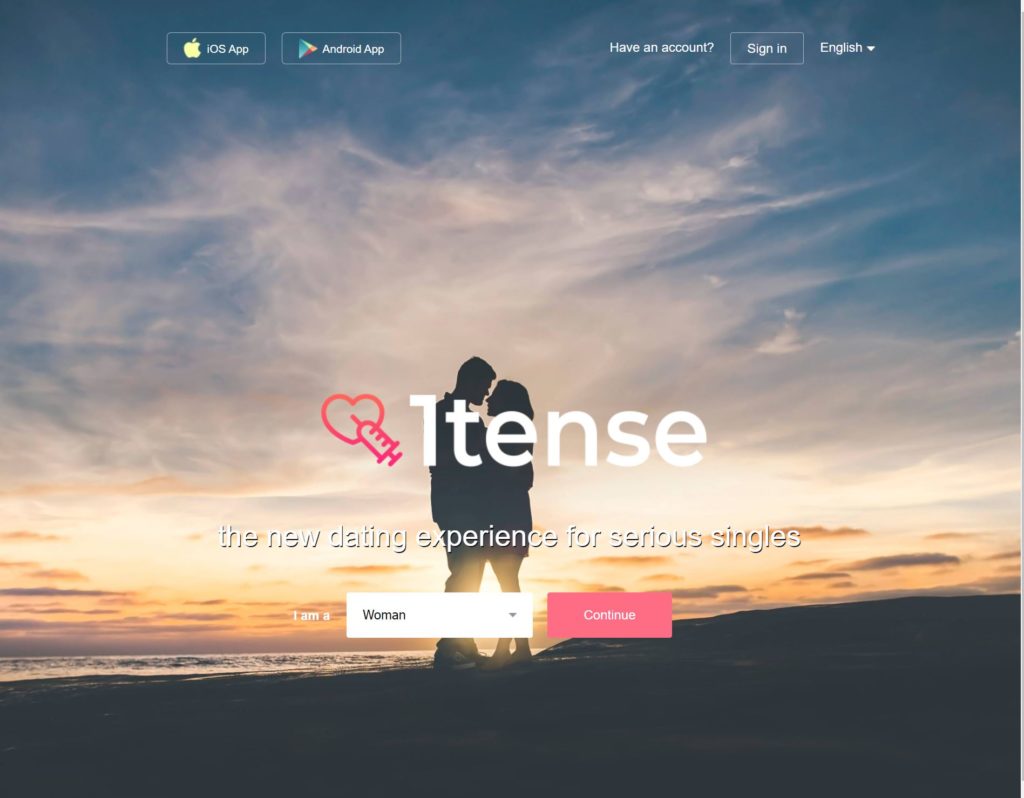 Free features
The 1tense dating service is completely free. There are no hidden paid features.
So you have access to all the features for free:
Free and fast registration
Create a profile with photos, text presentation, values, aspiration, hobbies, …
search for singles without limit, nearby or by country, region, city, with many filters,
send and receive messages, send likes, send gifts…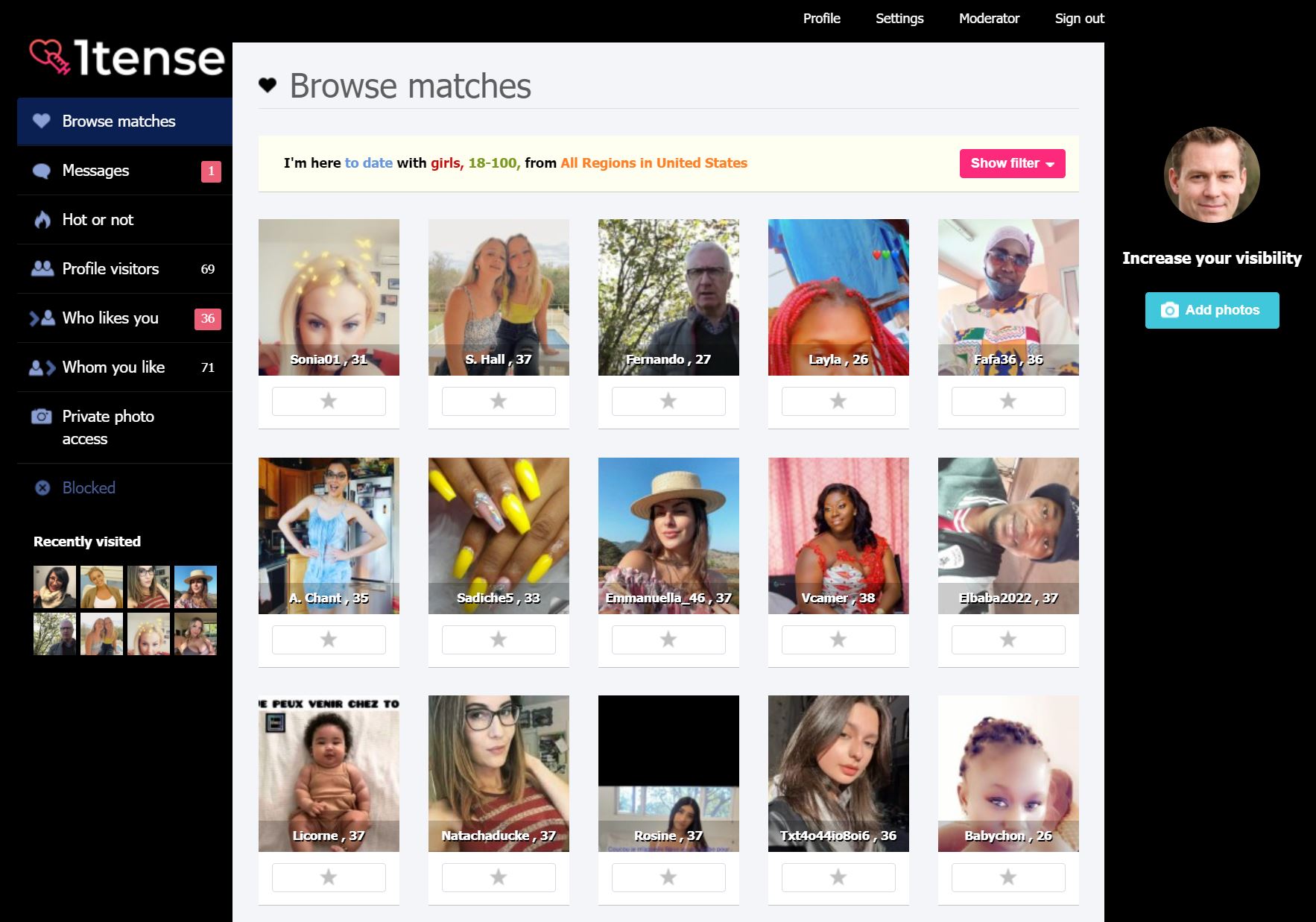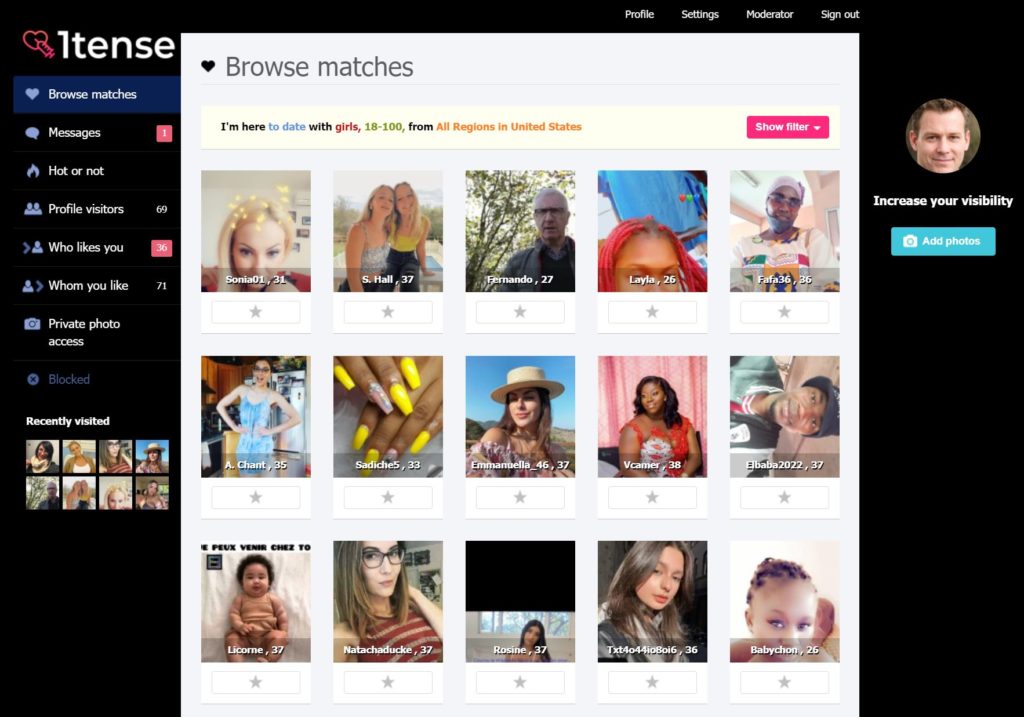 Paid premium features?
There are no premium paid features.
The 1tense dating service is completely free, there are no paid features.
At no time will you be asked for a credit card on this site.
The platform is remunerated thanks to the posting of publicity.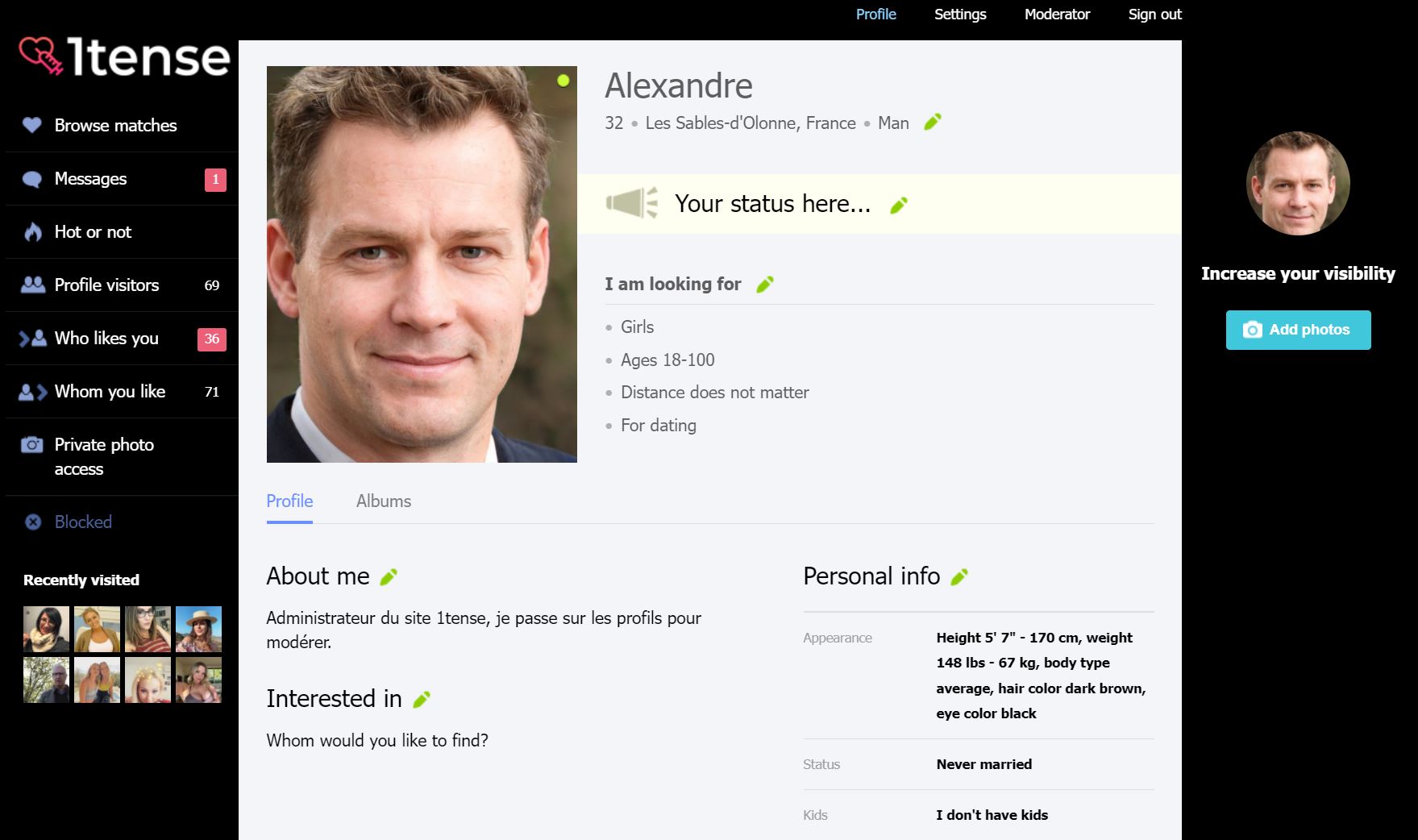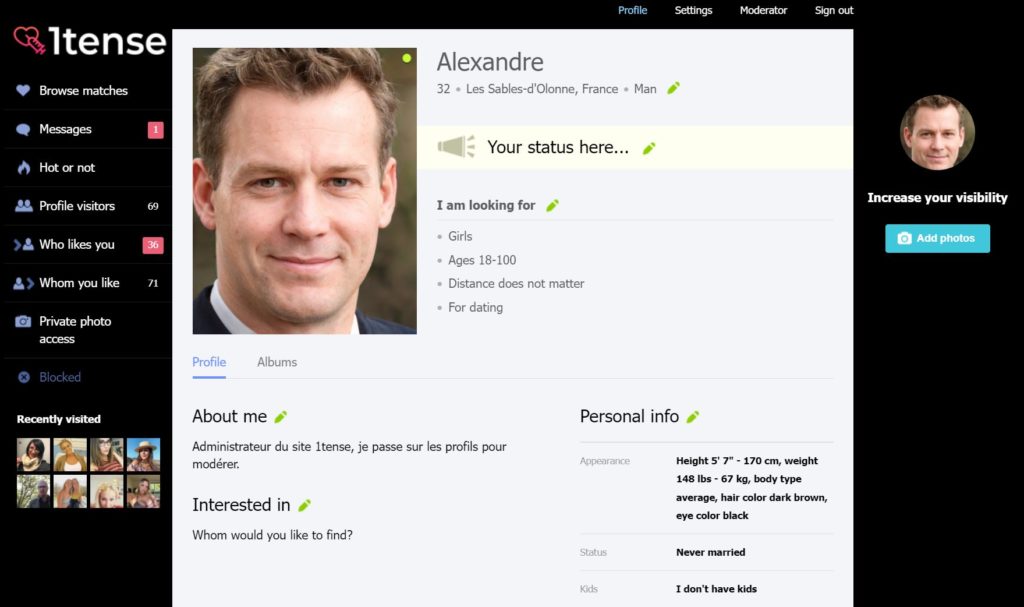 1tense smartphone application
For the moment the dating application 1tense is only available on Android. An iOS application is planned for the near future. If you have an iPhone, you will have to use the mobile version of the site.
Our quick review on 1tense
1tense is a new player in the field of serious dating, transparent on the features.
It has many advantages: in addition to being 100% free, it offers the same features as paid dating services, and to ensure quality profiles, all profiles are validated one by one. A profile that does not have a photo, or a photo that does not show a face or that does not have a description will not be validated on the site. We also like on this site to be able to meet singles no matter the location, to be able to choose the country, unlike other dating services that limit to singles near their home.
The negative point is that the site is only a few years old and is not yet as well known as the market references, so there are fewer members than on the most popular dating sites on the other hand, this makes it a more exclusive dating service.). However, it can happen that there are inactive profiles or fake profiles, in this case you should not hesitate to report them to the moderation which is very reactive to remove these profiles.
Appears in guides :
8 reviews from 1tense members
From newest to oldest
1tense
Raja1977

opinion -

October 2, 2023

at 7:38 am

I need marry as soon as possible

Jennifer

opinion -

September 19, 2023

at 2:26 am

It is interesting

Ulrich

opinion -

July 7, 2023

at 8:37 am

I am looking for a white or black woman for a serious relationship and why not marriage if possible. A sincere woman who will know how to trust me and above all who likes to travel

Eileen

opinion -

June 17, 2023

at 2:51 pm

It's quite interesting and fun

Eileen

opinion -

June 17, 2023

at 2:50 pm

I want to experience something new. Hope I get it

OFOSANEN CHURCHILL MONUWA

opinion -

December 24, 2022

at 11:54 pm

This site is a good one seriously

Duane Harper

opinion -

August 9, 2022

at 8:40 am

I give a five star rating

Alexander

opinion -

April 5, 2022

at 8:18 am

Yet another dating service. So far not many members but at least it is free. I keep the application installed just in case.
Participate by rating 1tense dating site
In addition to leaving a comment below, you can rate the dating site (provided you have tested 1tensem) by giving it stars. Optional if you haven't tested the site.
Give your opinon about 1tense