Bumble Inc: $903 million in revenues by 2022
By Alexandre (admin), last updated on March 23, 2023
The American group Bumble Inc, which owns the products Bumble, Badoo, and which recently acquired the French dating application Fruitz, has unveiled during its presentation to investors its revenue for the year 2022: $ 903 million, up 19% compared to 2021. It remains 2nd in the online dating market, behind Match Group.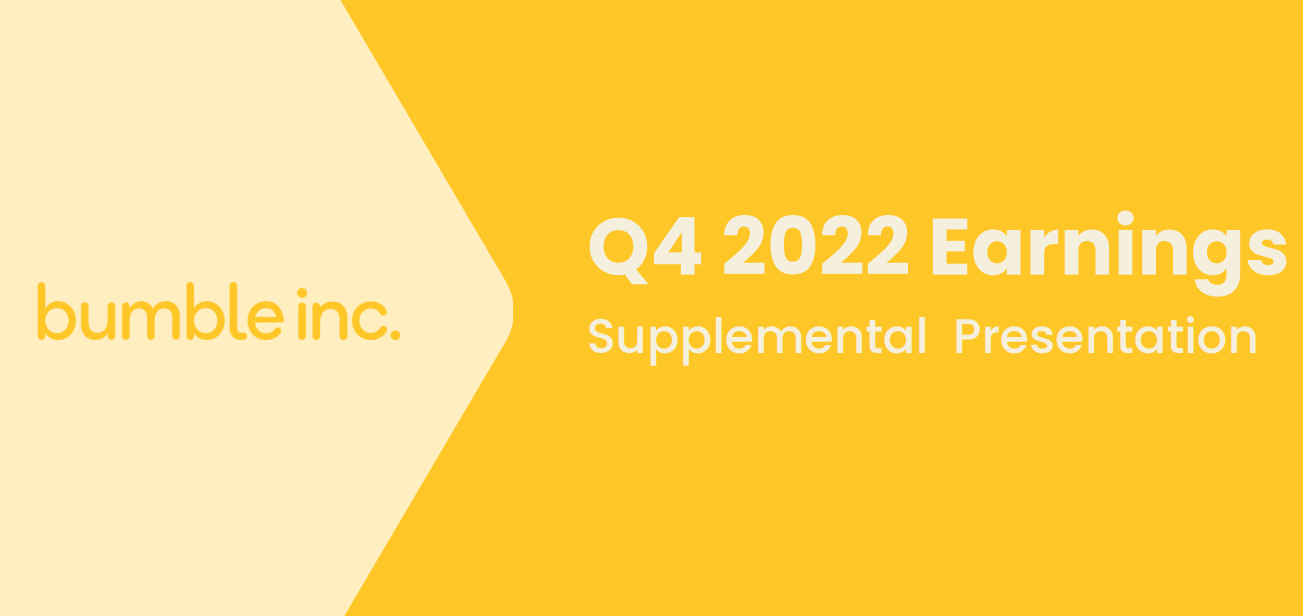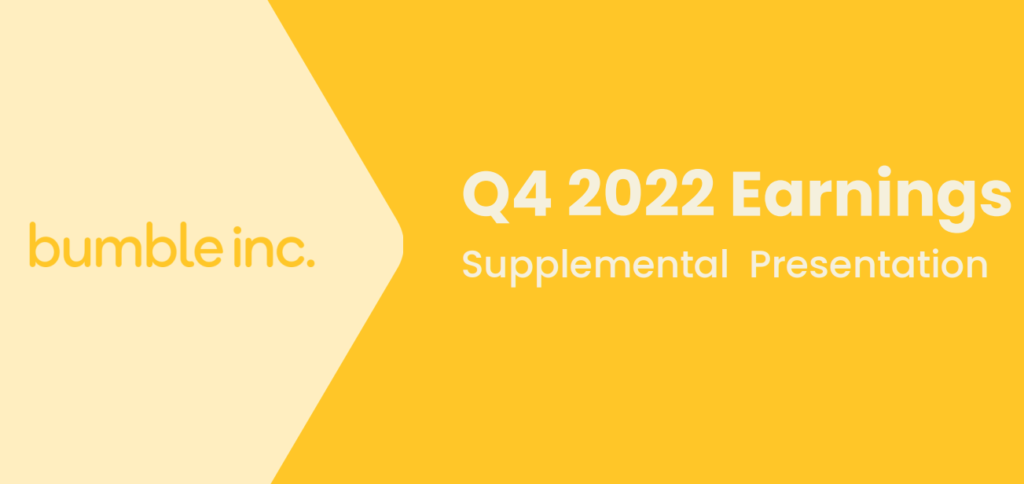 Bumble is the flagship product of the Bumble Inc group
The dating application Bumble, the anti-Tinder, is the one that brings in the most revenue for the group since it represents $694 million of the $903 million in sales. This is still far from Tinder which, as a reminder, brought in $1.79 billion to the Match group in 2022.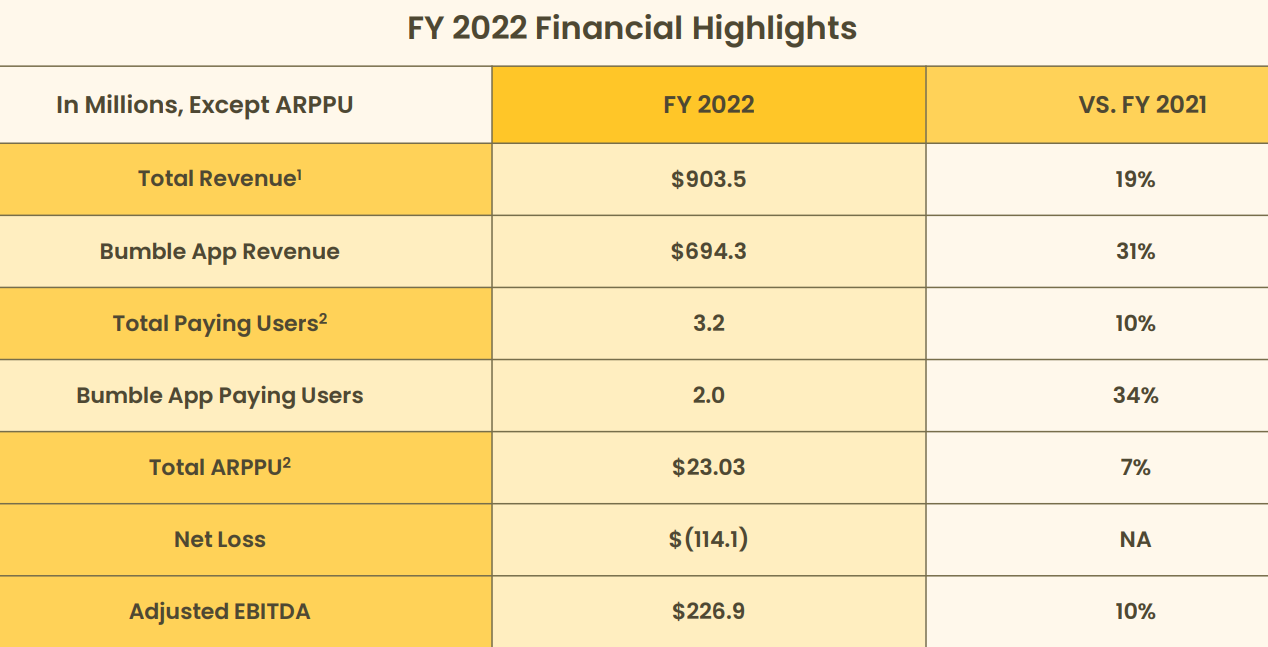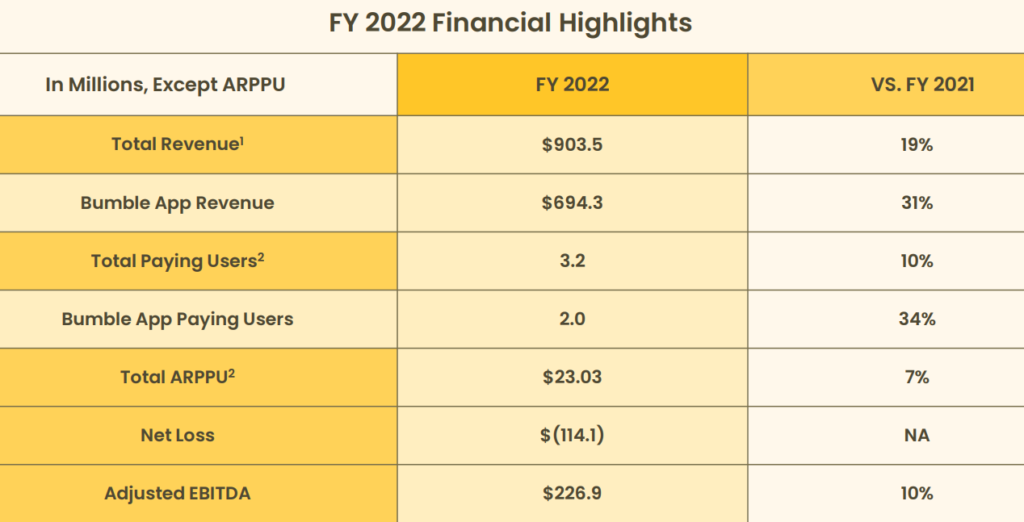 Badoo on the decline?

We learn in this report that it is indeed Bumble (created in 2014) that carries the growth of the group since the turnover of the other brands of the group such as Badoo (created in 2006) and Fruitz (created in 2017) is declining with $209 million of CA in 2022 against $232 million of CA in 2021. This must give management pause since Badoo is a historical product with many users, but bringing in much less…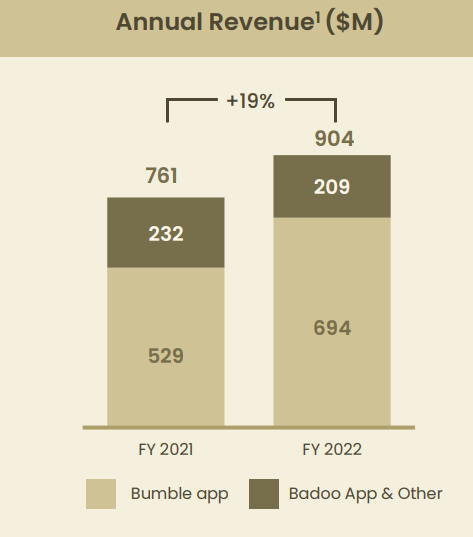 As a comparison, the number of paying users is decreasing for Badoo while it is increasing for Bumble. The average revenue per user is $28 for Bumble, against only $12 for Badoo…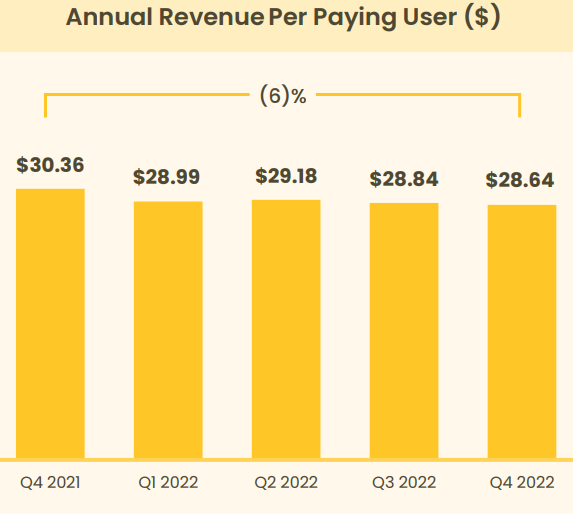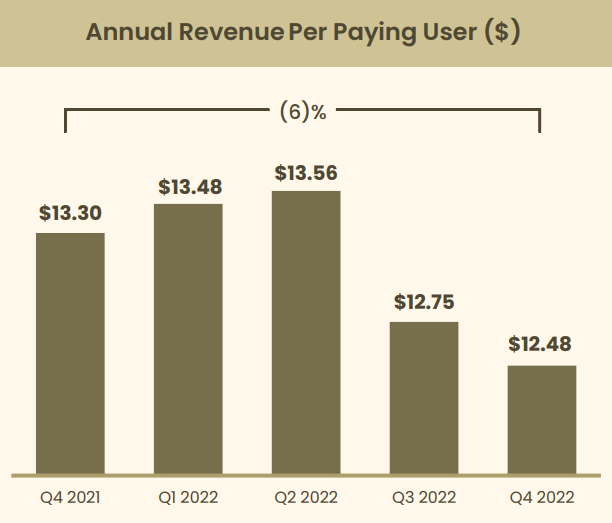 Note that the Match group is in exactly the same situation as Bumble Inc, with Tinder and its many brands Match, Ourtime, POF, …
Objectives 2023
The Bumble Inc. group has growth objectives for 2023. It expects to increase its sales by 16% to 19%, which would make the group exceed the billion euro turnover.
The target for pre-tax profit is still around 24% to 26% of sales in 2023, as in 2022 and 2021.
It will be interesting to see in 2023 how the group will invest and carry the Fruitz application as it was purchased during 2022 and is therefore excluded from the group's key figures for last year.
The question is, will applications such as Badoo and Fruitz be abandoned if they do not bring in enough money to cover the investments? To be continued with the next published results.
About the author