okcupid cost & prices 2023
By Alexandre (admin), last updated on January 1, 2023
Okcupid is a dating service for singles looking for a friendly, casual or long-term relationship. If the registration to the online dating site and app OkCupid is really free, you can subscribe to a membership to benefit from all the features. See below all costs information for a relationship with premium members.

okcupid cost & subscription prices 2023
Below, all up-to-date prices for okcupid subscriptions.
okcupid paid features (premium)
You'll want to upgrade to a paid plan to take full advantage of the available features proposed by the platform with many option.
There are two paid offers at okcupid: basic and premium.
Okcupid Basic
Boost (to be highlighted in search)
Send unlimited likes
Filter out the peope who don't fit
Unlimited rewinds
Unlock your intros
No ads
Okcupid Premium
All Basic features + :
See who likes you
3 SuperLikes every week
See responses to questions you haven't answered yet
okcupid membership prices
How much does okcupid cost? If you want to enjoy premium features, take a look at the prices of the okcupid subscriptions:
Okcupid Basic
Pass 6 months: $17.49/month
Pass 3 months: $23.33/month
Pass 1 months: $34.99/month
Okcupid Premium
Pass 6 months: $22.49/month
Pass 3 months: $29.99/month
Pass 1 months: $44.99/month
If you take a 3 ou 6 months subscription, there will be only one payment. It will not be a monthly payment.
Is there a okcupid free trial membership?
You want to try okcupid for free before taking out a subscription? Yes okcupid offers a free trial!
You can try okcupid for free without credit card : account creation, profile creation, search singles and view okcupid members profiles.
If you want to see who's viewed you, unlock extended profiles, add more pictures, you have to take a membership.
Does okcupid offer subscription discounts?
You want to join Okcupid, you are ready to pay a subscription but not at the posted price?
If when you first sign up Okcupid doesn't show a promotion, wait a little while.
With patience, you will be able to take advantage of a proposed discount on the subscription price with, for example, a 50% discount on the Okcupid premium subscription.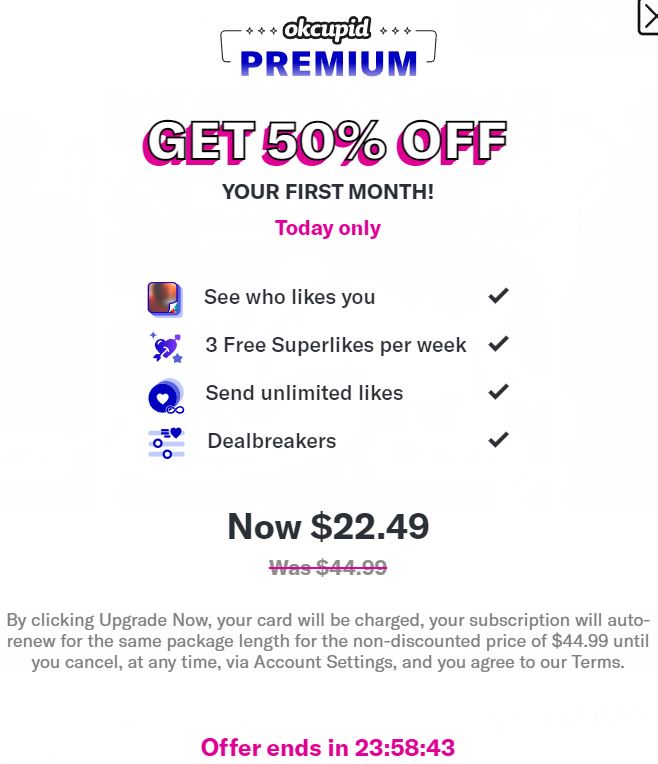 This discount was offered to us by okcupid 1 week after we registered with a free account. If you miss this promotion or it doesn't interest you enough, you can still wait, okcupid will offer other promotions throughout the year.
Is it easy to unsubscribe or cancel okcupid membership?
Have you found a relationship through okcupid? Or are you not satisfied with the Okcupid service? You can cancel your subscription and unsubscribe at any time.
It's easy to unsubscibe a okcupid membership. Log in to your okcupid account. Then, on okcupid website, click on your profile and go to the setting page and you'll see a list of your subscriptions. Click "Turn off automatic billing".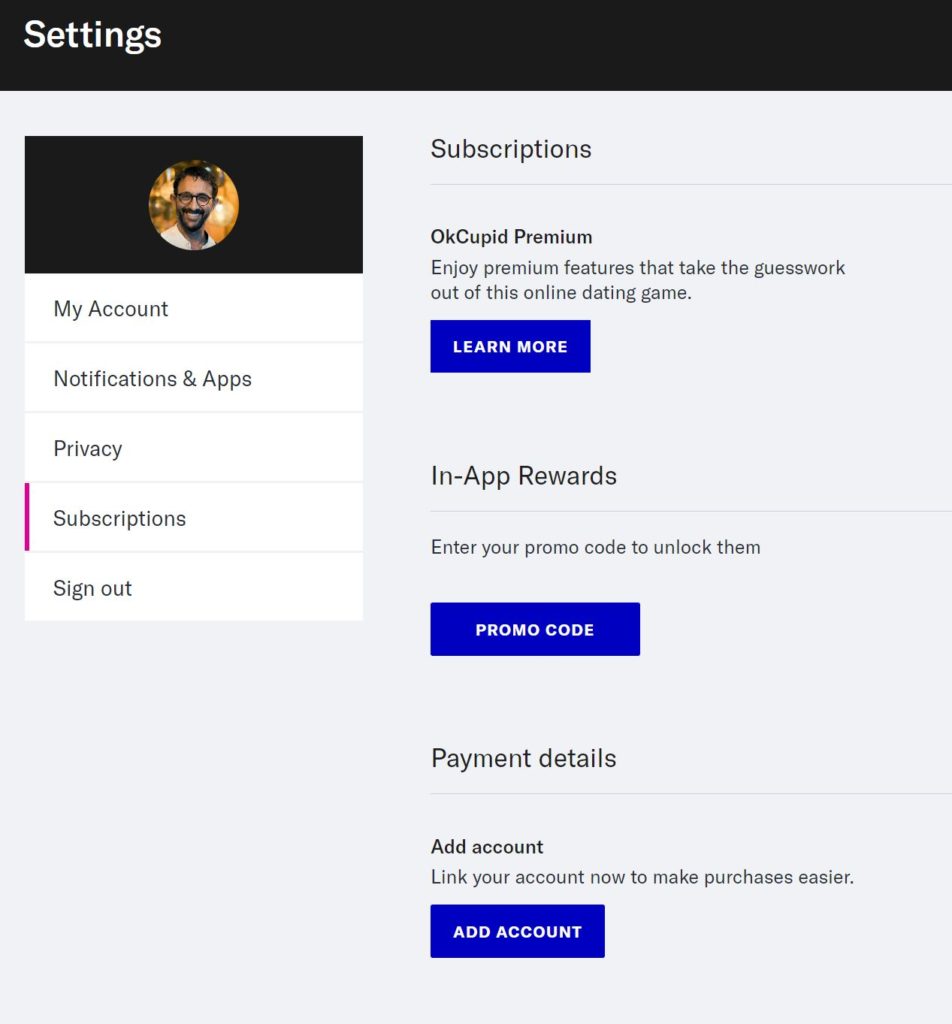 Please note that if you have taken a 3-month, 6-month or 12-month subscription, and you unsubscribe before the end of your subscription date, you will not be reimbursed for any unused subscription time.
About the author