Muzz, our review on Tinder for Muslims who want to get married
By Alexandre (admin), last updated on October 5, 2023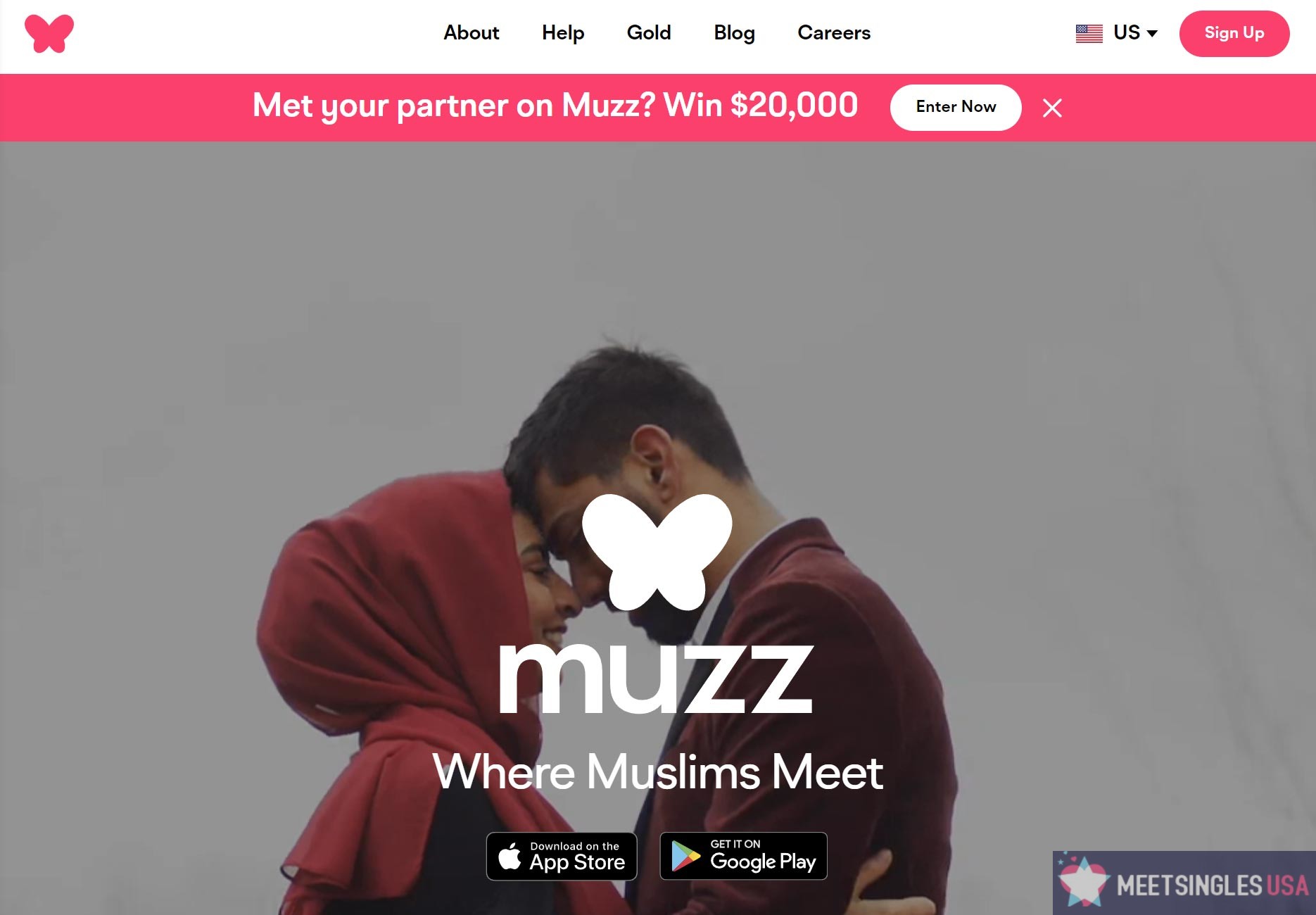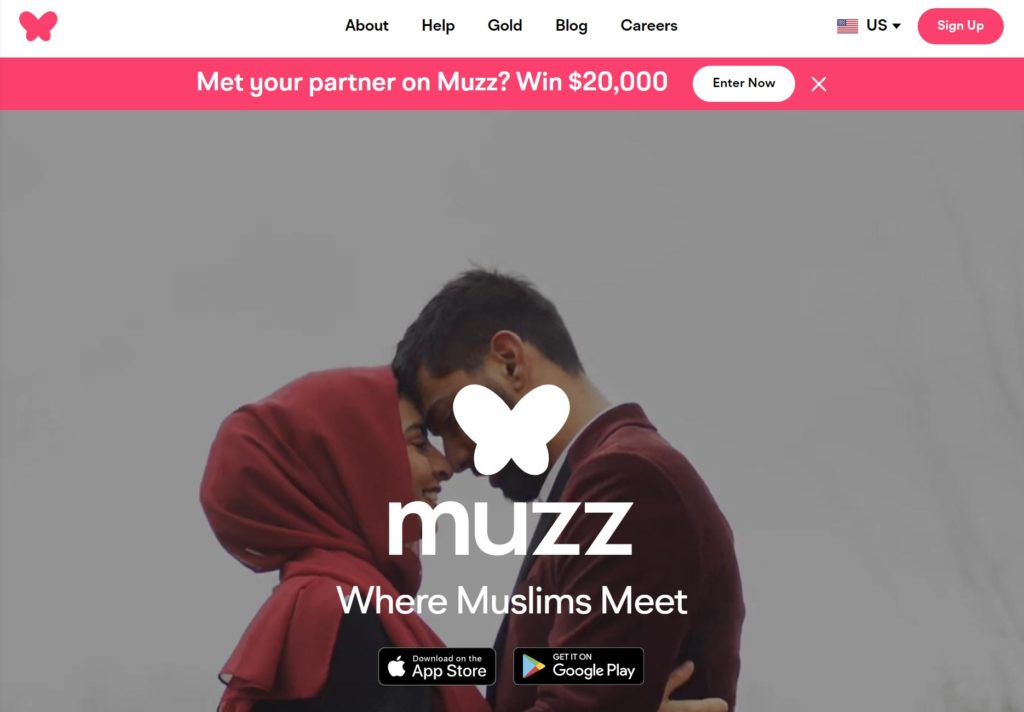 Our rating
Today we're testing Muzz, a dating service for Muslim singles. It tops the rankings of the various application stores. Yes, it's only available as an application and not as a website.
So, if you're a Muslim looking for a service to meet other Muslims for marriage, this test is for you!
Muzz presents itself as the world's most popular dating service for Muslim celibates. It's available not only in the USA, but also in other countries such as the Arab world, Germany, the UK, Spain, France and India.
Muzz is said to have over 8 million singles on its platform. That's huge! But is it true?
We signed up to find out for ourselves!
Download application, create account and profile
So we went to the Apple AppStore to download Muzz for free. You can also download Muzz from the Android Play Store.
Once on the application you need to create your new Muzz account. Enter your email address, gender, first name and date of birth.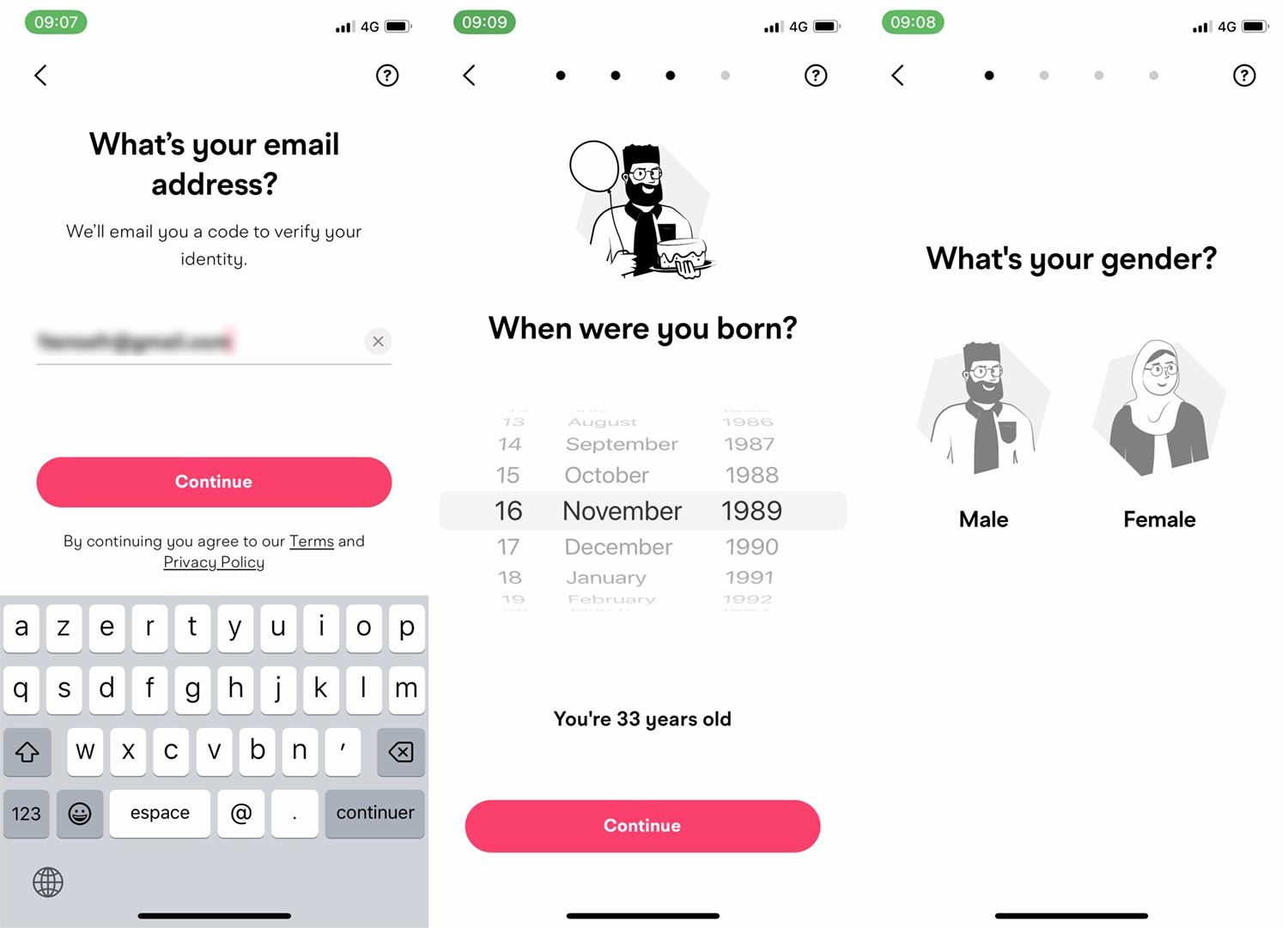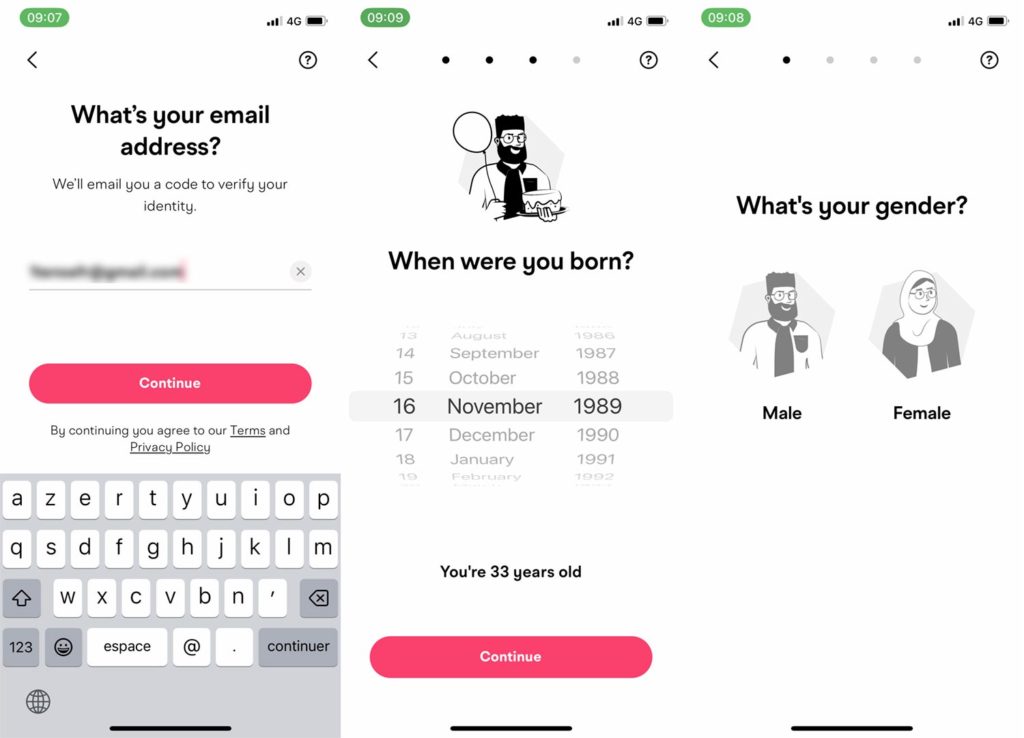 At the end of this, Muzz will send you a code to your email address. You'll have 50 seconds to fill it in. This is the first step in verifying accounts with an email address. Good point.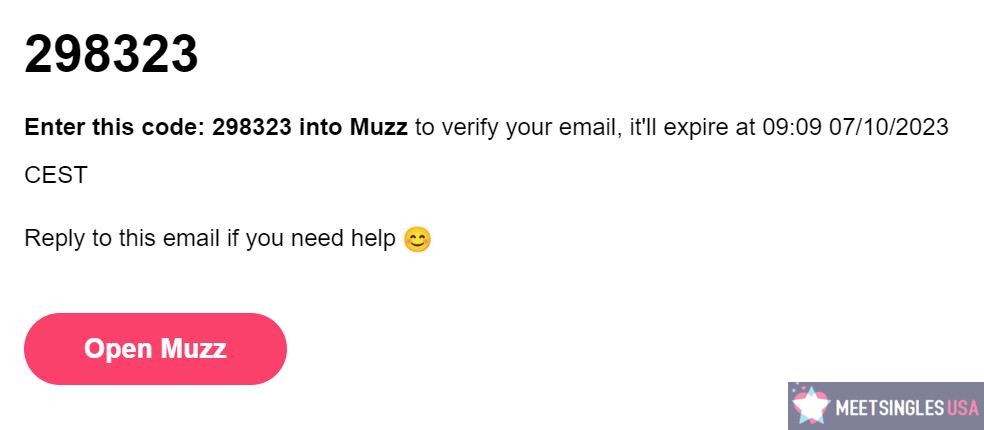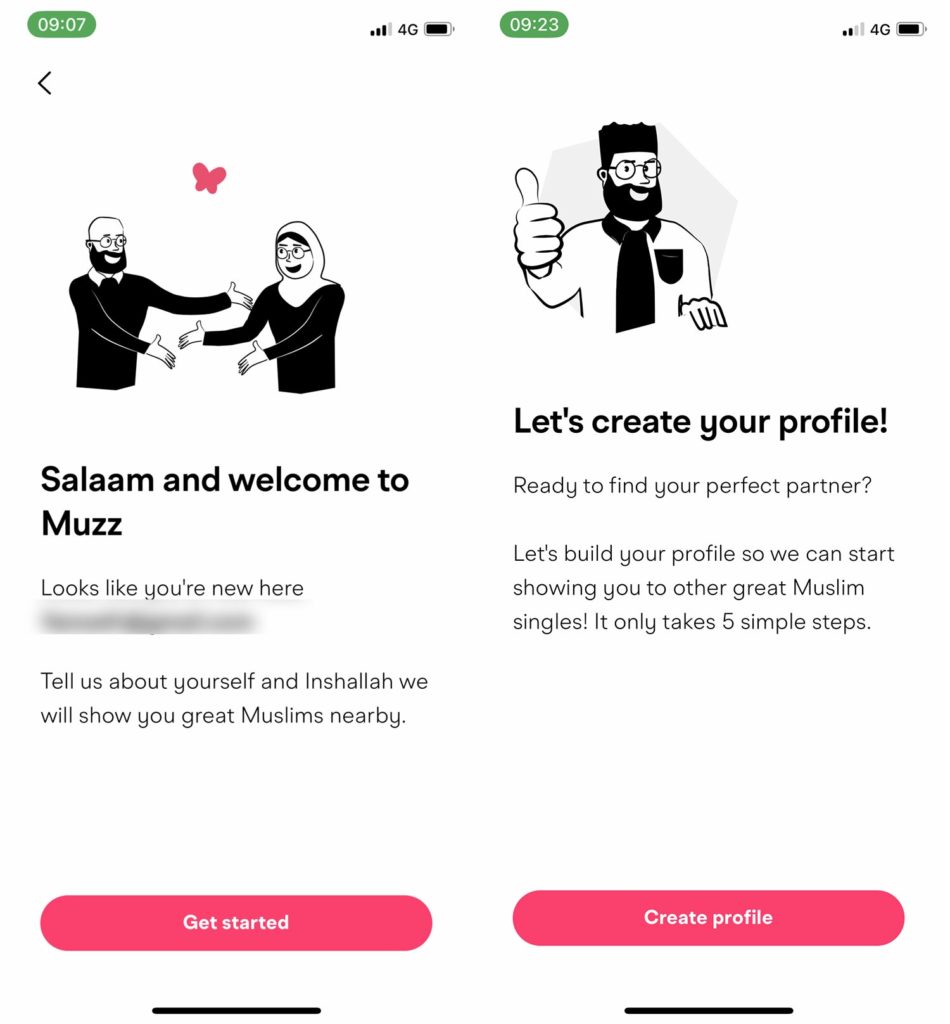 Once you've created your account, you'll need to create your profile.
The first step is to specify which Muslim community you belong to: Sunni, Shia, Ahmadi, Ibadi, Ismaili, other… You can also indicate that you don't want to say. For some people this is important, for others not at all.
Then enter your profession. There's something for everyone! From consultant to air hostess, from actor to pilot to dentist! If your profession doesn't appear, you can submit one.
Next, you'll need to enter your ethnic group: North American, European, North African and so on. This information is mandatory. However, you can select "other" if you don't wish to do so.
Your level of education will then be requested, ranging from high school to doctorate. Here too, enter "other" if you don't want to specify it.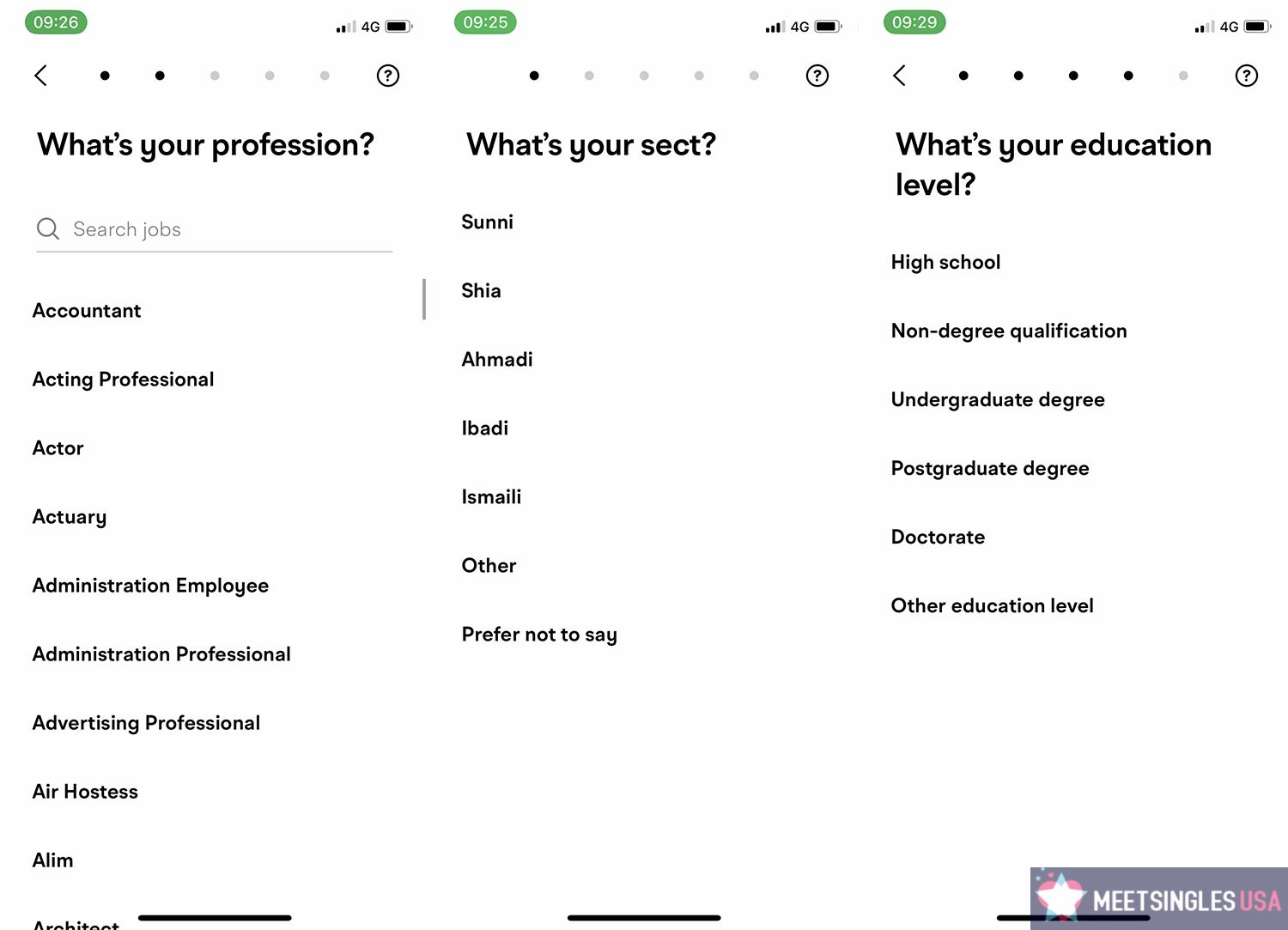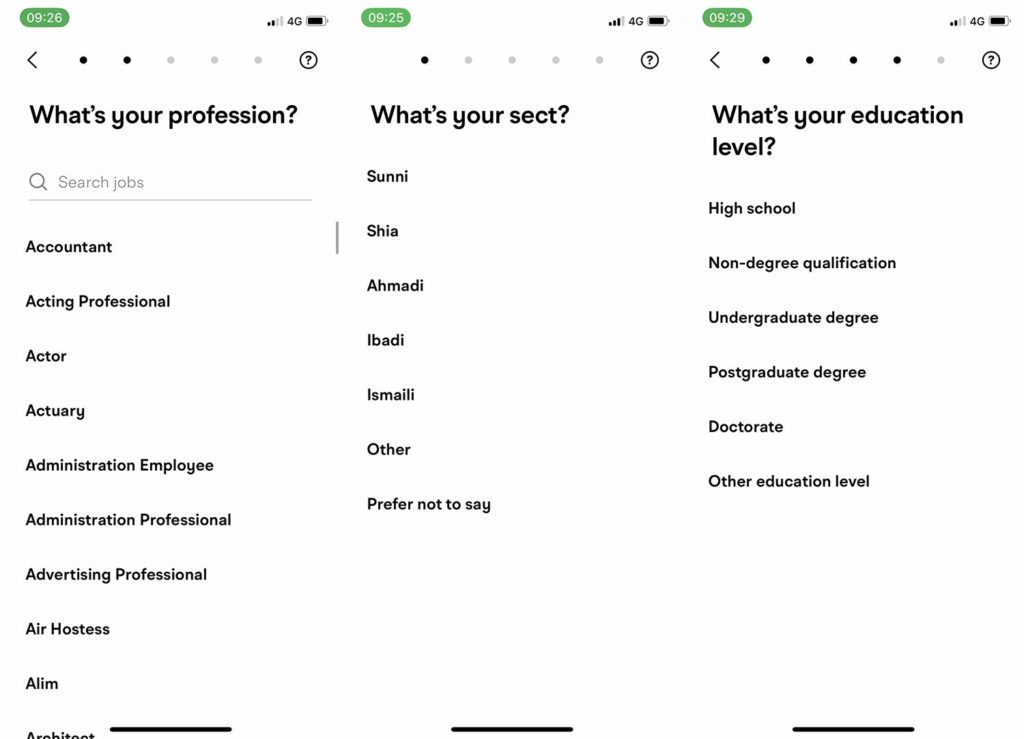 The photo, the photo! It's well done, the site asks you to see your face clearly, from the front, without sunglasses, and alone.You can add up to 5 photos. This is recommended to increase your chances of meeting new people.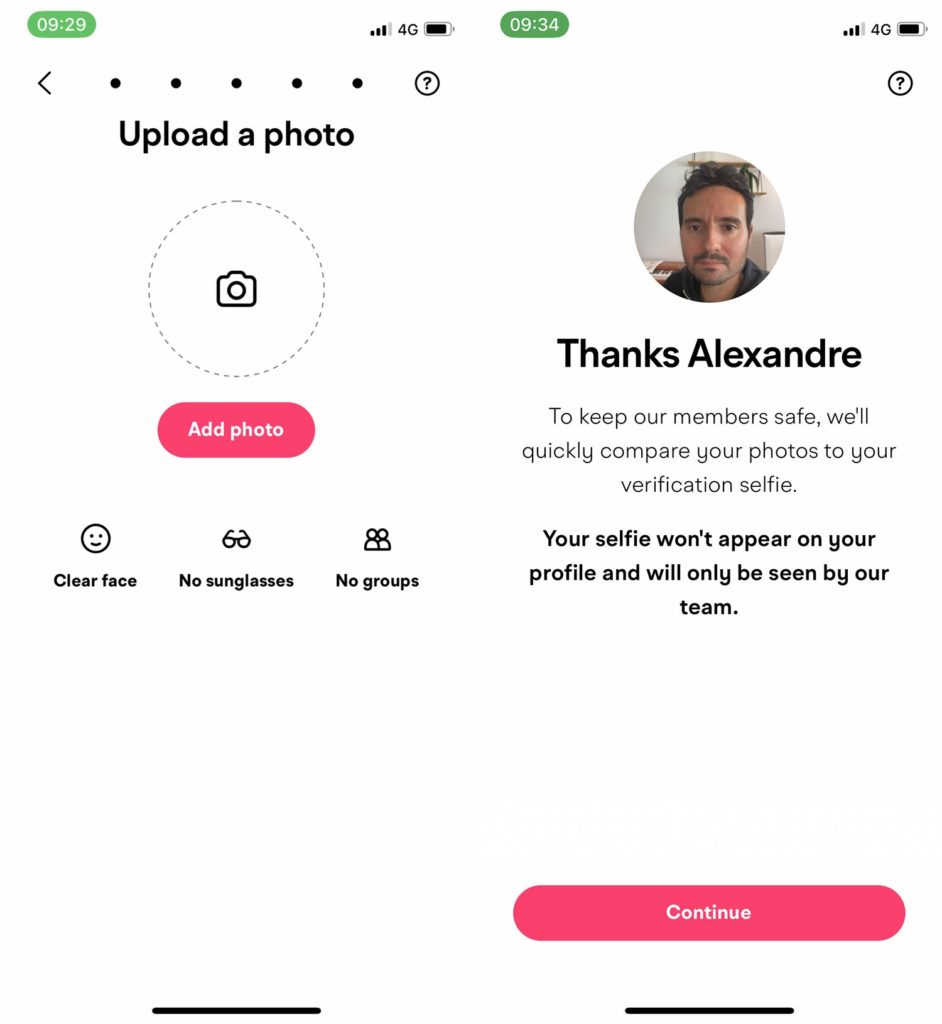 It's almost done, the account is created and Muzz now asks you to confirm your phone number and verify your identity by taking a selfie. It's really something that's rare to emphasize, between email verification, then phone verification, then selfie verification, Muzz only wants real, committed profiles. Bravo, Muzz. (don't mind my photo, I was wide awake). For your information, my profile was validated in less than 5 minutes.
You think it's over! No, Muzz still has a few questions for you! Rest assured, it won't take long…
The app asks you about your ethnic origin, your height, your marital status, how long you plan to marry (from less than a year to more than 4 years), your religious observance, your prayer times, do you eat halal, do you smoke, do you drink alcohol, do you have children, do you want children, ….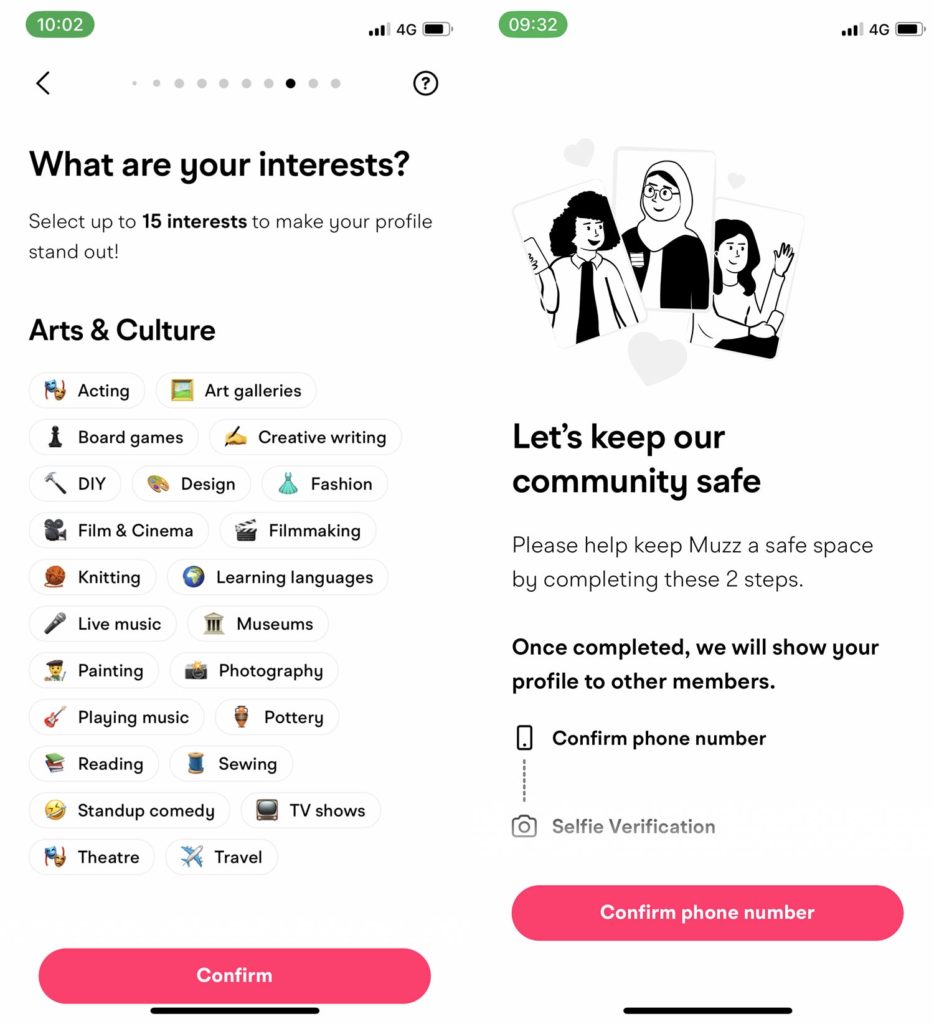 You can also enter up to 15 interests, personality traits and a bio! Finally, you'll be asked to "sign" a code of conduct. If you fail to comply with this guide, your account will be permanently deleted.
We're finally testing the app for dating singles
Once you're finally on the application's home page, you won't be too disoriented compared to what's available elsewhere.
In fact, you'll find some of the Tinder codes: a close-up photo, first name, age, distance, profession… and you have to say whether you like, pass or send a message.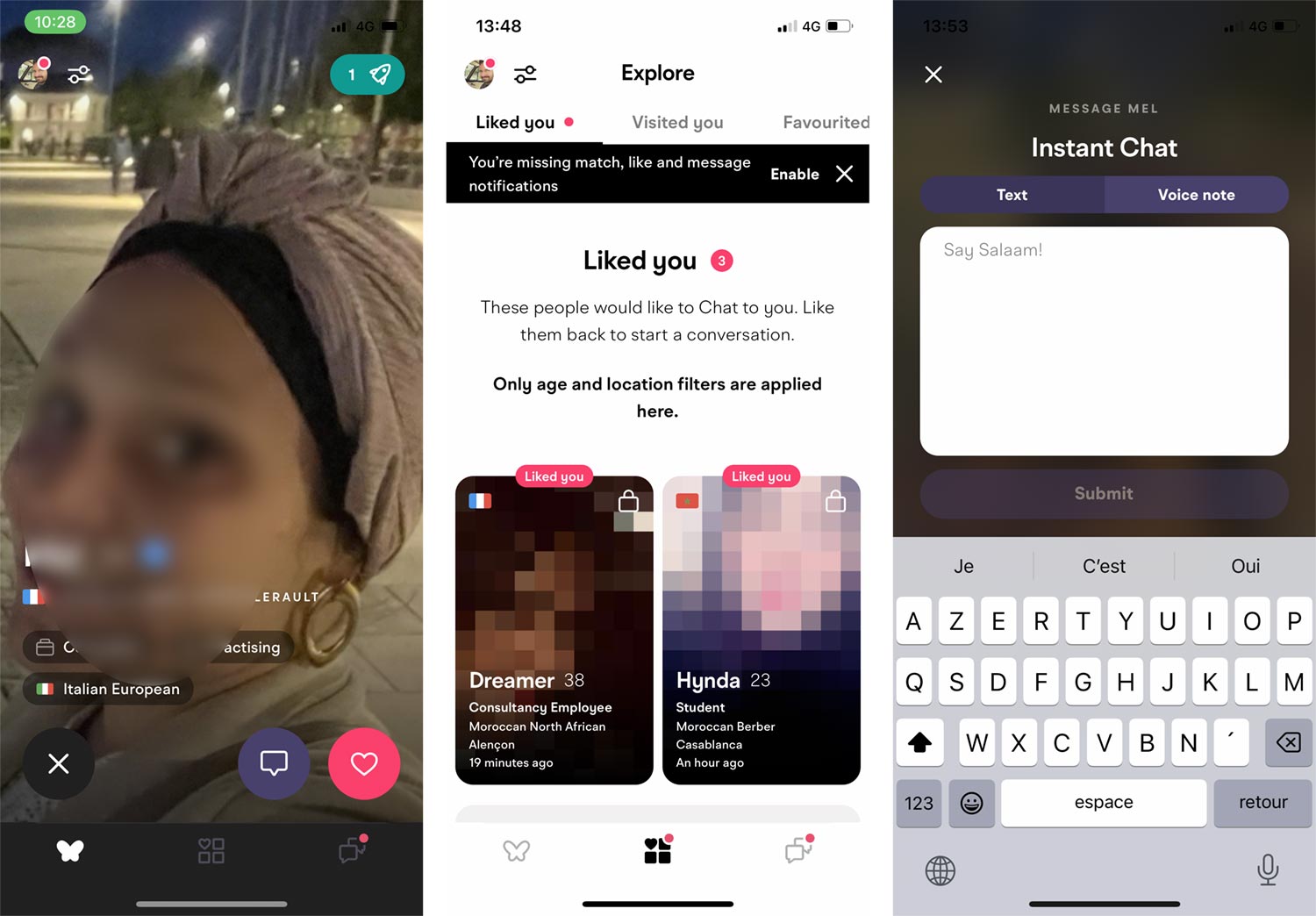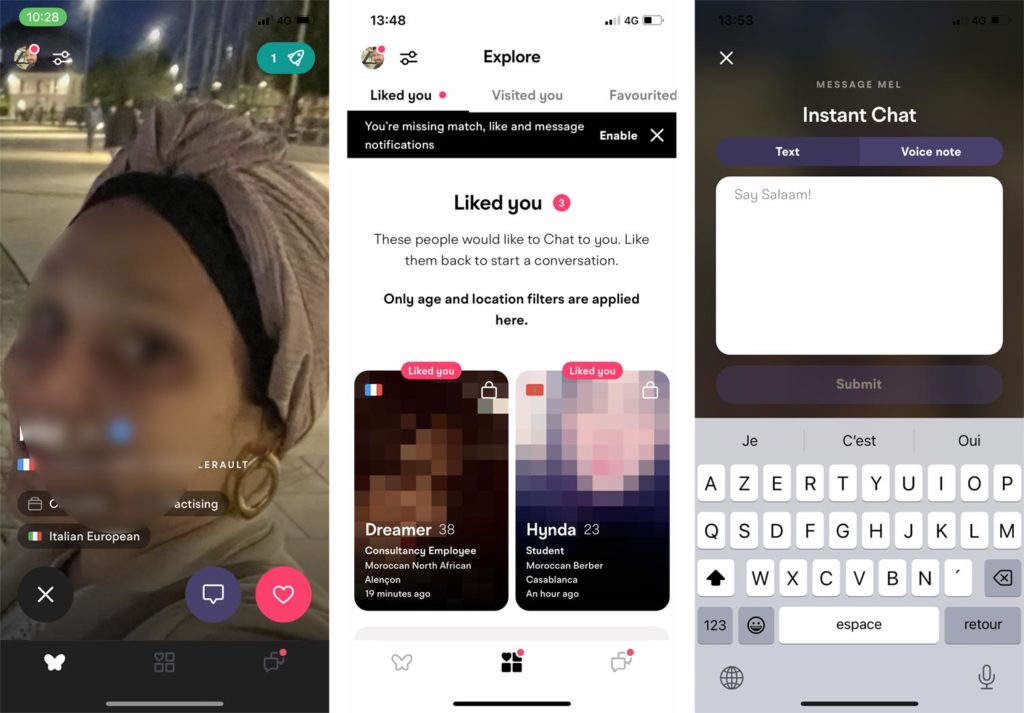 Sliding down provides more information about the member: similarities, bio, additional photos and other personal information such as religion, interests and personality.
The last tab shows the messaging system, with a history of messages sent or received by other members
There's one thing that's different about Tinder, and that's instant chats. With a gold subscription, you can have 1 instant chat per day. In other words, you can send a message to someone without them having to "like" you back.
What's free?
With an application of this quality, not everything is free. In fact, there are no ads, so some features are free, and others you have to pay for.
We'll explain here what you can do for free:
create an account and profile
view, like and bookmark proposed matches.
2 instant chat
chat with a match (reciprocal like)
However, with a limited number of likes per day, you'll need to choose who you like.
Muzz Gold subscription: features and costs
As you've seen, Muzz has nothing in common with most dating apps. Profiles are high quality, moderation teams are attentive, features are advanced… all at a price!
With a Muzz Gold subscription you can :
like an unlimited number of profiles
see who has liked your profile
chat with other members without waiting
get a profile boost at weekends
advanced filters ….
Muzz Gold costs are :
1 week: $19.99/month
1 month: $34.99/month
3 months: $39.99 ($13.33/month)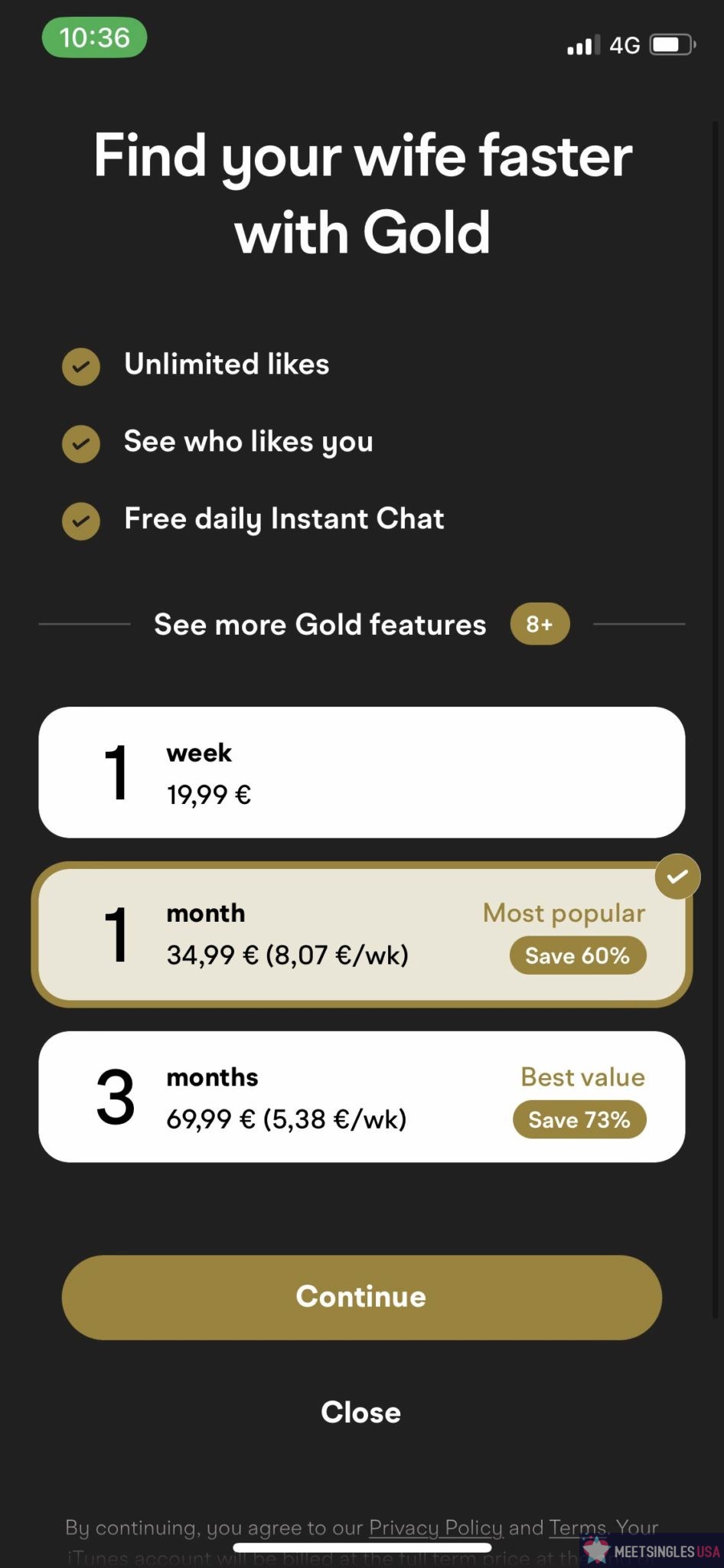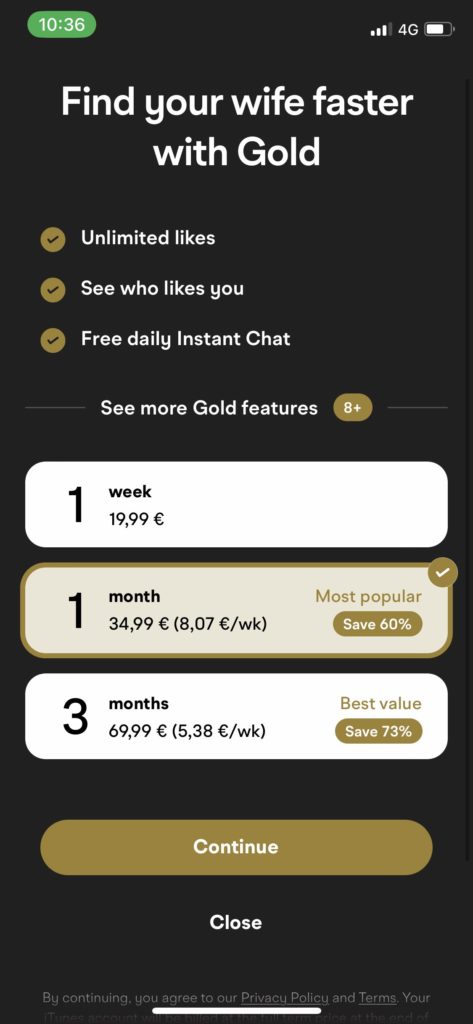 As you can see, the longer the commitment period, the more attractive the price. If you only commit to a week, it will end up costing you more than if you commit to 3 months. No surprise there – all the other dating platforms do the same.
Muzz Free Trial
From time to time, Muzz offers a 3-day free trial. For example, I was offered one just after I signed up.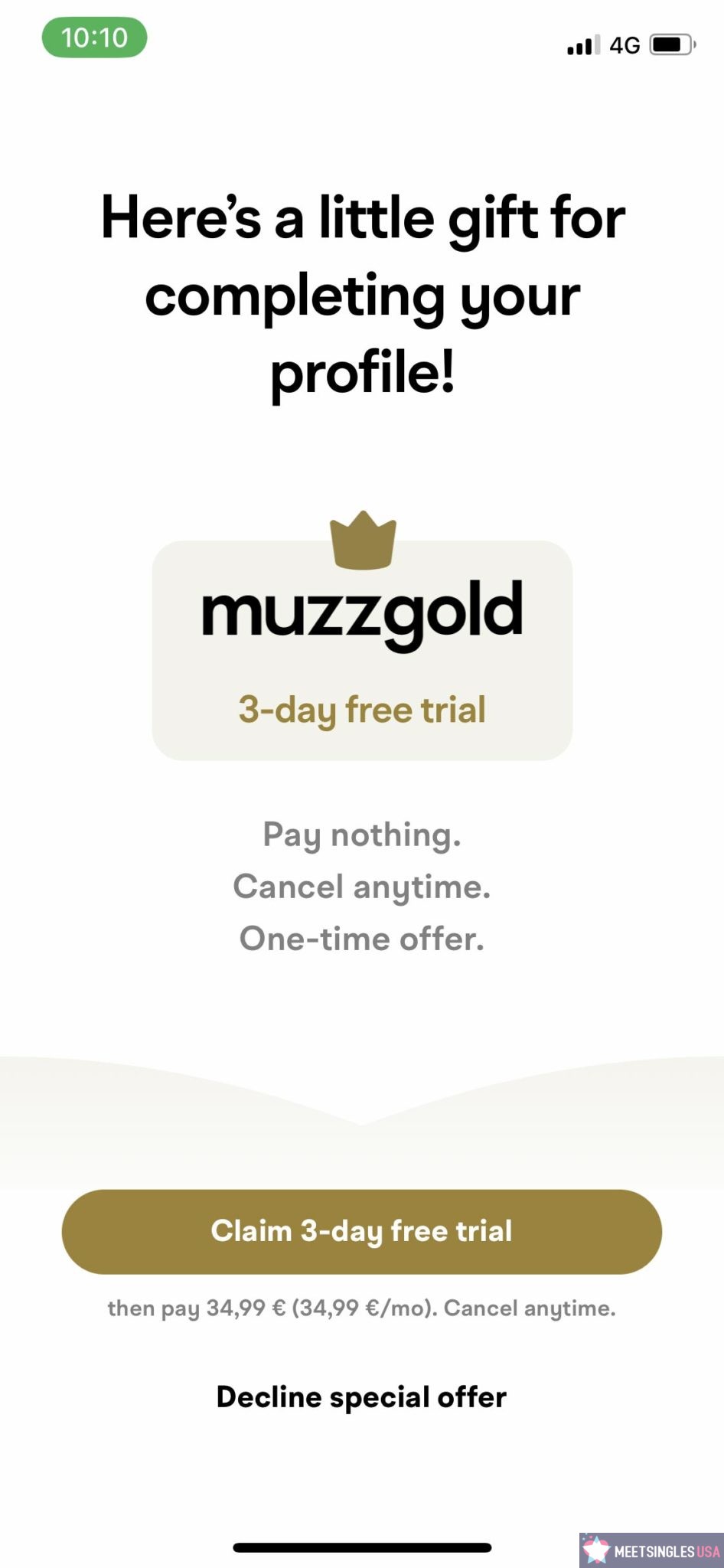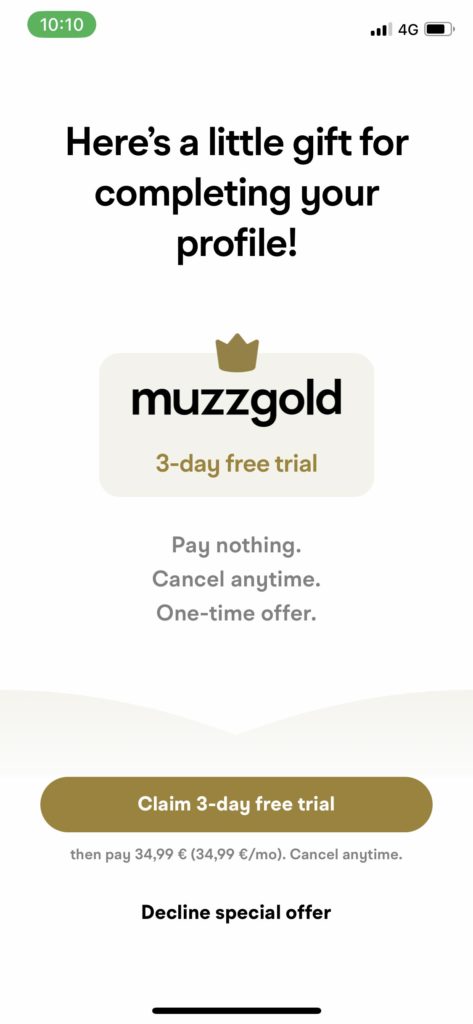 This 3-day free trial allows you to test 100% of Muzz Gold's features free of charge. You then have 3 days to decide whether to cancel the subscription, or continue with a regular subscription at the posted price.
In my opinion, it's a good way to test the application, but don't forget to cancel if you're not ready to pay!
Pros
✅ For serious relationships only
✅ fun interface, a fine design effort
✅ comprehensive profiles
✅ profile verification: email, phone number, photo and ID (optional)
✅ tinder-like features (swipe, like, match…)
✅ 3-day free trial
Cons
❌ no truly innovative features
❌ the price of the 1-month subscription is rather high
Registration

Interface

Profile quality

Features

Costs
Verdict
Muzz is a pleasant surprise. In fact, it's an application reserved for Muslims, but it could very well have been a service for everyone. We really liked the registration process, which was simple, fun and detailed (albeit a little long). We also like the verification of real profiles: email, phone number, photo and even the possibility of having your account certified with a piece of ID.
The interface is simple and fun, and you won't feel out of place, with many of the same codes as Tinder. For all the reasons mentioned above, the quality of the profiles is excellent. The features are good, but not innovative. You'll also find the classic codes of a dating app.
Perhaps it's only the price that stings. Although it's possible to use Muzz for free, with some restrictions on likes and blurred photos, the 1-month subscription is still $35/month. That's a lot, and it positions Muzz as a premium dating app, at a rate not accessible to all Muslim singles.
Nevertheless, if you're looking for a reliable, secure application with quality Muslim singles profiles, we can only recommend you install it!
Comments Rating
( reviews)
About the author