Tinder: only 1 in 7 users has a subscription
By Alexandre (admin), last updated on October 23, 2023
Do you like statistics about dating sites and apps? So do we! Have you always been curious to know how many Tinder users take the subscription plunge, and conversely, how many stay on the free version of Tinder? That's what we've tried to find out by analyzing the latest official figures published by Match Group.
Tinder accounted for $916 million in revenues in H1 2023, out of a total of $1 billion 590 million in revenues for Match Group, i.e. nearly 58% (see Match Group's H1 2023 figures).
With 15.6 million paying users, we can deduce, with a rule of three, that Tinder represents around 9 to 10 million paying users worldwide. A figure that would be slightly lower, as the group announced 10.8 million paying users in its figures for 2022. And, still in 2022, the application claimed 75 million users. This means that around 15% of users have a Tinder subscription, or 1 in 7.
According to Match Group, the number of Tinder subscribers is set to fall in the first half of 2023, due to optimizations (i.e., increases) in subscription prices. Increases that we have indeed noticed, as the price of the Tinder Gold subscription has risen on our test profile from $11.43/month to $13.99/month.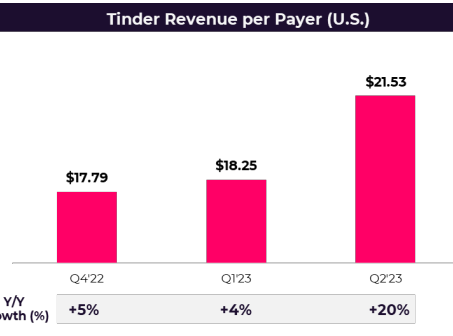 That's why Match is announcing, despite a falling subscriber base, a 6% increase in Tinder's revenues between 2022 and 2023, but also a sharp rise in revenues per user (+20%).
Nevertheless, don't think that Tinder is just going to lose subscribers and compensate with rising prices to keep increasing its sales. The brand launched a number of communication campaigns in the first quarter of 2023, and it seems that the number of new users has started to rise again. All that remains is to convert them into subscribers…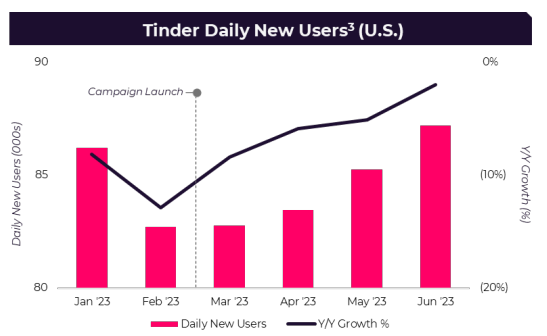 About the author