Christian Cafe Reviews: the best for christian dating ?
By Alexandre (admin), last updated on May 21, 2023
ChristianCafe is one of the oldest and best known Christian dating services. It advertises over 25,000 marriages and 3,000 testimonials. So, is Christian Cafe really a good dating service? Is he a good alternative to Christian Mingle? That's what you'll find out.

We have tested this site for more than 6 months and we give you our feedback on our Christian Cafe opinion after this test and the dates we had.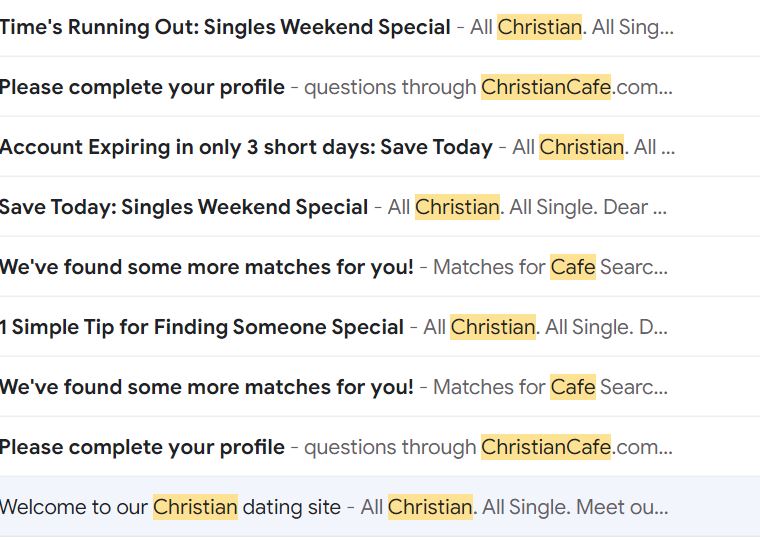 Christian Cafe review : 4 advantages and 2 disadvantages
ChristianCafe is certainly not the best known online dating service. If you are looking for a Christian Cafe review, it is because you have looked at Christian Cafe dating site comparisons and found that Christian Cafe can be interesting compared to the competition.
Indeed, there are not many dating sites for Christians and the leader in the field is Christian Mingle. But there is also eharmony, christian connection or catholic match.
But if you are reading this test it is probably because you are hesitating between Christian Mingle and Christian Café.
We warn you right away, registering on a dating site is easy, but meeting people is not done by snapping your fingers. Nevertheless, it is easy to meet a lot of people if you do it right.
So on this page we are going to give you our opinion on Christian Café, giving you the advantages and disadvantages of this dating service for Christian singles.
4 advantages of Christian Cafe
All dating services display all their qualities from the homepage. They are all the best. But what is it really?
Here are the real advantages of Christian Café over other dating services.
1. ease of use
The first thing that strikes you when you sign up for Christian Café is the interface. At first you think: it's not very modern.
However, when you follow the registration steps, you realize that the interface is very easy and understandable, without elements that complicate the readability.
The registration includes many elements to indicate such as your size but also what you like as a hobby and what you are looking for in the ideal partner. It's a bit long but it allows you to have a complete profile.
In a few minutes you are registered like a new member on Christian Café with a quality profile.
The search engine is also powerful with many possible filters to have a very fine selection of singles.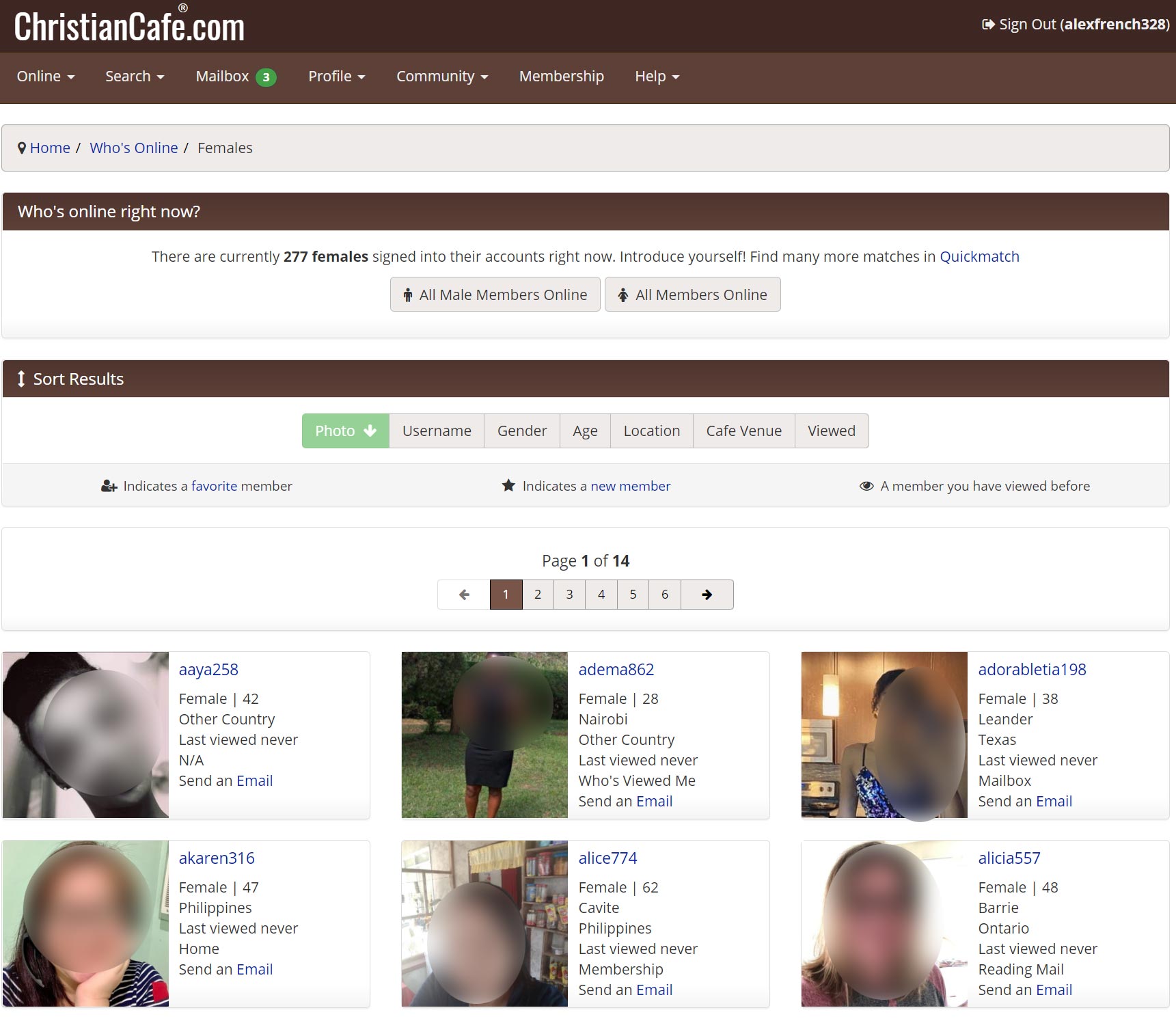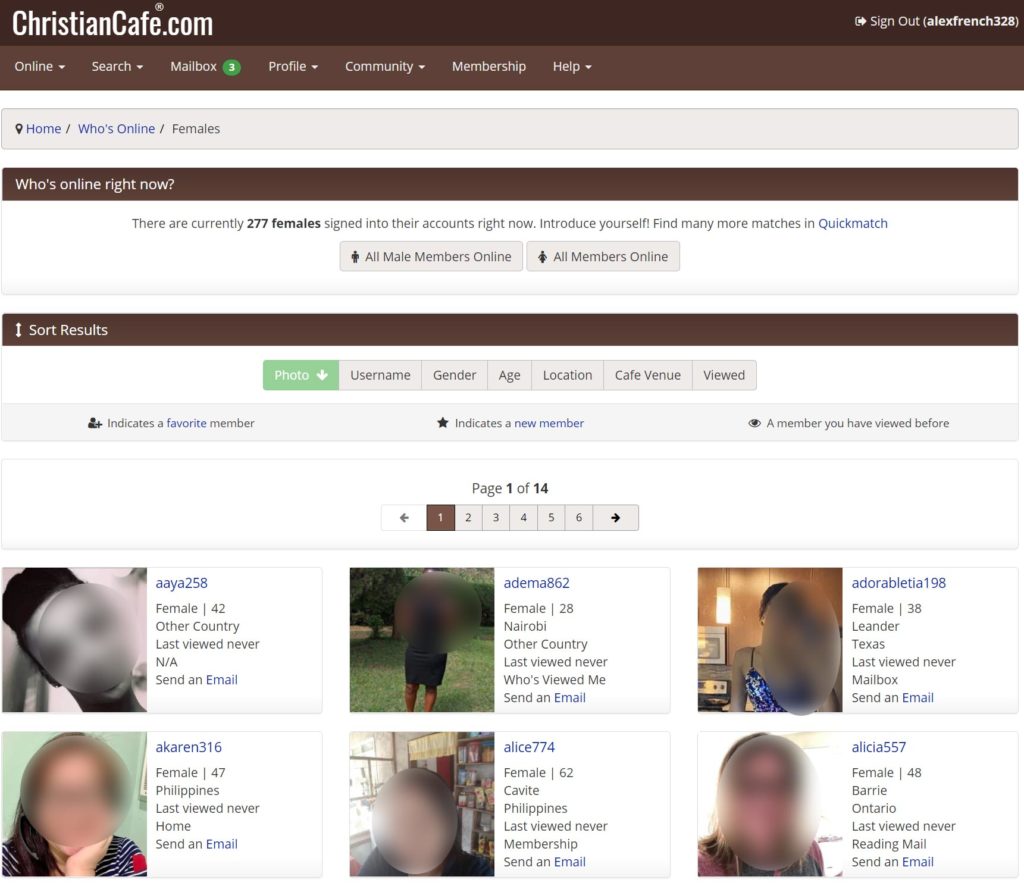 2. quality profiles and moderating
This is one thing we really appreciated about the site, it only displays complete and quality profiles.
Thanks to the complete registration form and the fact that the site invites to put several photos, we find almost only profiles of quality. We know each time a maximum of information on the single without contacting him.
Another very interesting point is the moderation which reviews all the profiles and does not hesitate to delete them. Also, if profiles are inactive for too long, they are deleted.
Christian Cafe therefore focuses on quality before quantity. And this is not something that can be found in all online dating services, even the most popular ones.
3. Christian Cafe Free Trial
Another very positive point, that only Christian Café offers, a free trial that allows you to enjoy 100% of the site for at least 7 days.
This is something that doesn't exist or hardly exists. Usually dating services offer a free trial of the site but with limited features.
Here Christian Café offers to use 100% of the site's features for free, including sending and receiving messages, for at least 7 days.
It is possible to extend the Christian Cafe free trial to 10 days if you add more photos to your profile.
On this point Christian Café is very strong because, to our knowledge, there are few or no dating services that allow you to test 100% of the features of the dating service for several days.
This free trial of 7 or 10 days is the best way to make your own opinion on Christian Café without putting a credit card.
4. Christian Cafe Cost
Finally, the last advantage of Christian Café is the cost of its subscription membership.
If after 7 or 10 days of free trial you are convinced, you will have to take a subscription to be able to continue features like messaging.
Here again Christian Café is very strong with a competitive subscription price compared to other dating services: from $9.99/month!


This makes Christian Café cost one of the cheapest dating services. And that's not counting when they send promotional offers by email.
In our experience, even if the 12-month rate is the most interesting, it is still a bit long to make the right meeting. You might get bored and give up. It is better to take a subscription of maximum 6 months, which is reasonable to allow time to make several meetings and find the right partner.
2 disadvantages of Christian Cafe
We have seen the many advantages of Christian Café, now everything is never perfect, there are also weak points. After so much praise, it's important to be transparent about what we liked less about Christian Café. Otherwise, it would be the undisputed best dating site!
You will discover the disadvantages of the dating site Christian Café.
1. unmodern interface
Of all the dating services we've tested, Christian Cafe probably has the least modern interface. Sites like Christian Mingle or eHarmony do much better.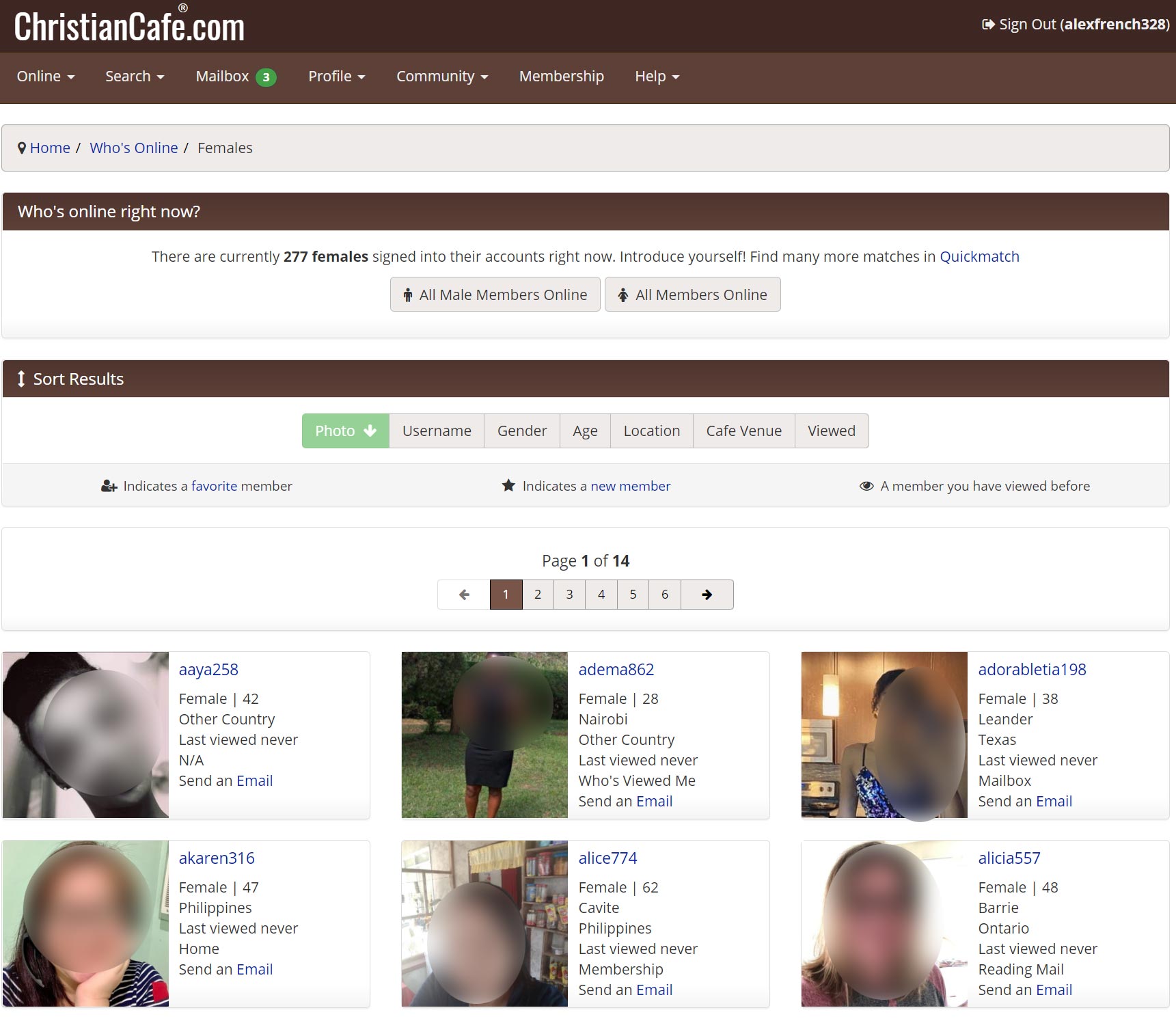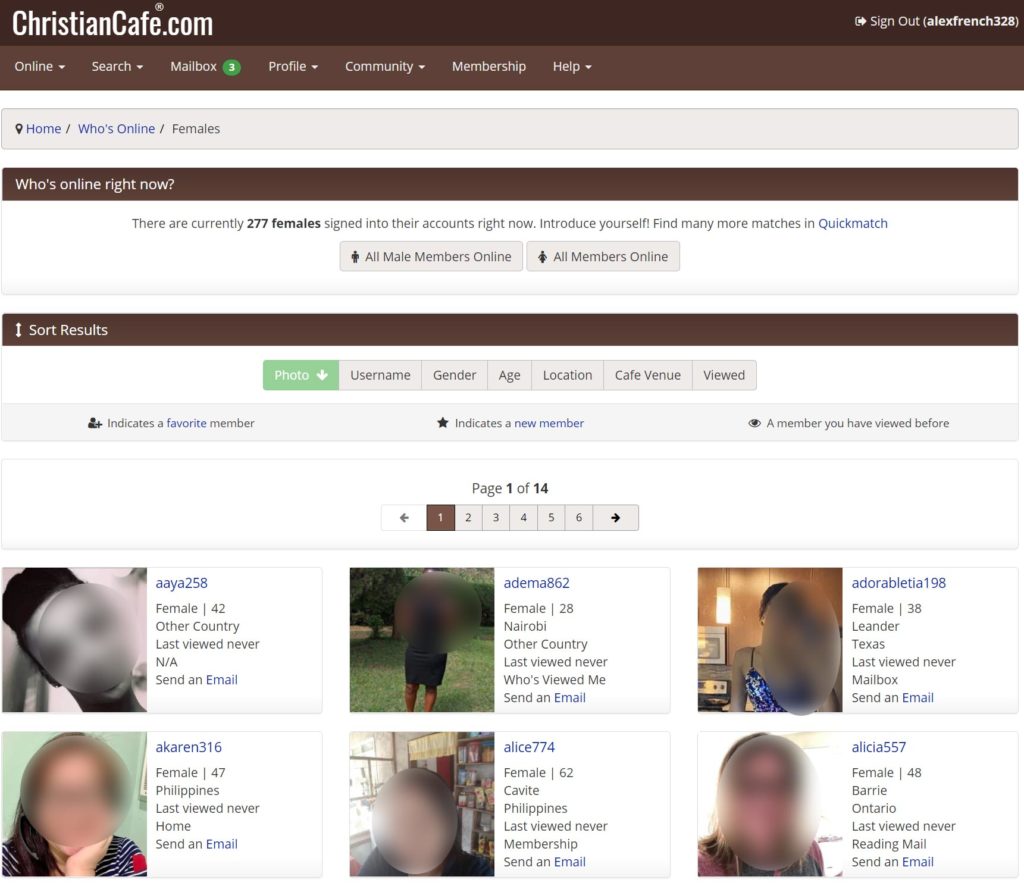 This may be something the dating service has taken on board.
At the same time the interface is clear and readable, but the site seems to be more than 10 years old. A little bit of a facelift would be nice because it may slow down users of dating services used to a more refined interface.
Some new users might even think that with such an old interface, that the site is not serious or that members do not log in anymore.
You can't trust a book to its cover, but today, design and user experience are very important.
2. unmodern dating app
Christian Cafe does offer, like almost all dating services, apps for Android and for Apple iOS.
However, just like the dating site's interface, the apps' interface is also aging. It reminds the interface of the first dating apps.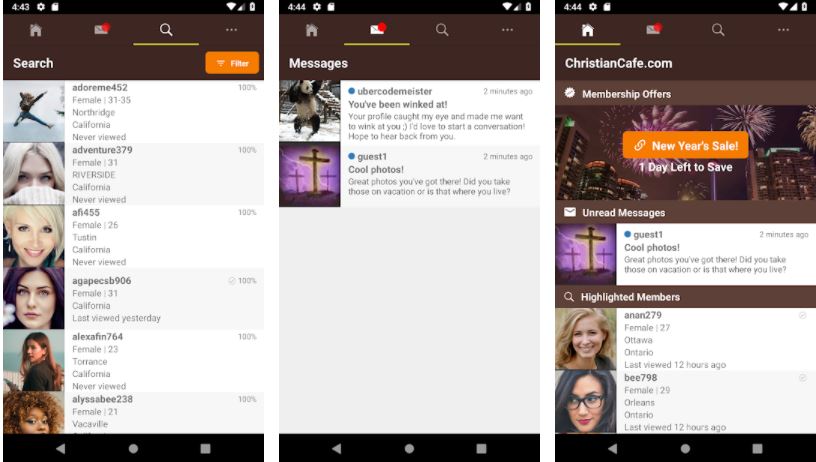 Many users complain about bugs (which are then corrected).
You won't find on this application the latest trendy features like geolocated profiles nearby, swipes, likes, etc.
The application does not seem to offer an optimal dating experience on the phone. But it can do just enough to search for profiles with the search filters and access instant messaging.
Clearly, if you prefer to meet people on an application, you should not select Christian Café on this point, others do much better.
Is Christian Cafe worth it?
Now you know all about the strengths and weaknesses of the Christian Cafe dating service.
But then, is it worth signing up for this dating service rather than another one?
If for you an aging interface and the fact that you don't use a mobile application is not a problem then yes it is clearly interesting for you to try Christian Cafe.
You don't take any risk, on the contrary, you take your chance to register on a serious dating service for Christian singles looking for a serious relationship, with a free trial of at least 7 days, this can even be extended to 10 days under certain conditions.
If after 7 days you are not satisfied you have lost nothing, just register. And on the other hand you may have made some nice encounters that will make you want to continue using this service.
The vast majority of the profiles offered by Christian Café are of high quality and, even if they are less numerous than on the leading competitor Christian Mingle, they remain interesting.
For some reason, this site is not popular, and yet! For us, Christian Cafe is a great dating website for singles christian. So, for all these reasons, yes Christian Cafe is worth it!
ChristianCafe users's reviews: what do they think?
The purpose of this page is to give you our opinion on the dating service Christian Café but what do the users think?
To do so, we'll take a look at the opinions of Christian Café users on the App.
Christian Café user reviews on the App Store
Christian Café has an overall rating on the App Store for Apple users since the rating is 2/5 for a total of 29 reviews.
⭐⭐
The application has only 29 reviews so it's hard to judge a service on that.
Users say that the application is outdated and difficult to use. Some say that there are fake profiles, others say that on the contrary all the profiles are good.
Christian Café user reviews on the Android Play Store
Christian Café has positive overall rating on the Play Store for Android users since the rating is 3/5 for a total of 200 reviews.
⭐⭐⭐
The application has few comments overall it is said that the application is outdated, with some bugs.
Others complain that you have to pay, although there is a trial offer of several days and it is very clear that you have to take a subscription afterwards.
Need help?
Need help and want to see the Christian Café site?
If you have any questions with the site, after creating an account [email protected].
If you have questions with the site, after paying a subscription: [email protected]
If you have another question about the site, before creating an account, please leave us a message in the comments, we will try to help you.
About the author