Bumble
See 1 reviews from members for Bumble.
Created in 2014 by a former co-founder of Tinder and the creator of Badoo, Bumble has many assets to establish itself as a leader in dating apps. Available in iOS and Android dating apps, it is also possible to sign up and connect from their dating site.


Bumble presentation
Another dating service that everyone is talking about: Bumble! The Bumble app is positioned as a platform for casual but also serious dating. It wants to put you in contact with compatible singles for friendship (BFF), love (Date) but also for business (Bizz).
Another difference with other dating services is that in order to make conversation, it is the woman who contacts first. And yes, "It was time to get out of the archaic codes where the woman does not dare to make the first step", advocates the application.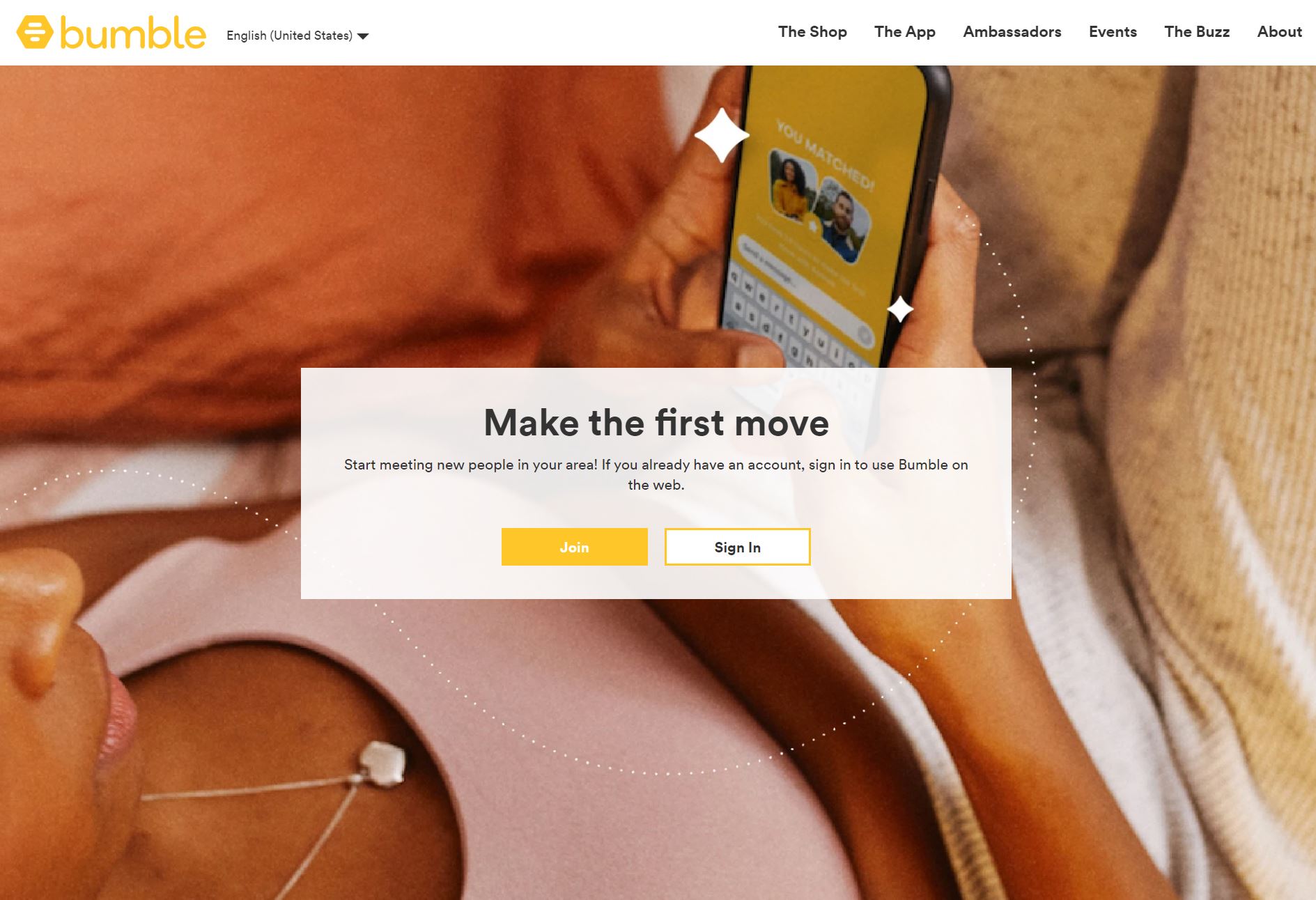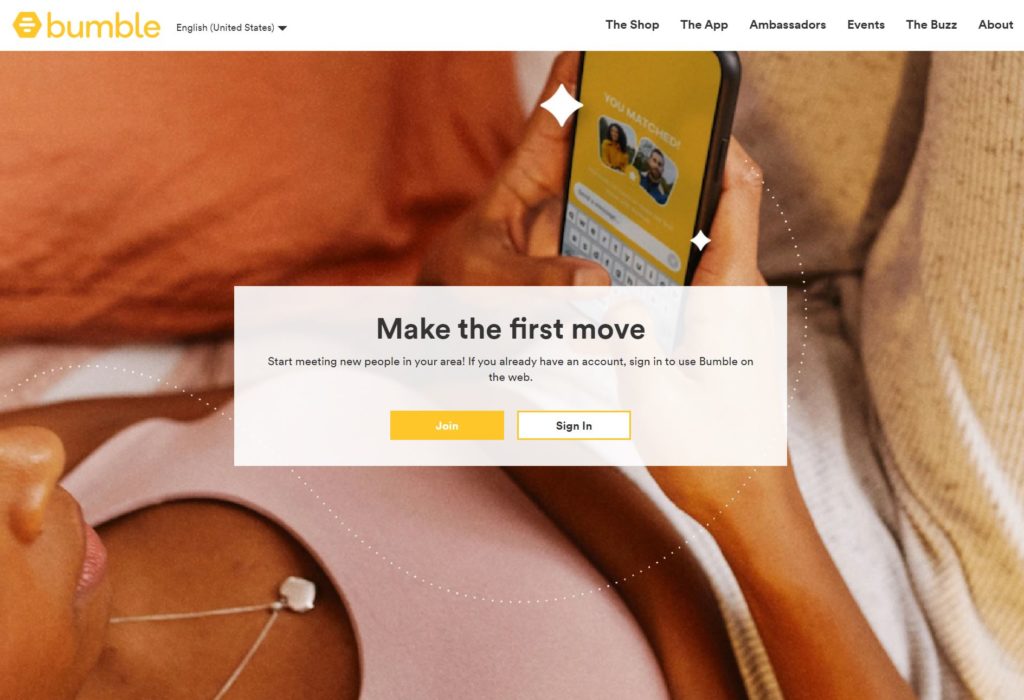 Bumble emphasizes trust in both the service and the members: online dating is as simple as it is safe. Indeed, Bumble can verify the authenticity of a member and guarantee it via a "blue check mark" on the profile picture. A good way to prove that you are a serious member.
To register, like Tinder, it can be done with an Apple or Facebook account or with a cell phone number. The registration is therefore very fast.
Bumble Free
Very easy to use, Bumble is a dating platform where it is possible to register, find and contact singles for free.
As soon as you register, Bumble will ask you if you are there for date (love), bff (friendship) or bizz (business).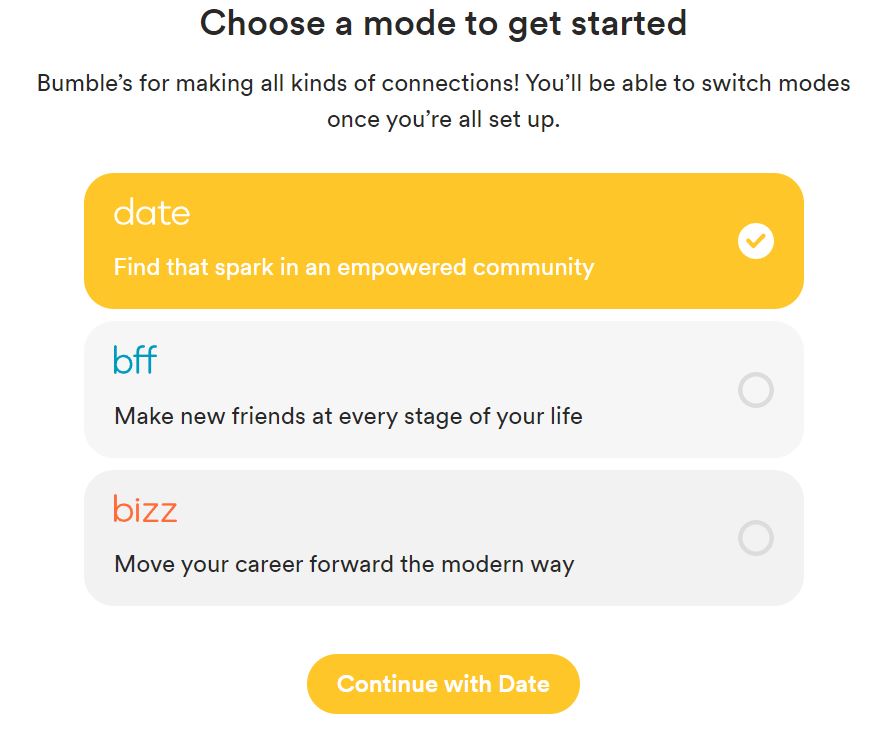 In the free version of Bumble, you will be limited mainly by the volume of contacts and swipes per day.
Here are the free features of Bumble:
Quick and free registration (first name, birthday, gender)
Create your profile with photo and description
Contact single Bumble members
100 Swipes per day
Note that to chat with a Bumble single, both members must "match".
So you can either pass or say you are interested.
When you are interested in a person, and it matches, the other member has 24 hours to send a message, otherwise the match disappears. Hence the interest of a Bumble Premium offer which allows to extend the matches.
If you match within 24 hours, then you can chat for free with the Bumble member, without paying!
Bumble Premium (membership)
While it is possible to meet people for free on Bumble, there are paid options to enhance the experience: Bumble Boost, Bumble Premium, SuperSwipes and SpotLight.
| | Bumble Boost | Bumble Premium |
| --- | --- | --- |
| Rematch | X | X |
| Extend a match | X | X |
| SuperSwipe | X | X |
| 1 Spotlight per week | X | X |
| 5 SuperSwipes per week | X | X |
| Advanced filters | | X |
| Travel mode | | X |
| Incognito mode | | X |
You can either pay for these options once for a short time (1 day, 1 weekend) or as a subscription for several months.
The price of Bumble Boost is :
$6.99 for 1 week
$18.99 for 1 month
$39.99 for 3 months
59.99 for 6 months
The price of Bumble Premium is :
$3.49 for 1 day
$13.99 for 1 week
$29.99 for 1 month
$59.99 for 3 months
$99.99 for 6 months
$149.99 for lifetime
Our quick review of Bumble
Bumble is a dating service, available as an application and as a dating site, which is very similar to Tinder on many points: the principle of Swipes, Matches, and even the interface!
It differs from Tinder on a few points, notably the duration of a match, the fact that it is possible to meet people for friendship, love or business or the premium offer which is simpler than Tinder's. The big difference is also that on Bumble, it is the woman who writes the first message. The main objective of this application is to make you fall in love with another member.
The main drawback of Bumble is that, even if it is trendy, it is not as popular as Tinder or eharmony in USA to propose so many members. On a positive note, all the profiles proposed were of good quality!
You can try Bumble on your computer or your smartphone but, if the application announces millions of members in the minde, depending on the size of the city where you live, in USA, you may quickly make the tour of the members nearby.
Appears in guides :
1 reviews from Bumble members
From newest to oldest
Bumble
pril mendoza

opinion -

January 19, 2023

at 5:54 am

looking a friend
Participate by rating Bumble dating site
In addition to leaving a comment below, you can rate the dating site (provided you have tested Bumblem) by giving it stars. Optional if you haven't tested the site.
Give your opinon about Bumble