Tinder launches Matchmaker, a feature that lets your friends find you love
By Alexandre (admin), last updated on October 26, 2023

Tinder, the world's most popular dating app, has just unveiled its newest feature: Matchmaker. It's a tool that lets you ask your friends for their opinions when choosing the profiles you like on the app. How does it work? What are the advantages? We tell you all about it.
Matchmaker, the collaborative Tinder
With Matchmaker, the Tinder app lets you call on the collective wisdom of your friends to find your soulmate. The principle is simple: you generate a link from the app's settings, which you share with 15 friends of your choice. These friends can log in to Tinder with their own accounts or in guest mode, and access the Matchmaker interface. On this interface, they can view the profiles displayed on your screen, and recommend those they find interesting for you. They can't like or chat with the profiles, just give you their opinion.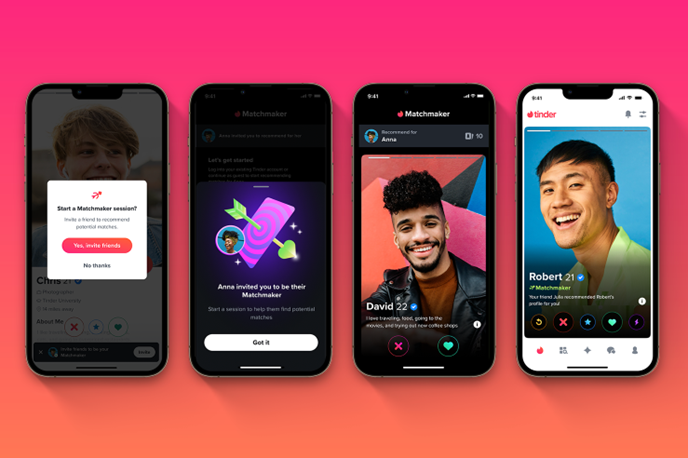 You then receive your friends' recommendations on your app, and can decide whether or not to like the profiles they've chosen for you. You have 24 hours to consult your friends' suggestions, after which the link expires. The feature is already available in 15 countries, including France, and will be rolled out worldwide in the coming months.
A way of reviving the "cupid" tradition
Tinder is inspired by the age-old practice of asking friends for advice on one's love life. According to a survey conducted by the online dating service, over 75% of singles aged 18 to 25 discuss their love life with their friends several times a month. And it's not uncommon for people to ask their friends and family for their opinion before going out on a date.
With Matchmaker, Tinder aims to strengthen the social bond between its users, and offer them a more fun and convivial experience. By involving your friends in your search for love, you can benefit from their outside view, their knowledge of your tastes and personality, and perhaps discover profiles you wouldn't have thought of.
Of course, the final decision is always yours, and you can ignore your friends' recommendations if they don't suit you. But who knows, maybe Matchmaker will help you find the profile that will make your heart beat faster.
What do you think of this new feature? Would you let your friends choose for you on Tinder? Let us know what you think in the comments!
About the author
Give your opinon about Tinder launches Matchmaker, a feature that lets your friends find you love