OurTime Dating App
Want to meet singles on your tablet or your smartphone ? The dating website OurTime purpose an app available on iOS (iPhone and iPad) and Android. This is the number 1 dating app for mature men and women. Discover the application, its advantages and its price on this page.
Presentation and features of the OurTime application
OurTime is a dating service dedicated to single men and women over the age of 50, looking for a serious and if possible loving relationship. OurTime is present in the UK, USA and Canada.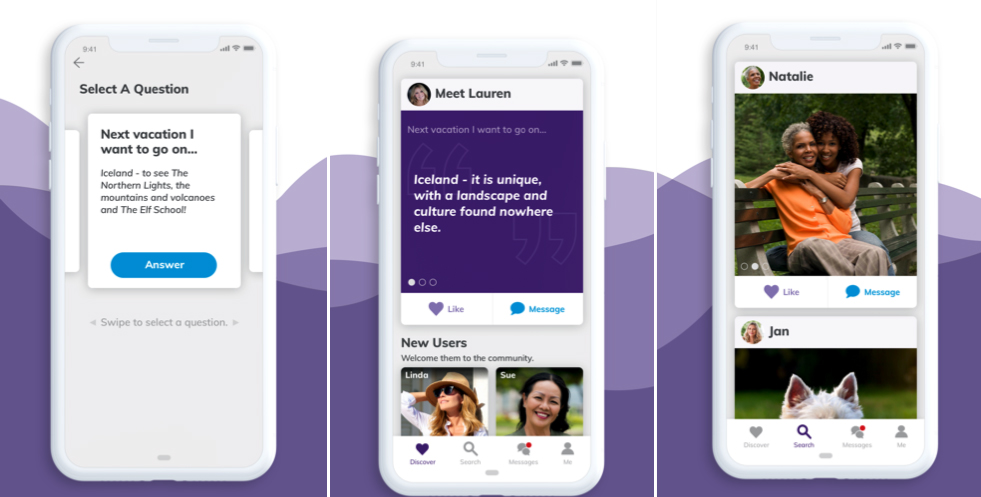 While OurTime has long existed as a dating website, an application has been launched for Android and iPhone to satisfy the most connected senior users.
The OurTime app offers the same features as the dating website, including: creating a profile, searching for singles, viewing profiles with their photos, and seeing suggestions from members.
If the application is free for installation and some features, others are not, such as instant messaging. Indeed, if you want to communicate with other singles you will have to take a subscription.
OurTime App Cost
As explained above, while the OurTime application is free for some features, other premium features are not.
You will have to take a subscription ranging from 1 to 6 months to have access to them.
The price of the OurTime application subscription is the same as for the website:
Subscription 1 month: $23,99 / month ;
Subscription 3 months: $17,99 / month ;
Subscription 6 months: $11,99 / month.
In our opinion, the 6-month subscription is the most interesting because it greatly reduces the monthly payment and to make quality encounters, more than 3 months are generally necessary.
Is the OurTime application worth it?
Are you single, over 50 and wondering if the OurTimpe application is worth it?
First of all, you should know that there are not many serious dating applications dedicated to singles over 50. We could just mention Silver Singles but this one is more upmarket and its subscription is more expensive.
OurTime has the great advantage of being one of the only services to gather a lot of single members, men and women, over 50, looking for a serious relationship. Because yes, with the OurTime app you will also have access to the members of the OurTime website.
So yes, OurTime is worth it if you're over 50, want to meet someone serious and in love, and have a small subscription budget.
If you're still on the fence about downloading the OurTime app and creating an account, you might be interested in our guide to trying OurTime for free.
Download the OurTime Dating app
You can download and register on OurTime dating app for free. With a free registration you can :
create and customize your profile
discover profiles of men of women
send and receive likes
With an ourtime subscription, you can :
Engage in conversation by sending messages
receive messages from other members
Know when your sent message has been read
Download the official app :