MillionaireMatch Review 2023
By Alexandre (admin), last updated on May 12, 2023





When you have an exciting life because you work hard, are financially successful, or come from a wealthy family, it can be very difficult to date other singles who have the same lifestyle, ambitions and mindset.
You may have already tried traditional dating services, but how do you know that these people are not just interested in your money? That's why dating sites for rich singles exist. Among them, the leader MillionaireMatch.

What does MillionaireMatch look like? Is it possible to test the service for free and with what limits? How much does the paid subscription cost? Is MillionaireMatch worth it? Answers to all these questions in our test below.
MillionaireMatch Presentation
MillionaireMatch presents itself as the leading dating site for rich people who want to meet serious and high quality people. MillionaireMatch does not accept sugar daddies and sugar babies and hunts down curious and fake profiles.
To achieve this quality service, MillionaireMatch offers to verify your photos, your identity with an ID, your income and also operates with a paid subscription that not everyone will be able to afford.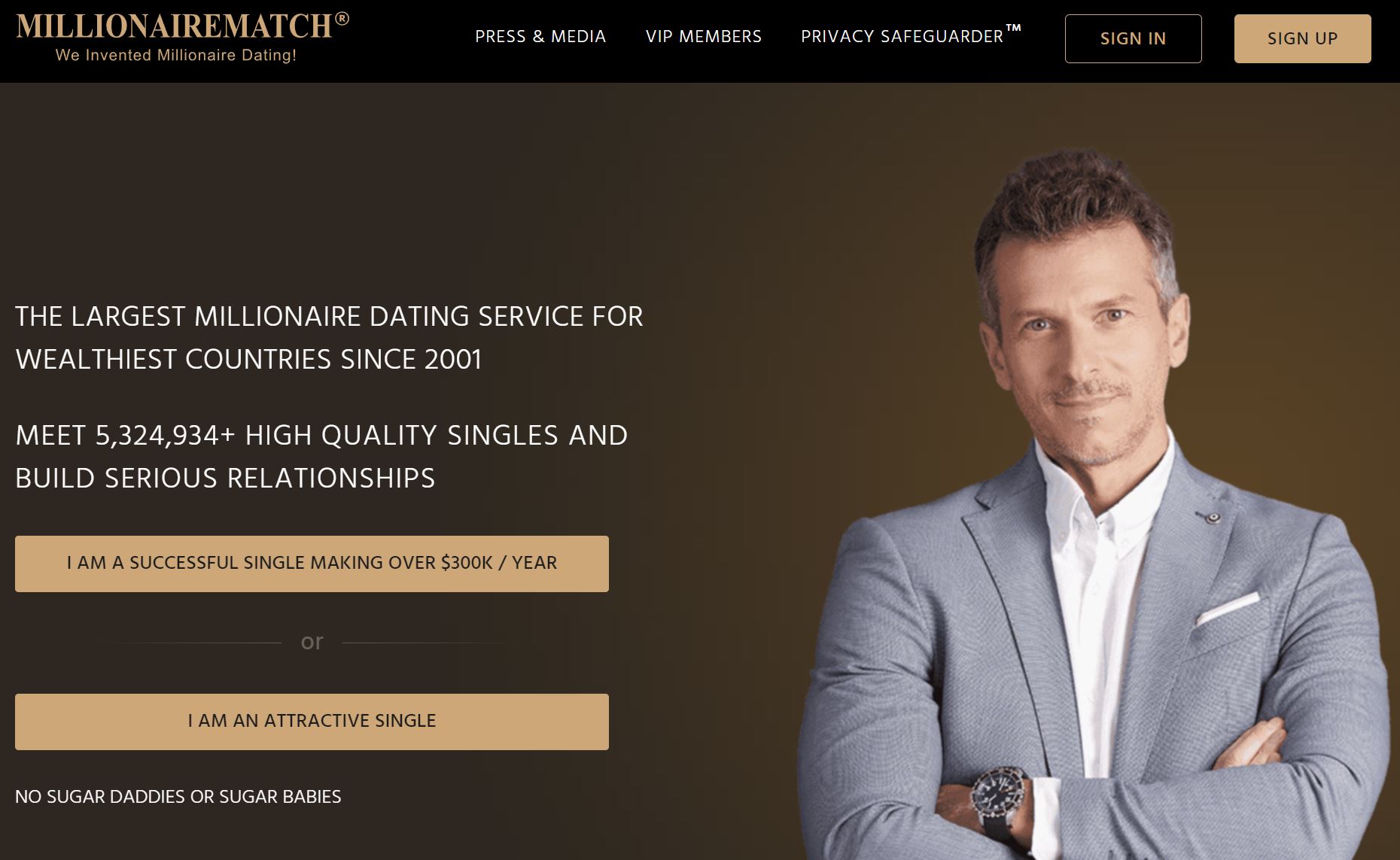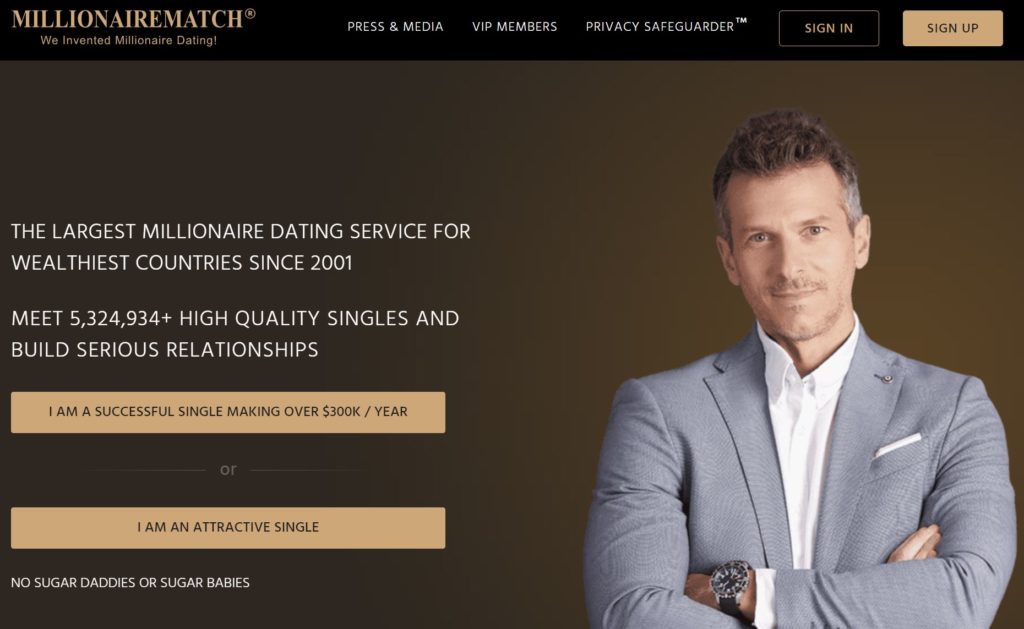 And we can say that it works because MillionaireMatch has become a recognized service among wealthy singles with many testimonials from business leaders and other entrepreneurs who have been matched through this service.
So we also wanted to see what the MillionaireMatch service looked like during our test, to make our own opinion.
Free register
Registering with MillionaireMatch is free, quick and efficient: email address, password, photo, height, ethnicity, physical condition, income levels, … and we are connected to the MillionaireMatch platform.
The first good impression is that the interface is clear, you can complete your profile, check your profile and your income or go and discover the registered singles.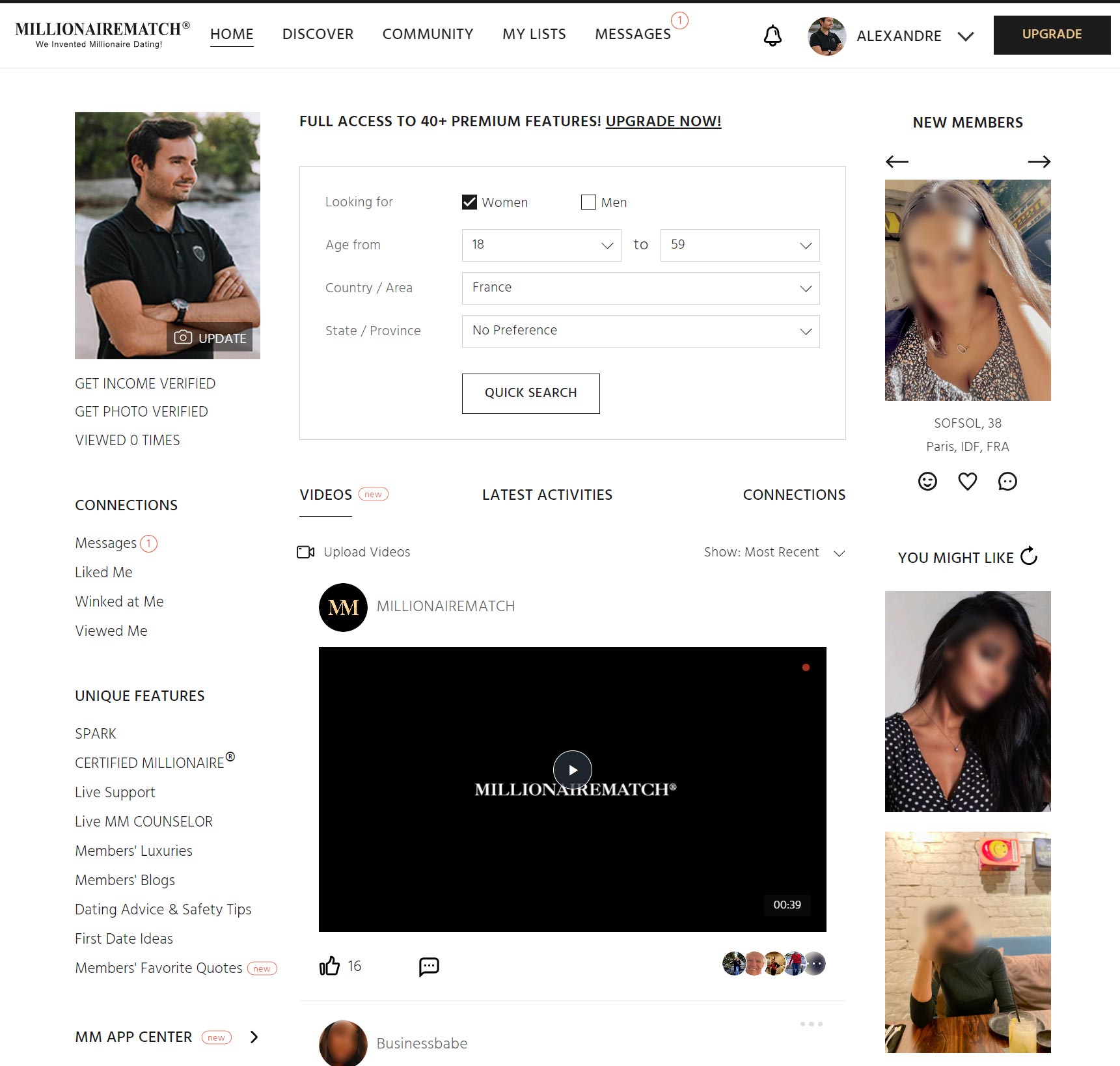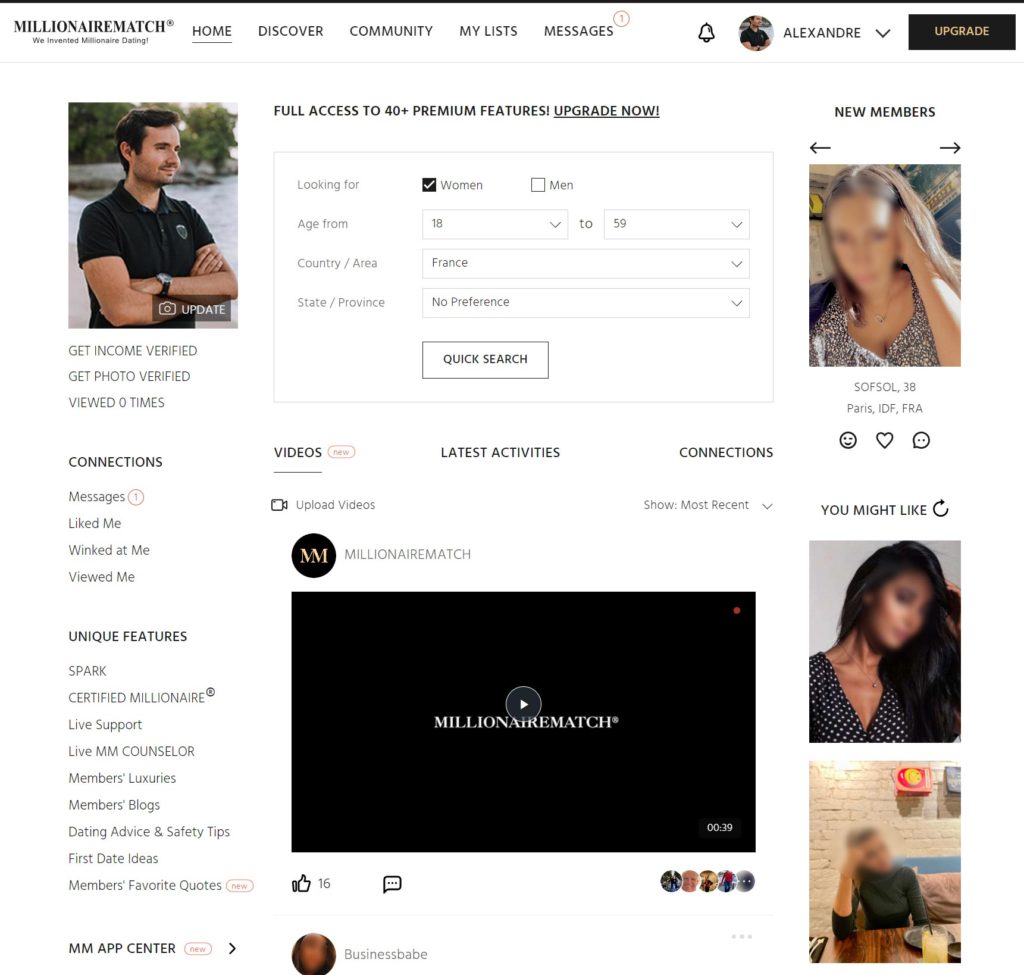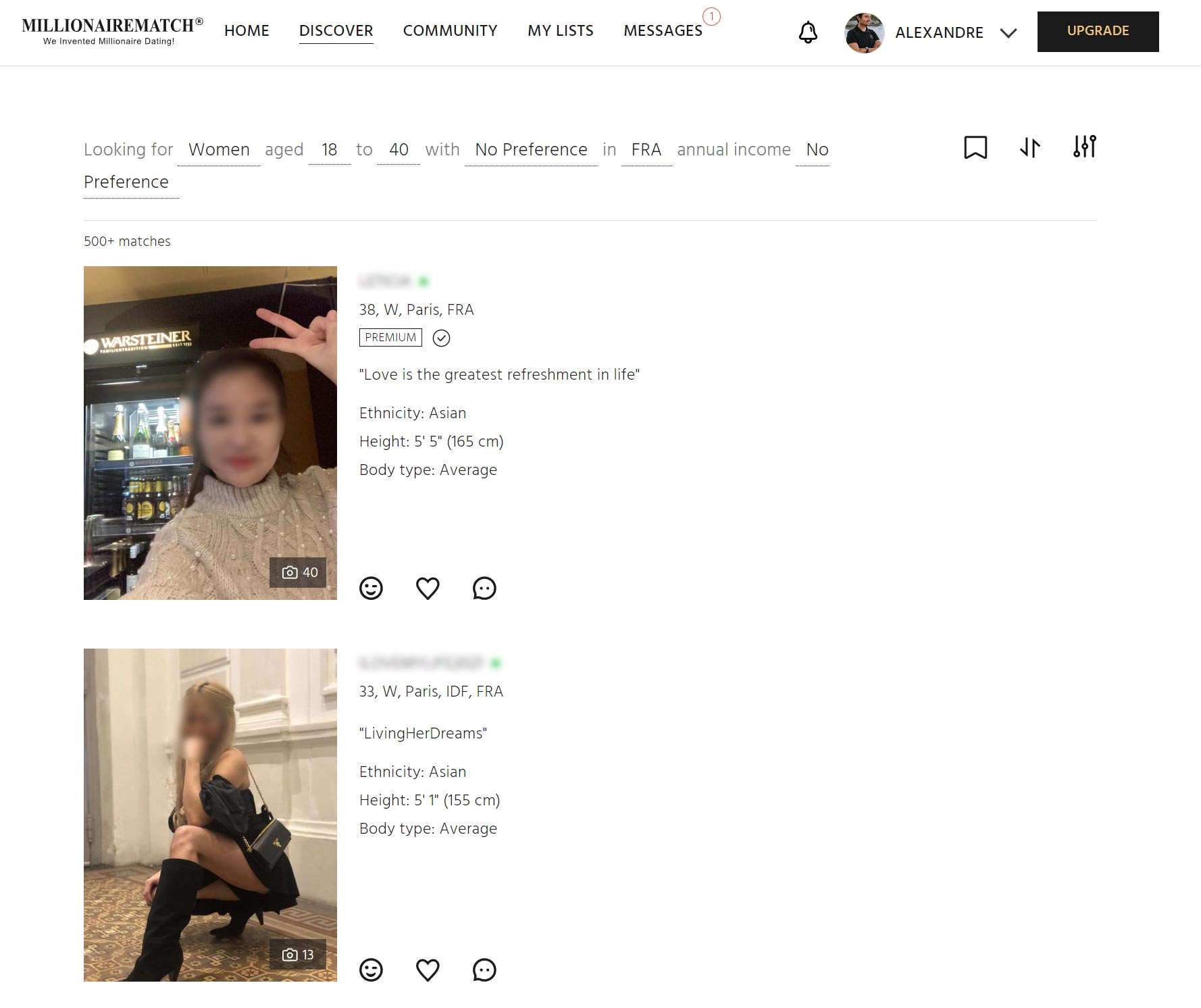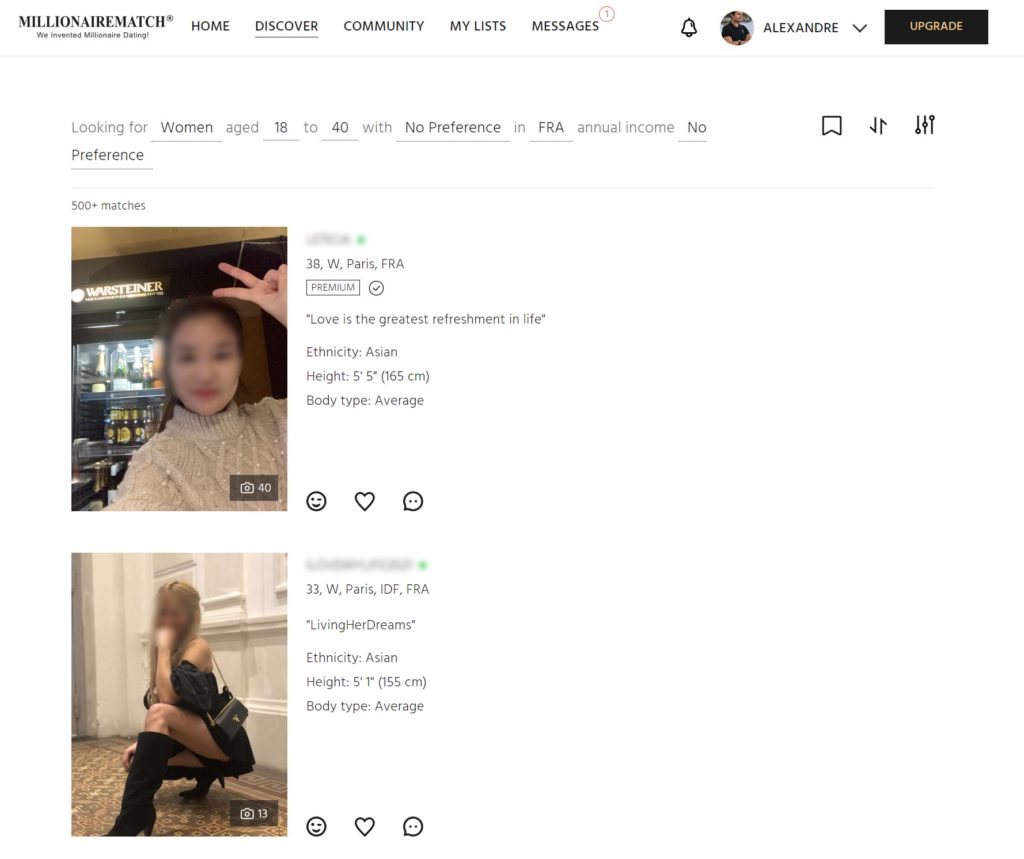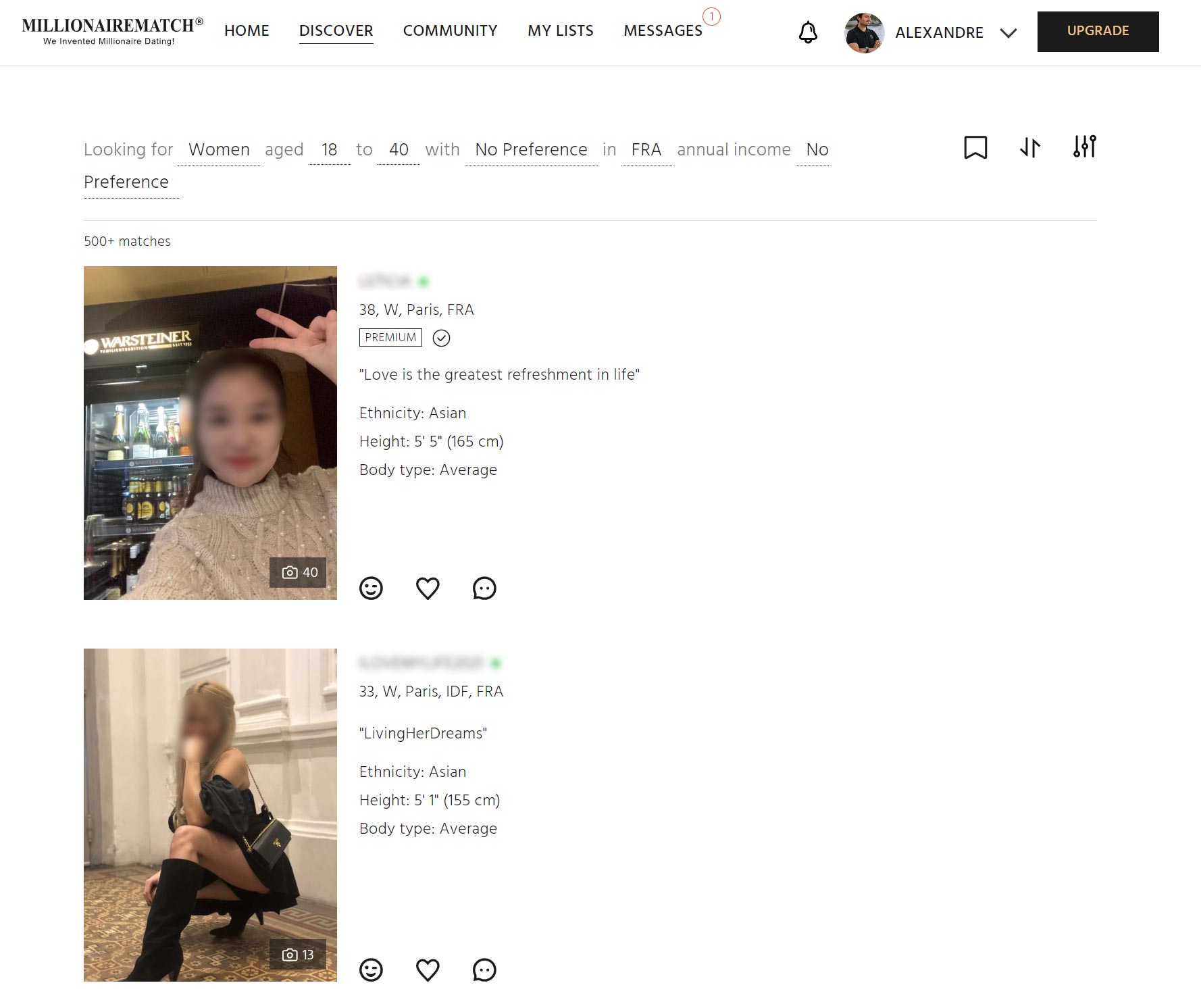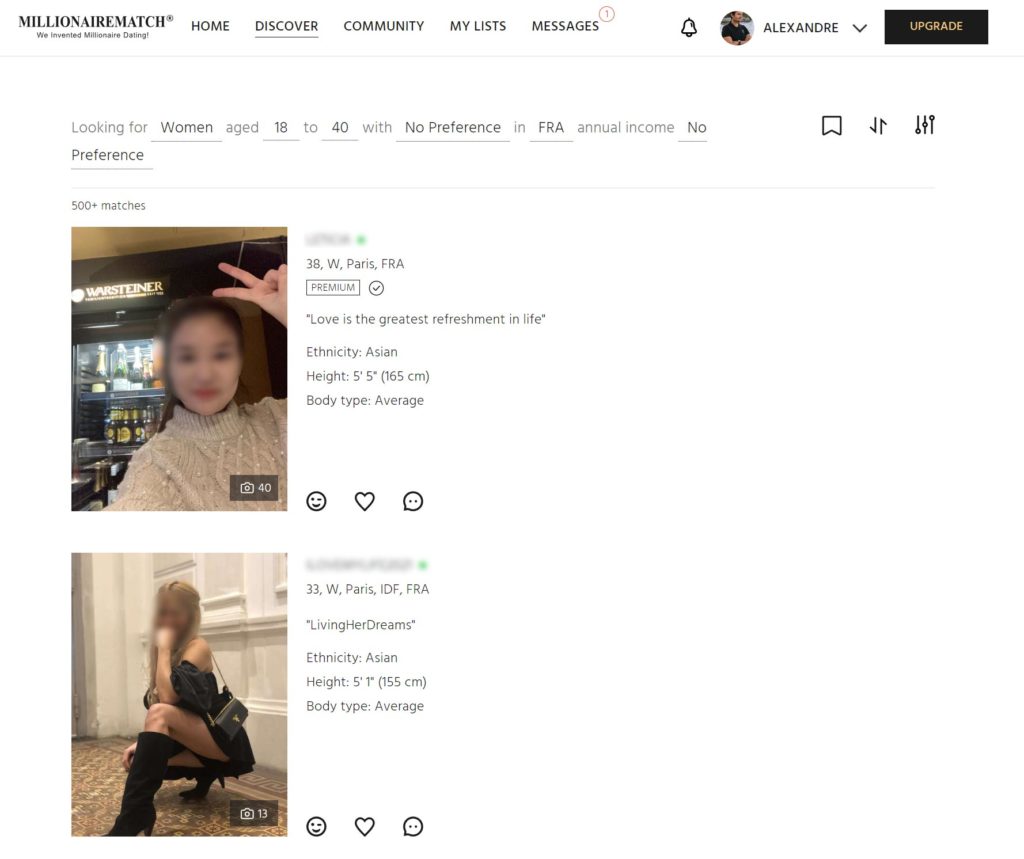 In the free version of MillionaireMatch it is perfectly possible to filter singles by age, location, income and other custom filters: ethnicity, religion, smoking, alcohol, children…
To be trendy, MillionaireMatch offers the Spark feature that resembles Tinder matches. With a photo and some content, the site proposes you nearby and compatible profiles and you will have to say if you like or if you pass. If the like is reciprocal then there is a match. This feature is to be used if you want to go for quantity rather than quality by targeting singles in the discover tab.
MillionaireMatch is also community-based! In the Community tab you can see the latest content shared by members on their profile, you also have ideas for first dates and, above all, in the members' luxuries page, you can share all your latest luxury goods in pictures to the community: ferrari, helicopters, boat, luxury bags…
You can also share photos of your luxury goods, and other content directly from your profile. Still free of charge, it is possible to have your profile picture verified with an ID. Very interesting to distinguish yourself from other profiles and to ensure your seriousness.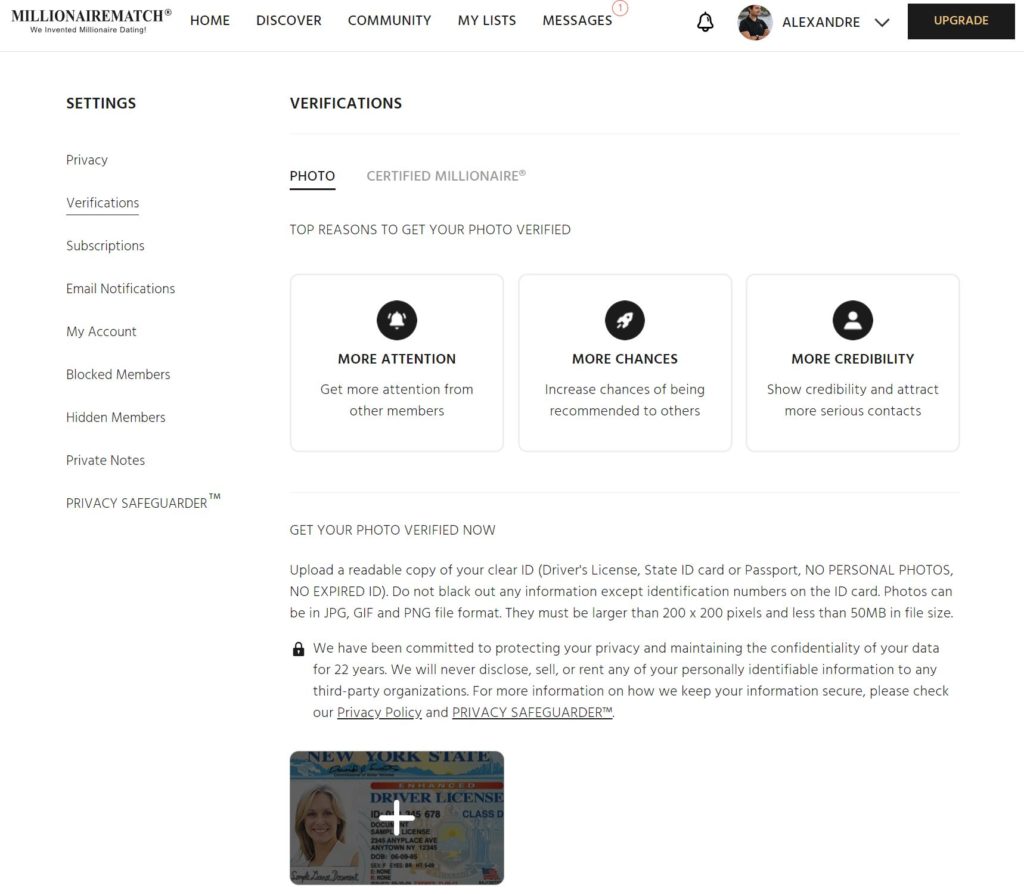 In short, all this is free and makes you want to do more!
Premium membership features and costs
As you can see, the free version of MillionaireMatch is very reassuring and makes you want to upgrade to a paid version.
And yes, as you may have noticed, with the free version it is impossible to send messages or to read received messages. It's normal, it's a paid dating service.
With a MillionaireMatch subscription you can:
send and receive messages
see who has seen your profile
see who has liked your profile
have access to advanced search filters
have unlimited likes
have unlimited winks
search by location and distance
And of course all this has a price. A price proportional to the quality of the service and the members present on the site. If you are really rich, the price of the subscription will be anecdotal.


MillionaireMatch costs:
1 month: $100/month
3 months: $80/month
6 months: $65/month
It's more expensive than other dating services but honestly, considering the quality of the site and the members, MillionaireMatch should be even more expensive in our opinion.
Last but not least, the advantage of taking a premium membership: becoming a certified millionaire! By becoming a certified millionaire you will be more credible, you will be highlighted in search results, you will be able to show that you are serious and accomplished. For this you will have to send the site a proof of income and an ID.
Our review
It's been a long time since a dating service has seduced us by its seriousness. From the registration to the meeting, MillionaireMatch knows who it's for, in all transparency. It's a serious dating site.
As soon as you register, you can see the seriousness of the site with quality profiles, accessible customer service, the possibility of filling in your profile, transparency on the free and paid features, and the price of subscriptions.
On our side we are convinced that MillionaireMatch is the best dating service if you are a rich single, living mostly in the USA (there are also profiles elsewhere but less), and you want to meet other singles like you.
You can test the site without paying to see for yourself and then feel free to subscribe if you are convinced too.
Pros
A really well done interface
Interesting features (like luxury goods)
Real quality profiles
Certified profiles
A subscription to the service
A customer service easily reachable by chat
A free version that allows you to check the quality of the promise
Cons
A subscription that could be higher
A search filter to have only premium members
members who are mainly in the USA
no iOS application
About the author
Participate by rating MillionaireMatch dating site
In addition to leaving a comment below, you can rate the dating site (provided you have tested MillionaireMatchm) by giving it stars. Optional if you haven't tested the site.
Give your opinon about MillionaireMatch